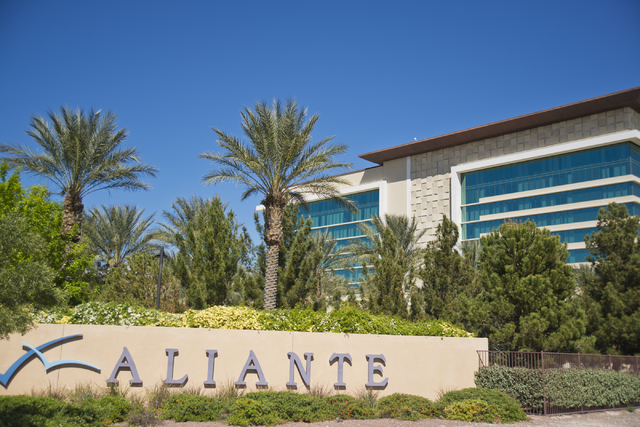 Fifty percent of the land in North Las Vegas is undeveloped, but that could change soon, said North Las Vegas public-information officer Delen Goldberg.
"Developers are seeing little pockets of opportunity," she said. "We've got the land, so there's more opportunity here, whereas in other parts of the valley they're getting landlocked."
Alfredo Melesio, director of Land Development and Community Services, said North Las Vegas has eight "in-field areas" equaling 957 lots where development is planned.
The opportunity for growth is prevalent throughout the northwest Las Vegas Valley. It's what interested local real estate development company Olympia Cos. in building homes on 1,700 acres there, a project that at full build-out is set to include 9,000 home sites.
"We like to purchase large parcels of land," company Vice President of Development Chris Armstrong said. "The opportunity that presented itself is not very common."
It's the company's first project in this region. Olympia Cos. also built the Southern Highlands master-planned community, in 1990. About 290 homes have been built or are under construction there, with 170 occupied, Armstrong said.
Transportation infrastructure improvements also have made the north valley a desirable location, he said.
City officials took about 300 residential real estate agents on a tour of North Las Vegas in December to show them new neighborhoods, as well as key residential and commercial development sites, Goldberg said. She said they commented that they weren't aware of the city's lower prices.
"If you look at Aliante, you'll get 20 percent more house than what you'd get in Summerlin for the same money," said Dave Crete, a corporate broker at Weichert Realtors Aspire.
The city held a similar tour for commercial real estate agents this year and plans another this summer, Goldberg said.
North Las Vegas' bad reputation among some has kept it flying under the radar, Crete said, adding, "and even to this day, people don't realize what's up here."
That can't be said of residents.
Ed Banka, 65, has been living in North Las Vegas for six years. He said that when he was moving to Southern Nevada from Virginia, his sister steered him away from the city.
"She said, 'Oh, you don't want to buy in North Las Vegas, 'cause all she knew was the older parts of North Las Vegas," Banka said. "She didn't hear about Aliante. Everything's new up here."
Contact Kailyn Brown at kbrown@viewnews.com or 702-387-5233. Follow @kailynhype on Twitter.