Make-A-Wish provides playhouse for North Las Vegas boy
Updated November 26, 2018 - 9:57 pm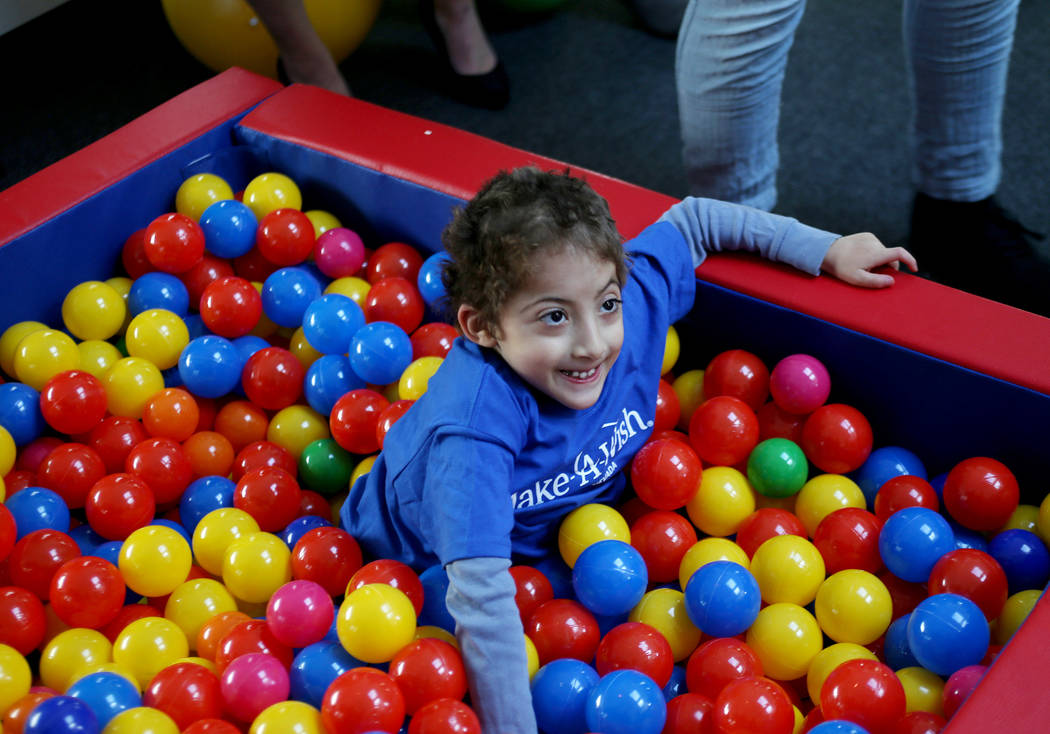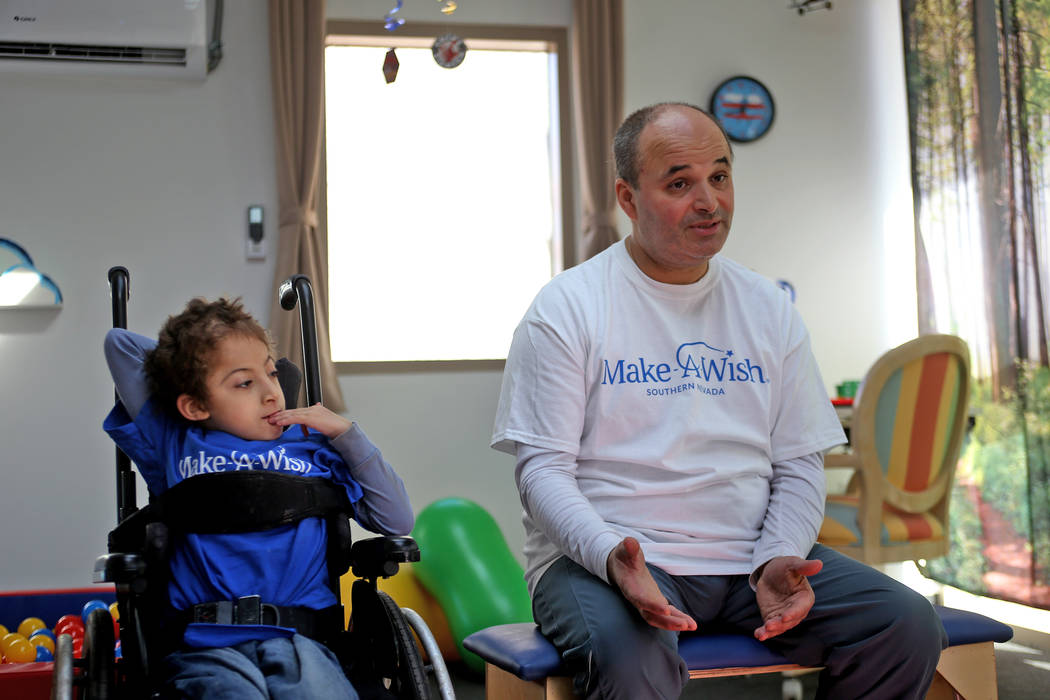 From his tiny wheelchair, under the shade of a backyard pergola, little Sultan Bouras Souissi could hardly contain his excitement.
A compromised immune system keeps the 6-year-old indoors because the germs of public playgrounds and the dangerous desert heat can ravage his sensitive skin.
But on Monday, dozens of Make-A-Wish volunteers brought the sunshine — without the warmth
— to him in the form of a brand new air-conditioned playhouse next to his family's pool.
"Wow!" the boy said as he was wheeled inside for the first time, slowly taking it all in. "Cool!"
The structure in Sultan's backyard is outfitted with floor-to-ceiling windows and two large skylights so he can safely enjoy the daylight while watching TV, playing in a ball pit or working through physical therapy sessions.
Sultan also has scoliosis and spina bifida, a birth defect that leaves him little to no feeling in his legs.
Before the new playhouse, the boy was able to go outside only in the early mornings or evenings. His father sometimes caught him straining to peek over the windowsills in their house, looking longingly at other children playing in the street.
"He wants to go to the park. He wants to go outside," the boy's father, Mohammed Bouras Souissi, told the Las Vegas Review-Journal. "We understand that. But it's very hard for us to take him out because we know that that night, we're going to spend it in the hospital."
The new playhouse "is going to change his life," the father said.
Inside the structure, surrounded by the crowd of volunteers who helped design and build it, Sultan shouted a loud "Thank you all!"
His father helped lift him into the ball pit, where he threw a few plastic balls at onlookers, laughing.
"Climbing in and out of there is actually a huge task for him," Sultan's physical therapist, Amy Brewster, said. "And when he is moving through the balls, it is a resistance, making it more difficult."
But over time, Brewster said, the strength Sultan builds will allow him to get in and out of his wheelchair by himself, making him more independent.
"That's why this beautiful room is so amazing, because it has to be a place where we go where we're going to play, where we're going to do things that benefit him, but they're not going to be boring," Brewster said. "He won't know until he is like 15 or 16 that we were ever doing any work."
As Sultan rolled through the playhouse smiling, several volunteers pointed out its many unique features, including the mural of Sultan as Spider-Man swinging through a cityscape.
"Sultan, look," one woman said, pointing at one of the skylights. "This is where you can see the sky and watch the airplanes."
"Whoa!" the boy shouted, staring upward.
Tiny toy airplanes also hung from the ceiling.
James Gentry, who designed the interior space, said he spent many hours with Sultan and his parents over the past few months learning his favorite colors and watching his favorite YouTube videos.
Sometimes when he would come over to work on the playhouse, he would quietly walk through the backyard gate so as not to disturb the family. But Sultan would always hear him anyway, and soon Gentry would hear the boy shouting from inside the house, "Jimmy, Jimmy, Jimmy, Jimmy, Jimmy!"
"Now I'm going to miss hearing that," Gentry said, pausing as a tear or two welled in his eyes. "He's really amazing."
As the crowd thinned out, enjoying some refreshments in the family's kitchen, Sultan's father said he was thankful for the project and the team that made it happen.
"It means a lot to us," Bouras Souissi said. "We are here, only me and my wife and him. We have nobody besides our job. We don't have so many friends because we don't go out, we don't gamble, we don't drink, we don't do anything because we dedicate all our time to him."
"Now," he said, "we have a family. A big family."
Again, Sultan shouted, "Thank you all!"
Contact Rachel Crosby at rcrosby@reviewjournal.com or 702-477-3801. Follow @rachelacrosby on Twitter.