Mosquito capable of spreading Zika found in Southern Nevada
Updated June 1, 2017 - 6:19 pm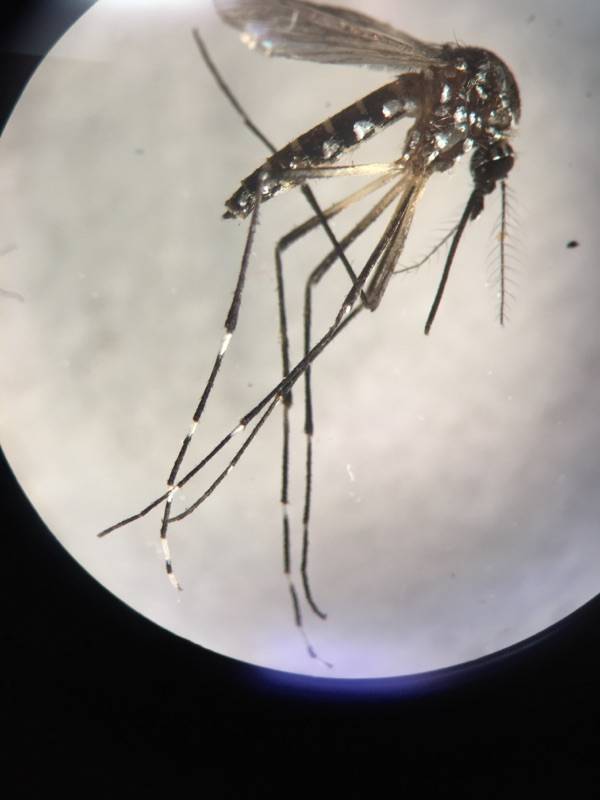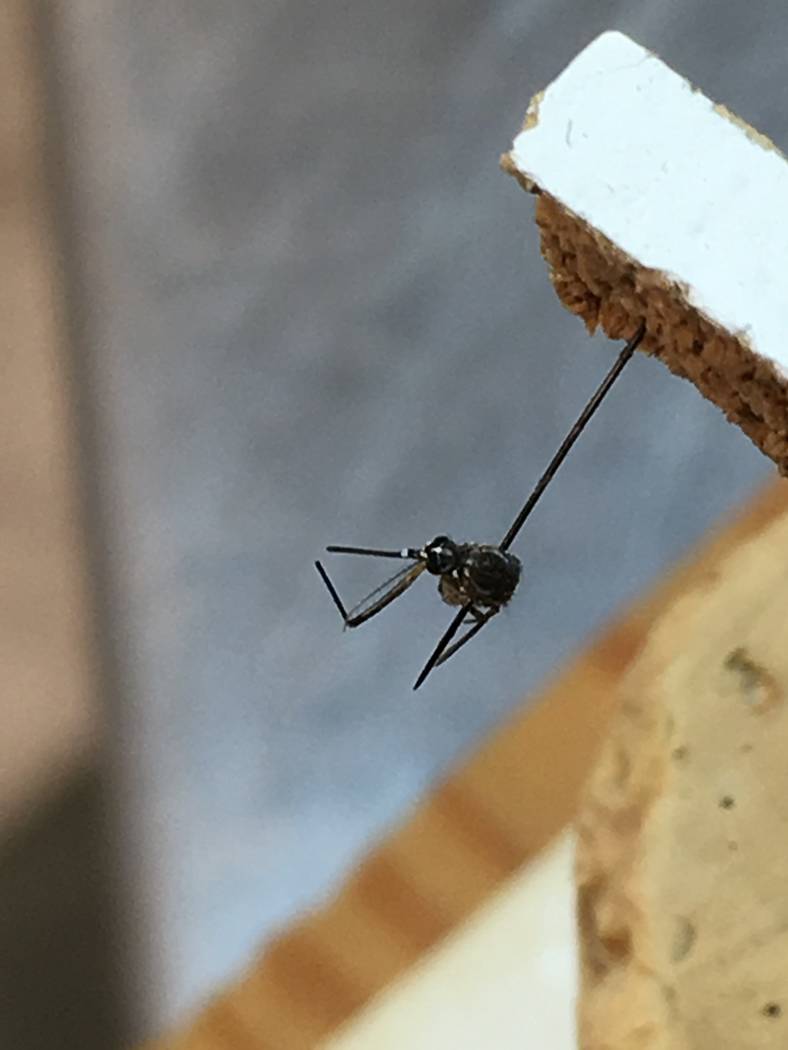 County health officials have detected a species of mosquito responsible for spreading Zika and other viruses for the first time in Southern Nevada.
The detection of the mosquitoes, which go by the scientific name Aedes aegypti, occurred Wednesday within the 89032 ZIP code in North Las Vegas.
The tiny bloodsuckers spread viruses such as Zika, dengue, chikungunya and others by biting an infected person who still has the virus in their blood, then surviving long enough to bite another person after the virus has had time to multiply in their systems.
But health experts said Southern Nevadans should not be too alarmed.
"The viruses that it carries, we don't see very often in Southern Nevada," said Brian Labus, an infectious disease epidemiologist at UNLV.
Boots on the ground
Jackie Reszetar, director of environmental health for the Southern Nevada Health District, said researchers do not yet know how the three mosquitoes trapped in North Las Vegas got here.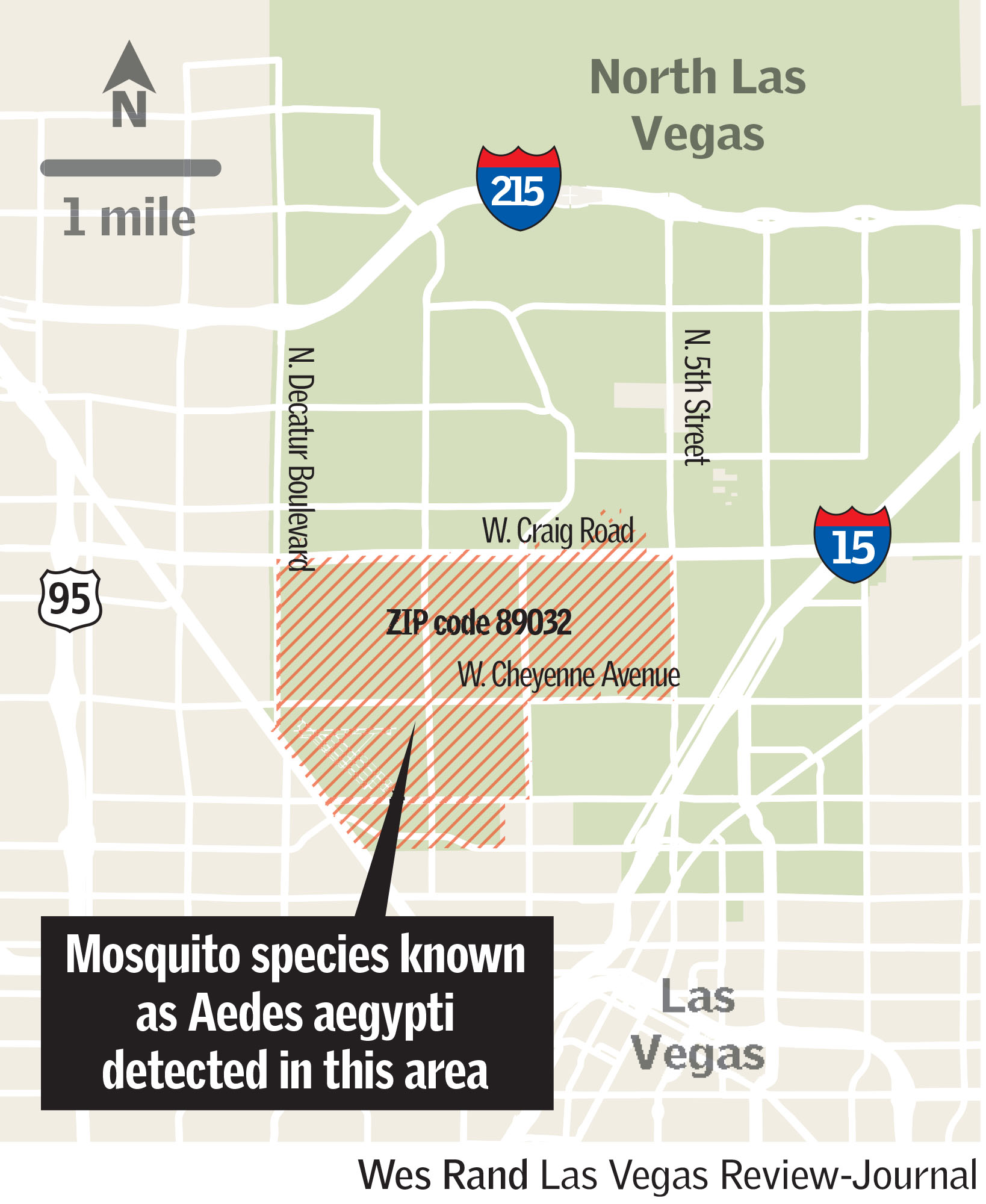 "We have boots on the ground trying to figure this stuff out," she said.
According to the Centers for Disease Control and Prevention, Southern Nevada is on the edge of the range of the tropical mosquitoes, though they mostly live in more humid areas in the southern half of the country, as well as in Central and South America.
Labus said it's possible the mosquitoes have been here all along but are so rare that they have not previously been detected. It's also possible that they traveled here, possibly in someone's luggage or car, he said.
Reszetar said the mosquitoes aren't a reason for panic, but people should take more caution in keeping their yards clean and eliminating any standing water that mosquitoes require for breeding.
The mosquitoes will be tested for Zika, according to the health district, though no mosquito-borne cases of the illness have been reported in Southern Nevada.
Zika remains rare here
There has been one case of Zika in Clark County this year, which was travel-related. Last year, the county saw 22 cases of Zika, all travel-related except for one that was sexually transmitted, the district said.
The Aedes aegypti mosquitoes were spotted by the health district's vector surveillance program, which has been trapping mosquitoes since 2004.
The species has been detected in Arizona and California previously, but none of the mosquitoes tested in those states have tested positive for Zika yet, health officials noted.
The health district said it will ramp up its surveillance to determine how many mosquitoes might be in the area. It also is asking residents who spot mosquitoes to contact the vector surveillance program at 702-759-1633.
Clark County and the health district teamed up to record a panel discussion on mosquito dangers and educate residents about ways to protect themselves. The 30-minutes program, "Mosquito Menace: What You Need to Know," will air on Clark County Television at 8 p.m. June 9 and be rebroadcast throughout the summer. It will also be available online at www.YouTube.com/ClarkCountyNV.
Contact Blake Apgar at bapgar@reviewjournal.com or 702-387-5298. Follow @blakeapgar on Twitter.
Guidelines for preventing mosquito bites
— Use EPA-registered insect repellents containing DEET, picaridin, IR3535, oil of lemon eucalyptus, or 2-undecanone, though not on infants under 2 months old;
— Adults should spray repellent on their hands first to apply to a child's face. Repellents should not be sprayed onto a child's hands, eyes, mouth, cut or irritated skin;
— Children under 3 years old should not use products containing oil of lemon eucalyptus or para-menthane-diol;
— When outdoors, wearing long-sleeved shirts and pants will reduce skin exposure;
— Doors and windows should have tight-fitting screens without any tears;
— Place netting over infant carriers if in a mosquito-infected area;
— When sleeping outdoors, use mosquito netting.