North Las Vegas constable will cash in despite lacking certification
January 4, 2018 - 6:38 pm
Updated January 4, 2018 - 9:29 pm
Whether North Las Vegas Constable Robert Eliason should remain in office has drawn scrutiny from state, county and city officials alike.
But one thing is certain: Eliason's pension has increased tremendously from him holding the position despite lacking the necessary qualification.
As Eliason hits his three-year anniversary in office Friday, the maximum value of his pension is more than triple what it was when he took office.
Even if he quit this weekend, Eliason is eligible to receive $3,450 a month if he collects benefits after he turns 60 in July 2022, according to the benefit calculator on the Nevada Public Employees Retirement System website.
His public service prior to being constable only entitled him to about $1,130 a month.
Eliason declined to comment through a spokesman.
The increase is because of Nevada PERS basing pension payouts on a government employee's highest 36 consecutive months of salary.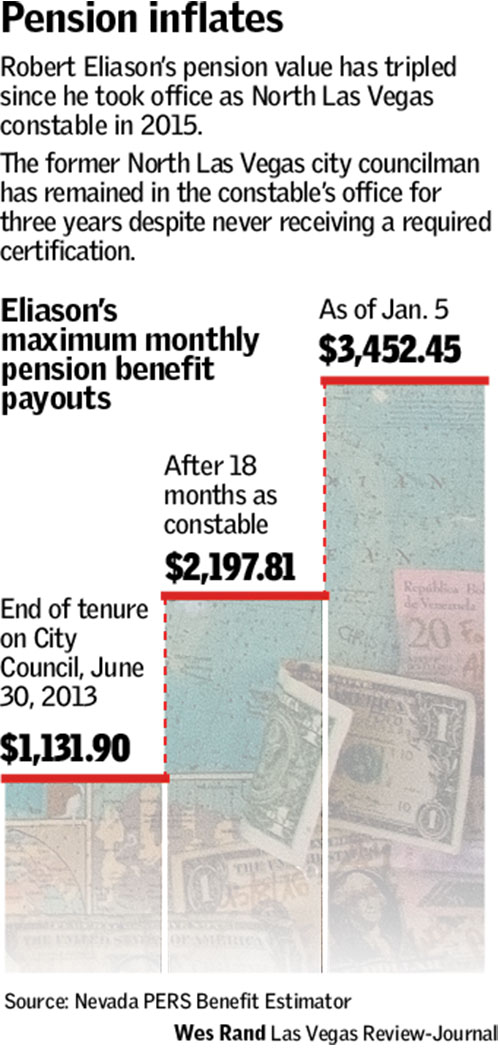 Eliason ended his 12-year tenure on the North Las Vegas City Council on June 30, 2013, but in that office made less than half the $103,000-a-year he does now as constable.
Meanwhile, as Eliason's pension continues to grow, its unclear if he should continue to hold office.
Nevada law required Eliason to become a certified law enforcement officer by the time he reached 18 months in office or forfeit his position.
Eliason did neither. Instead, he sued the county in July after commissioners finally began discussions about whether to replace him. The case is in federal court, with an injunction keeping Eliason in office.
County Commissioner Chris Giunchigliani, who before the lawsuit was willing to allow Eliason to continue serving as constable, said she would like to keep him from getting the pension increase. But while the county pays Eliason, it has no control over his pension.
"I think it was disappointing that he used the system in this way," Giunchigliani said of the lawsuit. "It just makes a mockery of the public system and unfortunately gives it a bad name."
Commission Chairman Steve Sisolak said he doesn't believe Eliason should get a pension increase but was told by county staff that there was nothing the commission could do.
"You would think that if (Eliason's legal claim) proves not to be true, that it doesn't seem fair that you could continue to accumulate the pension," Sisolak said.
Contact Michael Scott Davidson at sdavidson@reviewjournal.com or 702-477-3861. Follow @davidsonlvrj on Twitter.