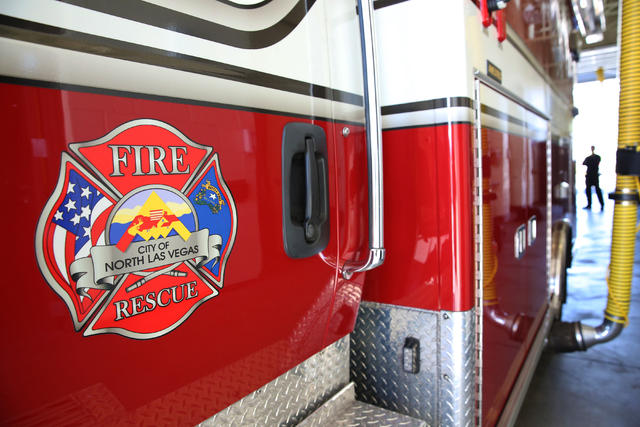 The head of the union representing North Las Vegas firefighters declared an "impasse"over staffing levels and proposed salary raises, following four months of bargaining with city negotiators on a new contract.
Firefighters are offering no salary increases for the first year of the proposed contract, followed by a 2.5 percent pay raise during the second year, said Craig Romey, president of the International Association of Firefighters Local 1607.
The city wants to reduce staffing, Romey said, while the union is offering to make adjustments.
"It was determined the city has the ability to pay, but would prefer to refinance it's bad loans on the backs of the hard working men and women on the North Las Vegas Fire Department," said Romey, whose union represents 168 firefighters.
Both sides have met at least once a week since negotiations began in late February, Romey said.
The union's current two-year labor pact with the city expires on Friday. The previous deal improved health insurance coverage and gave back merit pay benefits that were suspended as North Las Vegas struggled with a massive budget shortfall during the recession.
City officials declined to discuss the contract negotiations.
"We're actively pursuing a reasonable solution for both sides," North Las Vegas city spokeswoman Delen Goldberg said. "Discussions are at the negotiating table, not in the press."
It is disheartening, @cnlv expects to improve its bond rating on backs of our firefighters. @IAFFNewsDesk @pffnevada

— NLV Fire Fighters (@IAFFL1607) June 20, 2017
NLV @IAFFL1607 Firefighters declare impasse with @CNLV. @IAFF9th @IAFFNewsDesk @pffnevada @ProudToRescue @LasVegasFD @HendFireDept

— NLV Fire Fighters (@IAFFL1607) June 20, 2017
Bargaining was scheduled to begin Tuesday for a separate contract covering the Fire Department's battalion chiefs. The fire chief and assistant chief are not represented by the union.
Contact Art Marroquin at amarroquin@reviewjournal.com or 702-383-0336. Follow @AMarroquin_LV on Twitter.
North Las Vegas Firefighters
Regular pay for a North Las Vegas firefighter/ paramedic ranged from $65,000 to $90,000 annually in 2016.
Source: Transparent Nevada