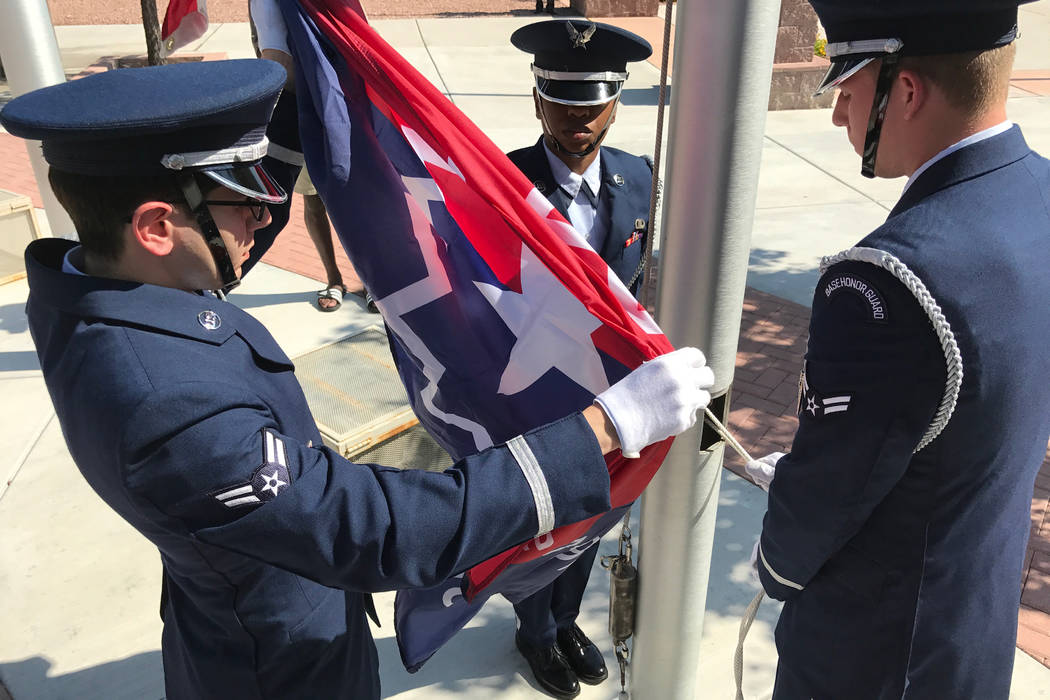 Community organizers and Buffalo Soldier re-enactors gathered Monday morning for a flag-raising in North Las Vegas to commemorate the end of slavery in the United States.
The group of about 12 was observing Juneteenth. The day commemorates Army Maj. Gen. Gordon Granger's order issued June 19, 1865, in Galveston, Texas, informing slaves they were free. The order came about 2½ years after President Abraham Lincoln issued the Emancipation Proclamation.
Members of the Nellis Air Force Base Honor Guard lowered the Nevada state flag about 9:15 a.m. and raised the Juneteenth flag behind the Martin Luther King Jr. statue, near Martin Luther King Boulevard and Carey Avenue. The flag flew throughout the 30-minute event.
The event was organized by the National Juneteenth Observance Foundation, which worked with retired Assemblyman Harvey Munford to get Nevada to recognize the day in 2011. Forty-five states have recognized the holiday, though it is an official state holiday only in Texas.
Monday's flag-raising honored all black veterans, especially the 20,000 black sailors who fought in the Civil War, foundation spokeswoman Deborah Evans said.
The foundation hosted other Juneteenth events last week and over the weekend.
Contact Blake Apgar at bapgar@reviewjournal.com or 702-387-5298. Follow @blakeapgar on Twitter.
Related
Flag raising marks start of events celebrating Juneteenth
Juneteenth event in Las Vegas honors locals — PHOTOS
Juneteenth lecture in Las Vegas highlights slavery, equality