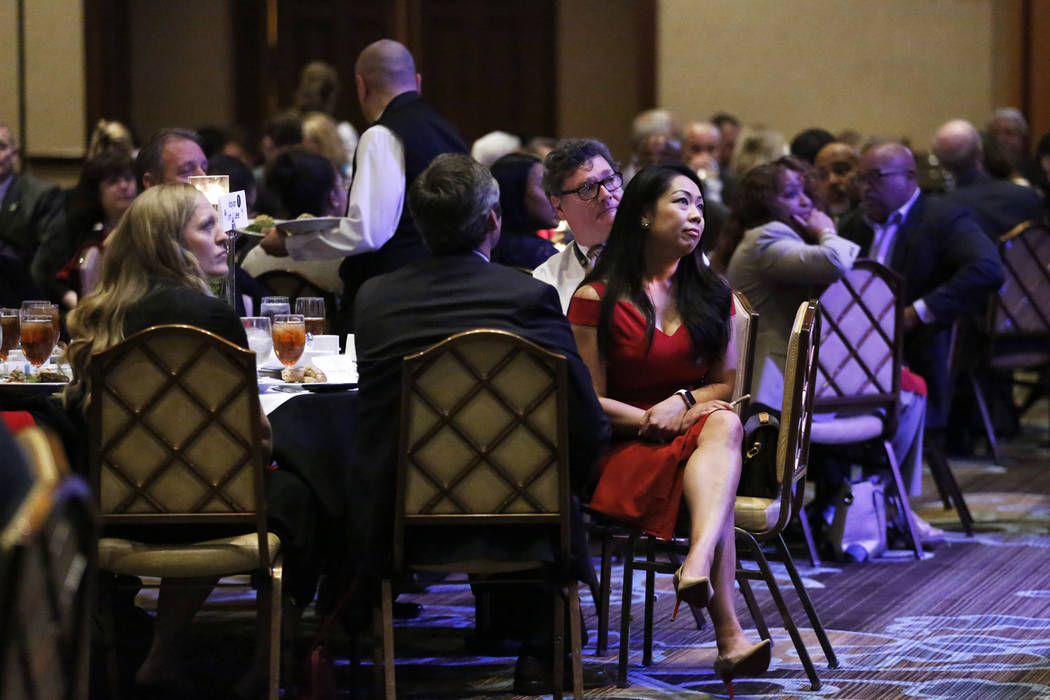 North Las Vegas Mayor John Lee declared there's a "new dirty F-word" at City Hall: Faraday Future.
During his annual State of the City speech on Thursday, Lee expressed his "disappointment" that the Chinese company ditched its plans in July to build a $1 billion electric car manufacturing plant at Apex Industrial Park.
"Without this company in Apex, we were back to square one," Lee told more than 700 people gathered for his 57-minute speech at Texas Station.
That is a 180-degree turn from last year, when a model of Faraday's FF Nine One was displayed as Lee expressed optimism for the company, which was awarded a $335 million incentive package — including $215 million in tax breaks — from the Nevada Legislature.
This time around, Lee teased that two undisclosed "massive projects" are expected to take Faraday's place at Apex, a sprawling chunk of vacant land that city officials have long envisioned as a hub of warehouse and industrial activity.
Lee said the prospect of finally drawing businesses to Apex led to 16 changes in state law that would allow North Las Vegas officials to build water and sewer lines to the industrial area just north of the city.
Work is underway to install a $4 million elevated water storage tank and water line connecting to an existing city well that will serve the northern end of Apex, Lee said. An existing water line will be extended by more than five miles to serve the southern end of the industrial park.
Lee also announced that Prologis and Van Trust are developing industrial and warehouse space on 1,100 acres near the Las Vegas Motor Speedway, where officials are building roads and connecting sewer lines.
"North Las Vegas is no longer a bedroom community to the Strip," Lee said. "We are the e-commerce capital of the west, and soon the nation."
Although there were whispers by some attendees, Lee did not discuss a recent conflict that led to the departure of Qiong Liu as city manager. The City Council on Wednesday night agreed to temporarily replace Liu with the mayor's longtime political ally, Ryann Juden, who has been assistant city manager for more than two years.
City officials have not announced when they will search for a permanent city manager.
Other highlights of Lee's speech:
Lee is halfway toward meeting a goal set at the start of his first term to secure 100 million square feet for residential, commercial and industrial projects.
Downtown redevelopments underway include a 14-screen movie theater opening this year; the conversion of the Canyon Electric Building into a new central library; the transformation of Washington Continuation School to a "learning campus;" and a new park.
Nellis Air Force Base is projected to double in size over the next 10 years with the arrival of two new command units.
The city hired 45 new police officers and 18 firefighters in 2017, with another 38 officers and 12 firefighters expected this year.
The city's credit, once at junk-bond status, is back to investment-grade with a Baa3 bond rating by Moody's Investors Service.
Near the end of his speech, Lee said making change is a lot like heaven.
"Everyone exalts it, but nobody wants to really take a chance to see if they get there," he said. "That has not been the case in North Las Vegas. We are not afraid to go first. We're driving the ideas that are changing our state, we're pushing those ideas forward."
Contact Art Marroquin at amarroquin@reviewjournal.com or 702-383-0336. Follow @AMarroquin_LV on Twitter.