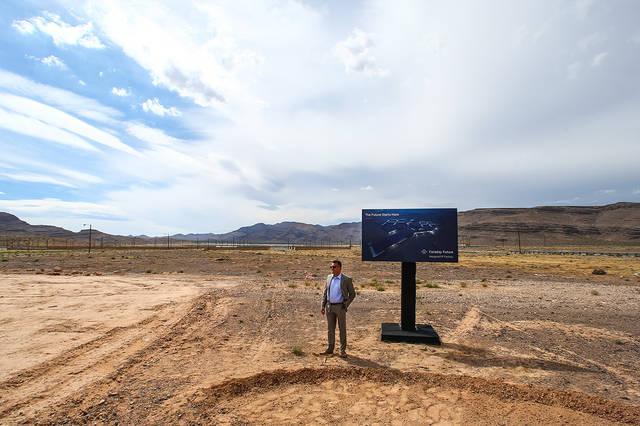 The North Las Vegas City Council on Wednesday night unanimously approved contracts aimed at connecting water and sewer lines to a pair of industrial areas.
Poggemeyer Design Group Inc. was awarded a $395,160 engineering contract to oversee designs for a project that will finally deliver water to roughly 400 acres of land in the northwest section of the Apex Industrial Park in North Las Vegas.
Poggemeyer will design a 150-foot-tall storage tank expected to hold about 750,000 gallons of water, along with various connections. Water service could begin within 18 months, city officials said.
Representatives for several landowners and tenants, including Hyperloop One, spoke in support of the plan because it would help with dust control.
The overall $3.6 million water infrastructure project will be "jump-started" by the city's Utilities Enterprise Funds, but eventually repaid by developers who plan to someday build at Apex, according to a report from North Las Vegas Utilities Director Randall DeVaul.
The water project comes as two undisclosed "major companies" negotiate deals to build projects spanning more than 3 million square feet, city officials said.
Even though Faraday Future scrapped plans to build a manufacturing plant for electric cars, state lawmakers revised 16 laws last year aimed at allowing North Las Vegas to build water lines at the industrial park.
Separately, the City Council on Wednesday night awarded a $2.19 million construction contract to Meadow Valley Contractors Inc. to build new water and sewer utility lines that will serve a planned 1,100-acre industrial park near Interstate 15 and the 215 Beltway.
Plans call for laying sewer pipes from Tropical Parkway and Sloane Lane to existing infrastructure within the city. The new lines will serve an area tentatively known as the Northern Beltway Commercial Area, where city officials want to eventually build manufacturing and warehousing businesses.
The project will be funded by a portion of $18.9 million in municipal bonds that the City Council agreed to sell last November. Those bonds will be repaid through funds collected from property assessments placed on the owners within the Northern Beltway Commercial Area.
Contact Art Marroquin at amarroquin@reviewjournal.com or 702-383-0336. Follow @AMarroquin_LV on Twitter.