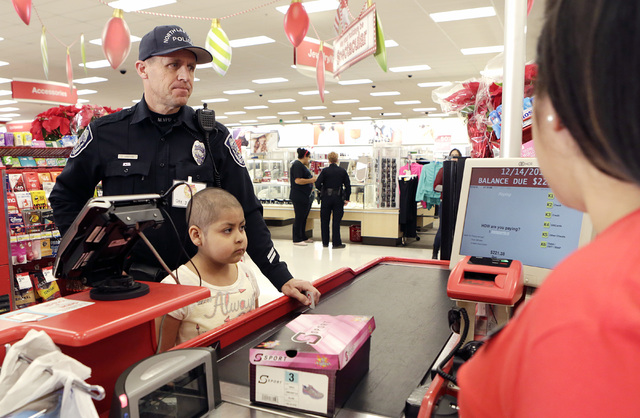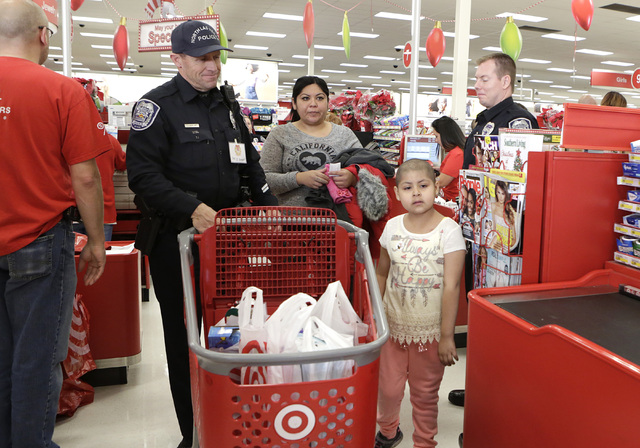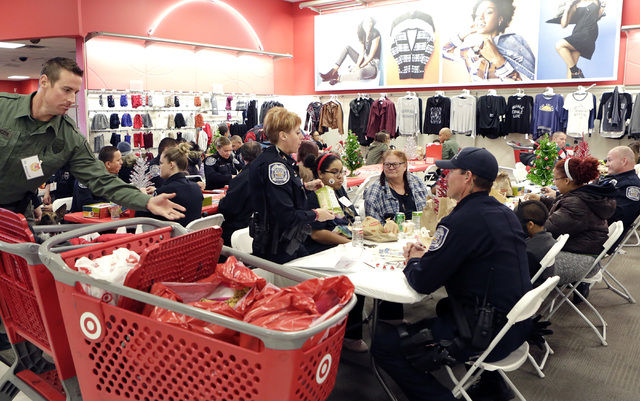 Police cars, with lights and sirens blazing, paraded through a North Las Vegas Target store parking lot Wednesday morning, but they weren't responding to a crime.
Members of the North Las Vegas Police Department were escorting Santa Claus to the store for the annual Shop with a Cop event.
The department partnered with Target to let about 30 children have an officer be their personal shopper. Some of the children belong to organizations helping seriously and terminally ill children, such as Candlelighters of Southern Nevada, Positively Kids and the Nevada Childhood Cancer Foundation. Others have parents with disabilities that hinder their ability to work and afford holiday presents.
Roxy Huerta, a 6-year-old with acute lymphoblastic leukemia, and her mother Joanna Huerta, were paired with officer Jay Simpson for their shopping spree. With a budget of about $200, Simpson helped the little girl find toys, movies and clothes.
A $5,000 grant from Target and donations from North Las Vegas businesses and residents made this event possible.
Roxy and Simpson took a photo with Santa and each of them took home a copy signed by the other.
"We always put the picture with all of our other Christmas cards," Simpson said.
He has participated in the event every year since he joined the force 15 years ago.
"It's just an awesome opportunity to spend a little bit of time with these kids," Simpson said. "It really brings in the spirit of Christmas."
One movie Roxy picked was "Finding Dory," which she saw for the first time with Candlelighters. She selflessly used part of her spending money to get a copy of the movie "Suicide Squad" to wrap and give to her mom for Christmas.
Roxy didn't start kindergarten this year because of her diagnosis, but hopes to start first grade next school year. Meanwhile, she eagerly awaits the arrival of her baby sister, who will be born in about two months.
"Every day she rubs my belly and asks, 'How's my little sister doing in there?'" Roxy's mom said.
Jackie Long, a single mother and former corrections officer, brought her 7-year-old son Andrew, a Wolff Elementary School second-grader, to the event.
Jackie's friend knew she was struggling financially and surprised her and Andrew with this opportunity.
Jackie was diagnosed with lupus and works as a substitute teacher for the Clark County School District when she can.
"All the breaks we have over the holidays made it hard for me," Jackie said with teary eyes. "I keep pushing for him. It's never easy when you do it by yourself, but I do it."
Jackie and Andrew were paired with SWAT officer Chris Coloma.
"I'm happy to do it every year, regardless if I'm in the parade or helping shopping," said Coloma, a repeat Shop with a Cop participant. "It's something that's rewarding and I'll be back next year."
Andrew got an assortment of items but said, "The most fun thing was toys!"
Las Vegas City Council members and Clark County School District police will host a Shop with a Cop event on Saturday at Wal-Mart, 4505 W. Charleston Blvd. Henderson police will host the event on the same day at Target, 350 W. Lake Mead Parkway.
Contact Lawren Linehan at llinehan@reviewjournal.com or at 702-383-0381. Follow @lawrenlinehan on Twitter.