North Las Vegas police chief to retire after 3 years on job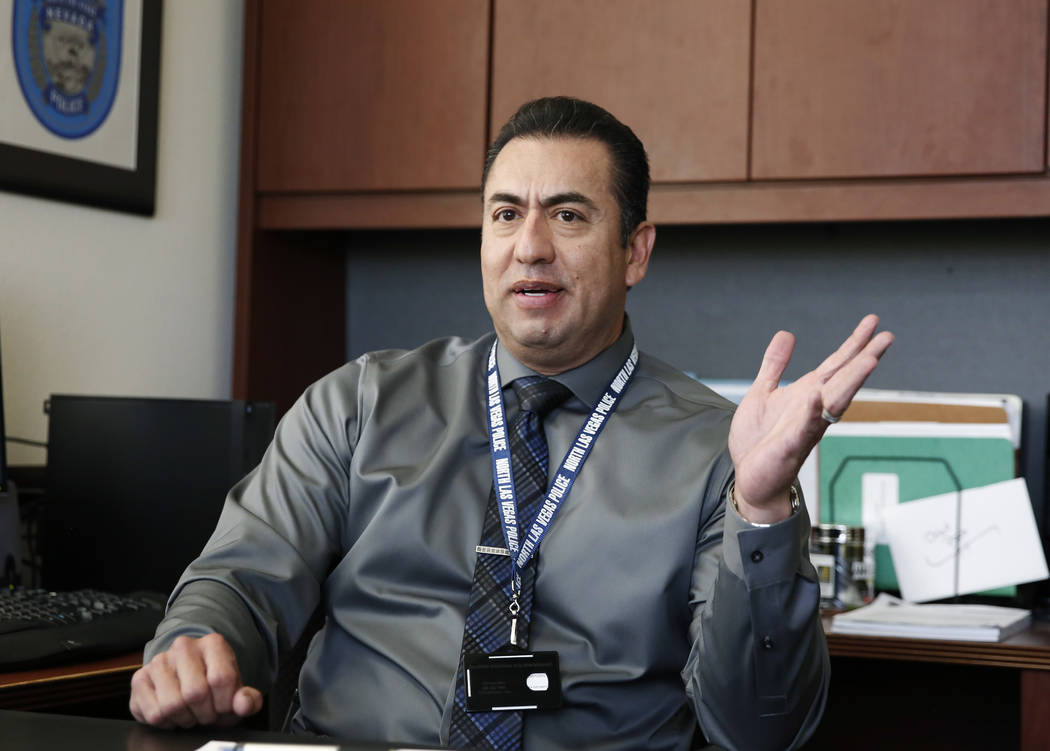 North Las Vegas Police Chief Alexander Perez announced Tuesday that he will retire May 24, meeting a promise to serve only a brief, three-year tenure that was marked by hiring additional officers and expanding the department's outreach to the city's Spanish-speaking residents.
Starting off as a patrol officer in 1995, Perez rose through the ranks in the narcotics, problem-solving, detective and other units to become the first Latino to serve as the city's top cop.
"I didn't feel that I had a lot to prove by being the first Latino police chief," Perez told the Review-Journal inside his office at police headquarters.
"The job is a job and you have to get it done and you have to see improvement," Perez said. "You have to see a creative impact on the community and the way to do that is to engage."
At 48, Perez said he'll start looking for jobs in the private sector after spending some time this summer with his wife, their 10-year-old son and 7-year—old daughter.
A successor had not been named, but Perez said that city officials will likely examine internal candidates to become the next police chief prior to conducting a wider search.
"In the last 10 years, our Police Department was not viewed upon well by the city or the unions and leadership was an issue," North Las Vegas Mayor John Lee said. "But Chief Perez brought everyone together, he's served as an ambassador throughout the city and he's accomplished more than any other police chief we've had."
The North Las Vegas Police Department had 245 officers in 2015, but grew to 345 sworn personnel over the past three years under Perez's watch, with another 40 positions budgeted over the next couple of years.
Shortly after he was appointed chief in May 2015, Perez started the Hispanic Citizens Academy, mirroring a similar program offered by the Las Vegas Metropolitan Police Department to educate Spanish-speakers on how law enforcement works.
"We didn't always see eye-to-eye on issues, but we discussed things as adults and we had very few incidents where we had to go into arbitration or anything acrimonious," said Mike Yarter, president of the North Las Vegas Police Officers Association, the union representing the city's rank-and-file sworn personnel.
Perez has deep roots in North Las Vegas, where his parents met during the mid-1960s. Up until he was 5 years old, Perez lived in a small house on Carey Avenue that's now across the street from a Smith's supermarket.
The family moved to another house in North Las Vegas, and on to the east valley, where he graduated from Eldorado High School in 1987.
In his youth, Perez admitted to being "adventurous" but never getting into any major trouble outside of a few traffic citations. Still, his few interactions with North Las Vegas police officers were very different from the way he trains his staff today.
"When I did have contact with them, it wasn't very pleasant," Perez recalled. "Today, we have communication and respect with everyone we encounter. That's what trust is built on, and it's something that I've told all my officers."
Contact Art Marroquin at amarroquin@reviewjournal.com or 702-383-0336. Find @AMarroquin_LV on Twitter.