North Las Vegas police looking for missing 3-year-old girl
November 30, 2018 - 2:25 pm
Updated November 30, 2018 - 5:43 pm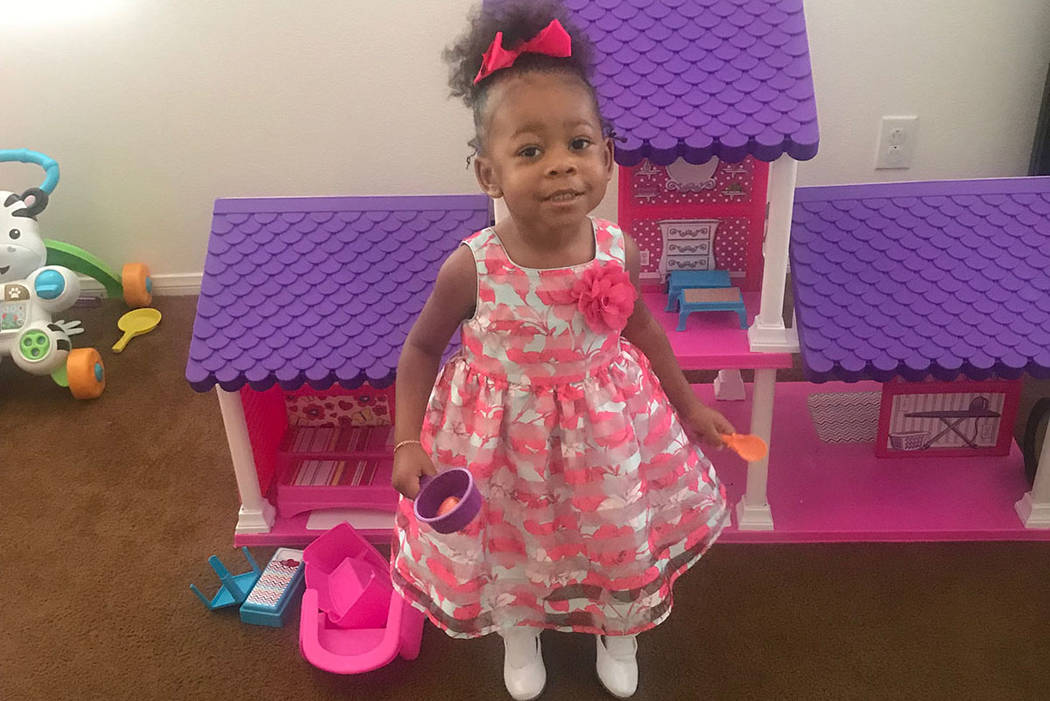 North Las Vegas police asked the public for help Friday in locating a 3-year-old girl reported missing in August.
Police said Zaela Walker's parents, Lakeia Walker and Ricky Beasley, were found without the child earlier this month in Houston.
The girl's maternal grandmother, Carla Richardson, called North Las Vegas police on Aug. 25 to file a missing persons report, and officers responded to her home in the 4600 block of Mission Cantina Avenue, where Zaela and Walker were living.
By then, Richardson hadn't seen her granddaughter for nearly two weeks. She told the Las Vegas Review-Journal that during that period, Walker repeatedly said that Beasley had taken Zaela to California to visit her paternal grandfather.
She last saw her daughter on Aug. 22, when Walker hurried out of the home, telling Richardson, "I'll be right back."
A frustrated Richardson reached out to the Review-Journal last week, saying that North Las Vegas police refused to help her find Zaela.
"If they would have actually done some investigating, the baby would be home by now," she said.
But police spokesman Eric Leavitt told the newspaper Friday that detectives "never stopped investigating."
"In cases like this, where it's not apparent what the situation is because the daughter was last seen with the parents, detectives have to figure out what's going on," he said. "Unfortunately that takes time. In this case, there were no immediate red flags to the detective during his initial investigation."
The Police Department announced the child was missing for the first time in a news release Friday.
Richardson could not be reached for comment after the department's announcement.
Leavitt said that after Richardson had filed the report, detectives entered the family's names into a national database of missing persons but received no information until the Texas Department of Public Safety in Houston contacted the department months later.
That hit in the national database came Nov. 17, Leavitt said, when Zaela's parents were pulled over in Houston for a traffic stop. When the officer ran their names, they learned that the family, with a 3-year-old girl, had been reported missing.
The couple was detained and questioned, at which point they became uncooperative, police said, claiming they had no knowledge of Zaela's whereabouts.
Walker was released after 48 hours, but Beasley was arrested on unrelated charges, Leavitt said.
Richardson said last week that she last spoke to Walker over the phone on Nov. 18.
During that phone call, Walker again told her mother that the 3-year-old was with Beasley's family.
But Richardson said she has been in contact with Beasley's mother, who also has not seen Zaela.
"His mother is so worried, too," Richardson said.
Richardson said she has known for weeks that Walker and Beasley were in Houston, and that she had been feeding information to the North Las Vegas detective in charge of the investigation.
"We were giving him leads, telling him we heard she's in Texas," Richardson said. "At this point, I don't know what's going on."
Leavitt said North Las Vegas police are hoping the parents left Zaela with someone in the Las Vegas Valley. Anyone with information may contact the department at 702-633-9111 or Crime Stoppers at 702-385-5555 to remain anonymous.
Contact Rio Lacanlale at rlacanlale@reviewjournal.com or 702-383-0381. Follow @riolacanlale on Twitter. Contact Rachel Spacek at rspacek@reviewjournal.com. Follow @RachelSpacek on Twitter.