North Las Vegas police officer killed by errant driver remembered
January 9, 2018 - 5:50 pm
Updated January 9, 2018 - 9:56 pm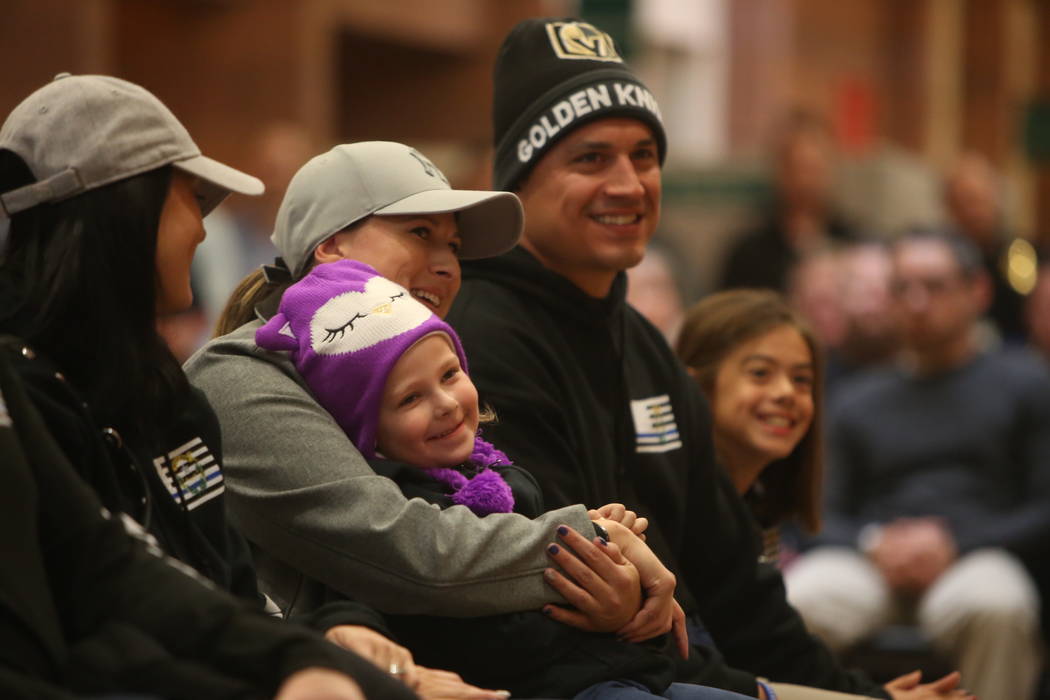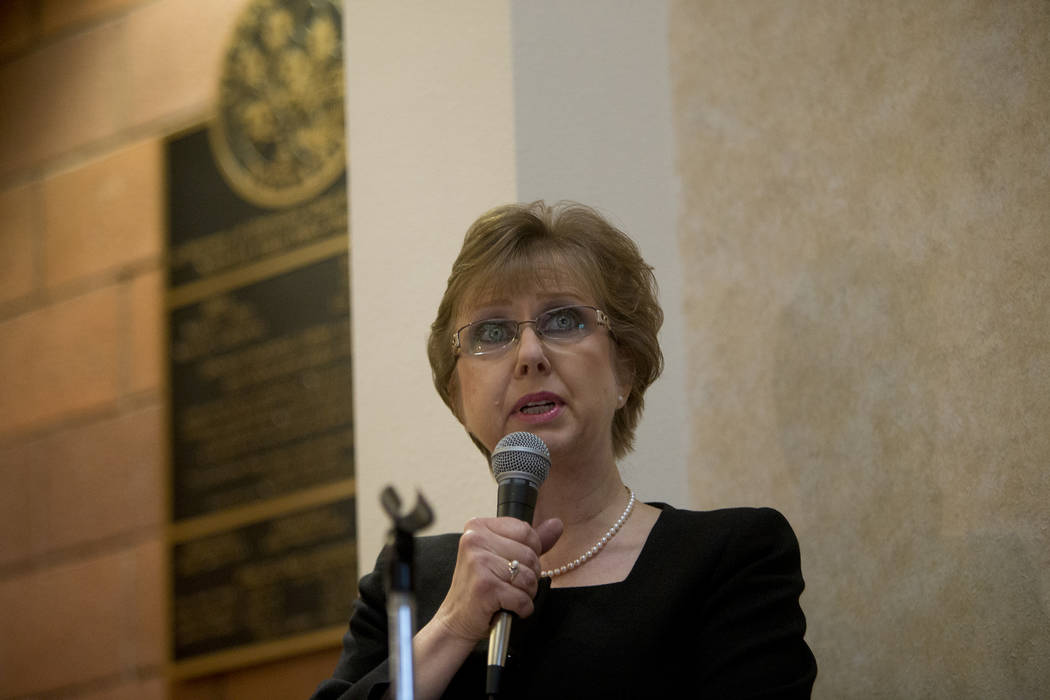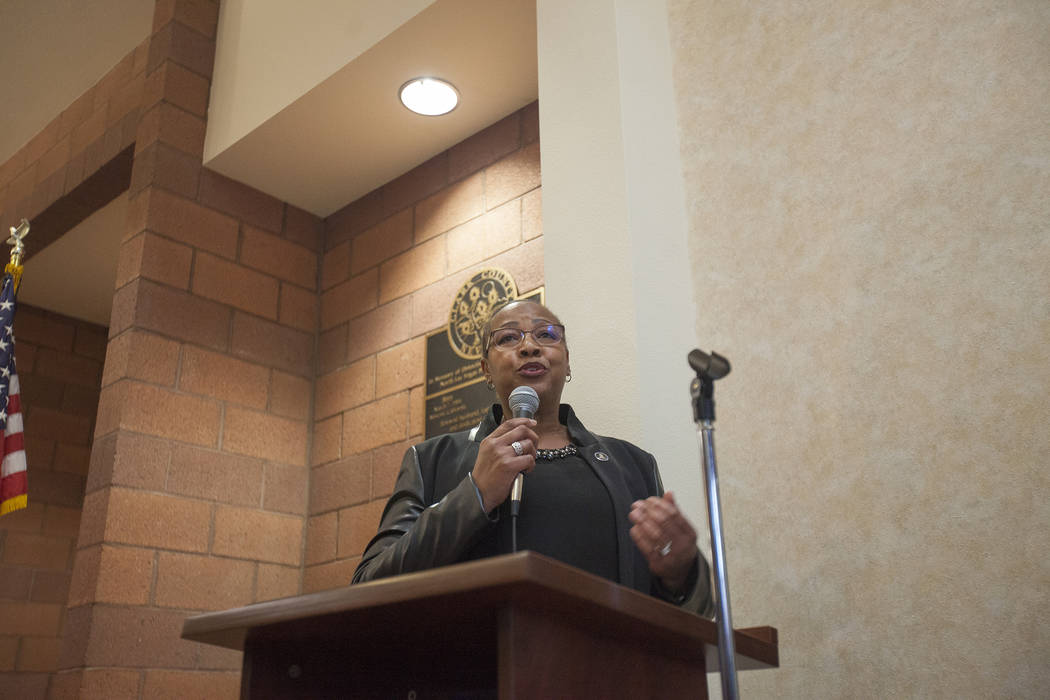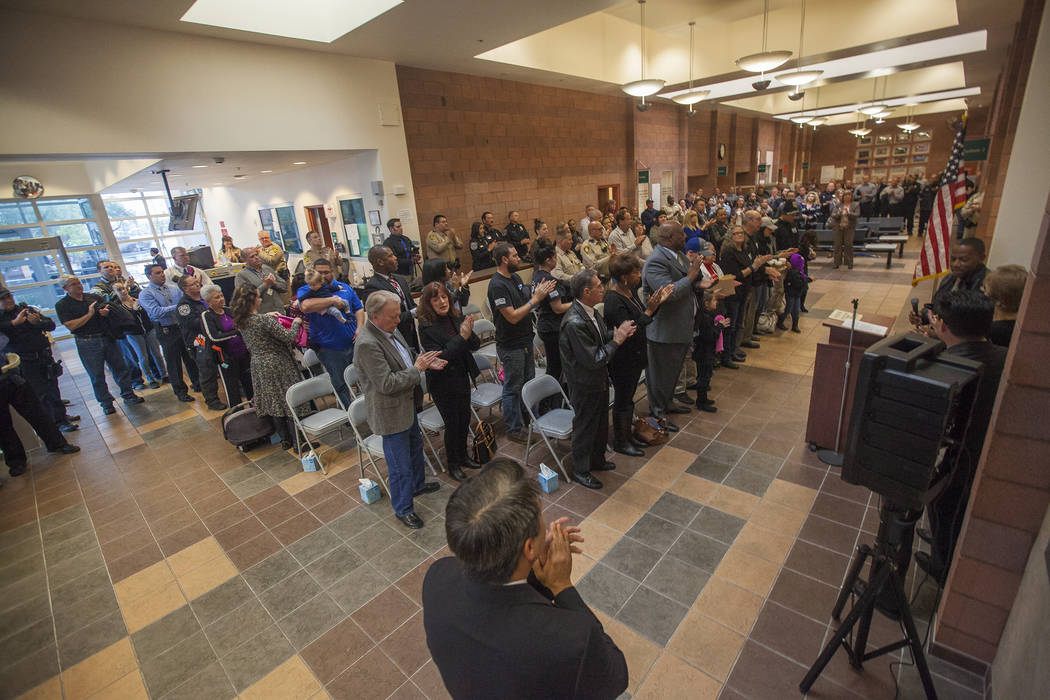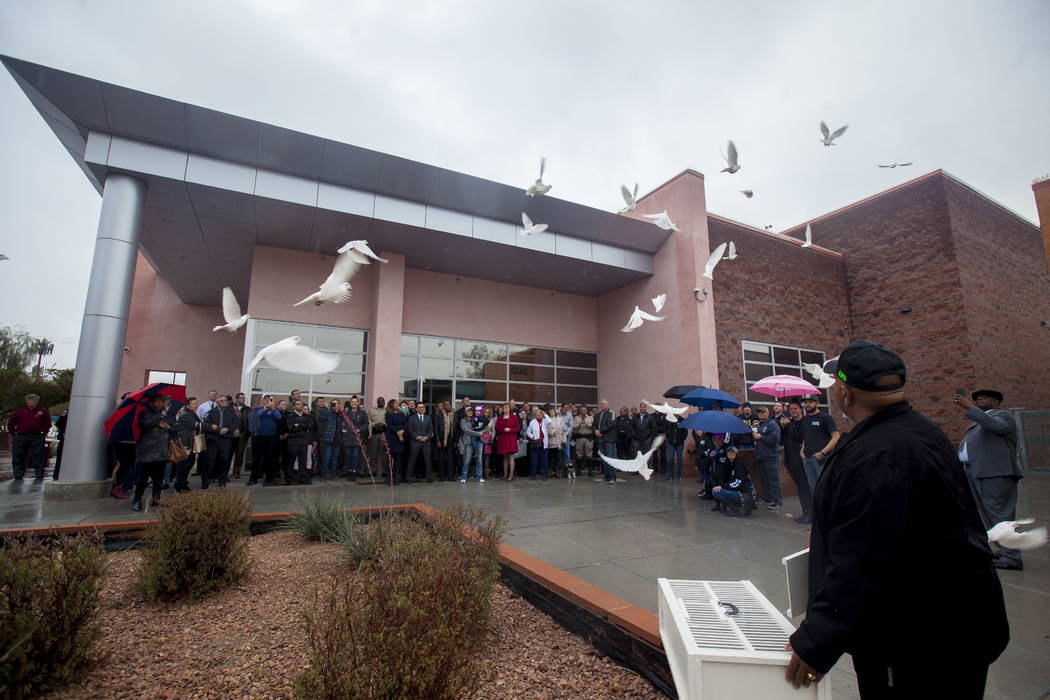 A fleet of doves sliced through the gray sky Tuesday afternoon in honor of fallen North Las Vegas Police Department detective Chad Parque, whose life was cut short a year ago by a wrong-way driver.
At least 50 people — members of Parque's family and colleagues — gathered Tuesday to celebrate his life at the North Las Vegas Justice Court, where the on-duty detective was hit Jan. 6, 2017, while exiting the court's parking lot. He died from his injuries a day later.
"The terrible event that took his life was witnessed by some of the staff here at the court that day," Judge Natalie Tyrrell said. "His final duties as a police officer were spent at the North Las Vegas Justice Court."
It took more than nine months to charge Kokoe Akouete-Ekoue, who for more than a year had been identified by North Las Vegas police only as a 62-year-old woman. In the year since Parque's death, the police department had not released the driver's name.
According to a criminal complaint obtained Tuesday by the Las Vegas Review-Journal, Akouete-Ekoue faces one misdemeanor count of vehicular manslaughter in connection with the crash. She pleaded not guilty Oct. 24.
The complaint alleged the fatal crash was caused by "an act or omission that constitutes simple negligence." Akouete-Ekoue was driving south in the northbound lanes of Martin Luther King Boulevard, near Carey Avenue, when she allegedly crashed into Parque's car.
The 10-year North Las Vegas police veteran had to be cut out of his vehicle.
During Tuesday's celebration of his life, three city judges surprised Parque's family with a large memorial placard displayed on a wall in the heart of the courthouse's lobby.
The words engraved onto the bronze-colored sign echoed what many have said about the detective since his passing: "Beloved husband, father, son, friend and dedicated police officer. Chad served the community of North Las Vegas with honor, integrity and distinction."
"All the stories they say about him are true," North Las Vegas police spokesman Aaron Patty told the Review-Journal on Tuesday. "He was a go-getter. He was a workforce. He could have gone anywhere in the department."
By the end of the ceremony, 32 doves circled overhead — one for each year of Parque's life.
Parque's wife, Jessica Parque, and their young daughter Riley stared up at the sky, drops of rain landing on their faces. As the birds flew out of sight, the two smiled and slipped back into the courthouse. Standing in front of the placard, Jessica Parque held Riley in her arms as she ran her fingers across the raised letters.
"He's gone far too soon and will be forever missed," the sign said.
Akouete-Ekoue's trial is scheduled for March 1. Her attorney, Roger Bailey, could not be reached for comment Tuesday.
A year after the crash, it remained unclear why she was driving on the wrong side of the road. Patty, the department spokesman, couldn't say whether police believed impairment or speed were factors in the crash.
Contact Rio Lacanlale at rlacanlale@reviewjournal.com or 702-383-0381. Follow @riolacanlale on Twitter.