North Las Vegas vigil for peace and unity draws 700
August 20, 2017 - 8:48 pm
Updated August 21, 2017 - 12:55 am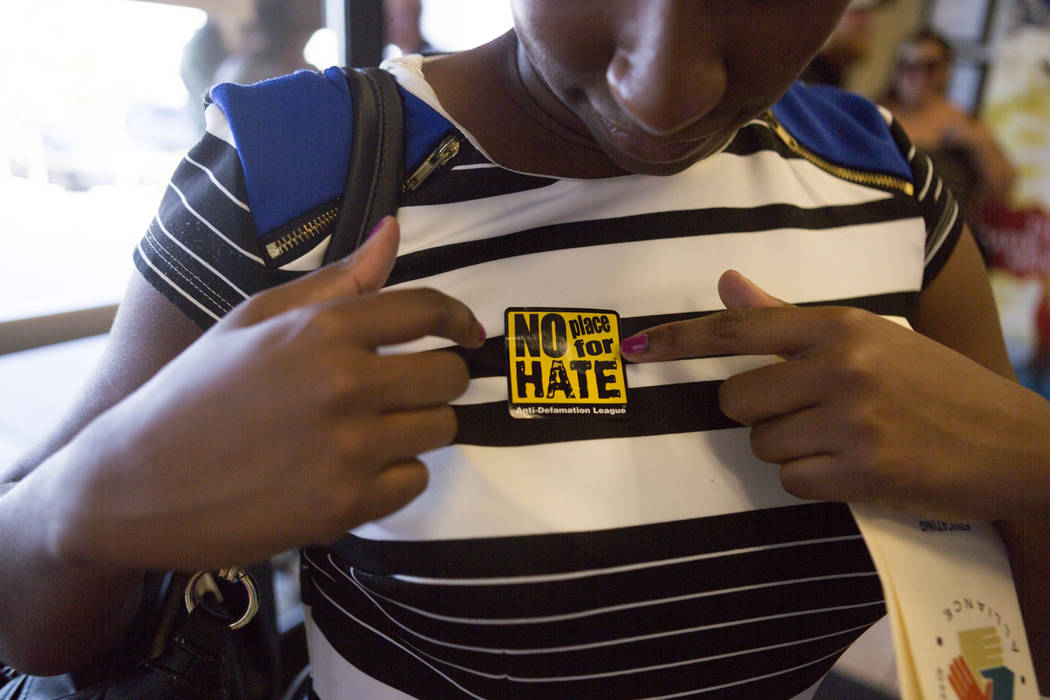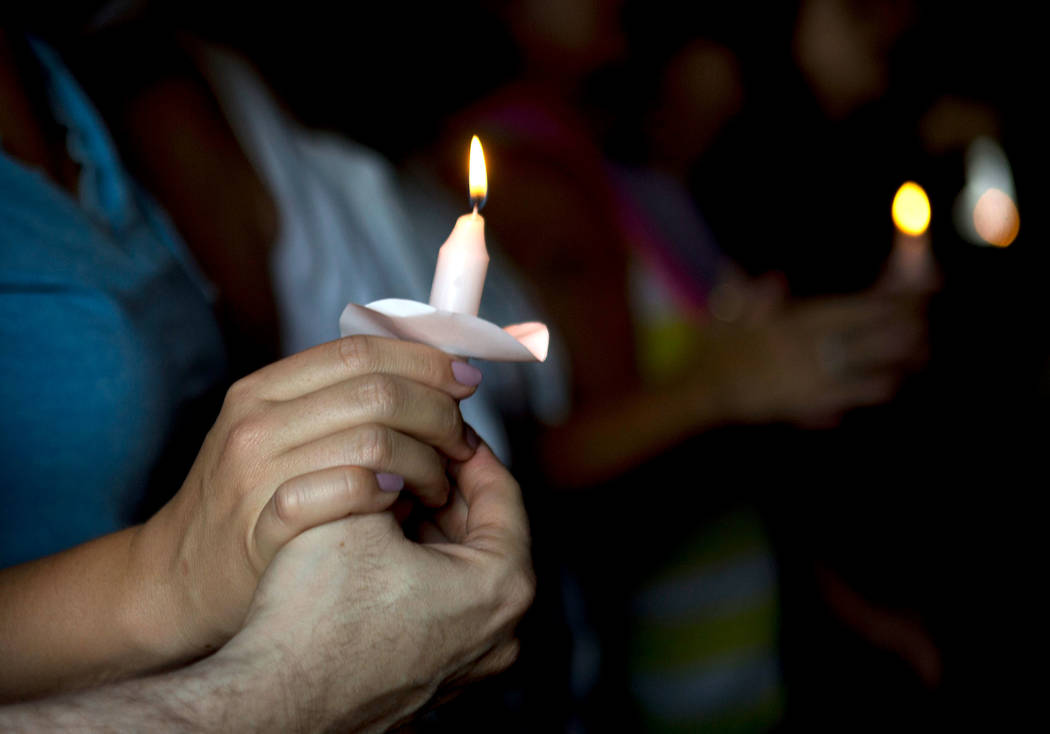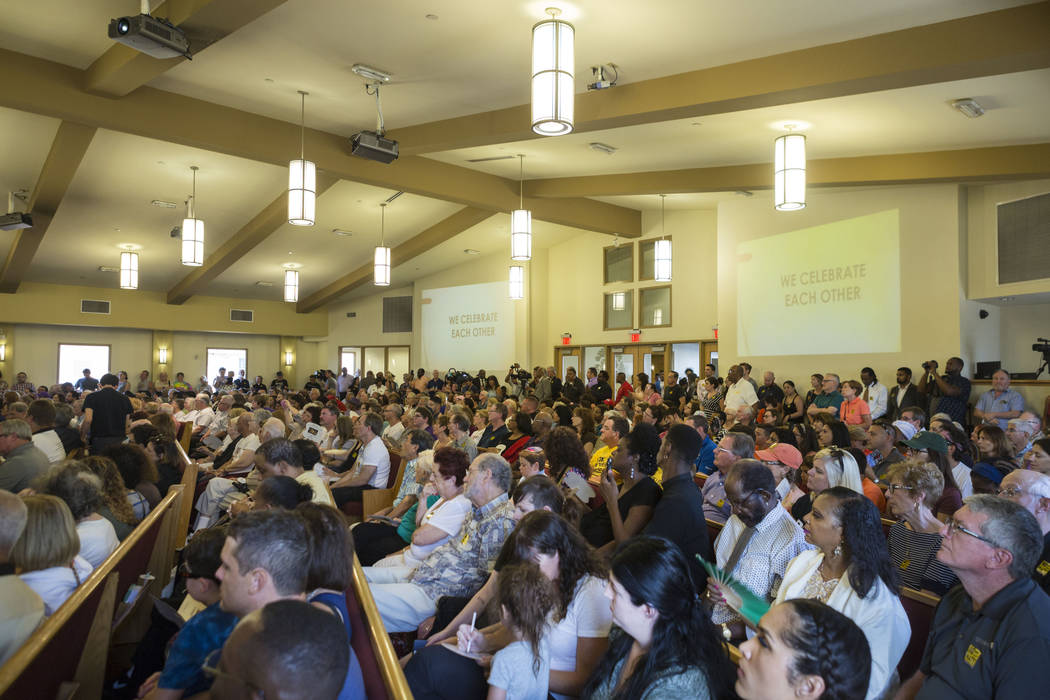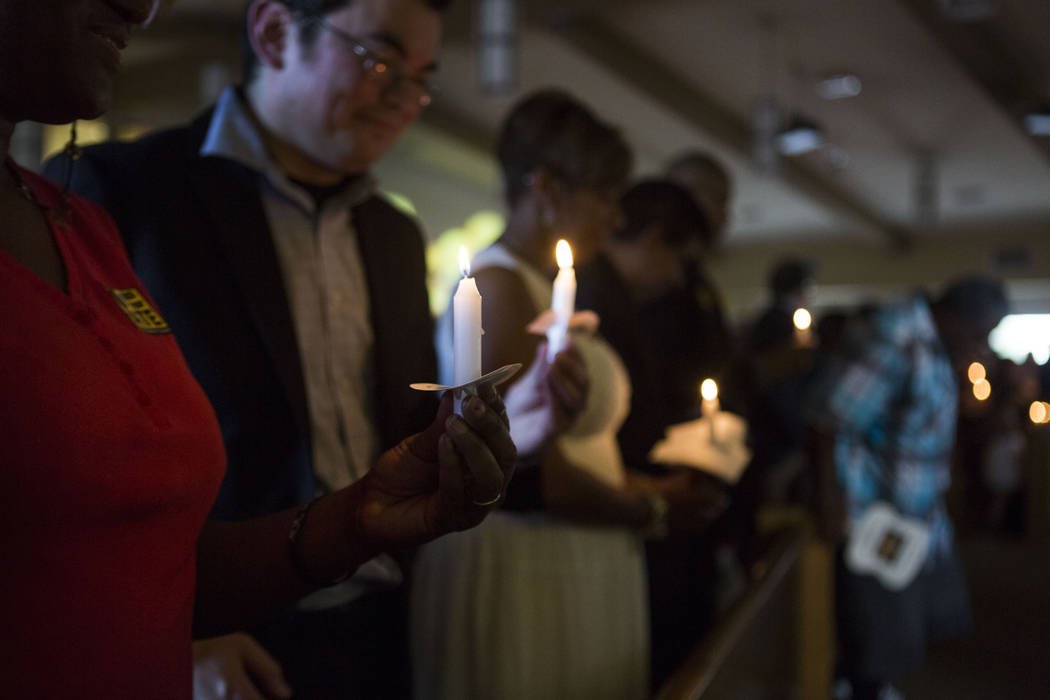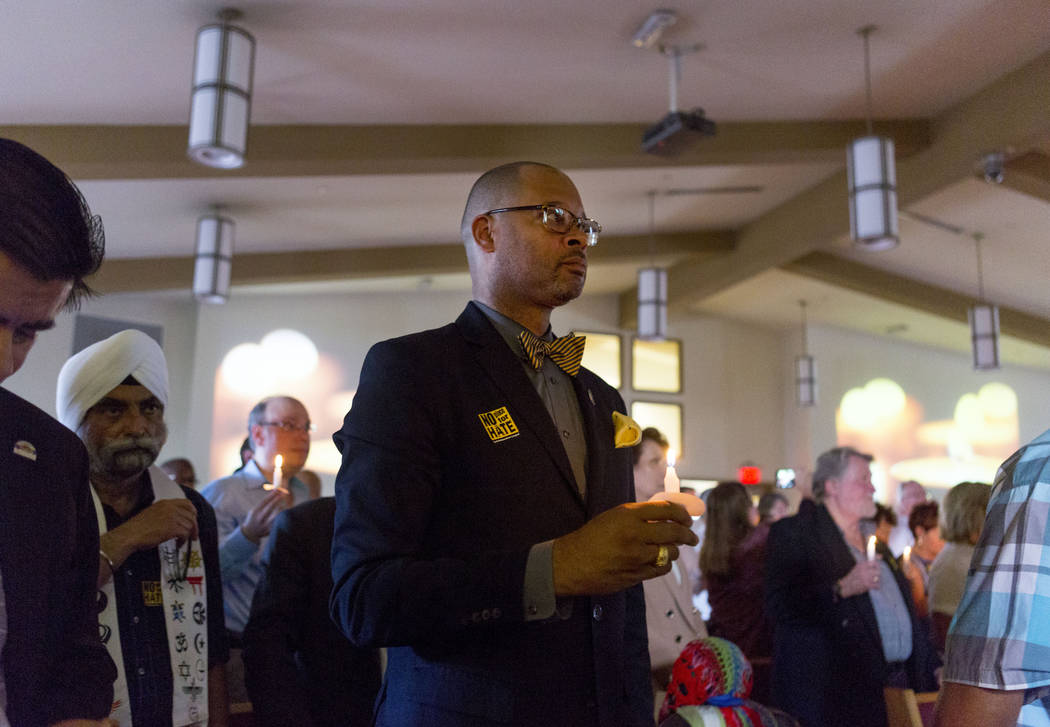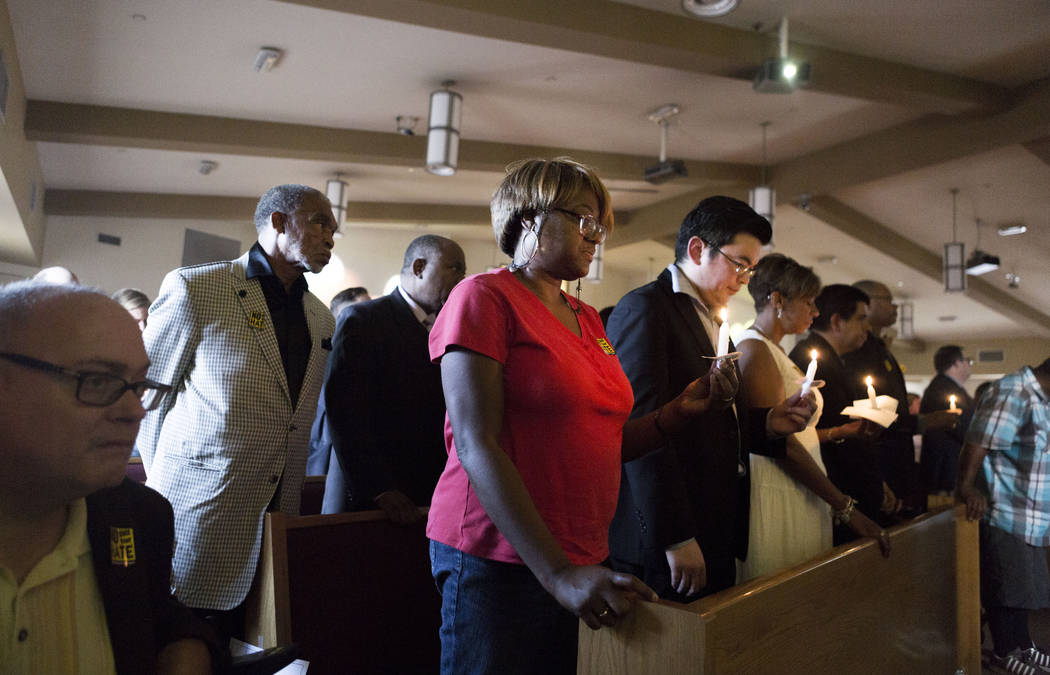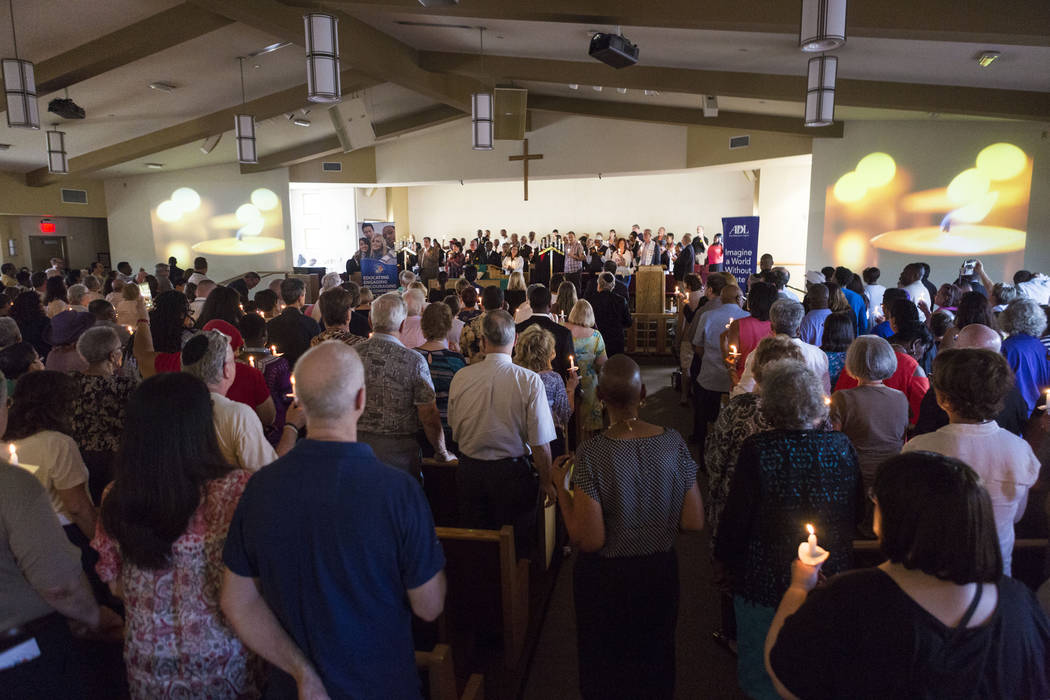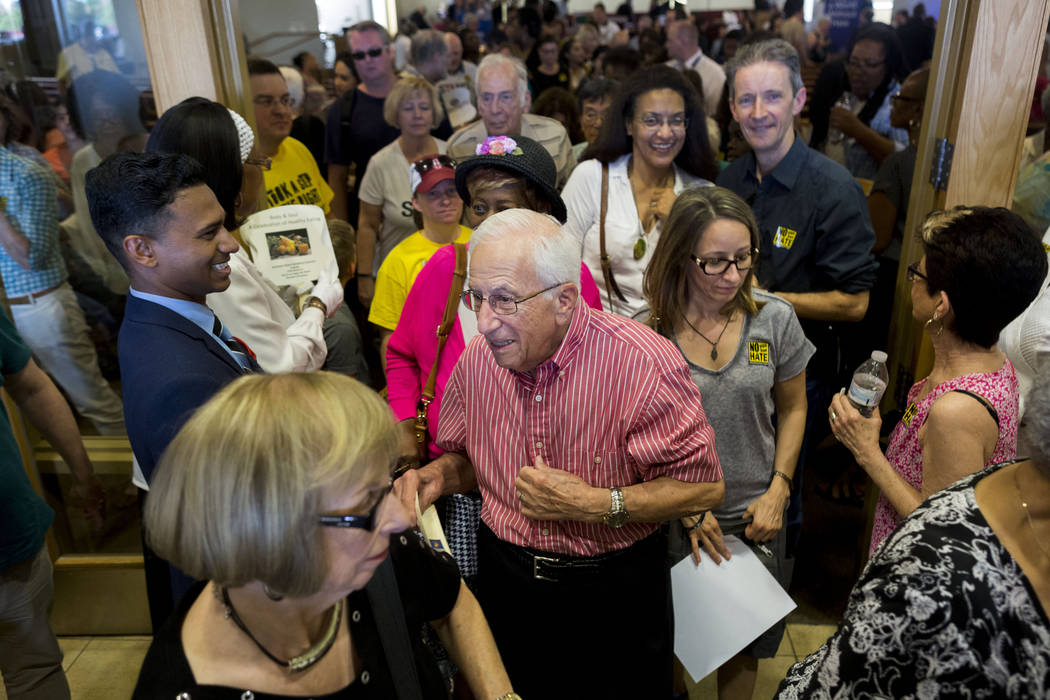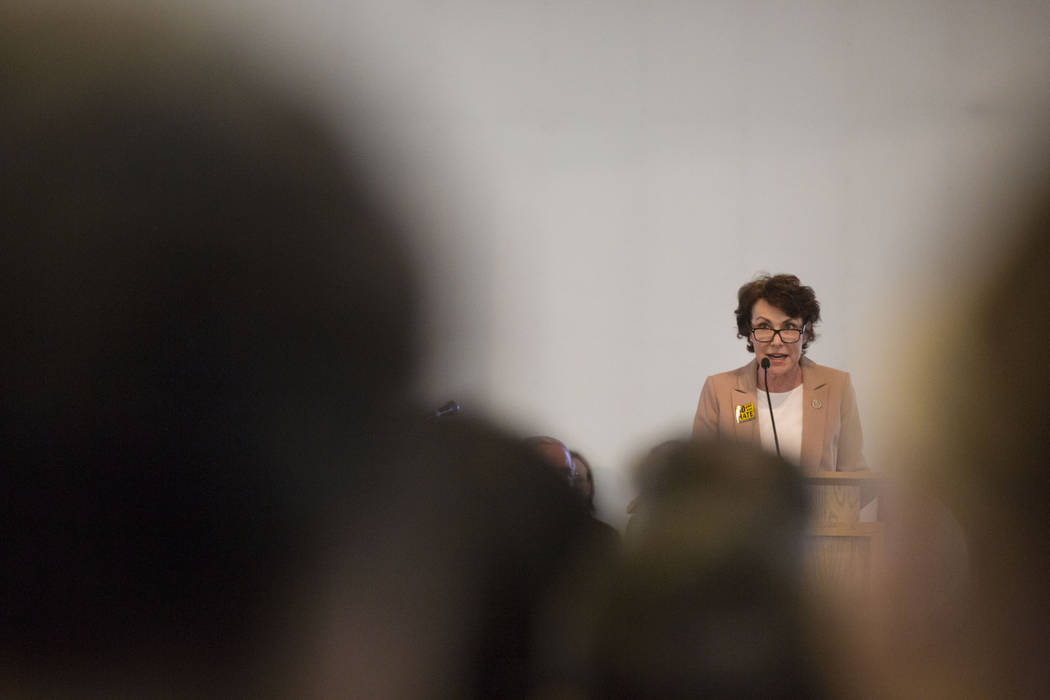 In the wake of the violent protests in Charlottesville, Virginia, Jolie Brislin's 10-year-old daughter had an important question for her mother, the regional director of the Anti-Defamation League.
"What are you going to do about it?"
"She's 10 years old and she nailed it," Brislin told an audience of approximately 700 people gathered for a vigil Sunday afternoon at the First African Methodist Episcopal Church in North Las Vegas. "This is what we should all be asking. What are we going to be doing about this?"
The standing-room-only vigil Sunday called for peace and unity after white supremacist protesters were heard spewing bigotry and hatred last weekend.
In response, Las Vegans stood shoulder-to-shoulder in pews denouncing anti-Semitism, racism and bigotry.
"When I saw what happened in Charlottesville, it took me back to the 1960s, when I was a kid watching what took place during the civil rights movement," said First AME Church Pastor Ralph Williamson. "It is a fresh reminder that racism is not dead. It's alive and well in our nation. We need to do something that will drastically change this. I never want to see that happen again."
Despite a broken air conditioner, people flapped fans and passionately sang spirituals and songs of love.
"I was thinking the air conditioner was broken today because we should not be comfortable — not comfortable and not complacent," said U.S. Rep. Jacky Rosen, D-Nev. "When they lit those torches in Charlottesville, what they did was ignite a blaze that is burning across our nation and bringing us together in the name of equality, justice, tolerance and, yes, in shared faith."
The National Association for the Advancement of Colored People, the Anti-Defamation League, the Interfaith Council of Southern Nevada, the Jewish Federation and multiple religious faith groups sponsored the vigil.
"Las Vegas is, and will always be, no place for hate," Brislin said. "We cannot combat one form of hatred without combating all forms of bigotry."
Prayers were said asking for good for all people.
One man disrupted the vigil shouting that he was disappointed in everyone, although it was unclear why.
He was escorted out soon after.
Speakers talked of how people are not born hating, but that hate is learned and can be unlearned. Another speaker shouted, "All lives matter."
State Senate Majority Leader Aaron Ford, D-Las Vegas, focused his speech on his son who at age 5 was told by other boys at his day care center that he could not sit with them because he is black.
"At 5 years old, I had to have a discussion with my son about race," Ford said. "That discussion ended with him saying, 'But, Daddy, why won't my friends let me sit with them?' I was reminded that hatred is learned. I don't blame those young boys. I blame their parents."
Terry Walker came to the event in hopes that people would act.
"We have freedom of speech, but when it deals with violence and hate, we need legislation to happen," Walker said. "This won't be solving any problems. We need a solution. I'm sick and tired of this violence."
During the vigil, many lit candles and sang a song of hope, and others hugged and smiled, in the spirit of unity.
D.J. Sinai, of Temple Beth Sholom, attended the vigil with the hope that peace can bring togetherness.
"'Zechor' means remember," Sinai said. "We need to remember these kinds of horrible events, so they don't happen again. What happened in Charlottesville showed that we didn't learn from each other in the past."
"Las Vegas needs to be the stepping ground, be the example and show that hate will always lose."
Contact Sandy Lopez at slopez@reviewjournal.com or 702-383-4686. Follow @JournalismSandy on Twitter.
Related
Virginia tragedy sparks North Las Vegas rally against injustice