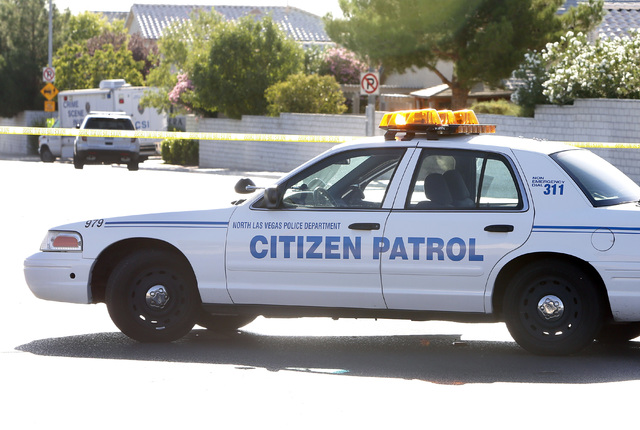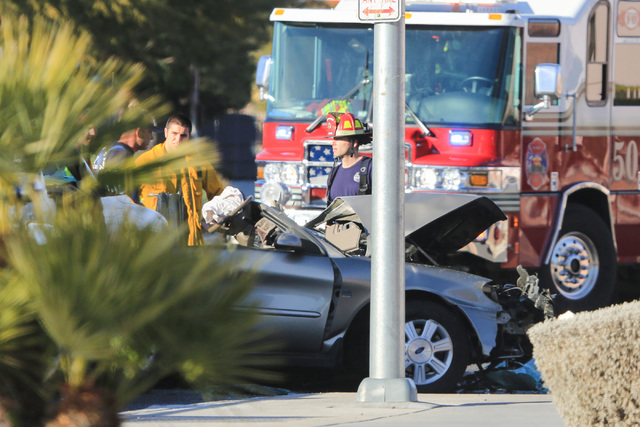 Civilian street patrollers aim to help the North Las Vegas Police Department prevent crime by offering a united front and identifying public hazards.
In North Las Vegas, 28 VIPS Citizen's Patrol Program members work in pairs, acting as the eyes and ears of the Police Department by identifying suspicious activities, crimes or dangerous situations. VIPS is an acronym for Volunteers in Police Services.
"Our duties include everything nonconfrontational," said VIPS supervisor Mark Klein, 75, of North Las Vegas.
Klein, who has served as a Cleveland police officer and a security supervisor at Harrah's, has been with the VIPS program for three years.
Aaron Patty, spokesman for North Las Vegas police, called VIPS program participants " a tremendous help and valued."
VIPS participants may be seen patrolling in Ford Crown Victorias, wearing jackets and other clothing provided by the department. They patrol neighborhoods, parks, businesses and industrial centers; control traffic flow at crash scenes or during traffic light malfunctions; check property; monitor graffiti and other neighborhood nuisances; perform crowd control; and provide resources.
A noteworthy assignment in October involved blocking off streets when President Barack Obama spoke at Cheyenne High School.
In the event of a traffic crash, sometimes VIPS volunteers are called to block off streets so law enforcement can canvass the area.
"We perform property checks, too," Klein said. "We look for suspicious activity like open doors or broken windows. We're trained on what to look for; see something, say something."
Residents thank and greet VIPS patrollers and sometimes offer refreshments, Klein said.
Effective this month, volunteers can cite violators who park in handicap-only zones. Likewise, they can issue warnings for red-zone parking violators.
HOW TO VOLUNTEER
Potential volunteers fill out an interest form and must pass a background check, then complete 40 hours of training at the department's Citizens Academy in the fall. They must be 21 or older and have a valid Nevada driver's license.
Volunteers serve 16 hours a month of their choosing. People who live or work in North Las Vegas are preferred, but anyone can apply.
Training includes instruction on crime prevention, identifying public hazards, recognizing and reporting suspicious activity, use of radio equipment, defensive driving and communication skills.
"Normally police are so busy catching criminals they don't have time for prevention. This is where citizen patrol assists," Klein said. "We help prevent crimes — even from the sight of our vehicles. The main thing is being seen."
For more information, contact Klein at 702-278-1265 or fbkmlk@cox.net.
Contact Raven Jackson at rjackson@viewnews.com or 702-383-0283. Follow @ravenmjackson on Twitter.
ABOUT THE CITIZEN'S PATROL
The Volunteers in Public Service, or VIPS, program grew from the Citizens Corps, which President George W. Bush generated after the 9/11 attacks. For more information about the Citizen's Patrol Program in North Las Vegas, click here.