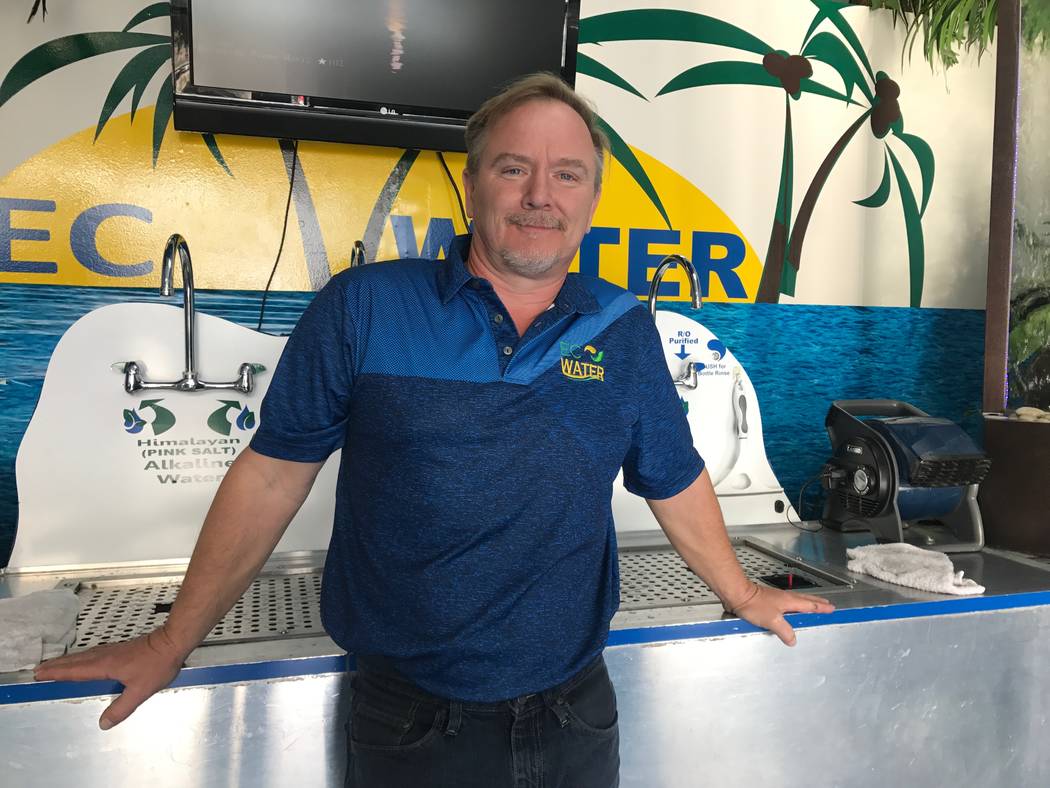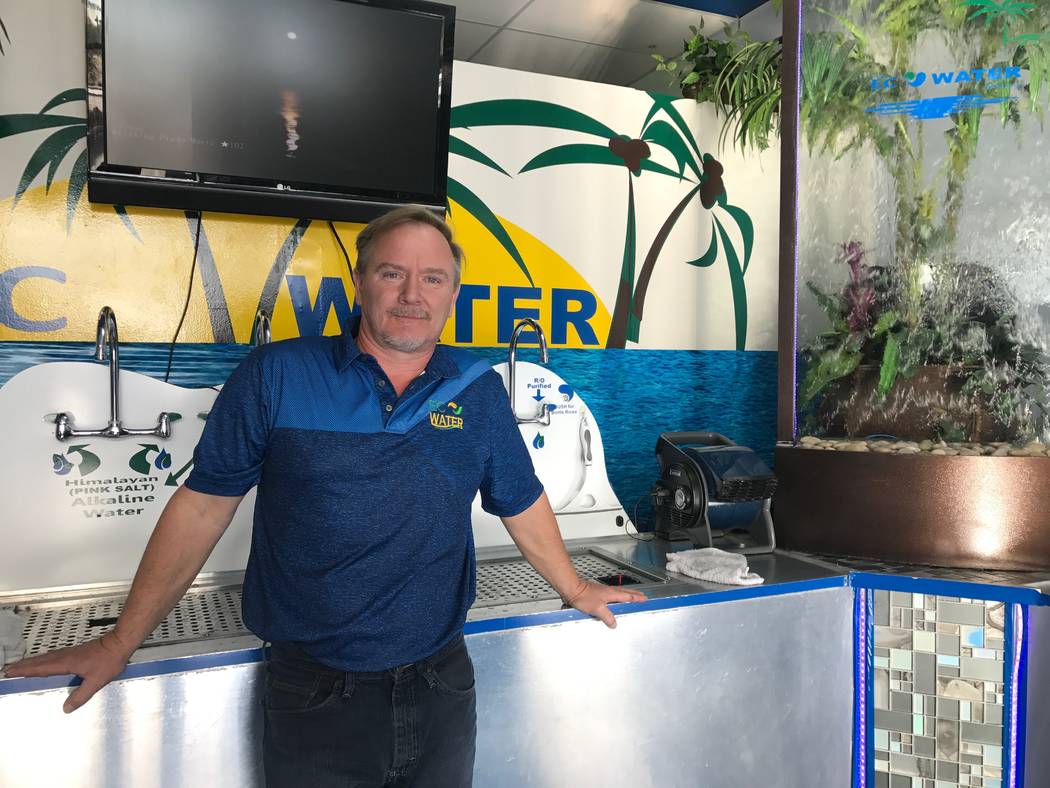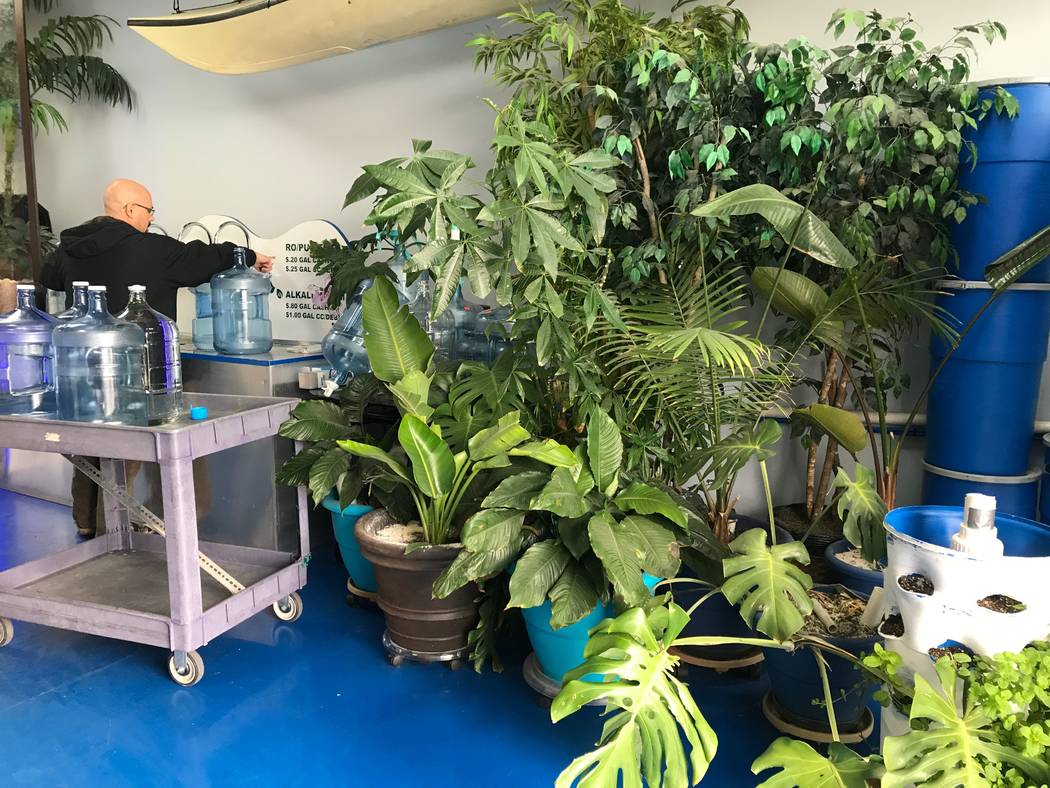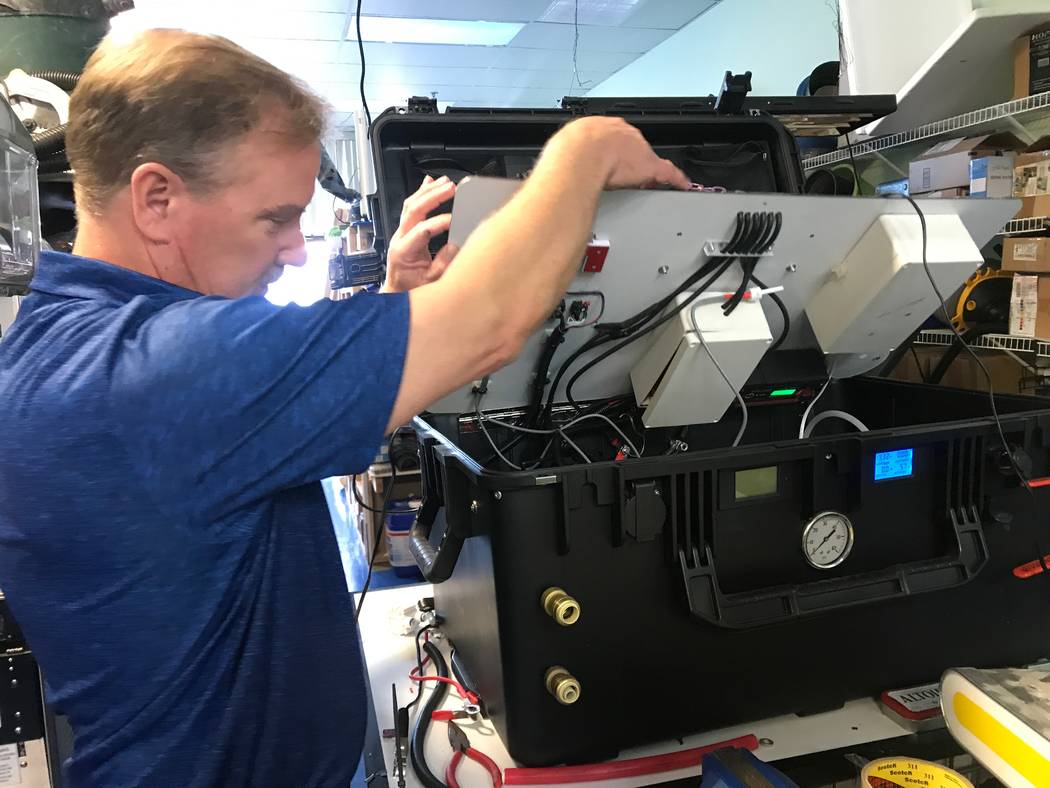 If Steve Meunier's plans had panned out, you'd know his name already.
The North Las Vegas water store owner five years ago designed what he calls the Hope System, an off-the-grid water-purification system, solar-powered generator and water-pumping system all in one. The system could provide replacement services in the event of power outages or natural or man-made disasters, the north valley resident said. Meunier said he was inspired to develop the system because so many Las Vegas residents are unprepared for disasters.
He has attended conferences and shows but has only sold about six units, he said. He is looking for a patent and is trying to make the product more marketable by lowering the price from $2,600 to $1,000, he said.
But because the Hope System hasn't taken off, Meunier opened his second water-treatment service, EC Water Store, in 2014 in North Las Vegas. There, he recycles water and uses the sun's power to purify and pump water. The store offers purified and alkaline water. The Himalayan (pink salt) alkaline mix is the store's most popular product, he said.
Meunier credits a former neighbor for introducing him to the industry several years ago. The man, 87 at the time, was looking to sell a Summerlin water company that he and his wife owned called Red Rock Springs Water, which sells alkaline and purified water. Meunier said that within a week, he came up with the money and took over the store's lease.
Meunier researched alkaline water and became passionate about its health and environment benefits. He ran Red Rock Springs Water for about two years before closing the store to focus on developing the Hope System, he said.
EC Water Store was named business of the month, a new award in which council members take turns selecting a business to recognize, during a North Las Vegas City Council meeting in December. Meunier was selected by Councilman Scott Black, who met him in 2017 while stopping by several businesses in Ward 4. Meunier recalls Black staying and talking with him for about an hour.
"I'm really impressed with his customer service. I've talked to people from Summerlin to Henderson and they will pass four or five water services just to come to his store," Black said.
Longtime customer Marvin Clark said that even though he has relocated to Oakland, California, he makes sure to stop by the store to get refills when he is in town.
""I've tried a few" similar stores in the Bay Area, he said. "We've been disappointed, so we said, 'You know what? Let's drive down and get some water (at EC Water Store).'"
Meunier said there are about 30 water stores in Las Vegas, and he created a website that lists them.
"The only reason there aren't 200 water stores in Las Vegas is because people don't know about water stores," he said. "Once you come into a water store, you're always a water store person."
EC Water Store
Where: 2696 W. Ann Road, Suite 110
Hours: 9 a.m.-6 p.m. weekdays, 9 a.m.- 5 p.m. Saturdays, 10 a.m.-5 p.m. Sundays
Contact: 702-852-3939
2696 W. Ann Road, Suite 110