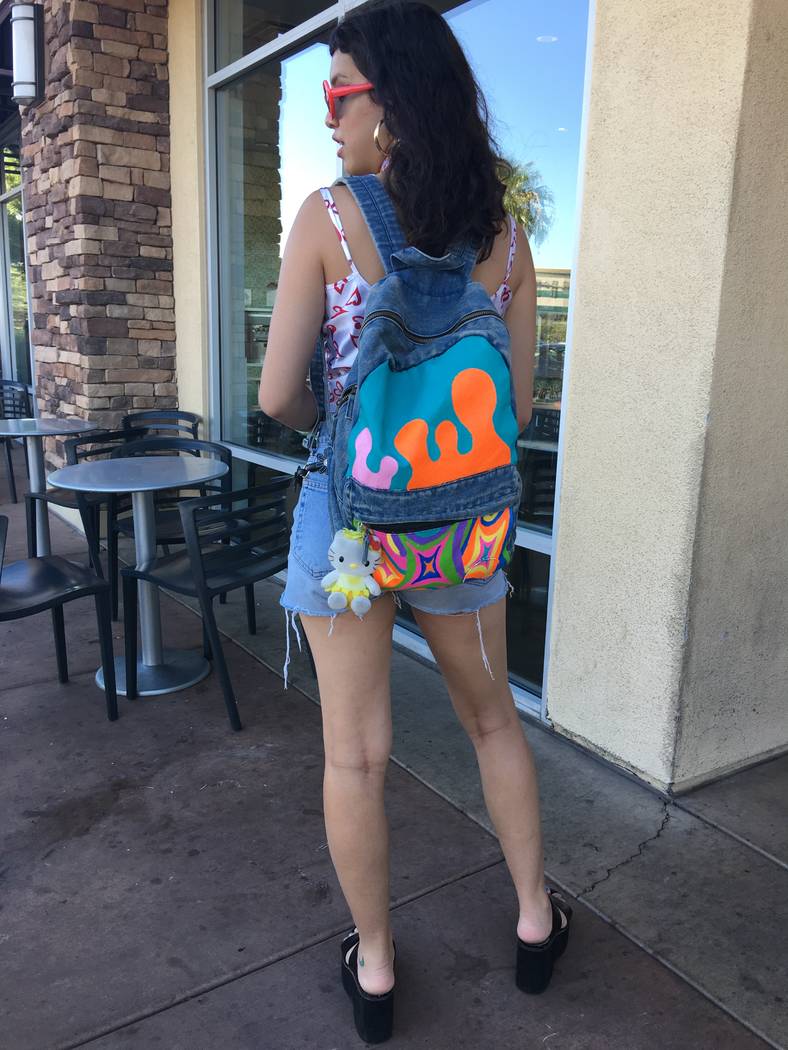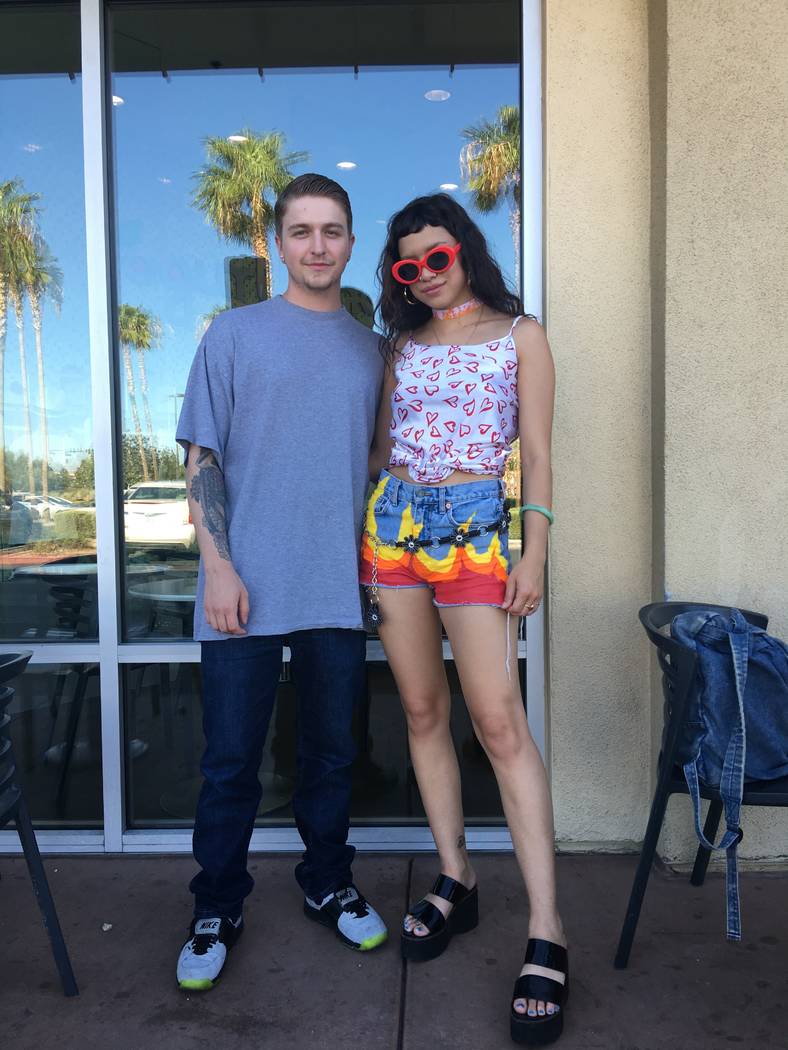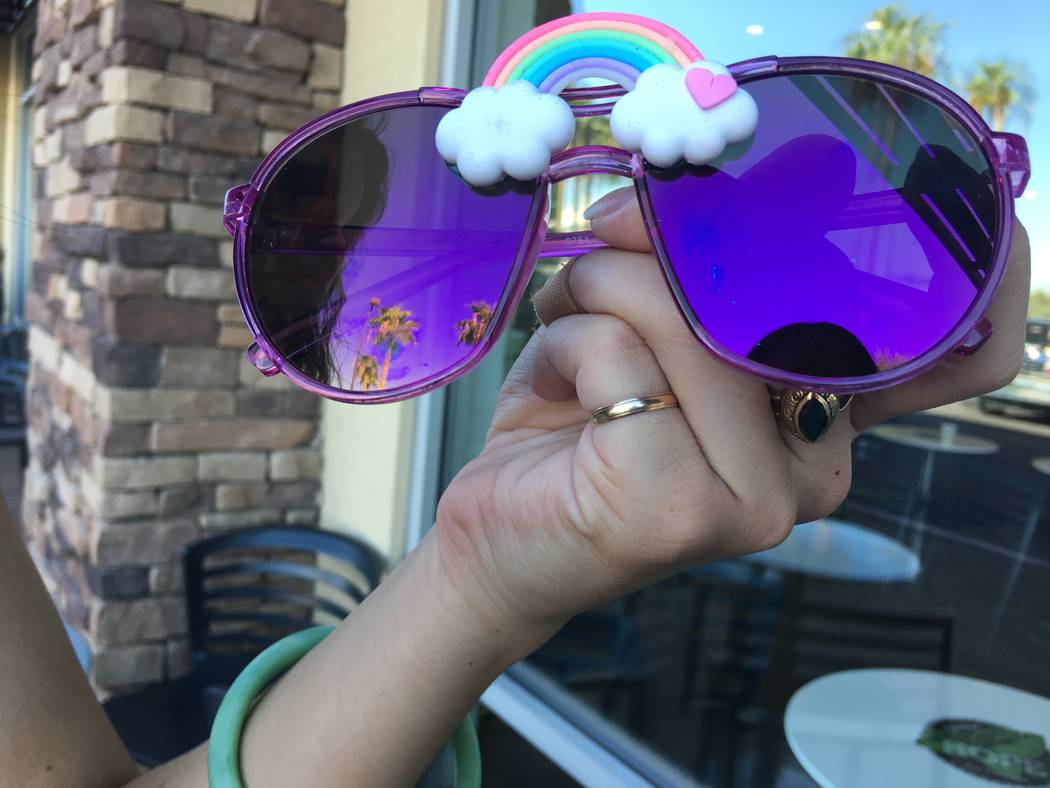 When Tim Woltz, 23, of the northwest valley met Malia Yanos at a party, her style intrigued him. She was wearing a white dress with a cut-out back, he said.
"I walked into a party and he said that he really liked my outfit," Yanos, 23, of the northwest valley recalled. "I didn't think anything of it, though."
Nearly four years later, they're dating and are making clothing through their fashion line, Trippy Neon, which they started in 2015. They named it Trippy Neon because they attend the Electric Daisy Carnival and because of Yanos' love for bright colors.
They sell mostly do-it-yourself (DIY) pieces of clothing, jewelry, bags and sunglasses. They only have women's products but said they are developing a men's line this year. They also are working with a manufacturer to develop patterns and prints for their new line, set to release this year.
Yanos, who works at a daycare center, said they started the fashion line soon after she stopped studying education at the College of Southern Nevada. Yanos, who was working at Savers then, had been designing DIY pieces for herself. She would turn belts she bought from her job into choker necklaces. She would add decorations such as patterns and jewels.
Yanos, who learned how to sew from her grandmothers, said she drew designs, such as flowers and flames, on "thrifted" clothing and bags that she purchased. She also decorated phone cases.
Once Yanos realized she wanted to pursue fashion, she decided to start Trippy Neon with her boyfriend. She said she handles the creative side of the business, while Woltz does more of the technical things, such as graphic design and developing the website. Yanos said her boyfriend also has started designing for the line.
She describes her personal style as colorful, fun and creating a positive feeling, while Woltz said his style is most influenced by street wear.
They said that with their brand, they want to persuade people to express themselves freely through their clothing.
Woltz said they use their website and Instagram as their main source of promotion to reach customers. Instagram is how Yanos connected with social media celebrity Baddie Winkle, an 89-year-old grandmother who has become a fashion icon and has more than 3 million followers on the site. Yanos said that the woman's granddaughter followed Trippy Neon on Instagram and got one of her pieces to Baddie Winkle, who was photographed wearing one of the company's chokers when she ran into TV personality Kylie Jenner and model Hailey Baldwin.
They also have sold their products at places such as Crykit's Playhouse, a party that celebrates fashion, music, art and dance monthly at Commonwealth in downtown Las Vegas. Event host Michelle Kolnik, who goes by DJ Crykit, said that she included Trippy Neon because the products are colorful and diverse.
"I'm obsessed with all the glasses," Kolnik said. "There are so many vibrant colors and they have wild, stand-out-in-a-crowd shapes."
Drew Belcher, who owns local media company UNLOKT, helped Yanos and Woltz develop Trippy Neon. He said he thinks they will be successful because they have created a brand.
"Trippy Neon is in your face," he said. "It's rebellious. It's colorful. … It's about being you, for you. It's almost a bit magical."
Nica Moten, who owns a clothing brand called FashionNica, said she often uses a Trippy Neon piece in her photo shoots.
"I feel like they have already had success not only in the fashion industry, but in the realm of pop culture," she said. "They cater to a hip, cool vibe without excluding anyone. I'm excited to see what they come up with next."
Contact Kailyn Brown at kbrown@viewnews.com or 702-387-5233. Follow @kailynhype on Twitter.
Trippy Neon
Website: trippyneon.com
Social media: instagram.com/trippyneon