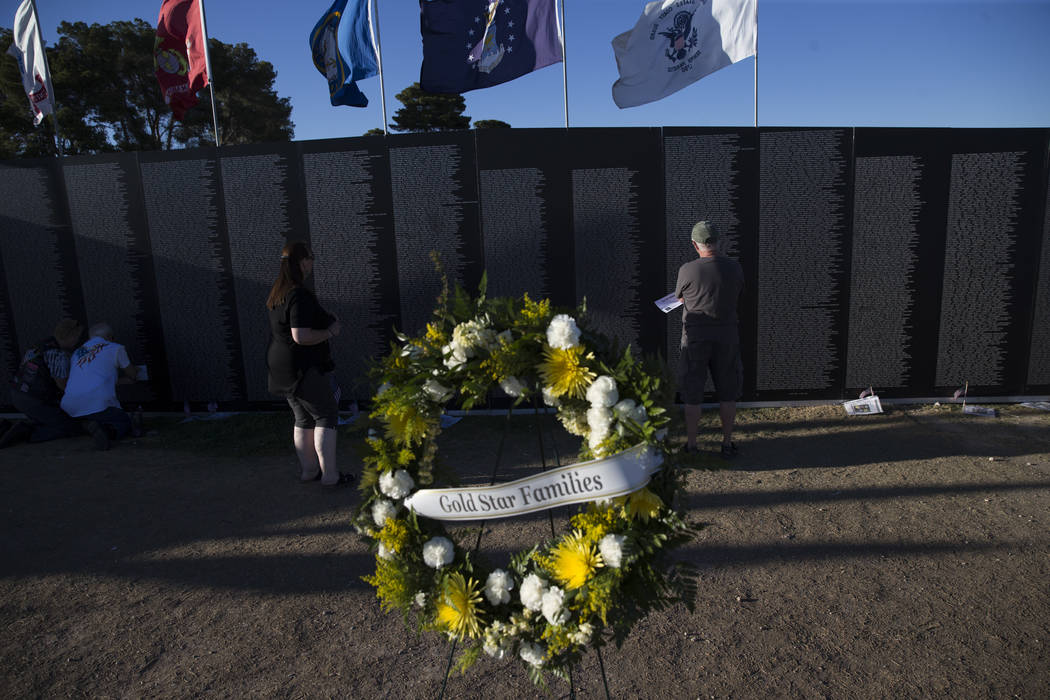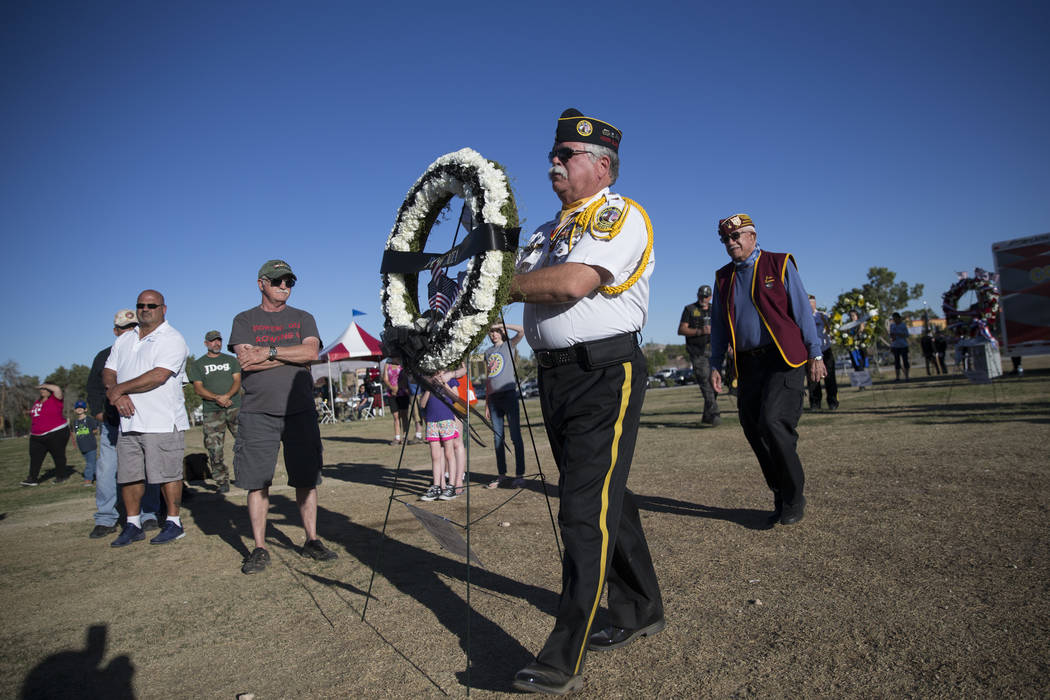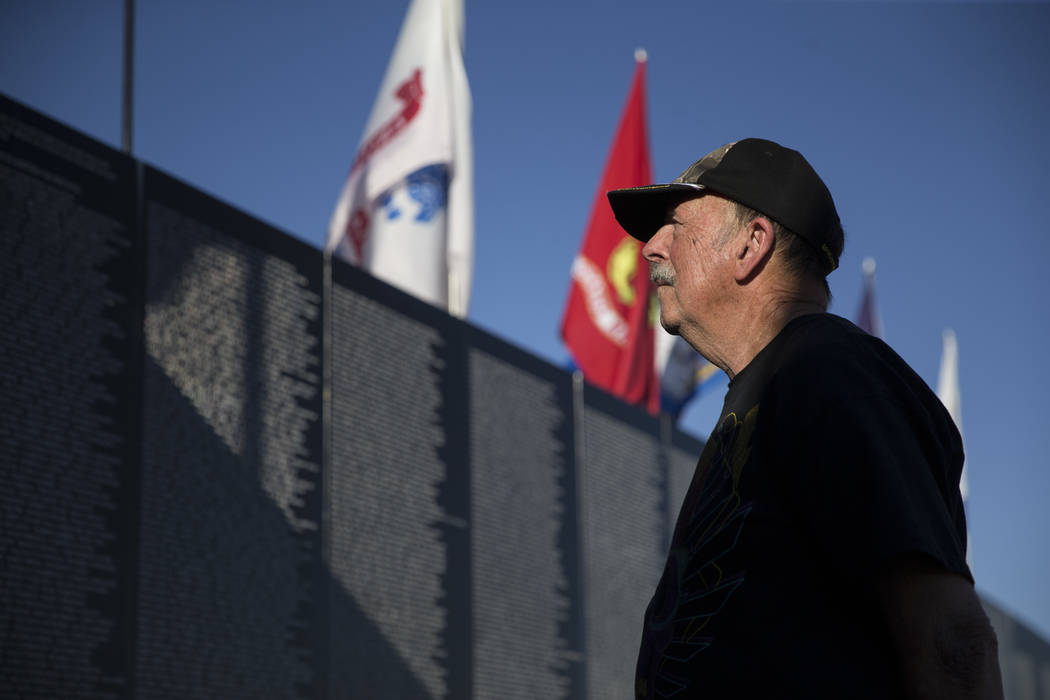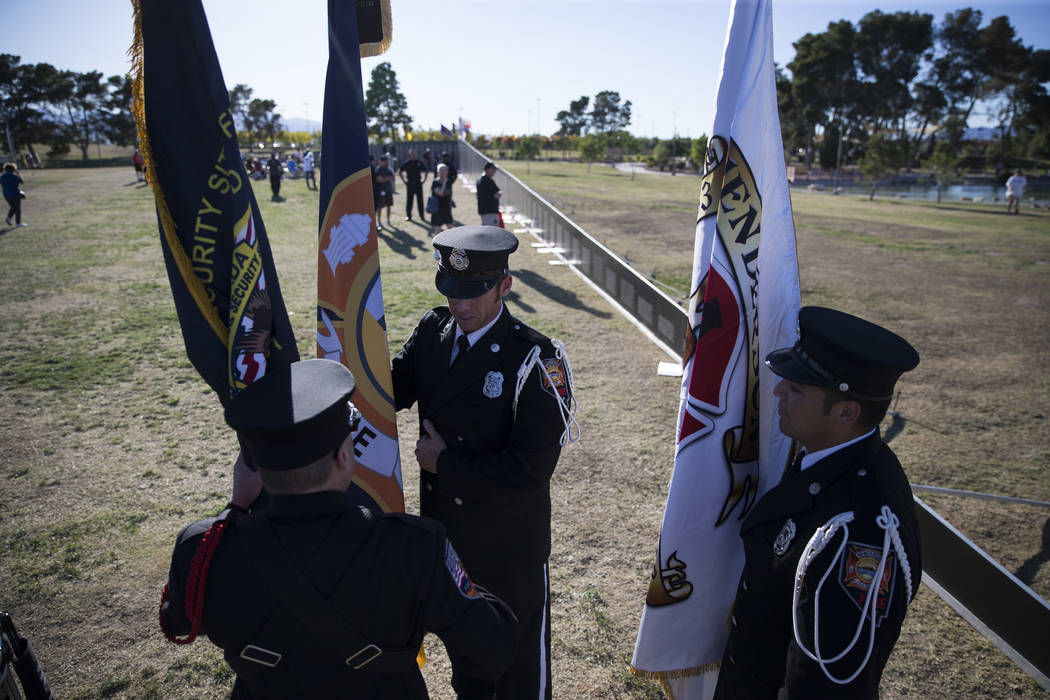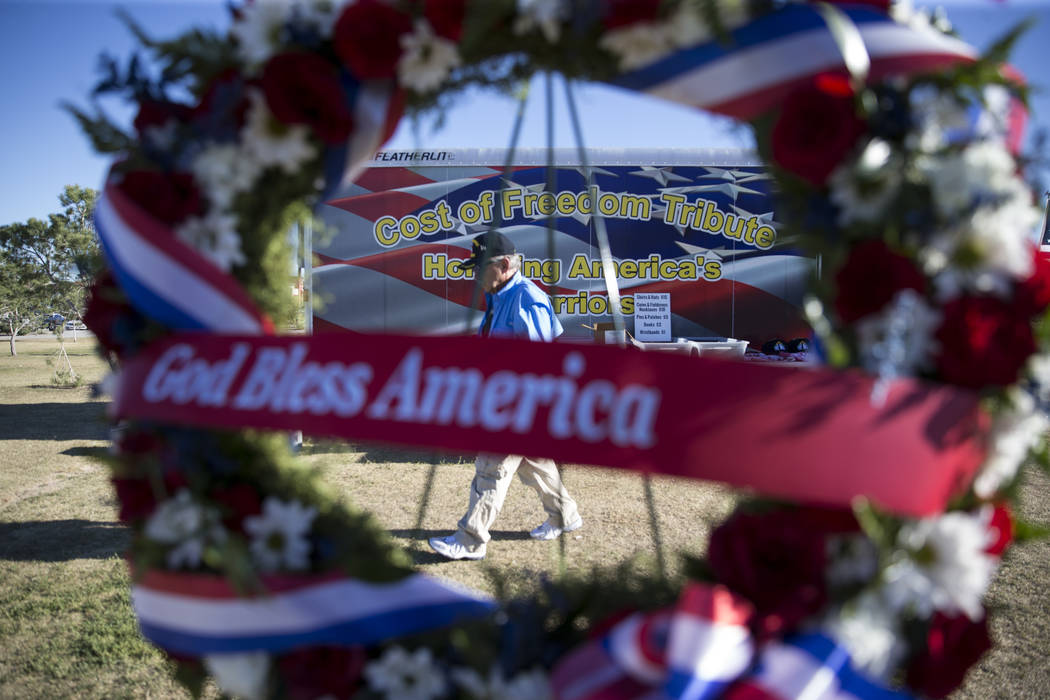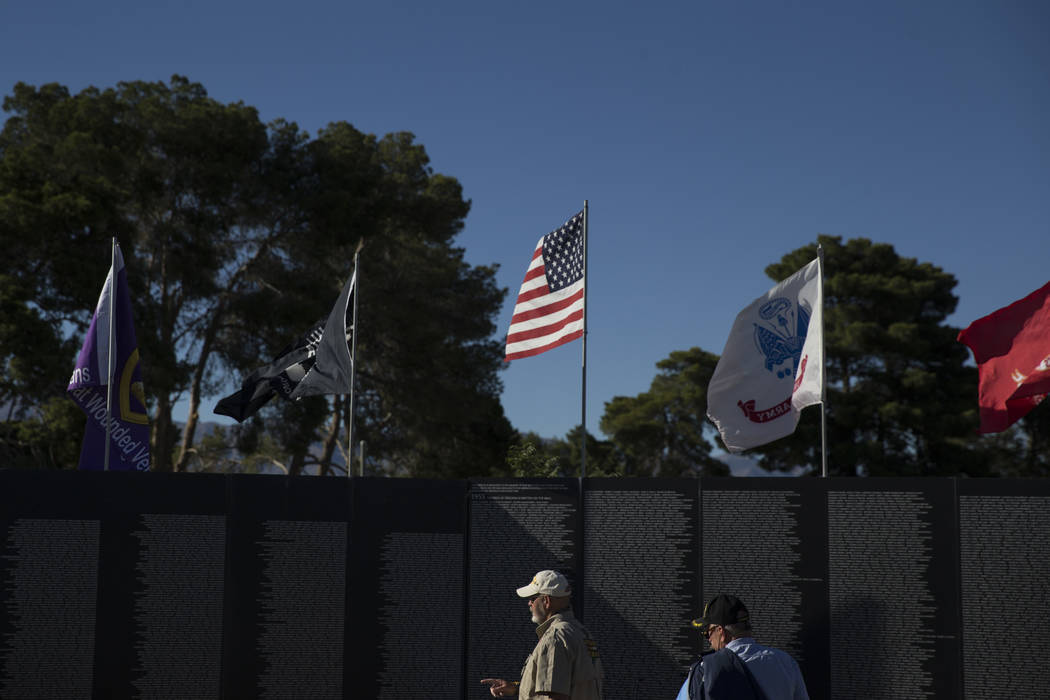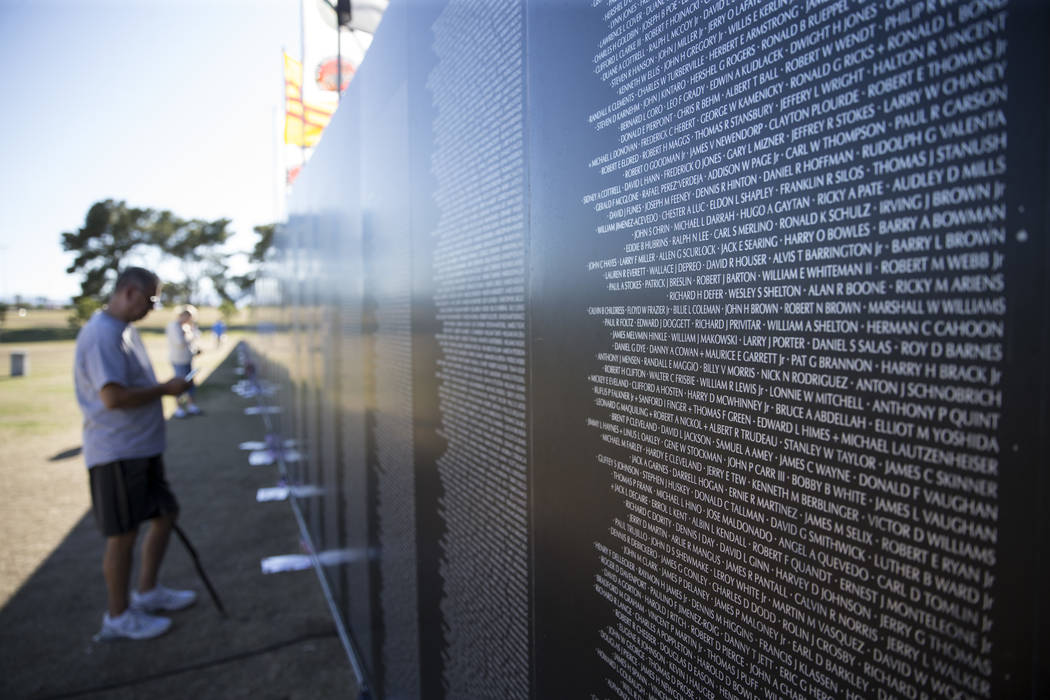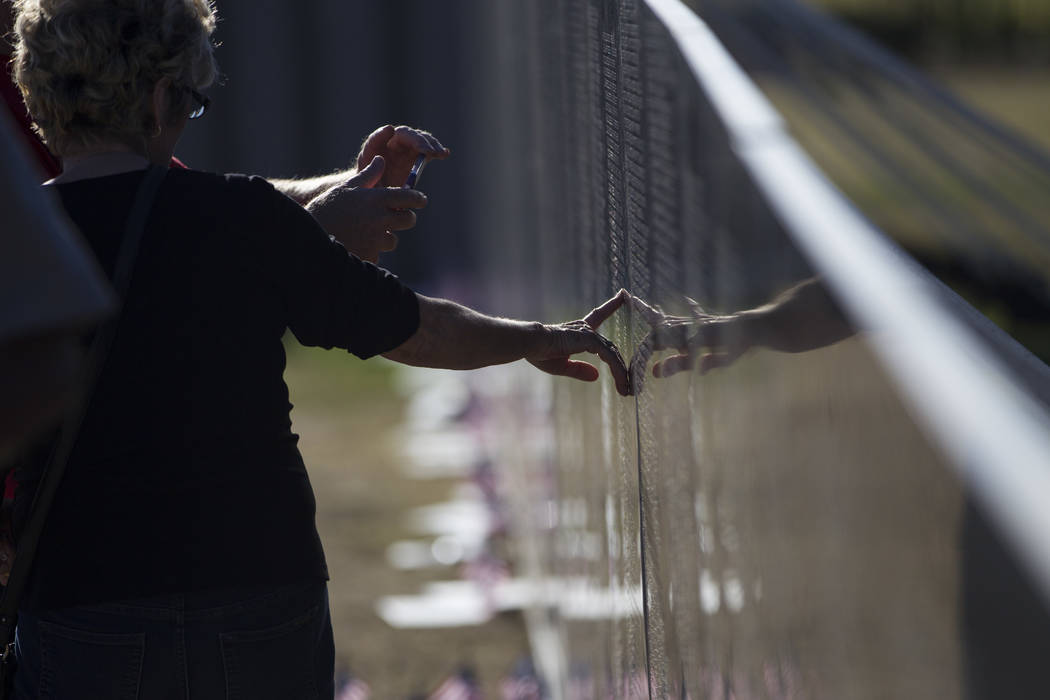 As his motorized wheelchair rolled past 58,307 names on the replica Vietnam Veterans Memorial, Dennis Daniels was consumed with grief.
He reminded his wife, Aleta, to use her walker as she traced three familiar names on the wall.
But Dennis was afraid to look.
"It just brings back instant memories," the 70-year-old said. "I don't want to look and see if they're up there."
The Danielses were attending the third annual American Patriot Fest, underway at Craig Ranch Regional Park in North Las Vegas, on Saturday during Armed Forces Day.
This was the first year the American Veterans Travel Tribute organization brought the replica, sized down 80 percent from the fixture in Washington, D.C., said Branan Allison, the president of Source 1 Events, which organized the festival. The memorial will be open to the public until 3 p.m. Sunday.
Allison said he hopes to bring the memorial to the festival each year.
"It's a powerful thing," he said. "When you see how small the names are and how big it is, you see the magnitude of how many people lost their lives."
The festival celebrated and honored military members and veterans, he said. It included live entertainment, a car show, a 5-kilometer run to fundraise for Nellis Air Force Base, a displayed drone and a free meal for veterans, active-duty military personnel and their families. Last year, when the festival was held for just one day, there were 5,000 attendees, so Allison said he hopes to exceed that this year.
Dennis Blessman, 71, spent his morning helping attendees locate names on the memorial. Wearing a shirt identifying him as a Vietnam veteran, Blessman said he and a friend volunteer wherever the replicas are on display across the United States.
After traveling from California to attend the festival, he said he talked with dozens of veterans, offering a laugh or his condolences.
"It's kind of a cliche, but we're all brothers," said Blessman, who served in the Vietnam War as part of the Air Force from January 1967 to January 1968.
He knows three names on the wall: someone from his 1963 high school graduating class and two men he served with at the Bien Hoa airbase.
"We all have a little survivor's guilt," Blessman said.
Dennis Daniels' survival guilt kept him from speaking. Daniels, who served as a combat medic during the war, knows he was unable to save many of the men listed on the wall.
He watched as Aleta Daniels, 69, traced the names of a neighbor and two friends who graduated with her in 1965 from Bishop Gorman High School in the southwest valley.
Aleta Daniels said her husband has never seen the Washington, D.C., memorial, so attending the festival was a way to honor the fallen.
"He told me he wanted to come to say he was sorry that he didn't do more," she said.
Contact Katelyn Newberg at knewberg@reviewjournal.com or 702-383-0240. Follow @k_newberg on Twitter.
The Vietnam Veterans Memorial by the numbers
58,307 names of fallen soldiers or those missing in battle.
The average age of those represented was 19 years old.
Eight women are on the wall: seven army nurses and one air force nurse.
There are 16 military chaplains on the wall
The youngest person is Danny Bullock, who snuck into the Marines at age 14. He died at 15 years old.