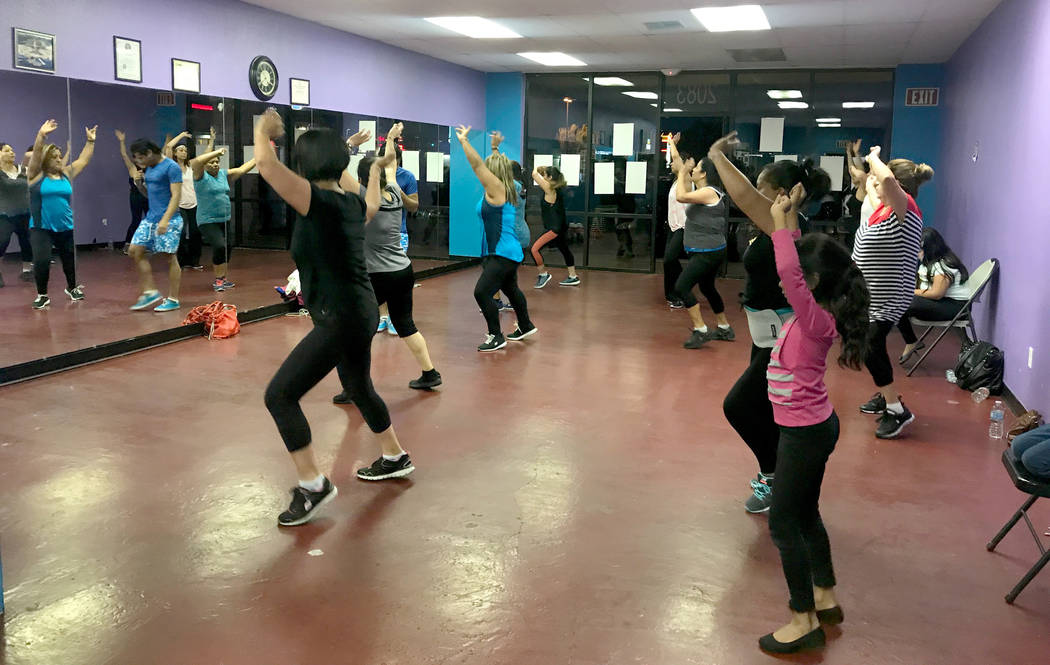 As salsa music blared from a small dance studio in the north valley, dancers repeated an unorthodox count: "1-2-3 … 5-6-7."
Jose Velez of Summerlin learned the "On two" method of salsa-dance counting during his younger years in Brooklyn, New York. Velez, who moved to Las Vegas five months ago, said he aims to bring "New York-style dance with a Vegas attitude" via the salsa class he started in April at Family Zum Fitness.
He said he has been teaching salsa and other Latin America-inspired ballroom dances for more than 20 years.
When Velez moved to Las Vegas, he had no plans to teach at a studio again. He closed his "Feel the Music" school in Queens nearly three years ago and had only been offering private lessons. But when he went out dancing in Las Vegas, he said, spectators were interested in learning his dance style, which is less familiar on the West Coast.
"A lot of people have been asking what kind of dance style is this because they've never seen it before," said Velez, 45. "A lot of people were interested in learning it."
About a month ago, Velez found a space in which to teach his class.
"I was going to get a haircut next door and I heard Latin music," he said.
When he peered into the facility, he saw a Zumba instructor teaching a class. Family Zum Fitness offers Zumba, jazz, ballet and folklore lessons.
"He's the best," said studio owner Danny Yemaya, who is from Nicaragua. "(I think people) will like his class."
Velez teaches salsa at 8:15 p.m. Mondays and Fridays. He taught his first class April 17.
Velez, who was born in San Juan, Puerto Rico, was raised around music; his father, Jose Sr., played the keyboard for Latin musician Tito Puente. He said he became passionate about dancing because of the way people engaged with the music.
"Very rarely do you see someone dancing with a gloomy face," he said. "It was just a way of escaping from the reality of the world. I felt like a superhero flying."
Velez raised money to take classes at New York dance schools partly by doing chores for neighbors. He learned from dance instructors Eddie Torres and Howie Lorenz and taught classes at Lorenz's studio before opening three of his own.
Salsa is a call-and-response dance, in which dancers respond to what musicians are doing with their instruments, Velez said.
"Latin music has a lot more to do than correct turns; it's more of a feeling," he said. "If you just want to learn steps, then take Zumba classes, but if you want to learn Latin dance, there's more to it than just steps."
On a recent Monday evening, Velez led a demonstration during one of Yemaya's classes, and a group of women stayed to take Velez's course. He taught the lesson in both English and Spanish.
Norma Valle, who regularly takes Yemaya's Zumba class, said she stayed for Velez's class and enjoyed it.
Velez has attracted a couple of loyal students.
"I learned of it through Meetup.com," Marleni Wohlschlagel of the north valley said, adding that she'd never done ballroom dancing.
Velez said he hopes to hire instructors he has taught.
"When I see someone who not only has potential and skill but, more importantly, they have discipline, then I invite them to be part of my teaching curriculum," he said. "I like to groom my own instructors."
Contact Kailyn Brown at kbrown@viewnews.com or 702-387-5233. Follow @kailynhype on Twitter.
Jose Velez's salsa class
Where: Family Zum Fitness, 2083 N. Jones Blvd.
When: to Mondays and Fridays
Cost: $10 for the 90-minute group class; first-timers can take a class for free
More information: Go to Meetup.com.
Differences in style
Counting on the one, which emphasizes on the first and fifth count, is often referred to as the Los Angeles style of salsa dance, Jose Velez said. Counting on the two, which emphasizes the second and sixth count, is commonly taught in New York.
"When you're dancing it, it's a huge difference," Velez said. "It's like a completely different dance, but it's wild because it's the same music."