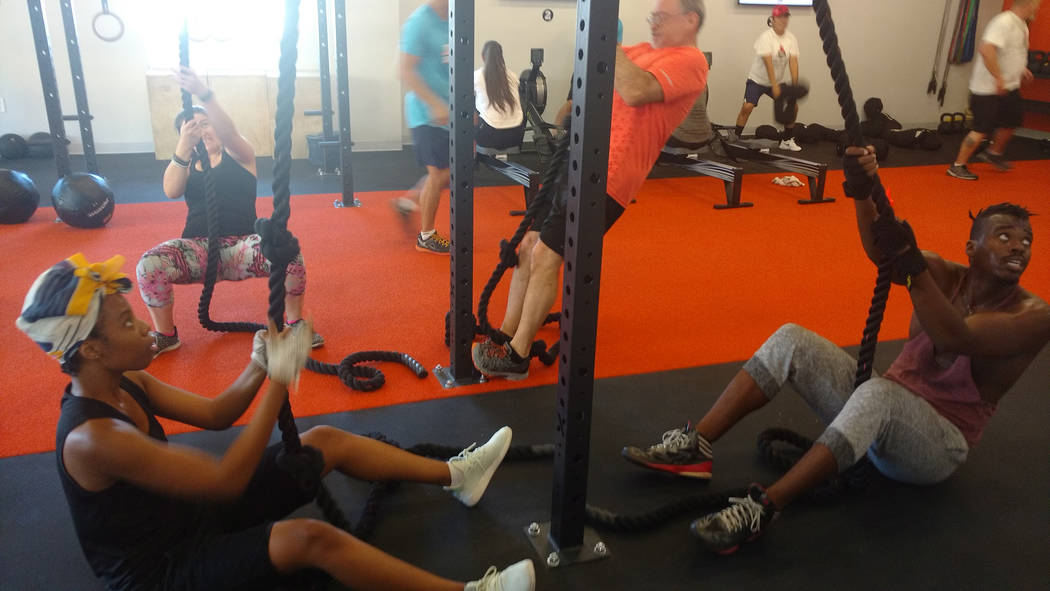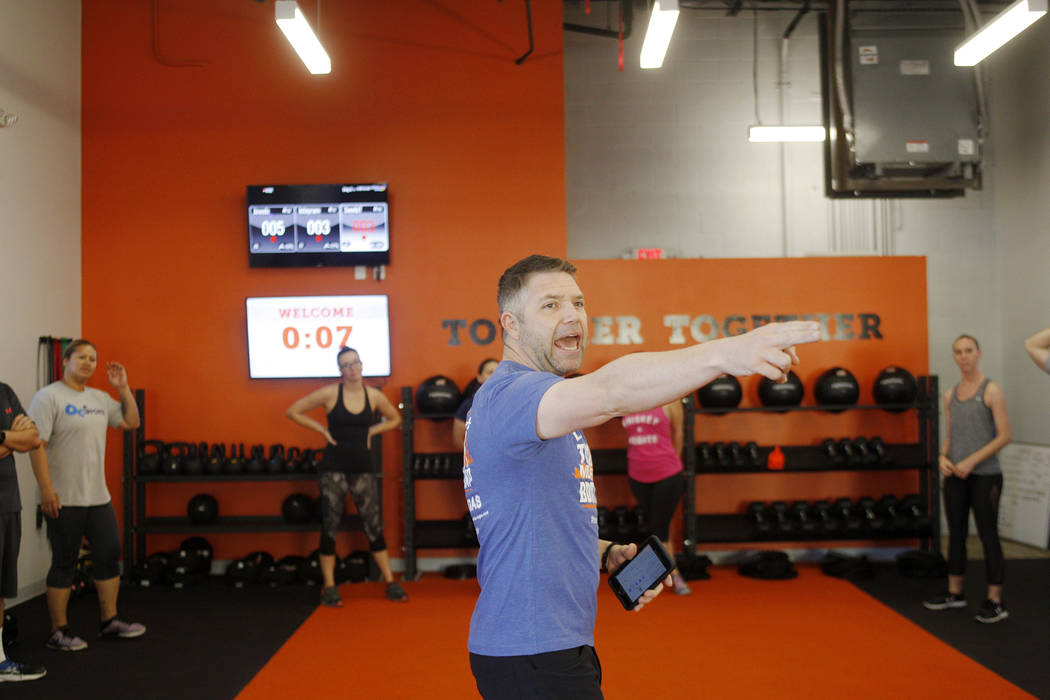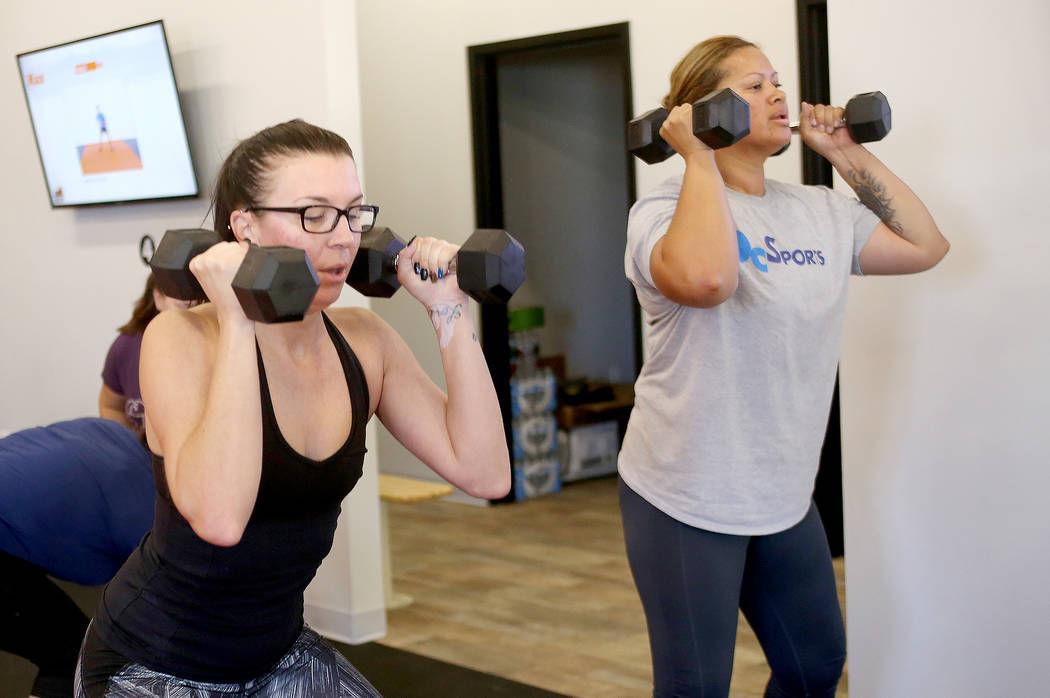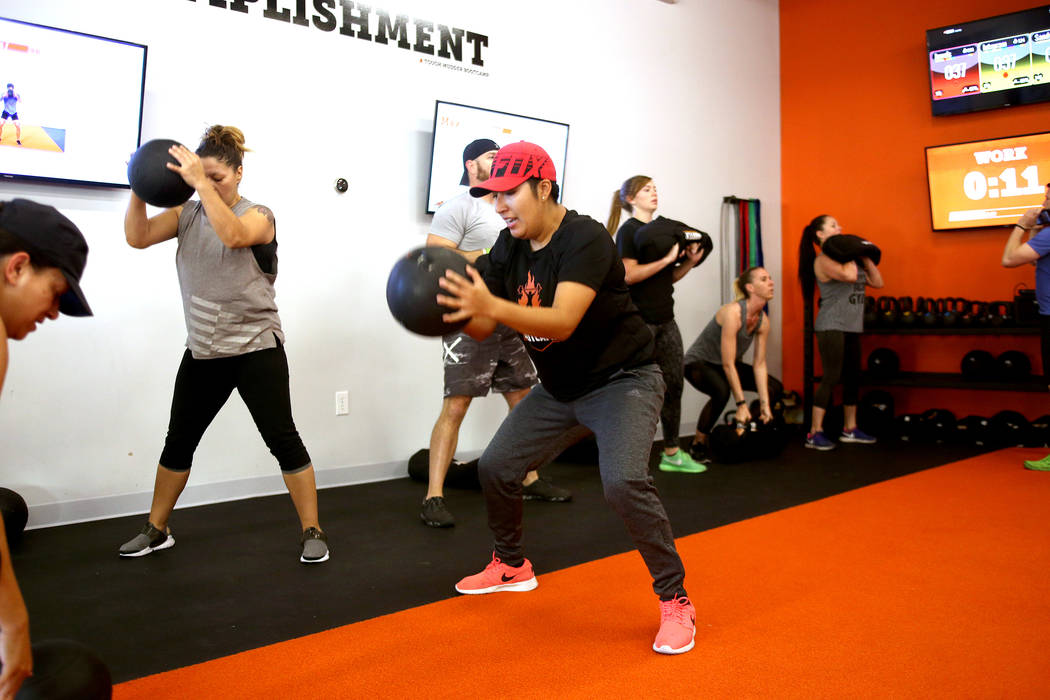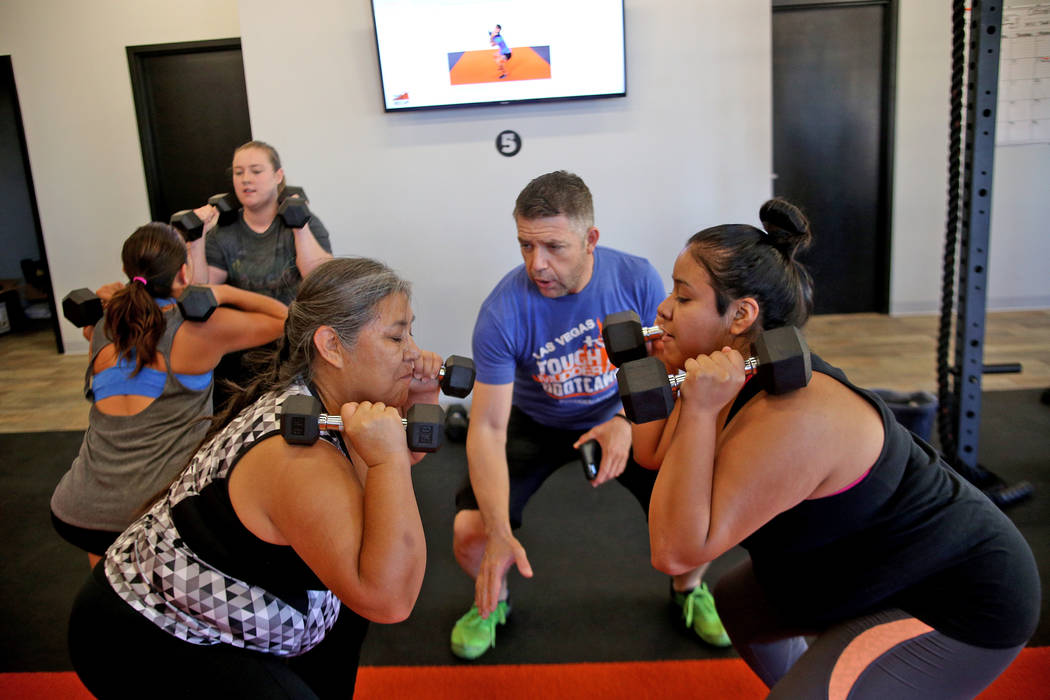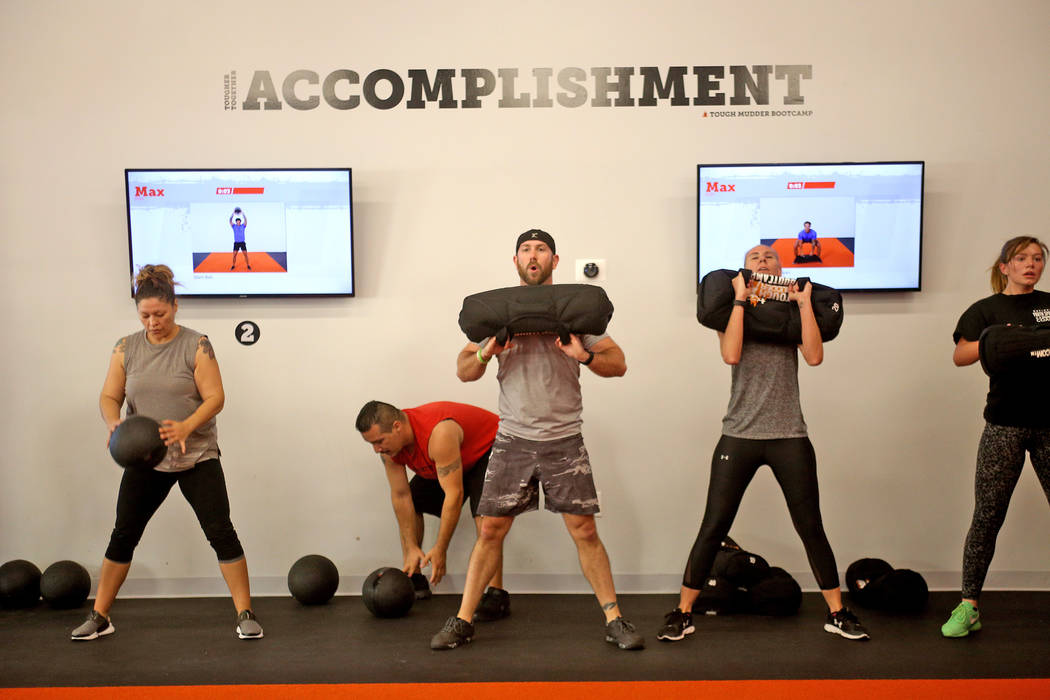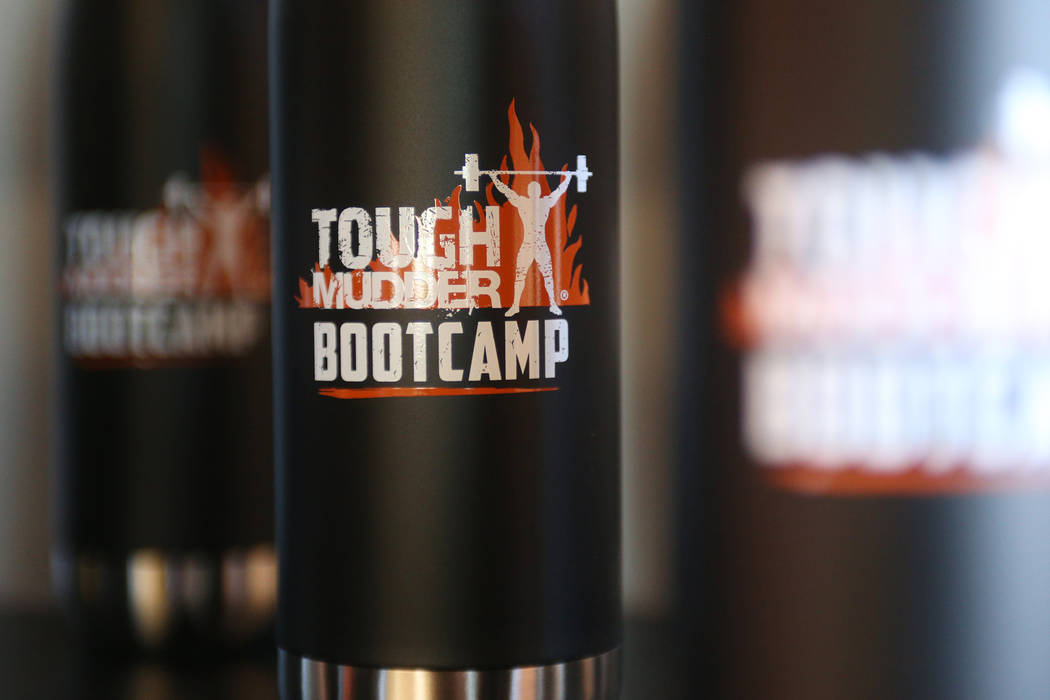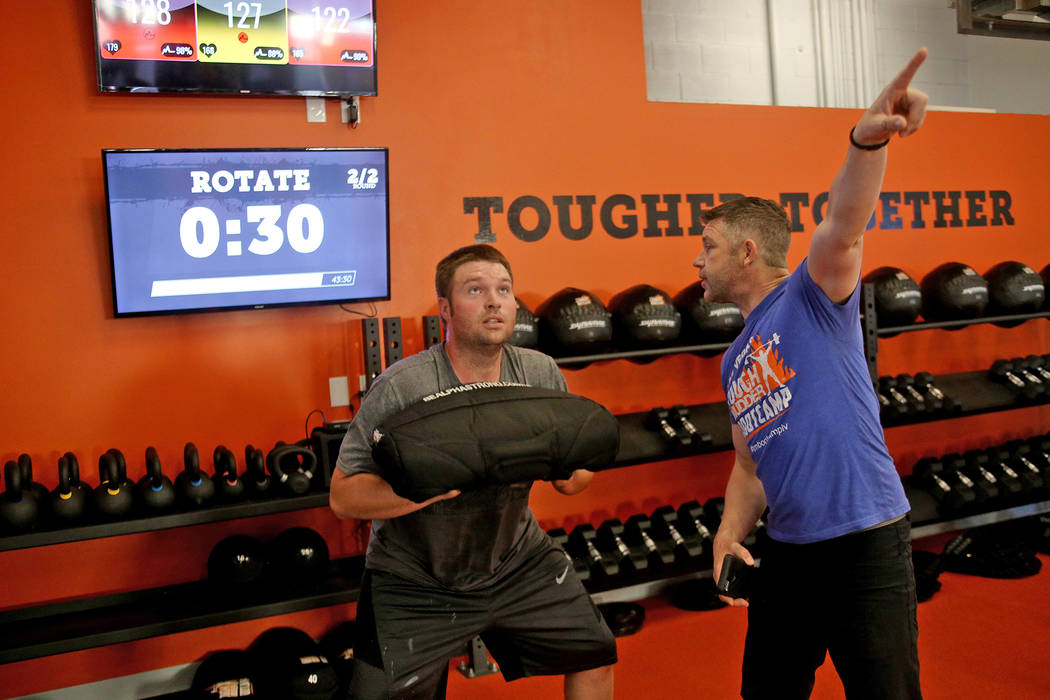 Tough Mudder enthusiasts and newcomers flexed their muscles during Saturday's grand opening of the brand's northwest Las Vegas gym.
The gym, the second of its kind nationwide, was slated to open in April but instead had a soft opening Aug. 6 due to construction delays, said owner Alona Burns. The grand opening included free high-intensity training and festivities such as a ribbon cutting.
Burns, 50, a Las Vegas resident for 15 years, said she was drawn to the franchise because "it's really easy to become involved with your partner."
Marion Powell and her boyfriend, Greg Gollin, who've been active in Tough Mudder races since 2012, joined Tough Mudder Bootcamp as founding members to stay in shape for races.
"There's something about the community and the camaraderie, and that's what really keeps you here," the southwest valley resident said.
The 2,500-square-foot studio gym offers 45-minute high-intensity training classes aimed at providing full-body, partner-based workouts for up to 24 people. Members rotate among six stations, including a rowing machine, monkey bars and a bicycle station.
Thaina Blot, 31, and her husband, Samuel, 30, both of Las Vegas, came to the grand opening to see if the gym was a good match.
They were left sweaty and satisfied.
"It was intense," Thaina Blot said. "I think it was the perfect training for Tough Mudder."
She said she and her husband aspire to compete in a Tough Mudder race next year.
The first Tough Mudder Bootcamp location opened this year in Burlington, Massachusetts, and the third is set to open in Houston this fall. The franchise also plans to expand to Charlotte, North Carolina, and Philadelphia.
In Las Vegas
What: Tough Mudder Bootcamp Las Vegas
Where: 6311 N. Decatur Blvd.
Price: Monthly packages start at $110.
Coming up: A Tough Mudder event featuring more than 10 miles of 20 obstacles is set for Oct. 20-21. For more information, visit toughmudder.com/events/2018-las-vegas.
About Tough Mudder
Tough Mudder Inc. holds endurance races worldwide in which teams traverse obstacles including mud, tunnels and walls. Tough Mudder was founded in 2010 as an endurance race brand and has held events in the Las Vegas area since since 2013. It has featured the World's Toughest Mudder — a 24-hour race in which the winning man and woman recieve a $10,000 prize — since 2014.
6311 N. Decatur Blvd, Las Vegas, NV 89130