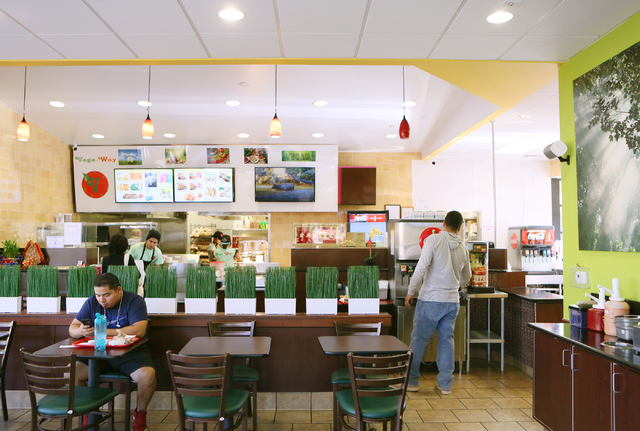 VegeWay is spreading from the southwest to the northwest.
After revamping what used to be Braddah's Island Style restaurant at West Centennial Parkway and North Durango Drive, VegeWay creator and chef Kenny Chye of Veggie House announced that the northwest location, 6410 N. Durango Drive, Suite 110, will open Jan. 18.
"There aren't many vegan food options in the city, and I wanted to expand my business," Chye said. "I'd like to reach more consumers."
Before opening Veggie House four years ago, Chye worked as a meat supplier for hotels and restaurants.
"I was inspired to open Veggie House after learning I had high cholesterol," he said. "I also found out a friend in L.A. had colon cancer and when he changed his diet, he wasn't sick anymore."
The VegeWay in the southwest, located on 7790 S. Jones Blvd., launched in September as the first vegan drive-thru in Las Vegas.
The new location will deliver the same food as the original — vegan burgers, vegan popcorn chicken, vegan fish tacos, a vegan beef sandwich, a vegan chicken wrap, vegan milkshakes and more.
A carbon copy of In-N-Out's classic burger, VegeWay's vegan burger cost $4.69 and comes stacked with melted vegan cheddar cheese, tomatoes, lettuce and onion.
"I wanted to create a good veggie burger. Our food is one of a kind," he said.
The burger is basic, yet delectable and satisfies hunger. Consumers can easily forget the patty has no animal products.
Meals come with a drink and a choice of three types of fries: French fries, sweet potato fries or curly fries. A single is $8.89 and a double is $9.89.
Cheese lovers have the option of ordering the double vegan burger for $5.89.
Salads are served with green cilantro or chicken turmeric for $5.95.
Vegan fish tacos are $3.99 for one and $7.29 for two.
Additionally, the menu includes a vegan beef sandwich ($6.29), vegan popcorn chicken ($4.69), fried zucchini ($3.79) and vegan chicken wrap ($7.59).
The most delicious vegan menu item maybe their milkshake priced at $5.50. It's made with almond milk and comes in four flavors: strawberry, chocolate, mango or vanilla.
Contact Raven Jackson at rjackson@viewnews.com or 702-383-0283. Follow @ravenmjackson on Twitter.
VegeWay
Address: 6410 N. Durango Drive, Suite 110
Hours: 10:30 a.m. to 9 p.m. daily