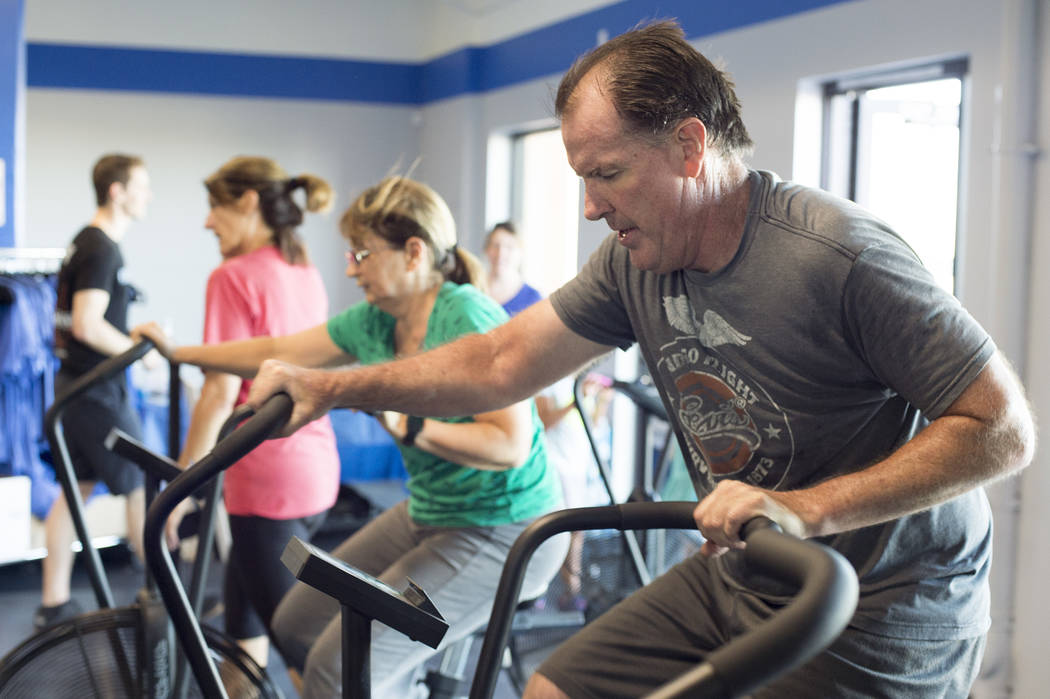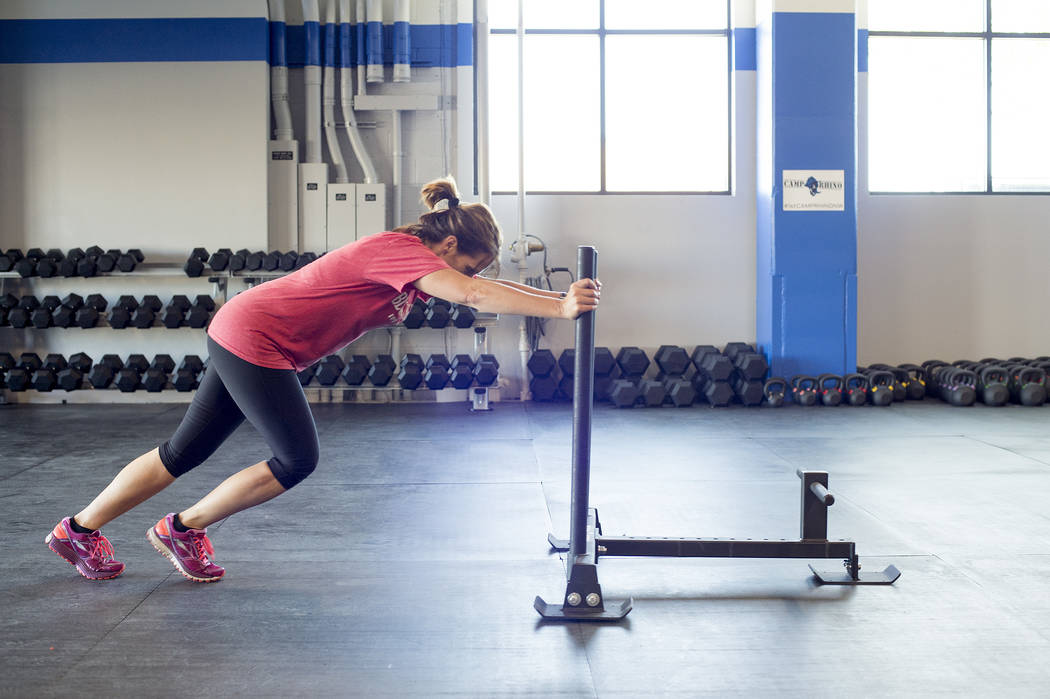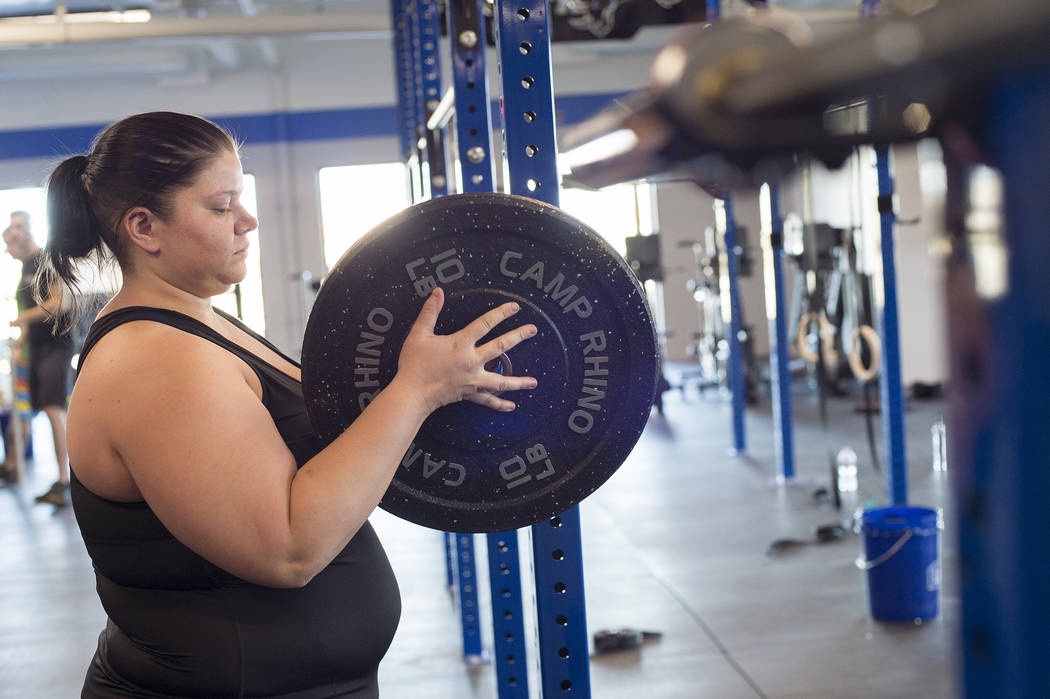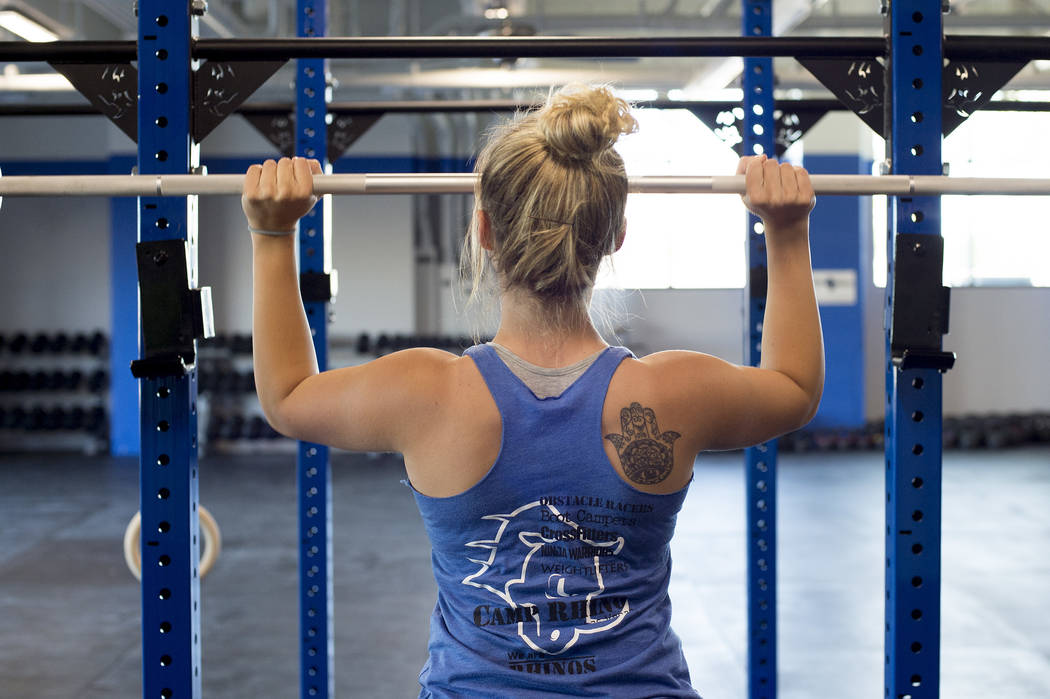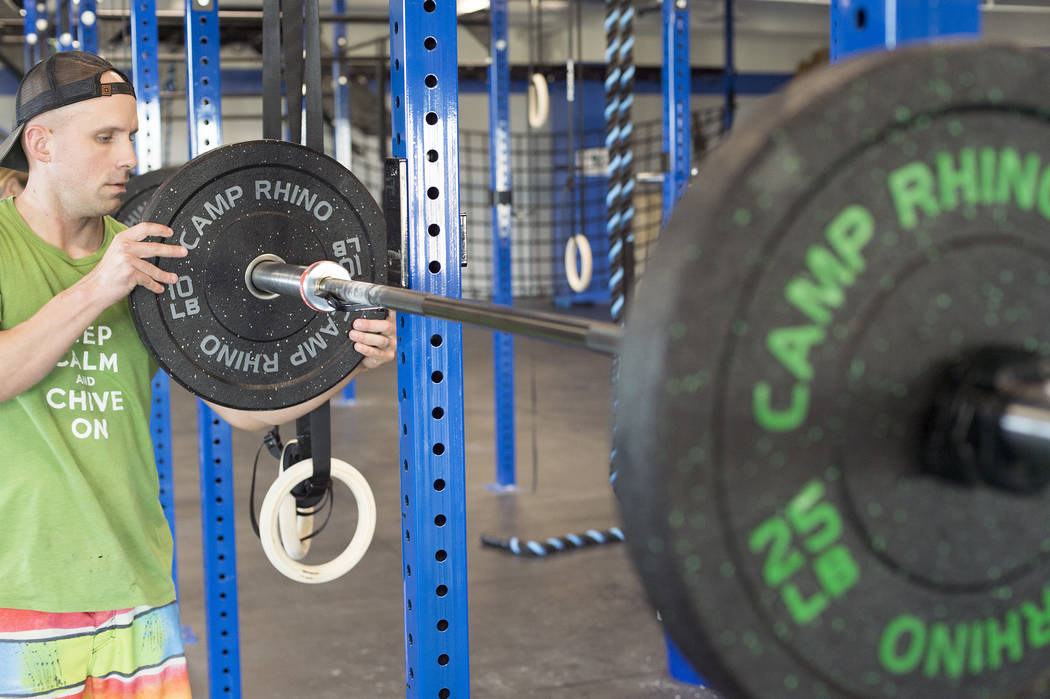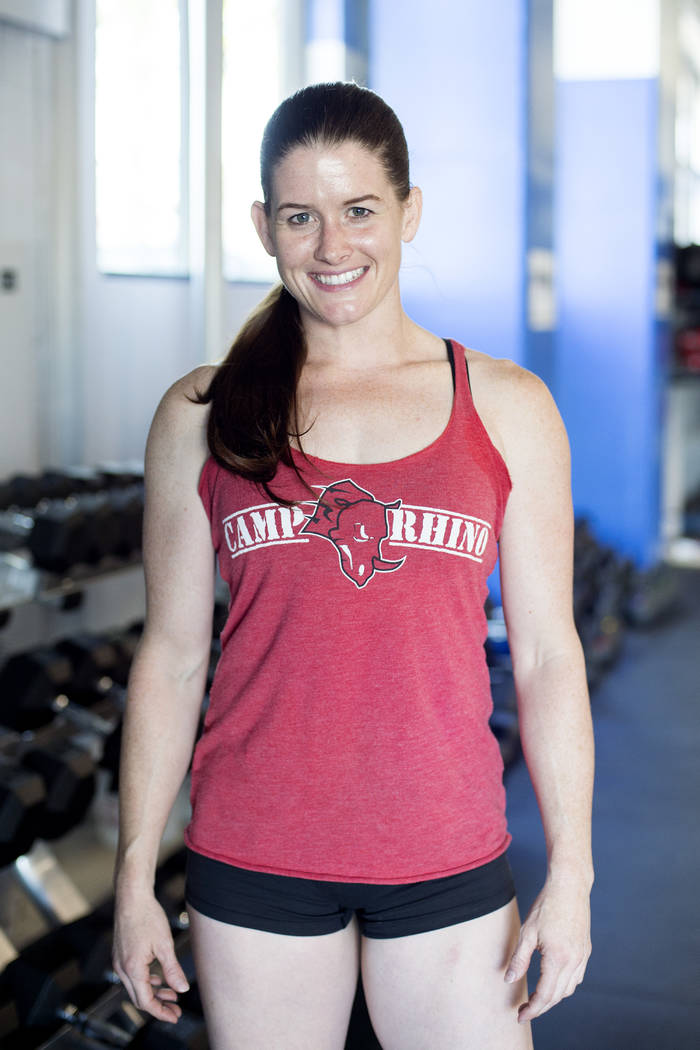 Julie Johnston, 34, has been a fitness trainer for more than 13 years, but she has struggled with keeping her weight consistent for several years.
She said that before she started her gym program, she was 65 pounds overweight and felt depressed. When she felt the military members she hired to train her were not pushing her enough, Johnston said, she decided to start Camp Rhino.
About 12 years ago, she began hosting outdoor boot camp classes at Centennial Hills and Lewis parks. She opened her first physical space, Camp Rhino, in 2011 in the southwest valley, then a second location in the northwest valley in June that specializes in obstacles (including American Ninja Warrior), crossfit and boot camp for adults and kids.
Despite all those endeavors, "I kept losing the weight and gaining it back over and over," she said. "I love eating whatever I want to eat, and that doesn't work out very well. As you get older and you have less time, I couldn't do three hours of working out anymore."
At the time, she was also struggling to prevent her gym from going bankrupt, Johnston said. To combat her unhealthy diet, she would work out for multiple hours regardless of "how bad she felt," she said. But about two years ago, she realized that she needed to change her habits not only for herself, but for her members.
She said she remembers thinking, "'I'm overweight and I'm trying to teach other people how to lose weight.' (And) I couldn't run the business anymore and get three hours a day of working out and I just knew that if I was going to lose the 30 pounds that I had gained, I had to start eating right," she said.
"I was tired all the time, and it's hard to run a business and try to help other people when you don't feel good."
This inspired her to develop a six week challenge — for weight loss or performance — in which she and Camp Rhino members were given a customized meal plan by a nutritionist and workouts to follow, Johnston said. Members would also participate in a weekly support group meetings.
Though Johnston led the meetings, it took her four challenges to finally try it for herself. Once she did, she said, she lost 30 pounds.
"We change our habits and we do it together," she said.
Camp Rhino runs six-week challenges every couple of weeks for $300, Johnston said. However, if participants complete the program by meeting with the nutritionist, documenting food and fitness in a journal and doing their workouts, they get a full refund.
"For our people, that is what keeps them going, and they don't even realize that by week three or four, all of a sudden, they're going to want to exercise. They're going to want to eat right and it changes from 'I want my $300 back' to 'I want to do this,' and most of them end up becoming members."
It costs $150 to be a member at Camp Rhino, Johnston said. The average age for Camp Rhino members is 35-55, but children and teenagers also attend classes, Johnston said.
Nina McLaughlin of the northwest valley did the six-week challenge with her boyfriend, Joe Souza, whom she met at the gym.
"I did it for weight loss," she said. "It's all about getting rid of processed foods. I've learned a lot, and it is about eating the right amount of foods."
Souza and McLaughlin visit the Camp Rhino headquarters near Warm Springs Road and Eastern Avenue but said they are pleased Johnston opened a location in the northwest valley, closer to their home.
Johnston hired her younger brothers John and Brent to manage the northwest location as the lead personal trainers. They have been working with her since she hosted Camp Rhino boot camps at local parks.
The only rule at Camp Rhino is to be nice, Johnston said.
Brett Gilman, 59, of the northwest valley said he has lost 40 pounds since being with the gym for nearly four years.
"You can't put a price on looking good and feeling good," he said.
Contact Kailyn Brown at kbrown@viewnews.com or 702-387-5233. Follow @kailynhype on Twitter.
Camp Rhino
More information: camp-rhino-hq.triib.com, call 702-767-8797 or email admin@camprhino.com
Locations
Camp Rhino Southeast Las Vegas
7211 S. Eastern Ave., Suite 120
Camp Rhino Northwest Las Vegas
6430 N. Durango Drive, Suite B110