'Why my kids?' Empty kitchen haunts NLV parents of crash victims
Updated January 29, 2023 - 4:27 pm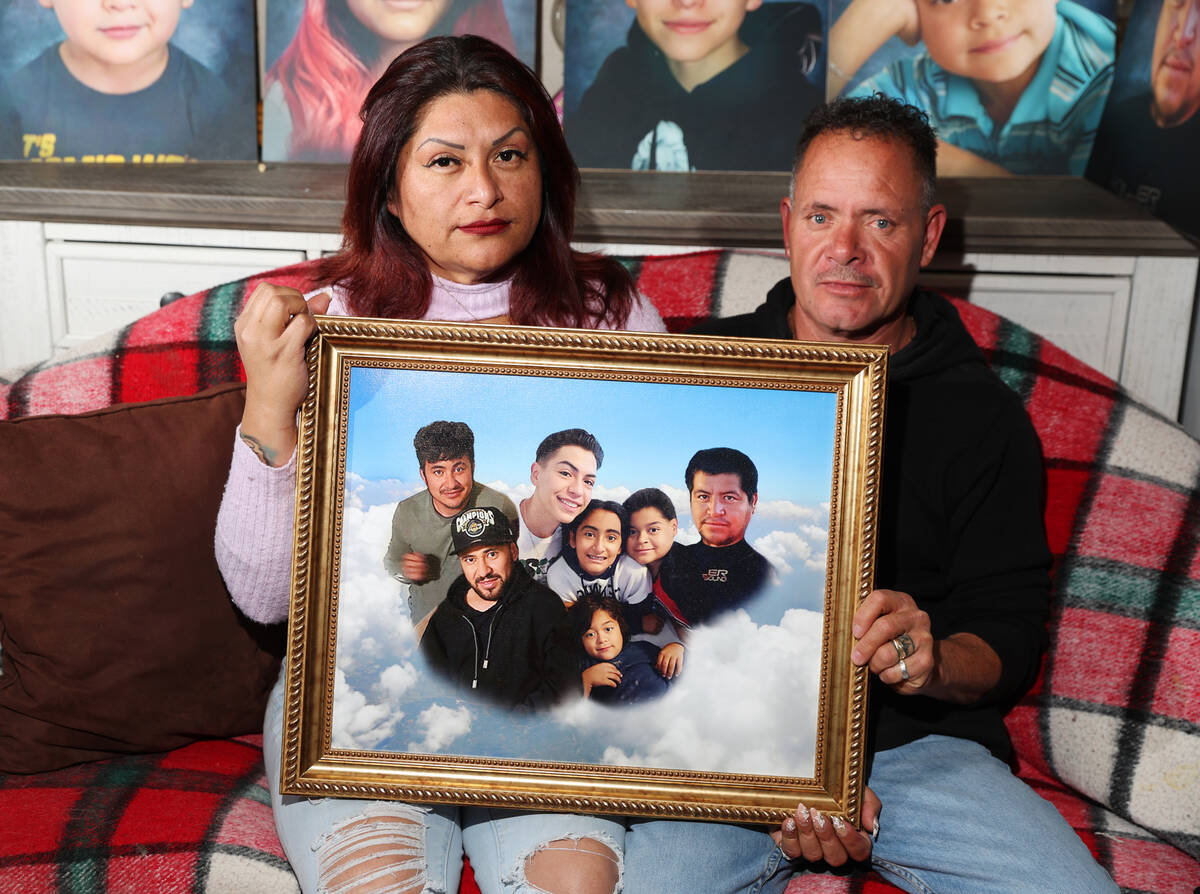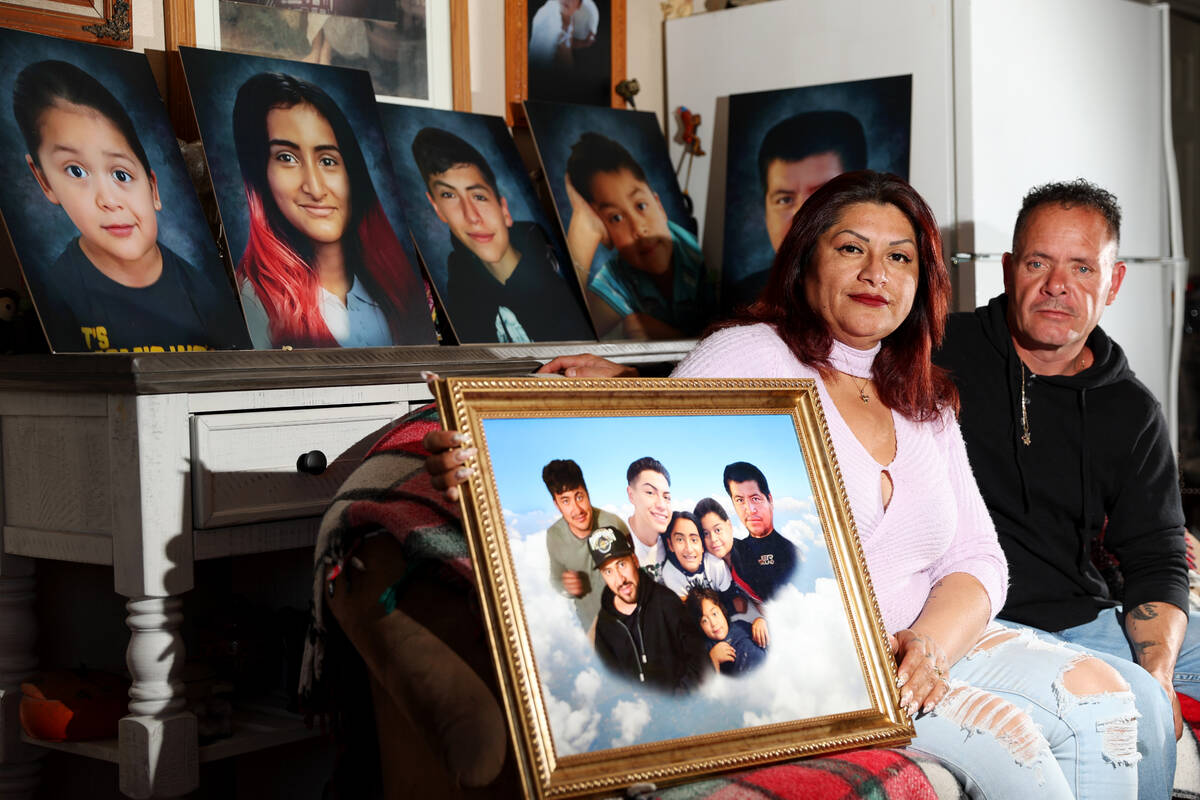 The North Las Vegas family that lost seven members in a crash bonded over savory meals cooked at their rustic, brick-layered kitchen — the home's popular common area.
It's where their father made breakfast for the children most school mornings, where they cooked together, and where one of the boys would prepare experimental dishes for his mother after she returned from long work days.
In the year since the deadliest crash in Nevada history, "No se volvio a usar la cocina," Jesus Mejia-Santana told the Review-Journal on Wednesday. "The kitchen was never used again."
"We never again ate as a family," he added.
Mejia-Santana and Erlinda Zacarias lost six children and stepchildren, and a brother, who were killed when a reckless, impaired driver plowed into their minivan as they were heading to meet up with the parents to go out to eat.
Fernando Yeshua Mejia, 5; Adrian Zacarias, 10; Lluvia Daylenn Zacarias, 13; Bryan Axel Zacarias, 15; Gabriel Mejia-Barrera, 23; David Mejia-Barrera, 25; and Jose Zacarias-Caldera, 35, all died in the crash.
The four children and three adults were inseparable, which is why they were together when tragedy struck, they said.
"Life is not the same without them. You no longer feel like cooking, or doing anything else," Zacarias said in Spanish as her teary-eyed husband held her hand. "Now, there's loneliness because they're not here. Everything ended.
"This is a something that, unfortunately, we're going to have to live with this the rest of our lives," she said.
The couple — trying to overcome their unimaginable loss, which they said still feels as fresh as "yesterday" — on Wednesday were preparing for a weekend tree dedication in honor of their loved ones at Craig Ranch Regional Park. The memorial will be adorned with seven portraits they commissioned.
The victims had just left that park the afternoon of Jan. 29, 2022, when they were killed at the intersection of Cheyenne Avenue and Commerce Street.
Fernando was the "baby" of the house whose teachers described as adorable and smart. Adrian, a fifth grader, would brag about his family in school. Lluvia, the "boss" of the family, was an aspiring medical professional. Bryan was a popular Rancho High School sophomore who wanted to be a medic.
Zacarias said that Gabriel Mejia-Barrera and David Mejia-Barrera, although not her biological kin, were also her sons. Her brother, Jose Zacarias-Caldera, was like another parent to the six others.
NTSB investigation
The National Transportation Safety Board on Thursday released a 300-plus page investigative report outlining the multi-vehicle wreck.
The driver who caused the crash, Gary Dean Robinson, 59, was driving about 103 mph in a 35 mph zone when he blasted his Dodge Challenger through a red light. Toxicology reports showed that he had high levels of cocaine and PCP, and some alcohol, in his body. He and his passenger, Tanaga Ravel Miller, 46, died.
Robinson had been ticketed at least five times for speeding since August 2020, with most reduced to parking infractions, a Review-Journal investigation found.
"Please, we urge everyone, today and always, to slow down, don't drive impaired or allow others to drive impaired, use proper safety restraints and take care of one another," North Las Vegas police wrote Thursday in a statement.
'They're not here'
Being home, and driving in its nearby neighborhoods, is only a painful reminder of the couple's suffering: the quiet, the memorial hearts that adorn a school their children attended, the crash site about 2½ miles away from their home.
That's why Zacarias and Jesus Mejia-Santana have found refuge in the Michoacan and Jalisco states in Mexico, where they've tried to spend as much time as possible with their families, including the man's two now-fatherless grandchildren.
It's then that they can pretend that it's a getaway and that their loved ones will be waiting for them in North Las Vegas when they return.
"We forget it for little moments, but when we return to reality, it's the same," he said. "As soon as I enter the United States, I start crying because I know I'm on my way home, and I know I'm not going to find them."
"We open the door and know they're not there," she added.
Zacarias said that one morning, early in her grief, she woke up in a morning after-sleep daze and briefly forgot her reality.
So, she got up and called for her children to wake up because it was school time. She quickly realized that "my kids died," Zacarias said.
Missed birthdays, holidays
One of their small dogs, who was close to Lluvia, frequently lies in wait outside the girl's room as if she's waiting for her to return, Zacarias said.
Then there are the "very special dates," such as birthdays and holidays they used to celebrate together. She recalled their last Christmas together, the laughter, gift opening, and togetherness.
Zacarias said she probably would spend her days in the cemetery, if it weren't so unbearable.
"I go there and cry. I ask God, 'Why my kids? Why me? Why live with this immense pain?'" she said. "I question what I did to deserve this suffering. Because from one day to the next, I lost what I most cherished.
"With their death, my life has been stripped from me: the desire to keep going and everything else," Zacarias said.
Mejia-Santana said it was impossible to separate the good memories from the bad and doesn't know if that will one day change.
"Maybe never," he said. "We've been strong because God has helped us, as well as the community's morale boost."
The couple have donated some of their loved ones' belongings and clothes but have keepsakes they don't plan to get rid of, such as Fernando's hair strands from the one time he cut his ponytail and the children's baby teeth that rest in a freezer container.
The children would use the money they believed came from "the mouse" — the Mexican equivalent to the tooth fairy — to buy frozen treats. An ice cream truck chimed in their street during the interview.
In the past year, Zacarias has taken to Facebook to share happier snapshots, like a memory of when Fernando broke through a bedroom door because his brother had playfully locked him out.
"He will never close it again," she remembers the boy saying.
The couple said the house still smells like their lost loved ones.
'Moving forward'
Lluvia would have turned 15 later this year and had long planned for her quinceanera, a Latin America tradition that marks a girl's path to womanhood. She dreamed to share the day with her parents' church wedding and had picked out her dress.
Zacarias and Mejia-Santana — who had only wed in court after they met about 15 years ago when he rented a room in her home — went ahead and renewed their nuptials last year.
The ceremony was dedicated to their children and her brother, with speakers giving testimonials and pictures of them decorating the venue.
"It was beautiful remembering them," Zacarias said. "It was very emotive."
Tattoos memorializing the victims decorate the couple's arms.
They're also trying to conceive a child and soon will be going through a medical procedure. They dream of the possibility of having twins.
"God willing," she said. "We know a baby won't replace our children, but we dream of this gift, to love a child and keep moving forward."
Sunday's memorial tree dedication starts at 10 a.m. at Craig Ranch Regional Park in North Las Vegas, 628 W. Craig Road.
Contact Ricardo Torres-Cortez at rtorres@reviewjournal.com. Follow @rickytwrites on Twitter.