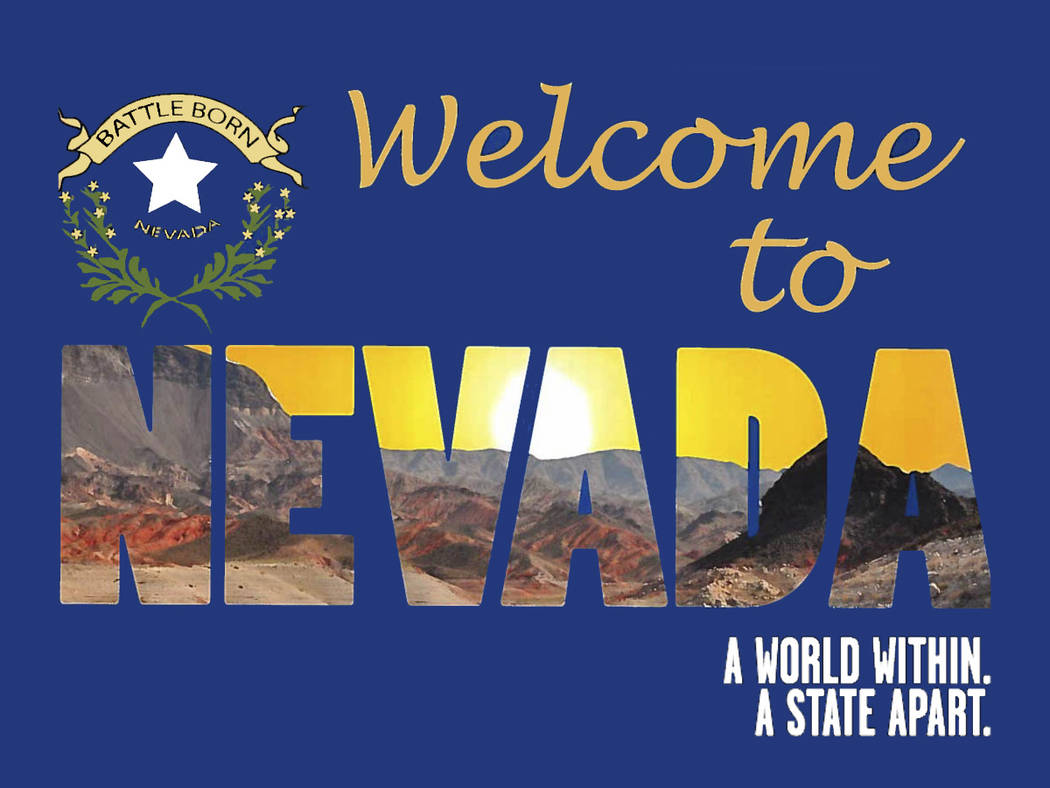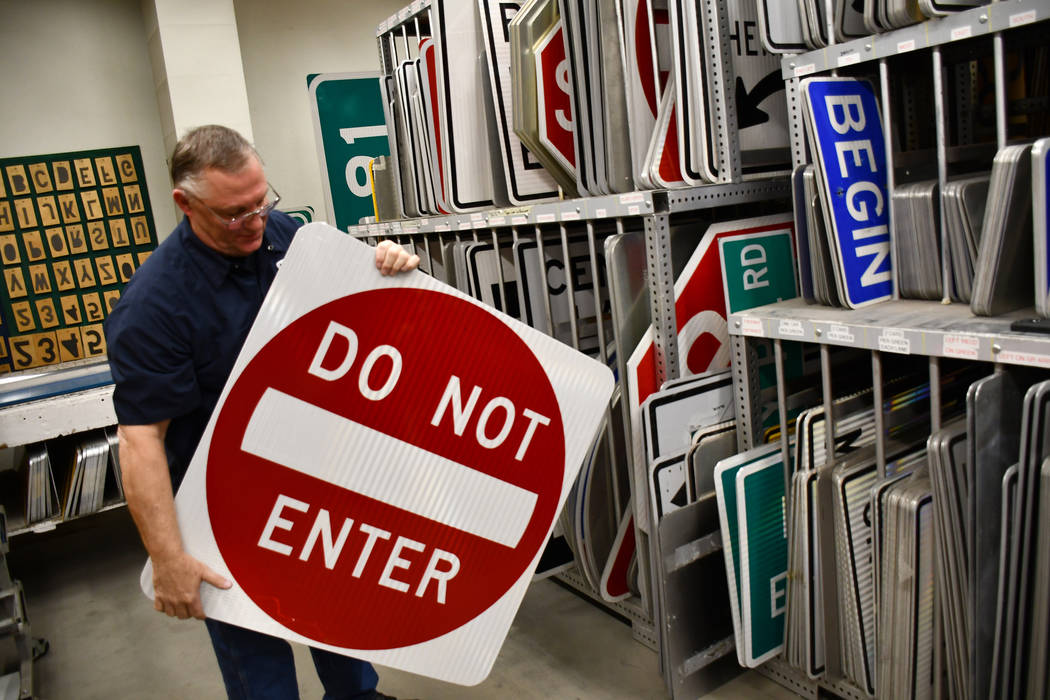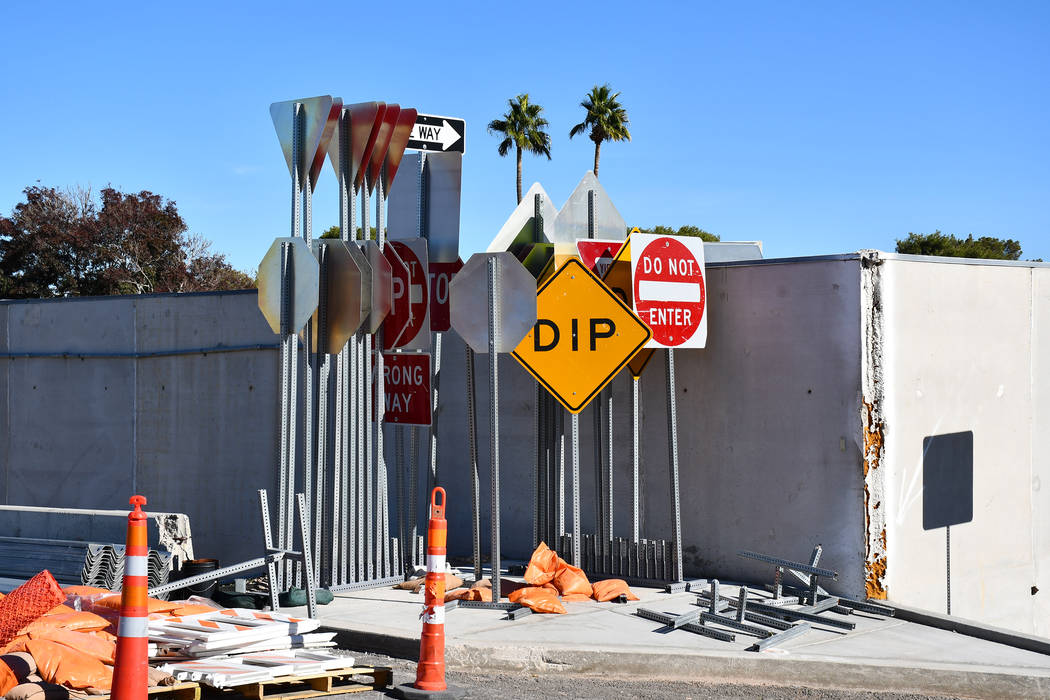 When the Nevada Department of Transporation switched the design of the longtime "Welcome to Nevada" sign this year, a battle for the pieces of history ensued.
Department spokesman Tony Illia said he was shocked by the amount of interest in the old highway fixtures.
"You cannot believe how many people wanted those signs," he said. "They were fighting over them. We had thousands of people calling and emailing me, and I was just flabbergasted. These are huge signs; you can't just hang them up in your house."
About 14,500 Nevadans entered the free raffle via phone, website and social media, and NDOT randomly selected four winners from each region of the state.
A number of the signs featuring a prospector gazing at a sunset were raffled across Nevada.
"In fact, we had transportation board members fighting over them," Illia said.
Illia said people often ask him if they can have road signs.
"Probably one of the most stolen signs has to be the Extraterrestrial Highway, " Illia said, referring to a famed section of state Route 375 north of Las Vegas. "They have been stolen more than once."
But that's not how life typically ends for a Nevada road sign.
Most are made by NDOT's sign fabrication shop in Sparks and shipped about 450 miles southeast to Las Vegas. NDOT then develops the framework needed to support the signs, including brackets and concrete footings. The agency creates the signs' look via computer-assisted design.
NDOT District 1 highway maintenance supervisor Keith Wroblewski said that as the signs come to Las Vegas, NDOT workers put them together and install them along the roads.
"We don't fabricate very many signs; we just have all of the signs handy, in case there is an emergency and we have to put up something really quick," he said.
A number of factors determine a road sign's life span, such as its location, the amount of sun and precipitation it's exposed to, and the materials used.
"We probably figure six to eight years for a sign," Wroblewski said.
Each sign also has a scheduled evaluation process, in which crews check its condition.
"For a lot of the signs that we deal with, they are either (covered by) graffiti, they are hit by cars, and they never even get to the end of their projected life that we would like to see. A lot of it is just normal maintenance that we deal with," Wroblewski said.
In rural areas, people sometimes use road signs as shooting targets — a misdemeanor that only results in an arrest if it happens in law enforcement's presence.
"When we get to the rural areas, we have more cattle signs out there, more elk signs, more burro signs, and guys like to zero in their guns on those things. They practice on them," Wroblewski said.
The Nevada Revised Statute also has a chapter on injury to property that includes penalties for defacing signs.
He said he has seen a number of creative uses for road signs.
"When winter comes, we start losing signs on Mount Charleston. We've come to find out, people were moving them from posts and turning them into sleds," Wroblewski said.
The majority of the signs end their lives in a dumpster at NDOT's Las Vegas facility, where they are picked up by a third-party recycler. NDOT gets money for recycling, which goes into the agency's general fund.
After the signs are recycled, they are melted down.
"Most people don't know this, but a lot of what we do is, we are replacing signs that are hit," Wroblewski said. "People don't realize that every day we might have eight, six, 10 signs that are just hit by cars, and we might have another six or seven that are hit by graffiti."
Not everyone is polite enough to ask NDOT about keeping the signs.
"There's a lot of people that want those signs but just go out there and steal them," Wroblewski said. "They are in a lot of garages, I'm sure."
Contact Daria Sokolova at dsokolova@viewnews.com or 702-383-0497. Follow @DariaSokolova77 on Twitter.
By the numbers
25: "Welcome to Nevada" signs statewide that were replaced
13: Signs featuring a miner that were replaced
$250: Cost for each of the majority of the new signs
$950.40: Cost for each of the four largest new signs
Nevada Department of Transportation
Online
For more information on how to read mileposts, visit tinyurl.com/y7h4mxxl.