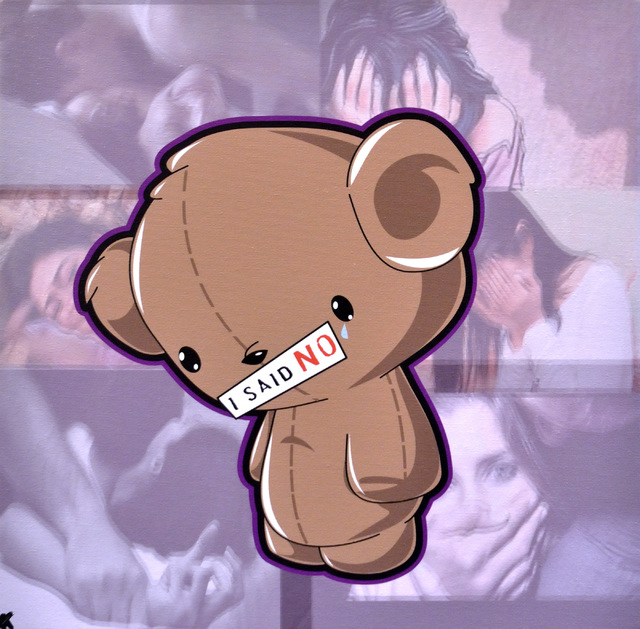 Juan Muniz considers all of his art pieces to be an inside look into his own sad journal.
The artist said his work has always been deeply emotional, inspired by his life experiences. In his latest gallery, "Direct to You in 20 Min.," Muniz took on taboo subject matters that affect not just himself.
Gallery manager Paloma Solamente said Muniz's sweet, childlike cartoon characters were juxtaposed against heavy topics such as domestic violence, homophobia, sex trafficking, body shaming, cyberbullying and rape. The gallery — the title inspired from the escort cards that are handed to visitors at the Strip — was on display in at Sin City Gallery inside the Arts Factory, 107 E. Charleston Blvd., Suite 100, throughout October.
"It's been kind of eye opening, especially for Juan's following, because they are not used to having such a strong message about things that go wrong in our society that sometimes we don't like to talk about from him," Solamente said. "He has characters that are sweet, that are romantic, that give hope about things in the world, and then you have this and it's a total 180."
Muniz said his most personal piece, "Smile," was inspired by his struggles with depression and anxiety, as well as the death of one of his favorite actors, Robin Williams. His face is seen in the background of the painting.
He said the gallery was significant to him because it will be last time his iconic bunny character, Felipe, will be showcased.
Felipe, an androgynous child dressed in a a light green bunny onesie named after his stillborn younger brother, has been the primary character in many of Muniz's painting and murals. He developed the character after his art mentor, Danny Roberts, told him that while he enjoyed his art shows, he felt that nothing about them stuck with him after he left. Roberts advised Muniz to create one character and make him personal.
In his next show, Muniz used Felipe to touch on topics so personal that he was afraid no one else would be able to relate to his art. By the end of opening night, to his surprise, all of his paintings were sold.
"A lot of people were sharing their feelings and their emotions and they were projecting them onto the character," Muniz said.
Today, Muniz said he gets letters and emails from all over the world from fans letting him know how a piece made them feel better or helped them overcome a certain time in life.
"I didn't expect this bunny to touch people in so many different ways," he said. "To me, it's humbling and it's touching … because I never expected to get this big and I didn't expect people to take it that deep. If I can make an image and it can make somebody feel better over a situation that they are dealing with or they have dealt with, that to me just means the world."
Since the prices of his artwork are beyond many of his longtime followers, he has released stickers, pins and toys that are more affordable.
Felipe's first vinyl toy was sold out the first day it debuted at the San Diego Comic Con last year. Ben Gorestsky, owner of 3-D Retro, the company that produces the toys, said the artist's merchandise is popular because of the satirical, comical and dark situations Felipe gets himself into.
Now, Felipe and his cartoon friends are moving out of the canvas and into the world of apparel. Muniz hopes to sell Felipe T-shirts, hats and accessories at major retail stores, such as Hot Topic, in the near future.
Muniz jokingly said that he wants Felipe "to knock Hello Kitty off her pedestal."
"I want to come out guns blazing," Muniz said. "I don't want to do things small. If I fail, I want to fail big next to a big name. And if that's my goal, the worst thing that can happen is I don't fail."
Gorestsky said he sees a bright future for Muniz and Felipe as they take on new entrepreneurial ventures.
"He's creating this world for people to be engulfed in to understand his characters and to understand him through his characters and people want that — they feel closer to the art and they feel like they know these characters," Gorestsky said. "People will buy them and they are excited to see what he's making."
With Felipe's exit, Muniz said he will adopt a new style of art and continue working on social commentary in his future works.
Visit juanmunizart.com and sincitygallery.com.
To reach View intern reporter Rocio Hernandez email rhernandez@viewnews.com or call 702-387-5233. Find her on Twitter: @rociohzz.