Southbound I-15 traffic resumes near Primm after 7-hour closure
Updated September 3, 2023 - 3:24 pm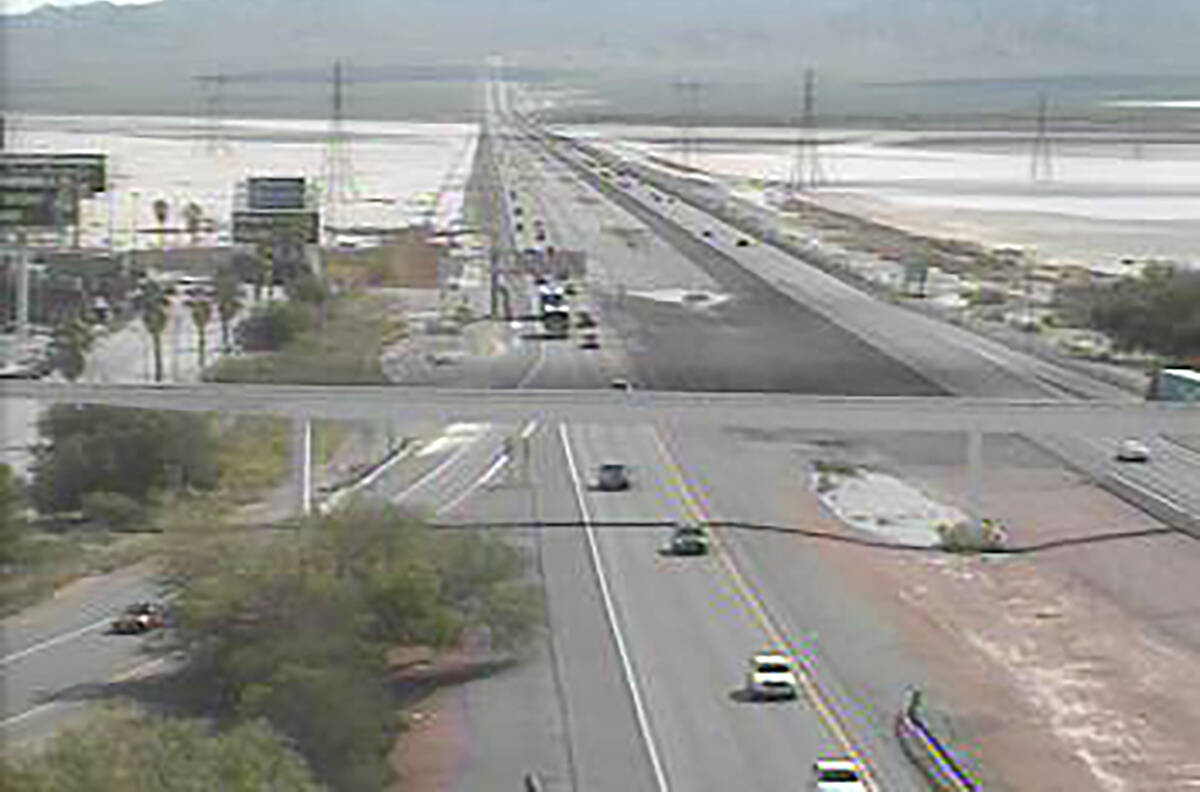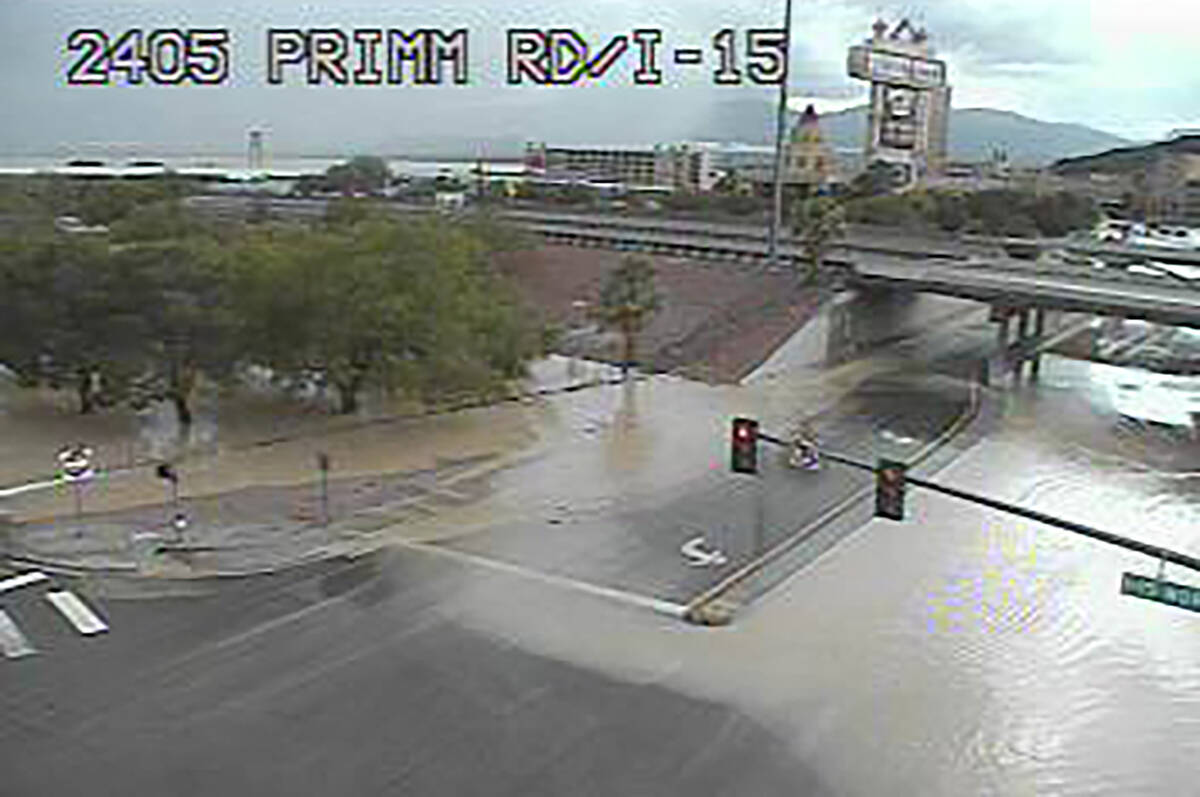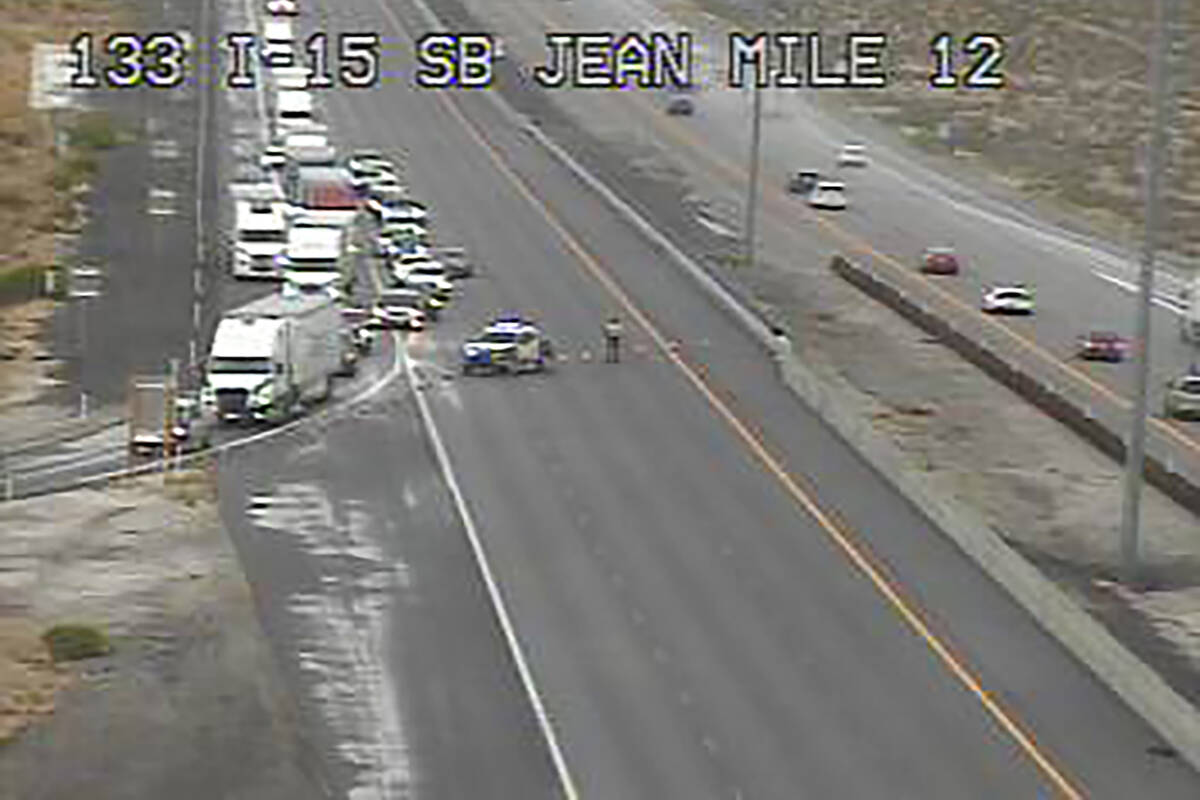 Interstate 15 was closed in both directions near the Nevada-California border early Saturday evening because of heavy flooding.
The northbound closure lasted about two hours before lanes opened around 8 p.m. Southbound traffic was still forced to exit at Goodsprings Road as of 12:45 a.m. Sunday.
It appeared the southbound lanes were opened shortly after 1 a.m. Sunday after being closed for about 7 hours. The full closure started shortly before 6 p.m.
In the hour before 5:30 p.m., 1.18 inches of rain fell on the north side of the freeway a few miles from Primm, according to a Regional Flood Control District gauge. Also, more than 3 inches of rain fell southwest of Jean as a storm front rolled along I-15 toward Henderson around 4 p.m.
Early Saturday shower
Storms dropped rain across several parts of the valley early Saturday afternoon before skies cleared.
While Friday's rain dropped the most rain all along the west side of the valley, the early Saturday afternoon storm hammered the northeast side.
The Flamingo Wash at Nellis Boulevard recorded 2.21 inches while the Las Vegas Wash at Sunrise Golf Course logged 1.85 inches. A gauge at Nellis Boulevard and Las Vegas Wash recorded 1.61 inches while downtown Las Vegas had .55 of an inch. Most parts of the valley received between .04 and .20 of an inch.
Another storm front headed up the I-15 corridor later in the afternoon toward the Las Vegas Valley and across the 215 Beltway in Las Vegas and Henderson.
The storm dropped 3.15 inches southwest of Jean, .41 of an inch at the Jean Airport and .20 of an inch near Sloan and then .20 of an inch at the Pittman Railroad Channel in Henderson.
According to radar, the more intense cells dissipated around 6:30 p.m.and lighter rain was falling along the 215 Beltway to the east side. A trail of smaller cells were still moving toward the valley.
At midnight the entire Southern Nevada sky was free of rain, perhaps signalling the end to two of the wettest days in Las Vegas weather history.
Power outages
Nearly 6,400 NV Energy customers were without power early Saturday evening as more storm cells moved into the Las Vegas Valley.
The outages were reduced to 2,719 as of 12:45 a.m. Sunday, according to the NV Energy website.
Contact Marvin Clemons at mclemons@reviewjournal.com. Follow @Marv_in_Vegas on X.