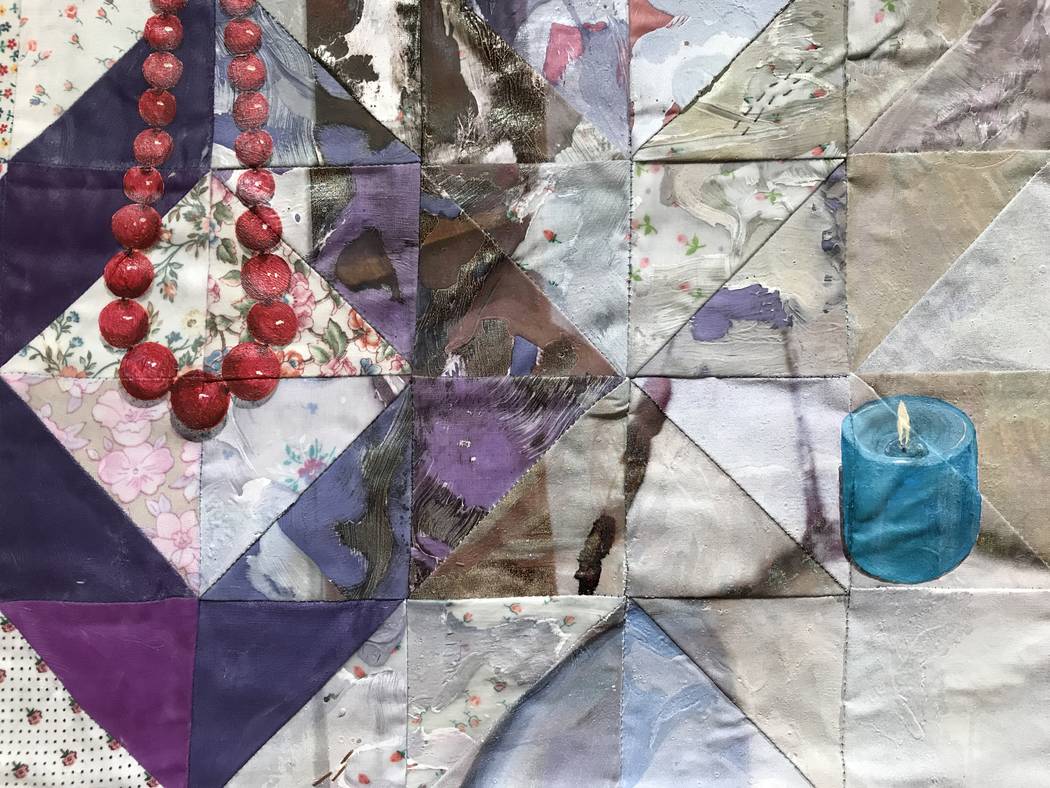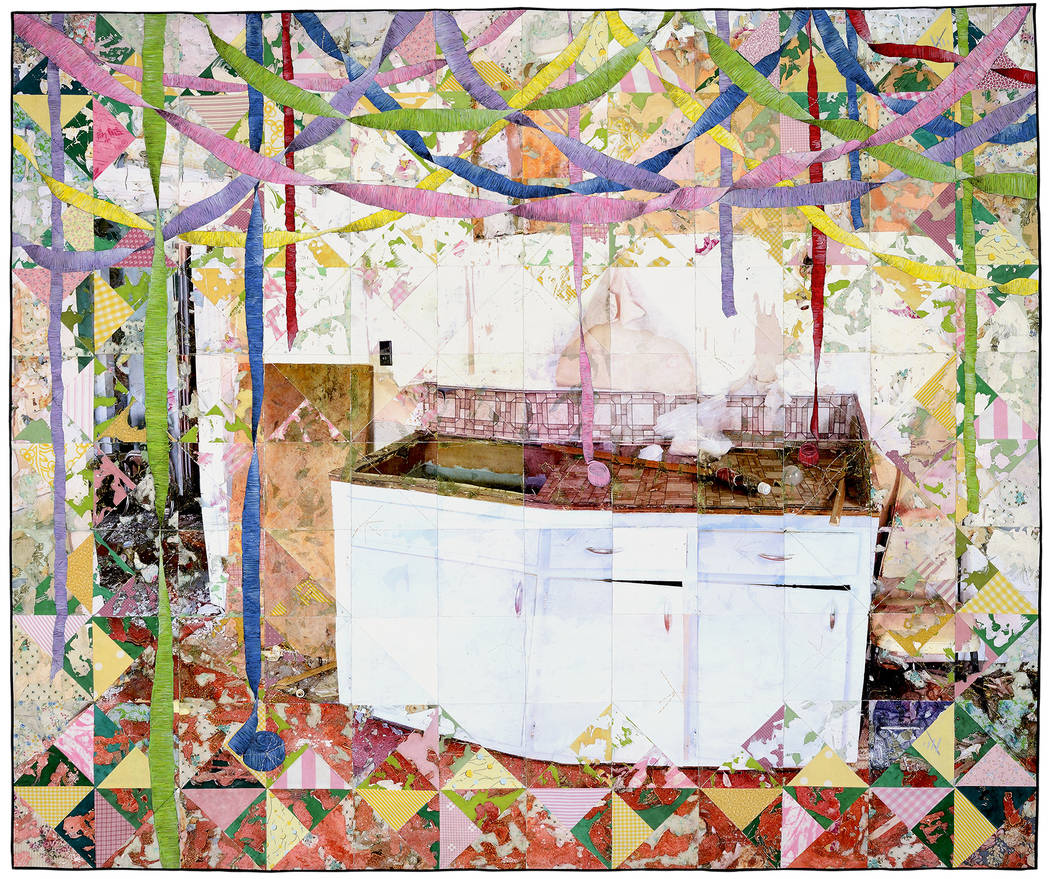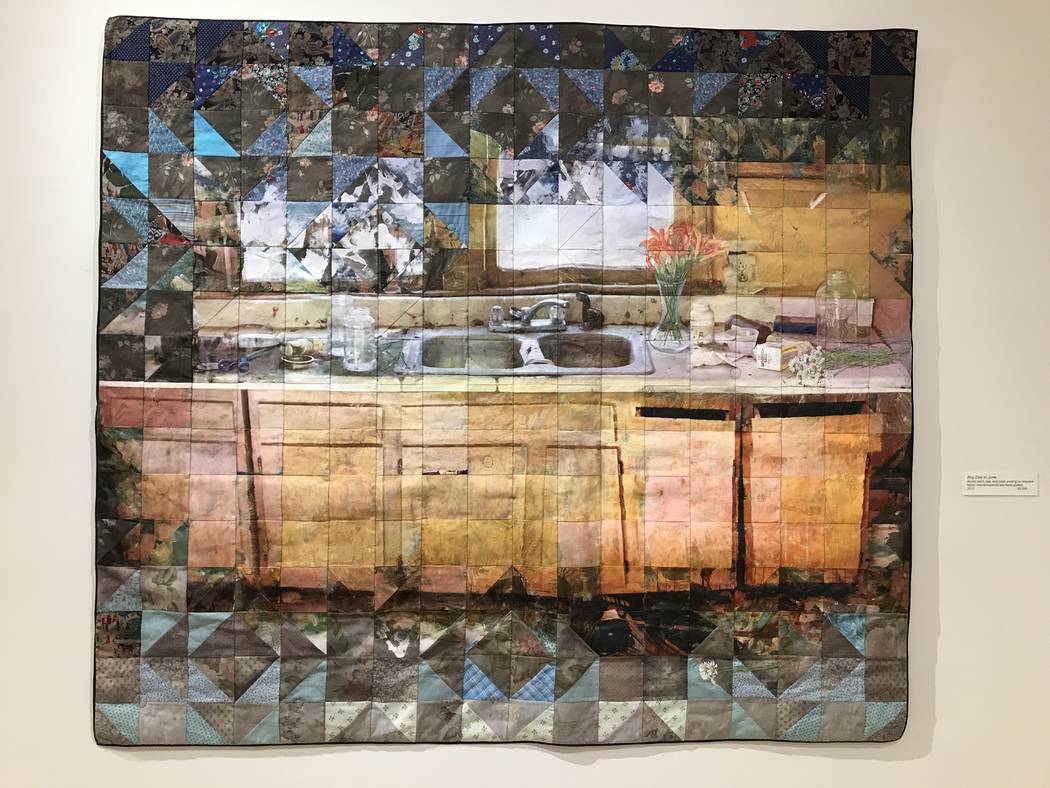 In Jeana Eve Klein's "The End of Romance," the image of a bathroom is framed by deep-purple, hot-pink and off-white quilt pieces.
The toilet lid is lifted. Lighted candles sit in opposite corners of the room and a blue-beaded necklace is draped over the side of the bathtub. The piece of art, over 5 feet tall and 4 feet wide, is one of several similar pieces on display at the Charleston Heights Arts Center.
Each piece features images of abandoned houses, replicated on fabric and stitched into a quilt. Houses, especially ones left empty, have fascinated Klein for years.
"I don't remember having any 'aha' moment of starting to pay attention to abandoned houses," Klein, 42, said. "I would always wonder about its story: When it was abandoned, what happened to the people who lived there and why that story or house wasn't preserved."
The piece and several others are on display together as the "Past Perfect" exhibit through Jan. 20 at the Arts Center. A reception is set for Jan. 12, and a free two-day workshop (with 12 spots) on how to replicate Klein's process is set for Jan. 13-14.
Klein collaborated with Jeanne Voltura, a visual arts specialist and gallery coordinator for Las Vegas' department of cultural affairs. Klein responded to a nationwide call for artists over three years ago.
Voltura said she picked Klein partially because of her work's "sentimental aspect."
"Past Perfect" also speaks to "our population and our culture as a whole and the economics of our times," Voltura said. "I thought it was an important thing to show an artist thinking about people and their inability to stay where they are and to be able to live as they want to live."
After a crippling recession, Las Vegas has its share of abandoned homes: About 2.17 percent of Las Vegas houses, or a total of 14,334 properties, are vacant.
Klein's multimedia quilt pieces take a lot of effort and a lot of time: "The End of Romance" took 62 days of designing, cutting, pasting and stitching to complete. She documented the process in a blog on her website.
Klein is based in North Carolina, where she lives with her two children and husband and works as an associate professor in the art department at Appalachian State University.
She completed her undergraduate art and design degree at North Carolina State University and received her Master of Fine Arts degree from Arizona State University. She started making quilts as an undergraduate, drawn to the "narrative potential" of the craft and tactility of the quilts themselves.
Around 2011, "I started using actual photographs translated into fabric," Klein said. The process has evolved since, from using simple quilting shapes to developing more complex patterns.
Each quilt begins with a bit of trespassing to take pictures of the houses she'll turn into art. She never goes alone and she never goes at night, Klein said, often bringing a colleague along with her who shares a fascination with the abandoned structures.
It's not hard to find abandoned houses in and around the hills and mountains of North Carolina, Klein said, especially if you know where to look.
She said she only enters a house if there's a way in without breaking anything. She doesn't kick down doors or break windows.
"I don't actually like the process of going to abandoned houses," Klein said. "But I find the stories so compelling and the need to respond so important that I go anyways."
The workshop she's set to host will be "very intense," Klein said, mimicking her process for the quilts. While the group won't go "tromping around abandoned houses," members will start by working with digital photos and manipulating them, printing them and arranging piecemeal fabric into quilt patterns.
Klein then coats each piece of fabric with a combination of gesso (a white paint mixture), gel medium and digital ground before printing on it. Each piece is also labeled with an alphanumeric code that helps Klein keep track of the type of fabric used and the opacity of the fabric's coating.
Klein also exclusively uses donated quilting material from her late grandmother's church-quilting group. She likes the fact that the material has history and "has passed through several hands before it gets to me," she said.
"Hopefully they will leave knowing how (make these pieces) on their own," Klein said. The project is funded partly through two grants, and it's likely that the money will be enough to pay for the majority of the materials needed.
"There's a huge quilting community here," Voltura said. "I thought it would be a great way of bringing some of those people in … so they could see the different directions they could take if they wanted to."
Contact Madelyn Reese at mreese@viewnews.com or 702-383-0497. Follow @MadelynGReese on Twitter.
'Past Perfect'
Where: Charleston Heights Arts Center, 800 Brush St.
Phone: 702-229-6383
Reception and lecture: 6-8 p.m. Jan. 12
Workshop: 9 a.m.-5 p.m. Jan. 13-14.
800 Brush St.