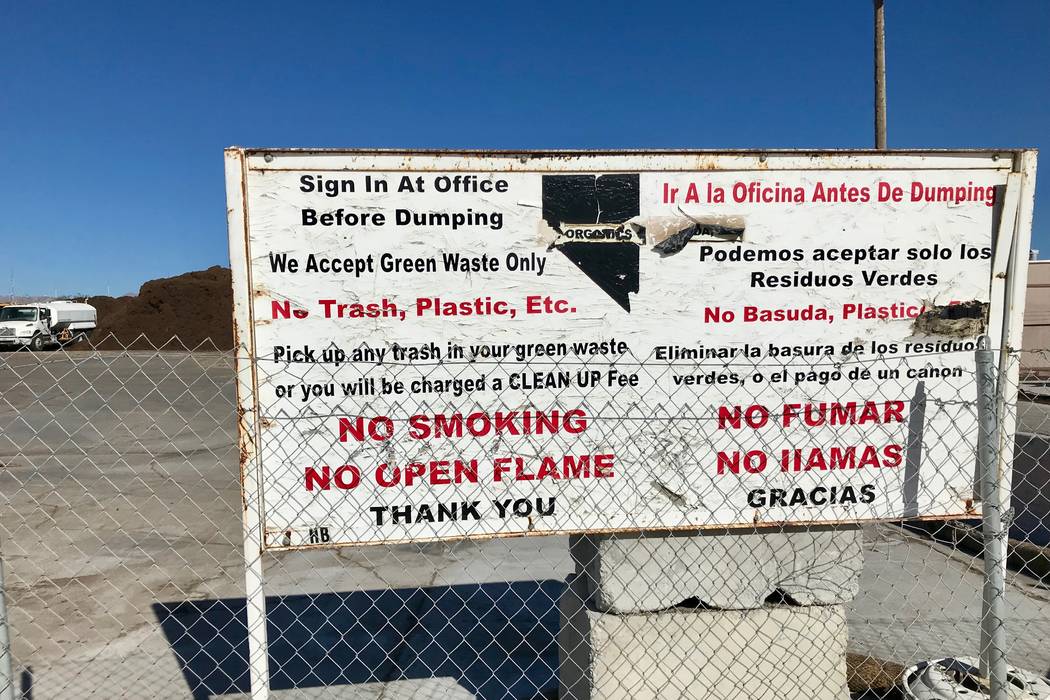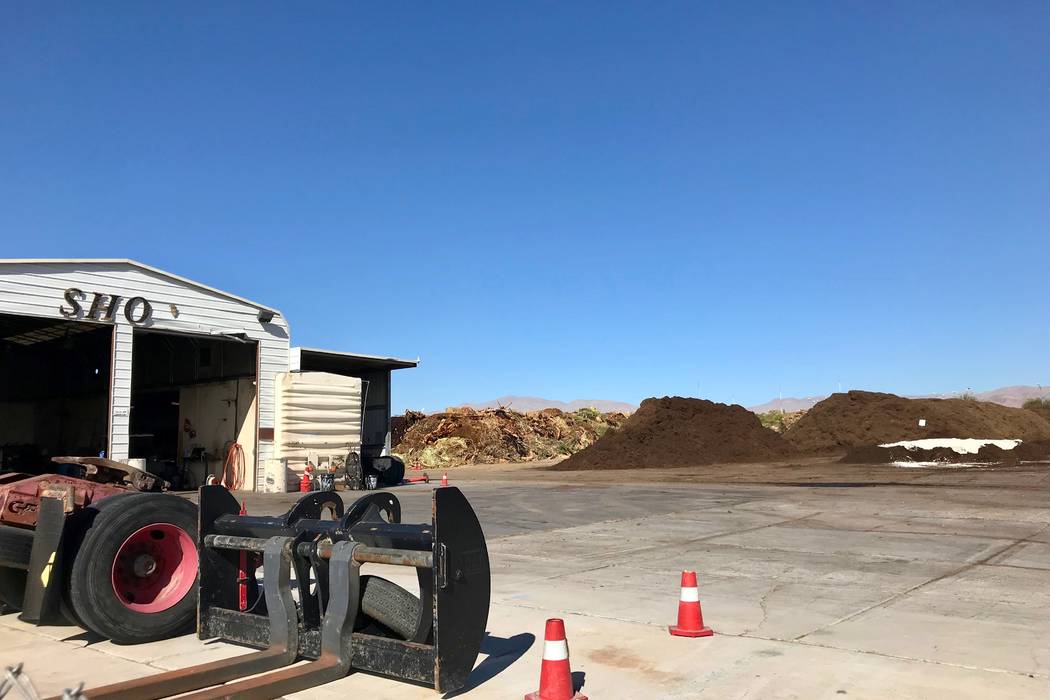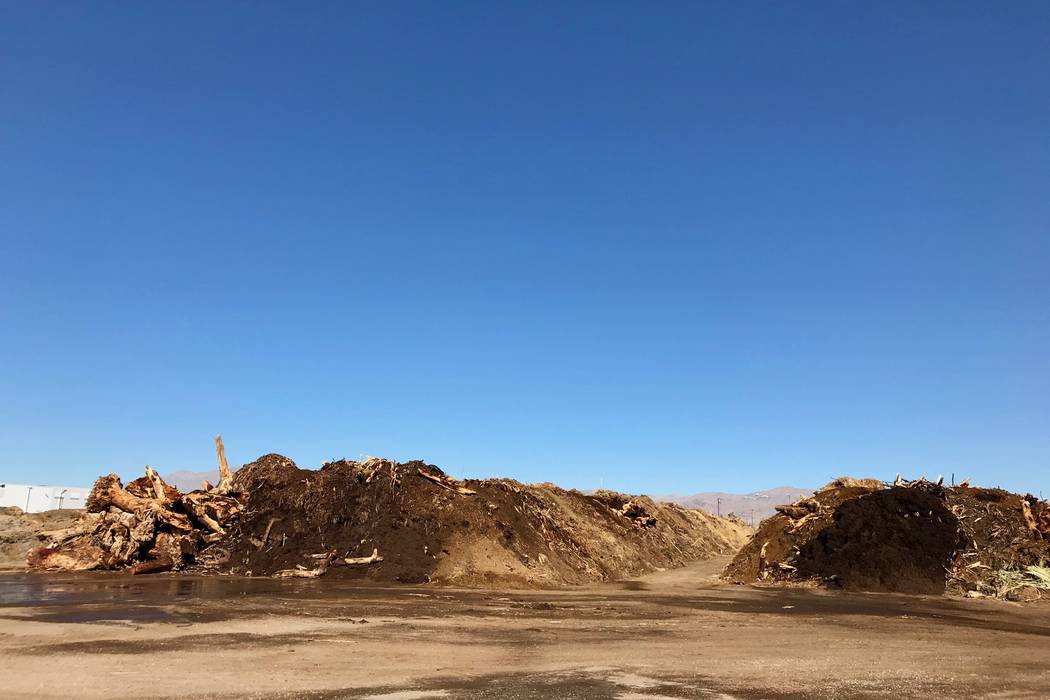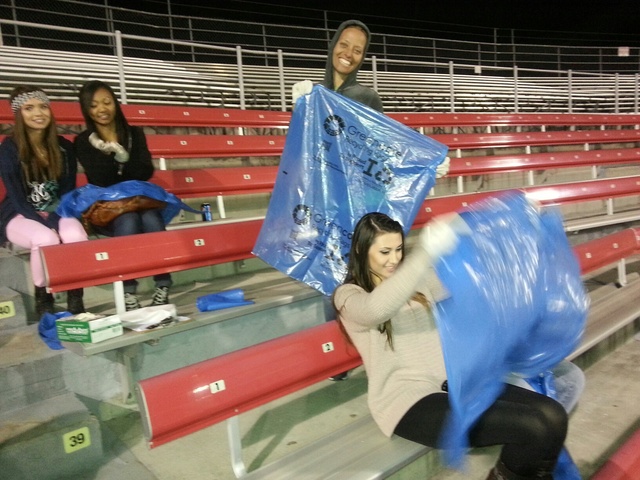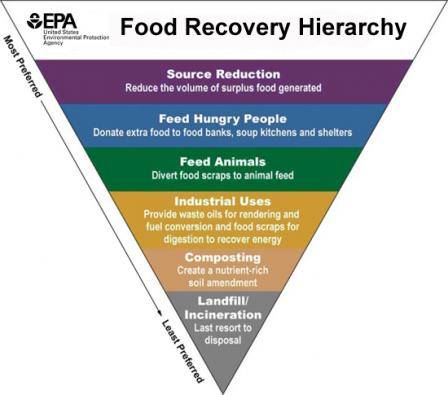 This is the third installment in a three-part series on food waste in Southern Nevada. The first installment is online at bit.ly/2gZFNNc. The second is online at http://bit.ly/2z1mHhJ.
It's expensive to compost.
That's partly why Las Vegas' food waste has only two places to go that aren't landfills: composting facility Terra Firma Organics and a pig farm, Las Vegas Livestock.
About 21 percent of the waste that ends up in landfills and incinerators in the United States is food, according to the Environmental Protection Agency. In 2015, the EPA and the U.S. Department of Agriculture announced the first ever food waste reduction goal, calling for a 50 percent reduction by 2030.
The EPA created a food-recovery hierarchy that prioritizes reduction strategies from most preferable (reducing the surplus volume of food generated) to least preferable (landfills or incinerators).
Diverting food scraps to feed animals is in the middle of the hierarchy, while the EPA considers composting just one step above going to the landfill.
For businesses, organizations and residents looking to give their food scraps a second life, options are limited. That's pushing more people to consider composting themselves and others in the organics recycling business to increase their capacity and outreach.
Time-consuming venture
You can't just go out and get a permit for composting, said Terra Firma office manager Kristy Mikesell. It's a long and expensive process. A new permit can take up to a year to obtain, Mikesell said, and requires a mountain of paperwork. And the permit is attached to the land, not the company, meaning an operation can't relocate easily.
Terra Firma occupies 9.6 acres near Nellis Air Force Base in the northeast valley, the former site of A1 Organics, another composting company at which Mikesell worked. She joined Terra Firma when it took over the property in 2014.
While A1 Organics took in all sorts of material, including animal products, Terra Firma works largely with what owner Dane Buk calls "clean and green" material like sod and tree trimmings. That's because the company sells the compost for gardening and planting.
"I don't believe that we should be the 'end-all, everything-goes-to-compost' facility," Buk said. "The right materials should go to us, and the wrong ones should go somewhere else."
Still, Terra Firma does take some fruits and vegetables, including leftovers from Ocean Spray's factory in Henderson and leftover Halloween pumpkins and Christmas trees collected by the Southern Nevada Christmas Tree Recycling Committee.
For Terra Firma, it takes about a year from start to finish to make compost. The process is regulated by the Southern Nevada Health District. Material is dried out for months before it is ground up and gathered into a pile, ready for decompostion. As the matter breaks down, the temperature rises as microbes consume the organic matter and decompose the material aerobically.
Regulations require that the pile is kept at over 131 degrees for 15 days to remove harmful bacteria like salmonella and E. coli. The piles must be turned over with a front-end loader at least five times while decomposing.
Then, about 22 weeks later, the compost is tested. If it smells like dirt (and not like rotting material), it's ready. Almost.
"We do analyticals. We're not only required by the health district to do them, but our customers want us to do them, too," Mikesell said. Common measurements include pH, mineral levels and another check for bad bacteria.
If everything checks out, then it's ready to sell.
'Then they push you out'
There's another roadblock: Nobody wants to live next to a compost facility.
"Everybody wants the warm and fuzzy of recycling, but nobody wants to deal with it," Mikesell said.
Operations manager Gilbert Gutierrez said that he would love to see Terra Firma grow and that there's a 20-acre lot next door that could be developed.
"But one of the things here is with all the warehouses coming up and everything, investors don't want a compost facility in their backyard," he said. That's a common sentiment across the U.S., Gutierrez said, including in California, where he managed another facility.
"The state pushes these regulations and everything — that so much has to go in composting and recycling— but then when you put in these sites and then finally you have the growth of the community … and it finally catches up with the compost facility; then they push you out," Gutierrez said. "By that time, you have so much money invested (in the property) that you have no place to go."
That's what happened to pig farmer Robert Combs, who in the 1960s started feeding casino leftovers to pigs on his 160-acre farm in North Las Vegas. As the city grew and houses came closer to the farm, complaints about the smell began piling up and interest from property developers kept increasing.
Combs began tapering the farm's operations as he neared retirement. When the property sold last year to a developer for $23 million, neighbors and city officials celebrated.
"… I am thrilled that thousands of homes now will have the odor restriction removed from their title, resulting in a dramatic increase in property values across our community," North Las Vegas Mayor John Lee said in a statement at the time of the sale.
Now, Combs' sons, Clinton and James, as well as his granddaughter, Sarah Stallard, have a new operation called Las Vegas Livestock that opened in June.
"It's a little similar to what my grandfather was doing," Stallard said. "But we've tried to modernize it."
The farm has about 3,000 hogs on 50-plus acres at Apex Industrial Park, about 30 miles north of the Strip. The farm takes food scraps from some of the big casinos, including MGM Resorts International properties, Encore, The Venetian, some of the Station Casinos and Boyd Gaming properties and Ikea.
"I would say weekly we're getting requests" for new accounts, James Combs said. But they don't want to "bury themselves" in so much waste that they can't handle it.
Still, the demand is there. Combs said that the company is developing a more efficient mechanical separator for food products that will produce a clean, dry feed. It will also be able to separate out plastics and other contaminants, Combs said, which would allow them to take more types of products, like leftovers from supermarkets.
"The machine would separate that, so we can take those accounts now," Combs said. The farm is permitted for up to 25,000 pigs, allowing the farm plenty of room to grow.
Where should it go?
UNLV's solid waste and recycling program manager Tara Pike remembers the first time she brought compost bins to a school event. It was a fundraiser for the victims of the 2010 Haitian earthquake.
Compost bins sat next to the trash and recycling at five stations. At each station, Pike placed someone there to make sure guests sorted their waste correctly.
"I remember the looks on people's faces like, 'What is happening here?'" Pike said. "They were all nervous and walking slow and had this wide-eyed look on their face."
One woman confidently walked up to the bins where Pike stood. Pike asked if she needed help.
"She was like, 'No, I know how to do this. I'm from Portland,'" Pike said. "It was in that moment I realized how far behind we are."
When the A1 Organics composting facility opened in 2007, she said she was ecstatic. UNLV's solid waste and recycling program started collecting food waste in May 2009, said Pike.
When Terra Firma took over and imposed stricter guidelines, Pike said the program lost the ability to do "zero-waste" events and compost like it had.
Still, Pike said 186 tons of UNLV's food waste was diverted to Las Vegas Livestock last year, though that's down from an all-time high of 200 tons in 2013 diverted between the pig farm and composting.
Now, Pike is on a mission to obtain an in-vessel composter — a big, covered metal or plastic tank for compost, where air and temperature can be controlled — so UNLV can go back to composting everything like it did before, this time on the college campus.
Students at UNLV are aware of recycling, Pike said, but they still don't know as much about composting.
"… UNLV is one of the places that has opportunity and the ability to change culture," she said. When the students she works with eventually become teachers, city managers and business owners, Pike said, maybe they'll think back to their own experience with recycling, composting and reducing waste.
"Then the ball starts to roll downhill in our community," Pike said. "It will inspire the people that need to be inspired."
Contact Madelyn Reese at mreese@viewnews.com or 702-383-0497. Follow @MadelynGReese on Twitter.
Food waste recycled in Clark County, in tons:
2016: 15,522
2015: 11,941
2014: 22,931
2013: 57,745
2012: 15,208
2011: 24,000
2010: 25,358
All organics* recycled in Clark County, in tons:
2016: 73,633
2015: 47,759
2014: 70,850
2013: 135,623
2012: 87,381
2011: 45,476
2010: 59,100
*Organics include yard debris, food waste, biosolids, restaurant grease, rendered animal matter and wood.
Southern Nevada Health District, Annual Recycling Reports: http://bit.ly/2hEznnj