First StorySlam brings diverse collection of tales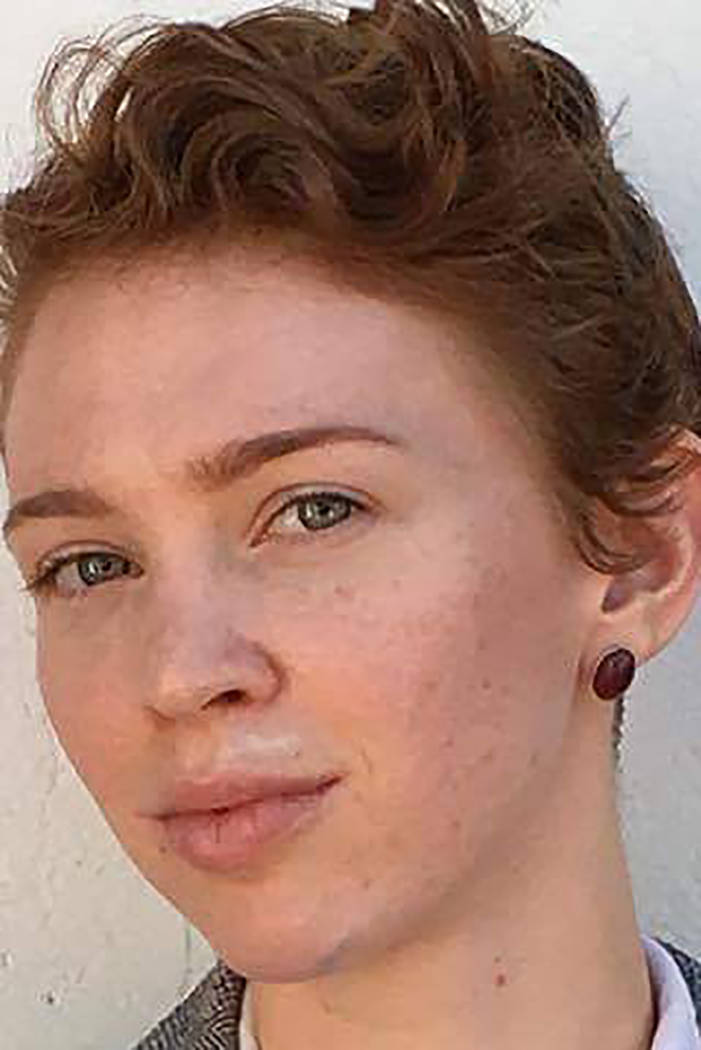 Flynn Dexter swiped right on Tinder, broke her toe, had her heart broken and was attacked by a monkey.
It didn't happen all at once, but the plot elements made for an interesting story that Dexter shared at the first StorySlam, held Feb. 25 at Charleston Heights Art Center. At the event, residents were invited to share unusual personal experiences/stories with a crowd of about 50 people.
Dexter was visiting family in San Diego, got bored and signed in to Tinder, a mobile dating app. She came across a woman who had "super liked" her, a feature on Tinder that allows users to express stronger-than-average interest in other users. The feelings were mutual, so Dexter swiped right — indicating her own interest — and began chatting with the woman. The couple quickly began dating, and Jane — Dexter didn't use the woman's real name in the story for privacy reasons — decided to move to Las Vegas.
After they'd been dating for about six months, Jane, a yoga instructor, asked Dexter if she'd accompany her to Bali on a yoga retreat last fall. Dexter agreed, and the two set off for the Indonesian island, where they would be staying for one month. One of Jane's yoga instructor friends — whom Dexter called Erin — also was on the retreat.
The trip had been going well, Dexter said, until she noticed her girlfriend was acting strangely. When Dexter questioned Jane about it, she replied, "I'm in love with Erin."
Dexter told Jane she should take a few days to sort out her feelings. A few days later, Jane told her she would be moving to Australia to be with Erin.
Dexter had about one week left in the retreat and decided to make the most of her time in Bali, more than 30 hours of flight from home. She would climb a volcano, break her toe in a scooter crash and visit a monkey forest, where she was attacked by a curious monkey that wanted her backpack.
The monkey scratched her face until she bled. When she returned home, she became ill and was told she might have rabies.
She ended up only having a urinary tract infection.
"So, my friends, swipe carefully," the southwest valley resident told the crowd, laughing.
Dexter was one of nine people who took the stage at StorySlam. The event was inspired by NPR's "The Moth" podcast, in which performers share anecdotes, said Cory Goble, cultural specialist for the Las Vegas Office of Cultural Affairs.
"I think it's really important to connect the community with each other, especially in this community where people come from all walks of life," he said.
Although the stories had a theme of close calls, they were diverse — touching on themes such as breakups, flourishing relationships, missed opportunities, meeting a celebrity and near-death experiences. The only rules were that each story had to be true and based on personal experience, stories could not be longer than seven to 10 minutes, and note card use was discouraged.
Goble's wife, Kristin Maki, shared how the couple met while performing in a play at their college in Oregon. Another woman shared a story about meeting Johnny Cash during a family road trip, and a man spoke about narrowly escaping death after falling from an aircraft into a pile of snow.
The theme of close calls prompted Henderson resident and local performer Jose Anthony to share a story about his father getting into a motorcycle crash during a trip to Mexico. He was never the same after that.
"I have this image in my head of when I was a kid; I thought my dad was the greatest person in the world, and feel like he came close to being great," Anthony said after the event.
Sarah O'Connell, Asylum Theatre director and founding editor of Eat More Art Vegas, opened with a narrative about encountering the same stranger during two harrowing moments in her life. The first was when her son Lyric was born prematurely and spent three months in the hospital. The woman's child also was being treated.
The second was when a semitrailer crashed into the back of O'Connell's car while she was riding with her husband and their two sons, 18 months and 3 years old. As O'Connell was trying to gather her family, she saw the woman from the hospital comforting her oldest son.
"I encourage people to continue to support each other, because you never know when you're going to get the support in return," the northwest valley resident said after the event.
Kari O'Connor, who has been involved in the local poetry scene for more than 20 years, hosted StorySlam.
"Everybody has a story that somebody needs to hear," she said. "A lot of times, people feel like they need to get things perfect. But it should be told in the way that you remember. It is offering your perspective and your detail that makes the story come alive."
Goble said he wants to hold the event quarterly at the center. As the event grows, he plans to add a competitive component in which the audience will select a favorite performer.
To reach View intern reporter Kailyn Brown, call 702-387-5233 or email kbrown@viewnews.com. Follow her on Twitter @KailynHype.