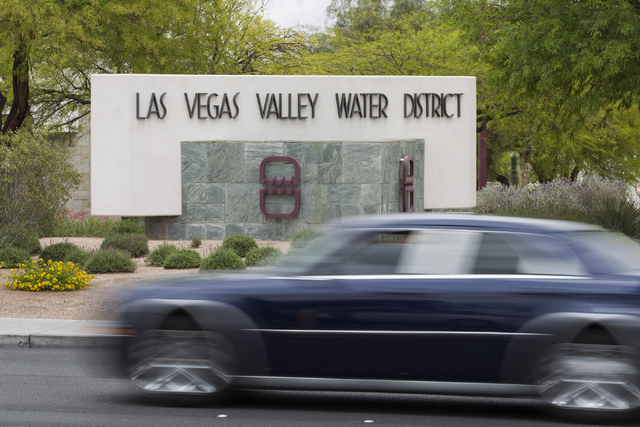 Water in Las Vegas is still safe to drink by federal and state standards, but researchers are watching nitrate levels in the water extracted from ground wells throughout the valley with alarm.
That's because the maximum level of nitrates measured in the district's groundwater rose by 36 percent from 2015 to 2016, according to an annual report released by the Las Vegas Valley Water District in June. Maximum nitrate levels in 2015 were 5.5 parts per million, while the maximum measurement taken from 2016's tests was 7.5 parts per million.
Standards set by the Environmental Protection Agency and Clean Water Act don't allow nitrate levels to exceed 10 parts per million.
"It's our duty to make sure (the water) is staying within those limits," water district spokesman Corey Enus said.
Nearly 90 percent of the water that flows through the taps in the valley comes from Lake Mead. That water originates as snow melt in the Rocky Mountains and flows down the Colorado River.
The remaining 10 percent comes from wells that draw from an underground aquifer that is replenished by precipitation.
"We use the groundwater wells in addition to our Colorado River allocation to augment supply when our water use is at its highest," Enus said.
Well use generally occurs during the summer months. This year it began in mid-May and will continue through about mid-August.
The increased nitrate levels were found in four wells in the district's 102-well system. In other places, nitrates were barely detected, at 0.3 parts per million.
The four wells are located between West Sahara Avenue and West Smoke Ranch Road along Rainbow Boulevard, according to spokesman Corey Enus.
The tests were based off of more than 56,400 water samples from Lake Mead, the valley's distribution system and additional sampling stations across the valley. Scientists analyzed 287,600 samples in 2016 to monitor for 91 contaminants regulated by the EPA, including alpha particles, barium, copper, cyanide, chlorine, selenium, lead, nitrate and uranium.
Most of the other contaminant levels stayed the same or rose by a fraction of a percent. But the increasing nitrate levels have generated increased monitoring.
"In fact, we have been monitoring the increase in nitrates in those wells for some time now with a bit of alarm," district lab manager Stan Van Wagenen said. "We absolutely don't want to exceed that MCL (maximum contaminant level). And we have seen them go up."
While the nitrates aren't new, there is a footnote in the report that warns consumers about nitrate exposure.
"While your drinking water meets EPA standards for nitrate, it does contain low levels of nitrate," the report reads. "Nitrate in drinking water at levels above 10 (parts per million) is a health risk for infants of less than six months of age. High nitrate levels in drinking water can cause blue baby syndrome. Nitrate levels may rise quickly for short periods of time because of rainfall or agricultural activity. If you are caring for an infant, you should ask advice from your health care provider."
According to the Agency for Toxic Substances and Disease Registry within the Department of Health and Human Services, a pregnant woman and her fetus might be more sensitive to toxicity from nitrites or nitrates at or near the 30th week of pregnancy.
Symptoms of nitrate/nitrite poisoning include bluish skin from lack of oxygen, difficulty breathing, nausea, diarrhea, vomiting, dehydration, fast pulse, dizziness, weakness, coma and convulsions.
Spokesman Corey Enus said that higher levels of nitrates are found in everyday foods such as spinach, lettuce and carrots. Cured meats, including bacon and jerky, also have higher nitrate levels, he said.
The Food and Drug Administration allows nitrates up to 200 parts per million in several types of cured fish and fish eggs, 20 times more than what the EPA allows in drinking water.
Scientists with the district have been trying for the past three to four years to figure out why the levels are increasing, Van Wagenen said. Some possible causes include runoff from fertilizer use, leaching from septic tanks or the erosion of natural deposits.
"In addition to that, in parallel, we have been studying the treatment processes for removing nitrates," Van Wagenen said.
The district has run three different tests on three different wells, but they have not decided on a treatment .
"We have the option to rotate that well out of service," Van Wagenen said. One of the four wells with higher nitrates is not in operation this sumer, Enus said.
But the district won't wait until the wells hit the EPA limit, he said.
"Once we get over half the MCL, we begin to go to increased monitoring," Van Wagenen said.
Normally, the wells are monitored once a year, but exceeding 5 parts per million requires quarterly testing. It also requires communication with state officials.
"Any treatment we put in place would have to meet their requirements," Van Wagenen said.
Electronic copies of the 2017 Water Quality Report, as well as the 2016 report, and reports for the Big Bend, Blue Diamond, Jean, Kyle Canyon and Searchlight systems, are online.
Contact Madelyn Reese at mreese@viewnews.com or 702-383-0497. Follow @MadelynGReese on Twitter.
Water Quality Report
Copies of the 2016 and 2017 reports, and reports for the Big Bend, Blue Diamond, Jean, Kyle Canyon and Searchlight systems, are online.
1001 S. Valley View Blvd. Las Vegas, Nevada 89153