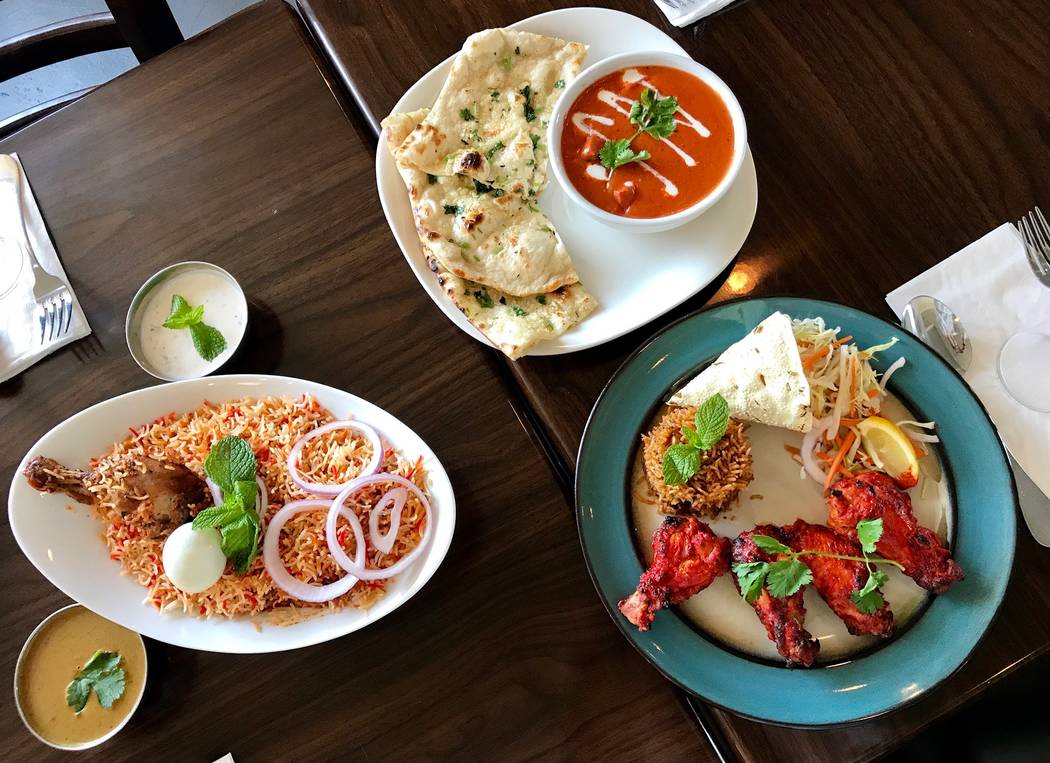 In the heart of Las Vegas' Chinatown, nestled between karaoke bars, foot spas and sushi restaurants, is new addition Indian Curry House.
Owner Ramarani Rodriguezopened the restaurant in April, creating a menu based on family recipes from her home in Karur in southern India.
"There are lots of Indian restaurants here in Las Vegas," Rodriguez said. "But wherever I go I can taste the north side dishes."
Southern Indian cuisine uses more coconut and tends to be served with rice rather than bread, Rodriguez said. Tamarind is also a popular sour ingredient used in many southern stews and sauces. A lentil and rice crepe called dosa is a popular southern dish, she said.
Dosa can be eaten for breakfast, lunch or dinner, Rodriguez said. At Indian Curry House, it is served with coconut, onion and tomato chutney and stuffed with beans, potatoes and carrots ($7.50 to $9.50).
Rodriguez moved to New York City in 2005 and relocated to Las Vegas about a year and a half ago, "particularly to open the restaurant." because of the international tourism and affordability.
"In New York City, it's expensive," Ramarani said. "This is a small business, just 48 seats. I just want to serve good and healthy food."
The menu also includes northern dishes, such as chicken Tikka Masala (served with naan, $13.50), aloo gobi (spiced potatoes and cauliflower, $10.50) and palak paneer (curried spinach and cheese, $12.50).
Indian cuisine tends to be vegetarian-friendly, and the restaurant's menu points out vegan and gluten-free options as well. While most curry dishes are served with naan, it can be switched for rice.
There's also a small selection of desserts including gulab jamun and kulfi (a dense ice cream offered in both mango and pistachio flavors), $3.
Rodriguez's daughter, Drishikha, 16, said the gulab is her favorite. She described it as a "squishy round orange golden ball with sweet syrup." Ramarani's recipe uses paneer (cheese) that's wrapped in dough, fried and soaked in a honey syrup ($3).
The restaurant is open for lunch and dinner but closed between 3 and 5 p.m. Rodriguez hopes to stay open all afternoon soon.
Contact Madelyn Reese at mreese@viewnews.com or 702-477-0497. Follow @MadelynGReese on Twitter.
Indian Curry House
Where: 5115 Spring Mountain Road, No. 234
Hours: 11 a.m.-3 p.m. and 5-10:30 p.m. daily
Information: 702-844-2100 or indiancurryhouseusa.com
Social media: facebook.com/indiancurryhouseusa
5115 Spring Mountain Rd Unit 234 Las Vegas, NV 89146