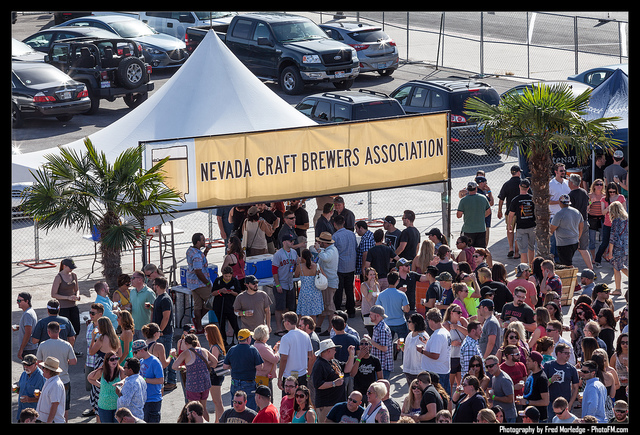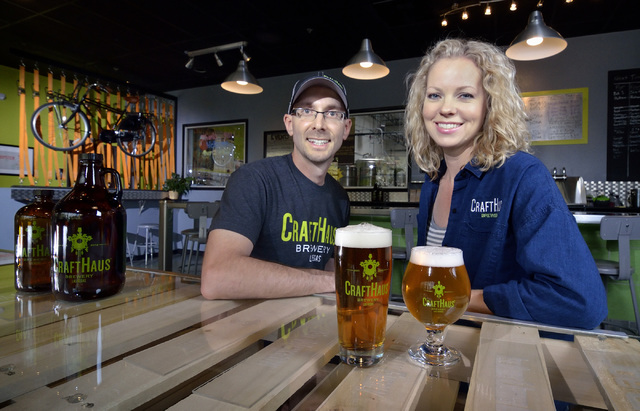 A bill signed into law in June is expected to boost the state's craft-beer industry, including in the southwest valley, activists and brewers say.
Assembly Bill 431 allows craft breweries to produce up to 40,000 barrels of beer a year, an increase from the previous 15,000. A beer barrel contains 31 gallons.
The Nevada Craft Brewers Association — a nonprofit, industry advocacy group — has 37 brewpub members; 17 are in Clark County. Those numbers have nearly doubled in the past five or so years, said Matt Johnson, the association's acting president. AB431, sponsored by Assemblywoman Irene Bustamante Adams, D-Las Vegas, and Sen. James A. Settelmeyer, R-Minden, could mean even more growth for the industry.
"This is the first time that craft beer has really gotten a big win in the Legislature," Johnson said.
While only a few breweries in Nevada are close to the 15,000-barrel cap, the law helps larger breweries looking to expand beyond Nevada, said the Craft Brewer's Association's spokesman, Don Vetter. The increased barrel limit will make it easier to compete in a larger market.
Nevada's craft-brewing industry brings in $480 million in revenue a year, according to testimony during the legislative session.
AB431 also introduced a couple of new regulations: a 5,000-barrel retail sales cap on brew pubs and a 1,000-barrel keg-sales cap.
"None of those are necessarily negative, but now what it has done is created more of a tracking burden for breweries," Johnson said.
Nevada's Department of Taxation is required to monitor the quantity of beer that each brewery produces and sells to distributors. The method for this tracking, Johnson said, has not yet been decided.
Still, lobbyists who worked on the bill with Bustamante Adams are enouraged by its passage.
"We think the bill today gives a lot of our brewers room to grow in the near future," said Paul Enos, a lobbyist representing several breweries across the state. "Is it everything we wanted? Absolutely not. Nevada is still at the back of the pack with craft brew laws. Is it a big step forward for the folks that are currently here? Yes."
The bill could mean more breweries expand to the southwest part of the valley. The Chicago Brewing Co. on South Fort Apache Road is the only brewery in the area.
While Chicago is unaffected by the new limits, head brewer Kyle Cormier said it's "absolutely" a good sign for the Las Vegas brewing community. Chicago brews under 1,000 barrels per year,
"For years Las Vegas was only home to a handful of breweries," Cormier said. "Now, with the epxansion of all the new breweries in town, it's very exciting to see that growth in Las Vegas. It's very overdue."
While some may think that having too many local breweries locally could lead to oversaturation , that's not the case, Cormier said.
"It's a good thing," he said, "because the current consumer trend is to purchase and consume products locally," Cormier said. "If you can acquire a product from the source, why not? Especially beer."
Cormier said that Chicago is coming close to its maximum brewing capacity , and more establishments are requesting to have the beer on tap. Right now it's available at the brewery and at Four Queens and Binion's, which are Magoo's Gaming Group locations, which also owns Chicago.
Van-Alan Nguyen of the recently opened 595 Craft and Kitchen on South Rainbow Boulevard said he's confident in brewing's potential in Nevada. His gastropub has 24 tap handles, with about half the beers coming from Nevada.
Nguyen said he and his business partner, Chris Holding, came to Las Vegas from San Diego because the market was less saturated. He realized it was partially because of state laws requiring brewpubs to sell their product through an alcohol distributor, which are prohibitive for smaller businesses, Nguyen said.
It's a "three-tier system: supplier, distributor, retailer," Nguyen said. "States where craft beer is more popular, those cities and states did away with that."
Contact Madelyn Reese at mreese@viewnews.com or 702-383-0497. Follow @MadelynGReese on Twitter.
Clark County breweries
Able Baker Brewing Company, Henderson
Bat Beat Brewery, Henderson
Banger Brewing Company, Las Vegas
Barley's Casino and Brewing Company, Henderson
Big Dog's Brewing Company, Las Vegas
Boulder Dam Brewing Company, Boulder City
Chicago Brewing Company, Las Vegas
CraftHause Brewery, Henderson
Ellis Island Casino & Brewery, Las Vegas
Gordon Biersch Brewery Restaurant, Las Vegas
Hop Nuts Brewing, Las Vegas
Joseph James Brewing Company, Henderson
Lovelady Brewing Company, Henderson
Pints Brewing, Laughlin
PT's Brewing Company, Las Vegas
Tenaya Creek Brewery, Las Vegas
Triple 7 Restaurant and Microbrewery, Las Vegas