Las Vegas couple share passion for teaching through summer science camps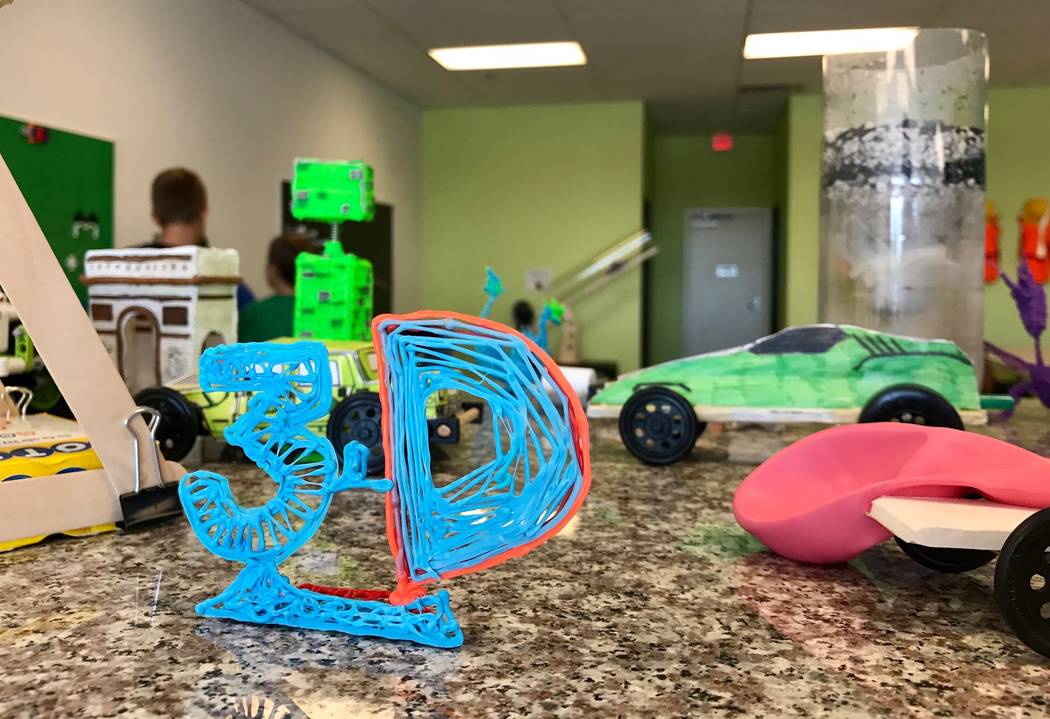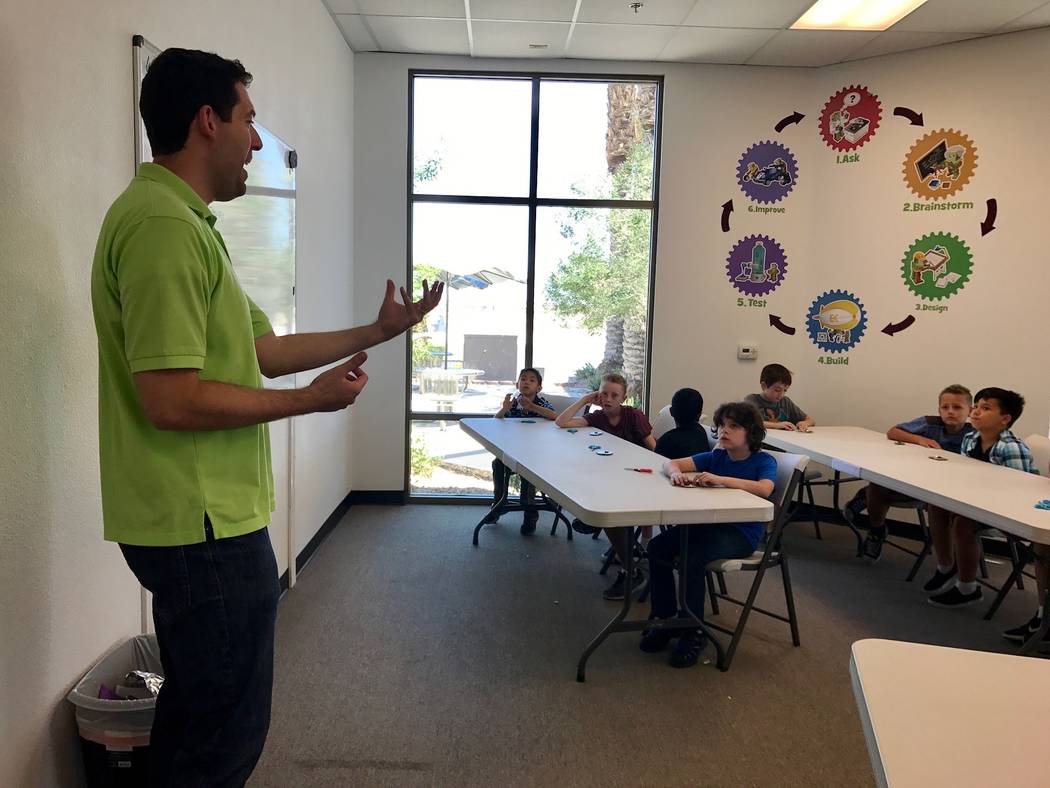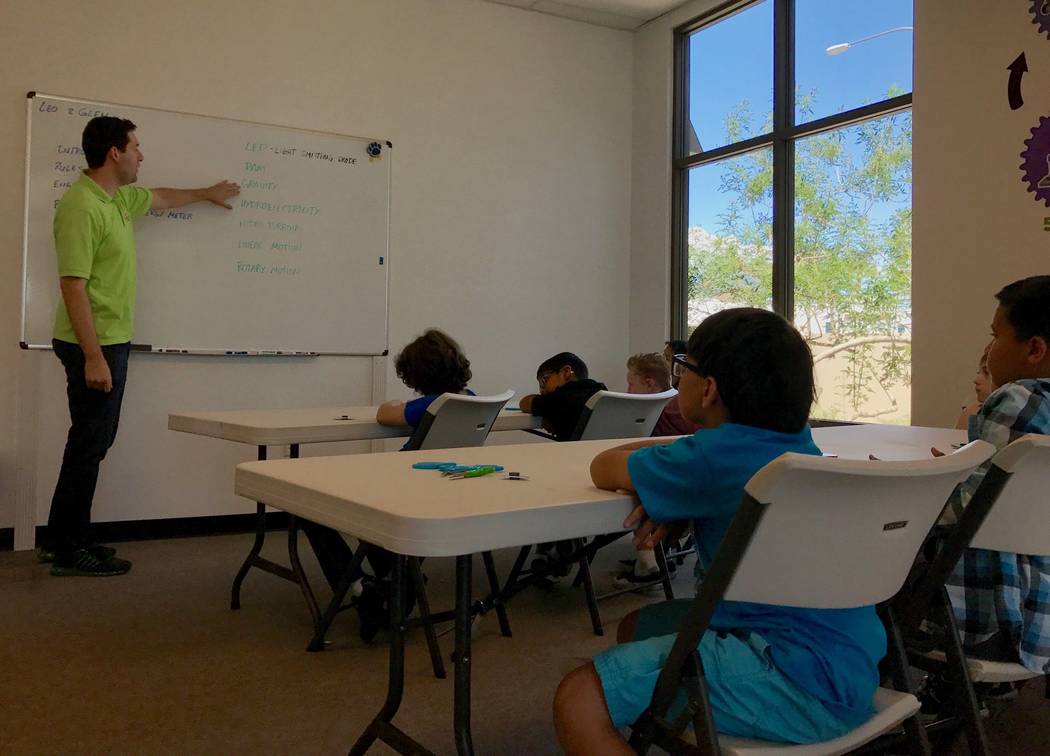 Growing up in Bakersfield, California, Elise Silva didn't dream of becoming a teacher. But tutoring her five younger siblings prepared her for it.
Silva runs Engineering for Kids with her husband of eight years, Leo, in southwest Las Vegas. With the help of about 15 part-time teachers and staff, they have provide science and technology education for elementary- and middle-school students after school and during summer.
Working together, the Silvas say, has helped them grow as teachers and maintain their passion for science, technology, engineering and math, or STEM, learning.
"It's great working with my wife," Leo said. "On (our) commute we're usually talking about classes and the kids and what happened yesterday, and we exchange ideas."
In summer, Engineering for Kids offers camps of up to five days. Single-day camps are $80; five-day camps are $350.
During the school year, classes are held after school at the southwest location, 6530 S. Buffalo Drive, No. 115, and workshops are held in various public and private schools across the valley.
Engineering for Kids is a chain of STEM learning centers that began in Virginia in 2009 and has 166 locations in 27 countries, according to the company's website.
A few years ago, the Silvas decided they wanted to own a business — Leo 's family has always had entrepreneurs — and found that Engineering for Kids married their interests: Leo's love of tinkering and problem-solving and Elise's passion for teaching.
Elise had been a teacher, most recently at Hyde Park Middle School, a math and science magnet in the southwest valley. Leo previously managed an auto-repair shop.
The two attended training and workshops in early 2015 at the company headquarters in Washington, D.C. By that summer, Las Vegas' first Engineering for Kids franchise was up and running.
"We saw it as a need (in Las Vegas)," Elise said. "Hands-on STEM learning is definitely something we need a lot more of, and we thought we could contribute."
There will be more than 1.2 million job openings in STEM fields by 2018, according to the Department of Labor.
Gov. Brian Sandoval last year signed a proclamation declaring the 2016-17 school year as the "Year of STEM" education, and his office has allocated millions in grants to support training programs for the field in the past two years.
Principal Marcus Mason at Kermit Booker Sr. Elementary School said Engineering for Kids has helped students become more engaged since Elise and Leo brought the program there two years ago.
"We had kids that were typically getting in trouble talking about the trajectory of rockets," Mason said. "It was just so exciting to see kids doing hands on activities, taking notes and having conversations with each other."
The school has "Engineering Week" twice a year, in which Elise, Leo and several instructors lead a week of engineering activities for every grade level, reaching more than 500 kids.
"Our goal is to be a STEM-themed school," Mason said.
Schools that meet educational requirements receive the designation from Sandoval's office.
"We want to keep kids as forward-thinking as possible," Mason said.
While Leo was responsible for most of the accounting and paperwork in the beginning, he's taken a large role lately in leading classes and workshops.
"There's always a portion (of a project) where the kids have to … come up with their own solutions," Silva said. "It's fun to see their brains thinking. Some kids come up with solutions I myself would have never thought of."
The Silvas said they chose the southwest for their headquarters to cater to the area's growth. They hope to keep their classrooms busy all day, every day.
"We would like to have it set up to where you can just drop off your kid at any time and have them sign up for some kind of activity and not just necessarily sign up for a class," Elise said.
Eventually, the couple want to have classrooms in Henderson and North Las Vegas .
"We're not picturing all of those happening in the next five years," Elise said, "but maybe one of them."
Contact Madelyn Reese at mreese@viewnews.com or 702-383-0497. Follow @MadelynGReese on Twitter.
Engineering for Kids campus
Where: 6530 S. Buffalo Drive, No. 115
Contact: 702-660-9036 or lvwest@engineeringforkids.com
Website: engineeringforkids.com/location/lvwest