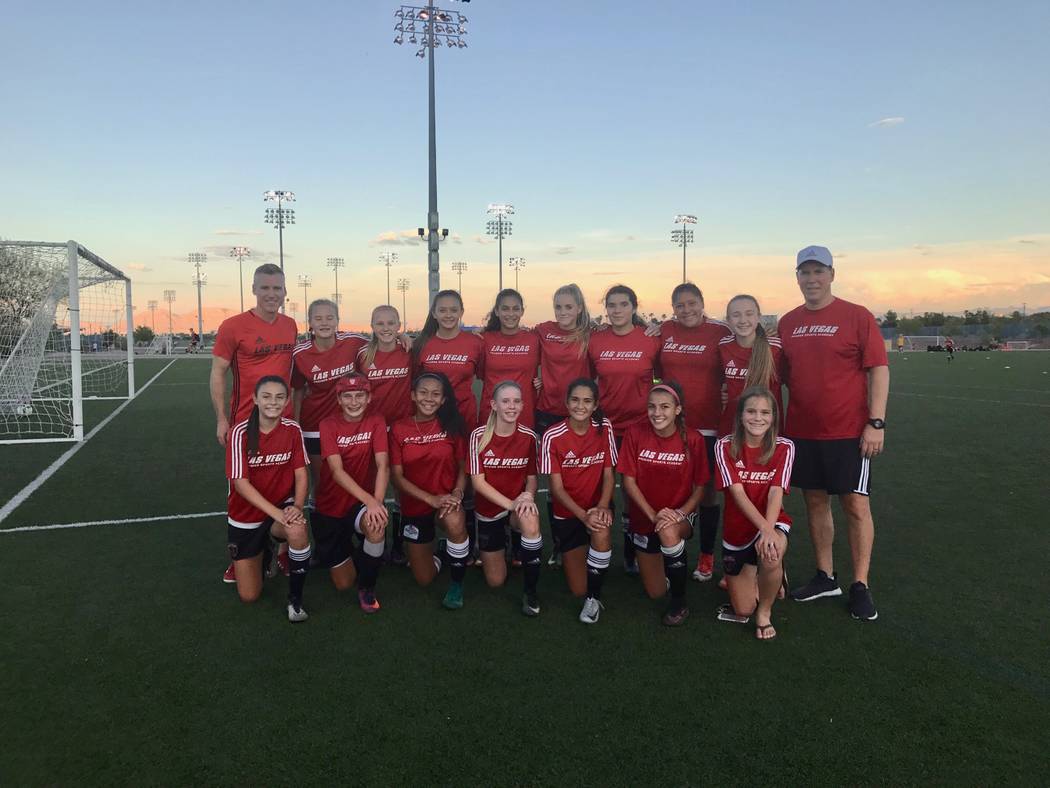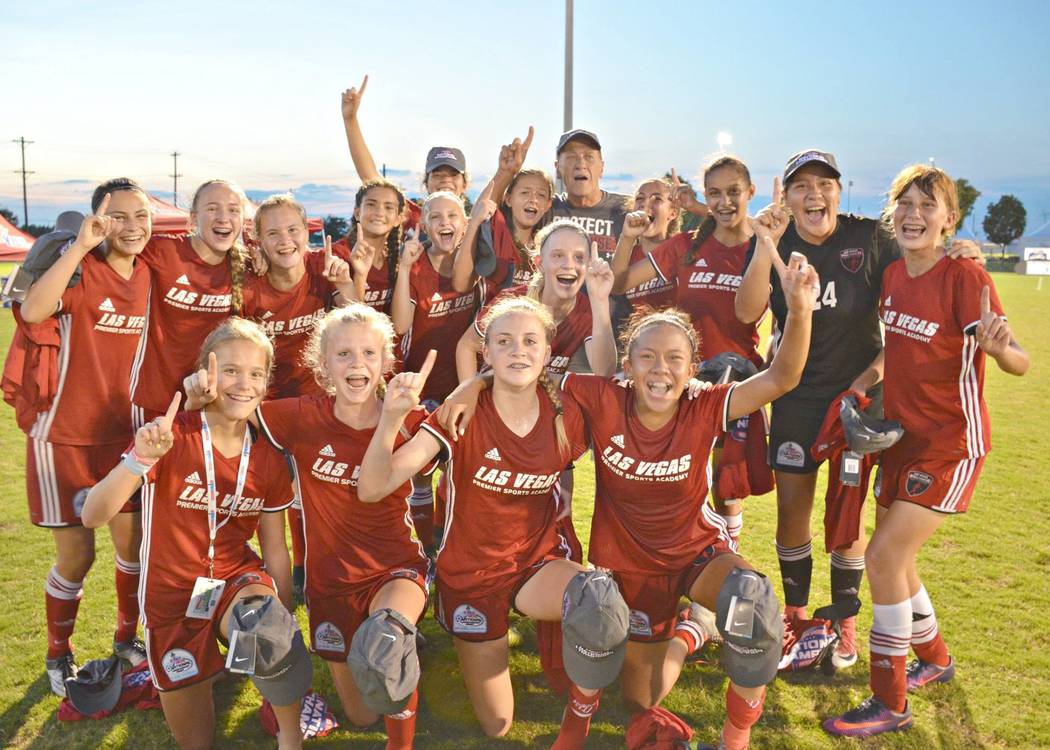 A Las Vegas girls soccer team can add "national champion" to its resume.
Southwest valley-based Las Vegas Premier Sports Academy saw its 03 Girls Red soccer team bring home the United States Youth Soccer national championship trophy at the end of July after a win in Frisco, Texas.
Led by coach Michael Madrid, the team of 13- and 14-year-olds beat Nationals Union 03 of Michigan 2-0 for the title. It's believed this is the first time a Nevada team has won a U.S. Youth Soccer championship.
Forwards Olivia Garcia and Samantha Nieves scored the goals.
To get to regionals, the girls first had to win the Nevada State Cup in May and the Far West Regionals in Seattle in June.
After the team won the regional championships, Madrid said, the fact that it would keep playing took a while to register.
"Then there was this realization that we could win this whole thing," he said. After the regionals, parents scrambled to arrange flights, book hotels and raise money for the next leg of the journey, which began just a few weeks later.
"They've won so many tournaments, so that becomes, like, second nature," Madrid said. "But I don't think it's sunk in yet what they've done. Not until they get older. … I don't think it's sunk in for me, either."
Madrid got into coaching when his oldest daughter, Jenna, was 5 and continued as his younger daughter, Michelle, joined in. They're now 13 and 14.
"My dad coached me my whole life," Madrid said. "We were a soccer family. I figured my dad did it, and I wanted to give back."
That was nine years ago. Both of his girls still play soccer, and Madrid now coaches three teams for the academy: 02 Girls Red, 03 Girls Red and 04 Girls Red. The numbers refer to the birth year of each team's members.
On Mondays, Wednesdays and Thursdays — practice days — Madrid works from 5 a.m.-3:30 p.m. Then he changes into his red LVPSA shirt, drives to the Kellogg Zaher Sports Complex north of Summerlin Parkway and starts practice. Many days he's not done until 8:30 or 9 p.m., sometimes later.
Jacqueline Hillegrass, 14, has been playing soccer since she was 3 or 4 and has been with Madrid for seven years, she said.
"I love him as a coach," Jacqueline said. "He's why we got to where we are. Some coaches give up on their players, but he never does that. He always pushes us to do the best that we can."
Jacqueline, a freshman at Bishop Gorman High School, will play soccer on the school's team and dreams of going professional.
The same goes for forward Olivia Garcia, 13, who also has been coached by Madrid for much of her life. She's homeschooled and trains with a shooting coach twice a week, on top of working out at Lifetime Fitness to work on strength and speed.
"My dream is to play on the national team and become the greatest striker in history," Olivia said. "That's my main dream."
Madrid is acutely aware that there has been plenty of sacrifice for every team member and every parent.
"At this age, they're young women who want to hang out with their friends and go to the movies," he said. "They have to watch what they eat. They train. They can't stay up late. A lot of times on the weekends their friends are going to swim parties in the summer." Instead, on most weekends the girls are at games in the city or traveling to tournaments.
During a Wednesday evening practice at Kellogg Zaher, parents Alexandrea Birch, Dave De La Torre and Terra Pashales sat in canvas chairs and watched Madrid work through drills with their daughters.
Pashales and Birch drive from Henderson to bring their daughters to practice every week and say it's worth it.
"They show that this is what they want to do every day," Birch said. "They want to sit in the car for an hour each way to come to practice, so I'm willing to make it work."
Most of the girls have grown up together, and some parents have spent years together sitting on the sidelines.
"If there really was a perfect storm for a team as far as being winners and supporting each other, this would be it," said Pashales, a mother of five children, all of whom play sports. "(The parents) all like each other. The kids all like each other. It's not like that on every sideline."
Contact Madelyn Reese at mreese@viewnews.com or 702-383-0497. Follow @MadelynGReese on Twitter.
Road to the title
The 03 Girls Red team played four United States Youth Soccer Championship games. The results:
In the first game, it defeated Tennessee SC 2003, 3-1
Next, it defeated Soccer Domain FC 2003G Yellow, 4-1
It tied Nationals Union 03 Girls Black from Michigan, 1-1
It defeated the same team 2-0, earning the title
4630 W. Post Rd., Las Vegas, NV 89118