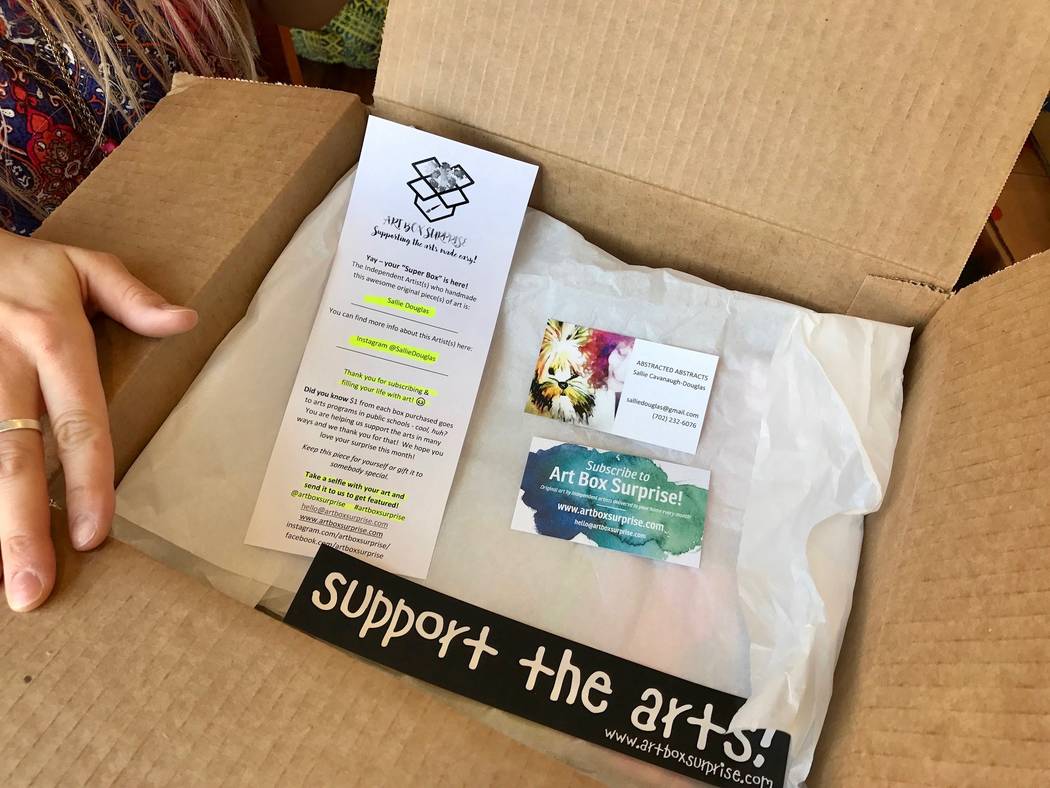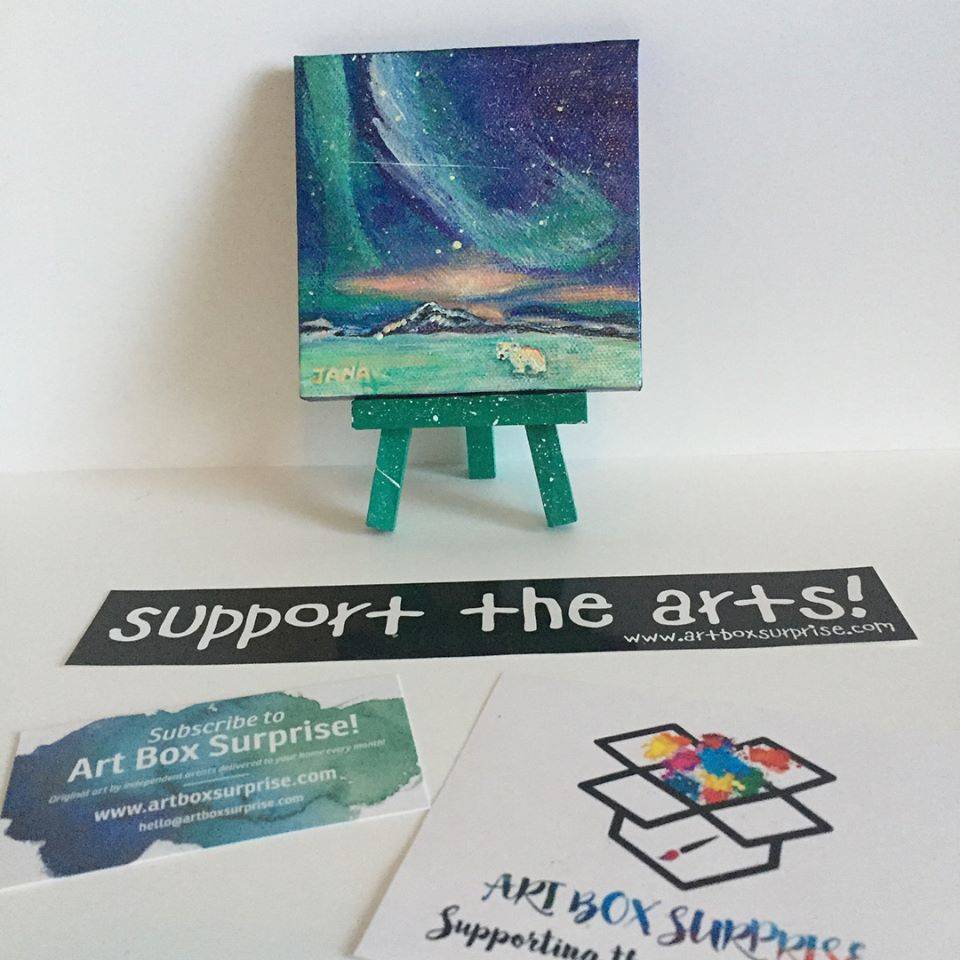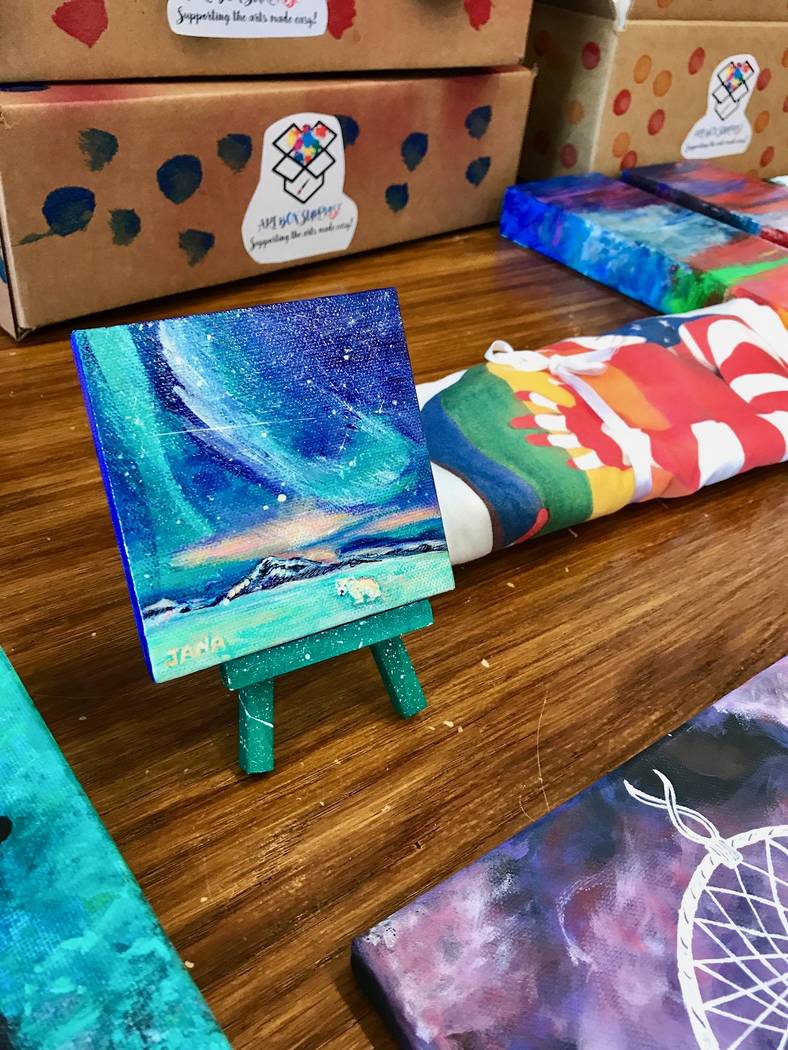 Clothing. Food. Razors. Beer. Coffee. Books.
There's a subscription service for that. But what about art?
Southwest valley artist Susan Tosches-Deneau has tapped into the subcription craze with her business, Art Box Surprise. For $15 to $100 per month, art enthusiasts can have work by Las Vegas artists shipped to their door. Tosches-Deneau works with more than 25 artists, including Robin Slonina of Skin City Body Painting and Alexander P. Huerta, owner of PeaceNArt studio at The Arts Factory.
"(Art Box Surprise) is such a cool way to support the artists we know and meet new artists," Tosches-Deneau said. It's also a way to get people to see art who "maybe don't have time to go to galleries or art shows."
Tosches-Deneau has lived in Las Vegas since 2005. For several years she owned and operated Altered Nation Designs, a vintage fashion store in downtown Las Vegas. Deneau also sells paintings, drawings and clothing through her online shop, Rainbow Farts Art. She and her husband and business partner, Ryan, launched the website in January. She's also written a children's book, "Every Time I Fart, a Rainbow is Born."
Her relationship with the Las Vegas art community over the past 12 years helped her meet artists who now contract with her, such as Robin Slonina.
Slonina, who also judges and produces Game Show Network's "Skin Wars", has known Tosches-Deneau for over 10 years.
"We met and she was just such a sweetheart and such a cheerleader for the Arts District … back then she was great at getting people to work together and support each other in the arts community," Slonina said.
Slonina does not often make art small enough to be shipped in a box. In addition to body painting, Slonina creates murals, sculptures and larger canvas paintings.
"She's definitely inspired me to make small, affordable art just for her project," Slonina said of Tosches-Deneau. "If it weren't for this, I would be painting these big, expensive painings in the studio."
Alexander P. Huerta of the PeaceNart Studio at The Arts Factory said that the Las Vegas art scene is still very young and "needs a lot energy still," which is why he signed on to the project.
"Here in Las Vegas we're still teaching people about art," Huerta said.
He said he's never seen a project like Susan's in Las Vegas, save for the Art-O-Mat machines at the Cosmopolitan that dispense cigarette-carton-sized art for $5 apiece.
Tosches-Deneau also is working with Sallie Douglas, second vice president of the Las Vegas Arts Guild, and Jana Lynch of Jana's Red Room at The Arts Factory .
"I like the fact that she's selective. She's fun to work with," Douglas said.
Douglas has sold one painting through Art Box Surprise so far. One dollar from every purchase is donated to public school art programs.
Projects like hers, Slonina said, are important for Las Vegas artists.
"I feel like the Las Vegas art scene is small but mighty," she said. "And there is a real danger of this city losing its top artists to bigger cities like Los Angeles and Chicago and New York … This is such a simple way and an affordable way to help local artists stay afloat and do what they do best, which is produce artwork."
Contact Madelyn Reese at mreese@viewnews.com or 702-383-0497. Follow @MadelynGReese on Twitter.
Art Box Surprise
What: A monthly subscription service for art ranging from $15 to $100 per month
Social media: Facebook.com/artboxsurprise; instagram.com/artboxsurprise/
Website: artboxsurprise.com
Contact: hello@artboxsurprise.com