Opportunity Village philanthropy VP has work cut out for him
September 5, 2017 - 11:47 am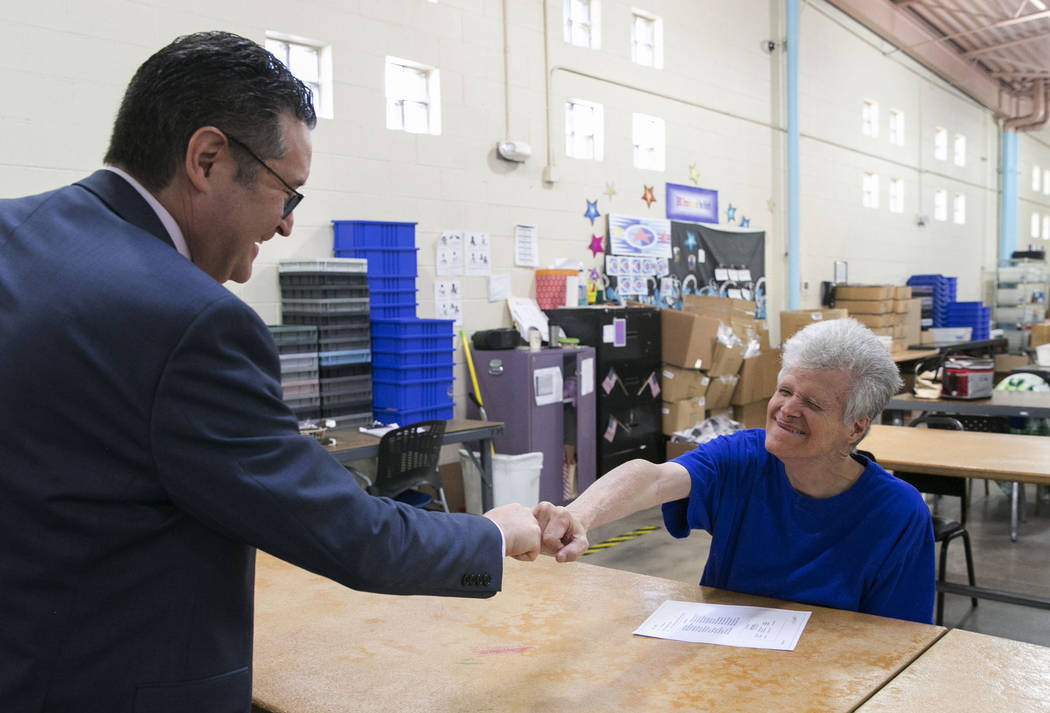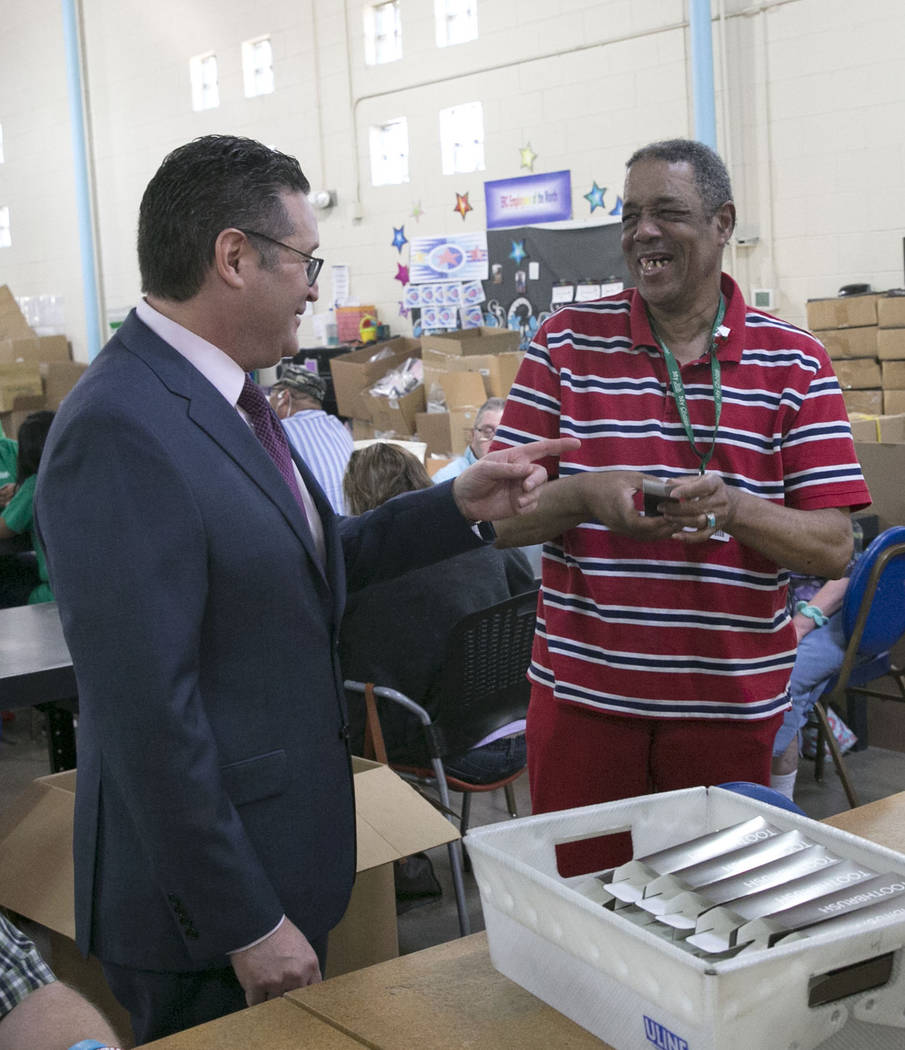 The employment resource center at Opportunity Village's Engelstad Campus hummed with activity on a Monday morning as clients got to work.
At one station, clients took sugar packets, stir sticks, K-cups and creamer packets and placed them within a coffee cup. These would be sealed and sold to hotels around the valley to be placed next to hotel-room coffee makers. Opportunity Village has more than 2,000 intellectually and developmentally disabled employees both on and off the organization's four campuses.
At another table, clients worked with clean, used towels shipped from the valley's MGM Resorts International properties. A stack of precut towels sat next to a client as she worked at a sewing machine. These towels, which would have otherwise been thrown away, will become cleaning rags that the resorts buy back for their janitorial staff to use.
As the clients started their workweek, Opportunity Village's vice president of philanthropy, Adam Joseph, greeted everyone he passed. Joseph joined the nonprofit in August, replacing former executive Linda Smith, who recently retired after 36 years. Smith created some of the organization's best-known events, including the Las Vegas Great Santa Run and Magical Forest, and helped raise $450 million for the organization during her tenure.
Joseph will be responsible for guiding the nonprofit through the rest of its $136 million capital campaign and a tough political climate in which state and federal support for many nonprofits has stalled. The organization so far has raised about $93 million of the $136 million that will go toward building a permanent fourth campus in the northwest, two residential communities and expanding its three other campuses.
Joseph relocated from Houston, where he spent six years as the chief financial officer for West Main Partners, a family office with investments in technology and hospitality. But he's no stranger to Las Vegas; Joseph spent 14 years in the valley from the late 1990s until 2011, working in hospitality sales and marketing.
Opportunity Village CEO Bob Brown said he interviewed "a lot of people" for the position, but Joseph's attitude and personality sealed the deal.
"We haven't had a significant increase (in funding) from the state of Nevada for 15 years," Brown said. "So fundraising becomes critical for us to provide all the services we provide … People know us because of the Magical Forest and the Santa Run, but really every day we're caring for people."
As the valley's population has grown, need has increased for services, but Opportunity Village is limited by the capacity of its facilities, Brown said.
It's been a tough season for nonprofits in the valley. Goodwill of Southern Nevada filed for Chapter 11 bankruptcy in August. Days later, The Shade Tree was forced to close its transitional shelter after federal budget cuts took a significant bite of the organization's operating expenses.
At the same time, one of the nonprofit's biggest donors, gambler Bill Walters, recently was sentenced to five years in jail, starting Oct. 10. (The organization's Henderson campus is named for the Walters family.)
An August column by the Review-Journal's Jane Ann Morrison describing Opportunity Village's reliance on Walters' giving was "a little unfair in the sense that we don't have to fold our tent," Brown said. "Bill's philanthropy continues to be strong and it will continue to be strong for the organization."
Charitable giving today
Charitable giving reached an all-time high in the U.S. in 2016 after taking a brief dip during the Great Recession, according to a study by Giving USA and the Indiana University-Purdue University School of Philanthropy. An estimated $390 billion was gifted by individuals, foundations, bequests and corporations.
"The landscape of fundraising in Nevada is very good," said Clay Buck, president of the Las Vegas chapter of the Association of Fundraising Professionals. While the majority of nonprofits benefit from relationships with casinos and gaming companies, the real opportunity is with the growing number of families choosing to relocate here, he said.
"It really is incumbent upon each agency, each nonprofit to build awareness of their causes," Buck said. "And that's one of the hardest things for nonprofits to do." Donors often don't like their money going toward "overhead" or "administrative costs," Buck said, but marketing and reaching donors is still "part of the mission."
That's what Opportunity Village is trying to do, Joseph said. The organization has a base of more than 12,000 volunteers, and that presents an opportunity.
"Typically those who volunteer will convert and sometimes become donors," Joseph said. Or they'll patronize one of the organization's service lines, such as its thrift store or its PaperPros shredding business. That also helps Opportunity Village compete with other nonprofits in the valley.
"It's really exciting because we're in kind of a sweet spot (for fundraising)," he said. "This upcoming fall is a very giving part of the calendar, so we want to make sure we're positioning ourselves well."
Contact Madelyn Reese at mreese@viewnews.com or 702-383-0497. Follow @MadelynGReese on Twitter.
Opportunity Village events
Oct. 7: OktOVer Fest
Oct. 13-15; Oct. 20-31: HallOVeen at the Magical Forest
Oct. 22: Pumpkin Paws
Nov. 9: Camelot at the Magical Forest
Nov. 24-Dec. 31: Magical Forest
Dec. 2: Las Vegas Great Santa Run
More information: opportunityvillage.org/pages/events