Photographer, hairstylist fuse passions with Bazaar Studio & Parlor
August 22, 2017 - 9:07 am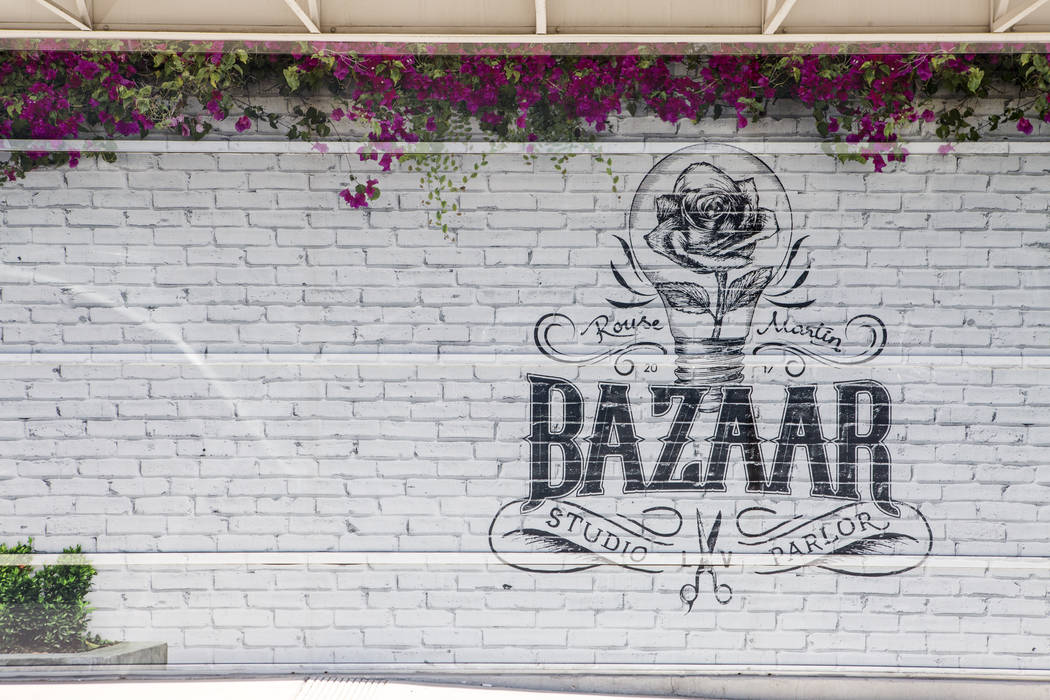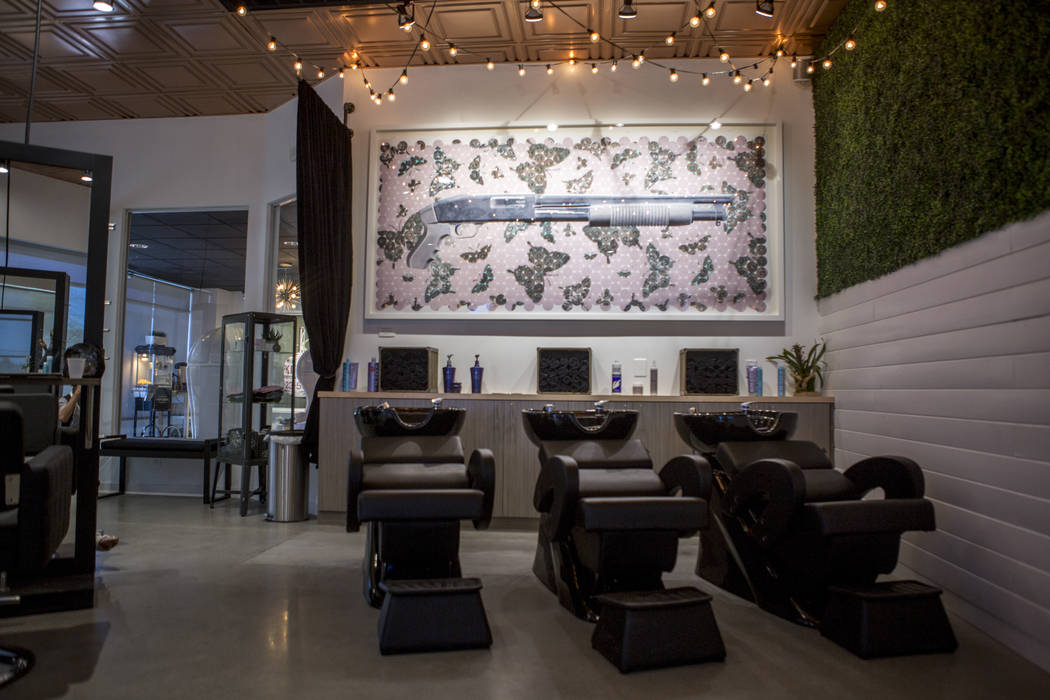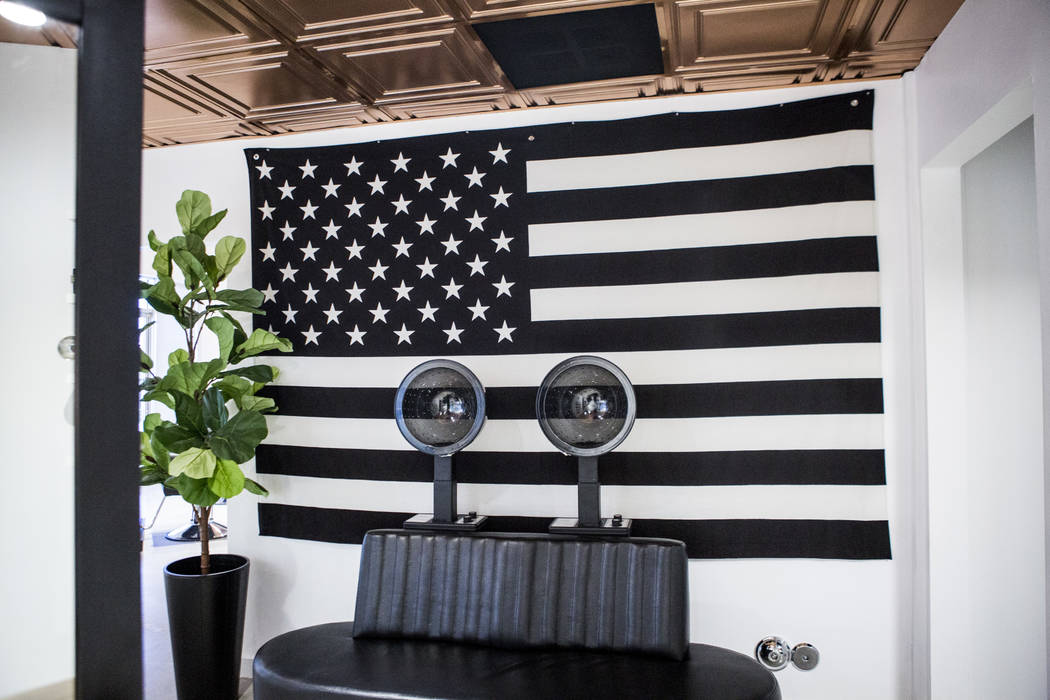 The brash vocals of the Beastie Boys' "Brass Monkey" pumped through the speakers of Bazaar Studio & Parlor as Jon Rouse strode through the halls, past wall-sized art prints of grenades and guns, velvet sofas and stylist chairs.
The fine-art photographer seemed at home in his 3,200-square-foot complex shared with hairstylist Cory Martin, which offers portraits and fashion shoots along with hair cuts, trims, color and styling. Bazaar debuted Aug. 8 in a business complex on Dean Martin Drive, near SkinnyFATS restaurant and down the street from Larry Flynt's Hustler Club.
The space contains a photography studio with 12-foot ceilings and a large corner cyclorama, as well as room for 14 hairstylists. Though Martin and Rouse opened Bazaar recently, they're already dreaming of what to do with the space next door.
"There's 1,500 square feet that's coming up available over here," Rouse said, gesturing at the next unit. He wants a tattoo parlor in there. "My art framer — I want to try to move her into this complex so she can do my art framing and just kind of have this whole 'The Factory' that Andy Warhol had back in the Village."
A one-hour headshot session is $250; hair and makeup is an extra $50. For a party getting ready to go out on the Strip, a 90-minute group session with hair, makeup and outfits starts at $550.
The photo studio is available for rent by the hour, and Martin intends to offer hairstyling classes every other Sunday.
High-end background
Rouse does commercial and fine-art photography. He has an exhibit, "Primer: The Art of Weaponry," a few miles north at Centaur Art Galleries.
Rouse started in the architectural-photography industry when, at 22, he was hired by Resorts & Great Hotels magazine as a senior photographer. Then in 2005 he relocated to Las Vegas to work as the primary commercial photographer for Station Casinos. Rouse Photography, which he runs with his wife, Annie, is still the couple's bread and butter.
While Martin and Rouse circled around each other for years in the arts and fashion businesses in Las Vegas, they decided to join forces four months ago.
Born and raised in Las Vegas, Martin began his training as a stylist in Los Angeles before returning in 1998 to open a salon at Bellagio. But before long he tired of working in hotels and longed to work for himself.
"I've been a hairdresser for a long time. I want to cut and color. I want to do it all," Martin said. "I don't want to blow dry people's hair all day."
Martin is a representative for an organic hair product company, which allows him to travel and teach other stylists.
"I want to do everything there is in the industry," Martin said. He's still looking for stylists to staff Bazaar, and he's open to mentoring young stylists who join.
"The problem in Las Vegas is that in the last 10 years everyone has moved to rental," Martin said. "They're almost like their own little salon in a suite. Nobody works together anymore."
When Martin began styling in the 1990s, "doing hair was the best thing ever," he said. Everyone bonded during the workday and often went out to a bar after work, he said.
Having 14 hairdressers is actually considered small for a salon, Martin said. That's what the pair want.
"Back in the day … old-school salons and barber shops, it was kind of the neighborhood place where people hung out," Rouse said. "That's what we're doing; we're trying to create a place where people can just come hang out and have fun and be inspired, be creative."
Contact Madelyn Reese at mreese@viewnews.com or 702-383-0497. Follow @MadelynGReese on Twitter.
Bazaar Studio & Parlor
Where: 6201 Dean Martin Drive
Hours: Bazaar Studio, 9 a.m.-6 p.m. Mondays-Fridays, by appointment only Saturdays-Sundays; Bazaar Parlor, 9 a.m.-5 p.m. Mondays, 9 a.m.-7 p.m. Tuesdays-Fridays, 8 a.m.-5 p.m. Saturdays
Website: bazaarstudioslv.com
Social media: facebook.com/bazaarstudioslv, instagram.com/bazaarstudioslv