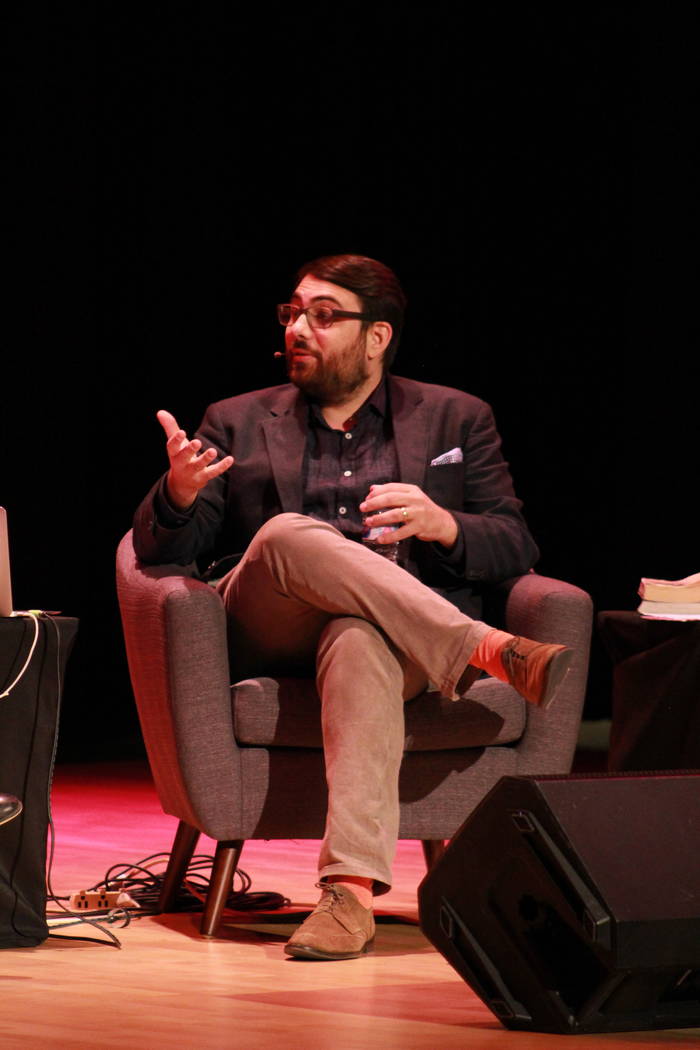 When "S-Town," the seven-episode podcast from the producers of "This American Life," was released in March, the world was hooked. Listeners downloaded it a record 40 million times in its first month.
Producer and reporter Brian Reed, also a senior producer on "This American Life," sat down with KNPR's Carrie Kaufman on Nov. 18 at the Windmill Library to discuss the show, his reporting and storytelling process and to answer questions from fans.
"S-Town" starts with an email Reed received at "This American Life" in late 2012. The subject line reads: "John B. McLemore lives in Shittown, Alabama." McLemore asks that the show investigate the alleged murder of a young man in his hometown of Woodstock, Alabama. Though Reed finds out quickly that the murder didn't take place, the show traces his interactions with McLemore, a tragic genius who committed suicide while Reed was still reporting.
In the months following its release, the show has elicited praise while also igniting debate over whether Reed's reporting was voyeuristic or, as The Atlantic referred to it, "a well-crafted monument to empathy" to America's urban-rural divide.
One of Kaufman's first questions for Reed: What is a podcast? And more specifically, what is your podcast about?
"I don't know if I'm an expert on podcasts, quite honestly," Reed said. Rather, there are many different formats and strategies for creating one, he said. "I don't have a theory about what podcasts are, but I just know that it suits the kind of storytelling I like to do."
When Reed and producers sat down to make the show, most of the reporting had been completed over three years. Reed wanted to try something different, so he and his team looked to novels for inspiration to structure the story.
Fictional stories played a large role in "S-Town." McLemore referred to fiction often in his conversations with Reed, including the stories of William Faulkner, Guy de Maupassant, Shirley Jackson, Flannery O'Connor and Victor Hugo among many others.
"He was always looking to fiction as way to make sense of reality," Reed said.
Reed said he felt he had a responsibility to portray the people of Woodstock as "full people," not stereotypes. That's a journalist's responsibility, Reed said, and it's built in to the ethos of "This American Life."
"We're only interested in stories where people aren't stereotypes," Reed said. "The premise of our reporting is that we're going to be able to portray people three-dimensionally."
That's something audience member Liz Gregersen, an avid podcast listener, said she was grateful for.
"(S-Town) just gave a sense of the country that I am entirely separated from, so it was a chance … (to gain) some insight into the world that I might never step into myself," she said.
Gregersen and friend Mikela Lee-Manaois also enjoyed hearing about how "S-Town" was created.
"It just seems so seamless and easy," Gregersen said.
Gregersen said that she doesn't feel like Las Vegas gets as many opportunities for cultural events like Reed's visit. Lee-Manaois agreed.
"I don't know what I came to find," Lee-Manaois said. "I was just into the story, and I wanted to see whatever (Reed) is willing to share."
One piece of the event really stood out to Lee-Manaois was finding out how selective Reed and the "This American Life" staff are. It's part of the newsroom's culture (and budget) to kill one-third to half of the stories that reporters start in the interest of developing the best stories, Reed said.
"That can mean like, we've taken reporting trips to four different states and tried to put a draft together for two to three months, and then we'll try it out and it's not working and we'll kill the story," Reed said. "… It's literally in our employee handbook that killing a story that is good, but not great, makes the world a better, more interesting place and should be seen as a victory."
That inspired Lee-Manaois, who does project-based communications work at Zappos.
"Even though you've invested money into it, if it's not going to be amazing, don't do it," Lee-Manaois said. "I loved hearing that."
Contact Madelyn Reese at mreese@viewnews.com or 702-383-0497. Follow @MadelynGReese on Twitter.
"S-Town"
What: The seven-episode podcast from the producers of "Serial" and "This American Life" was released March 28. It follows the life of horologist John B. McLemore in his hometown of Woodstock, Alabama, and his suicide.
How to listen:
Stream at stownpodcast.org.
For Apple users, use the Apple Podcasts app.
For Android phones and tablets, use the Stitcher app (which can be downloaded from Google Play).
Social media: twitter.com/stownpodcast; facebook.com/stownpodcast