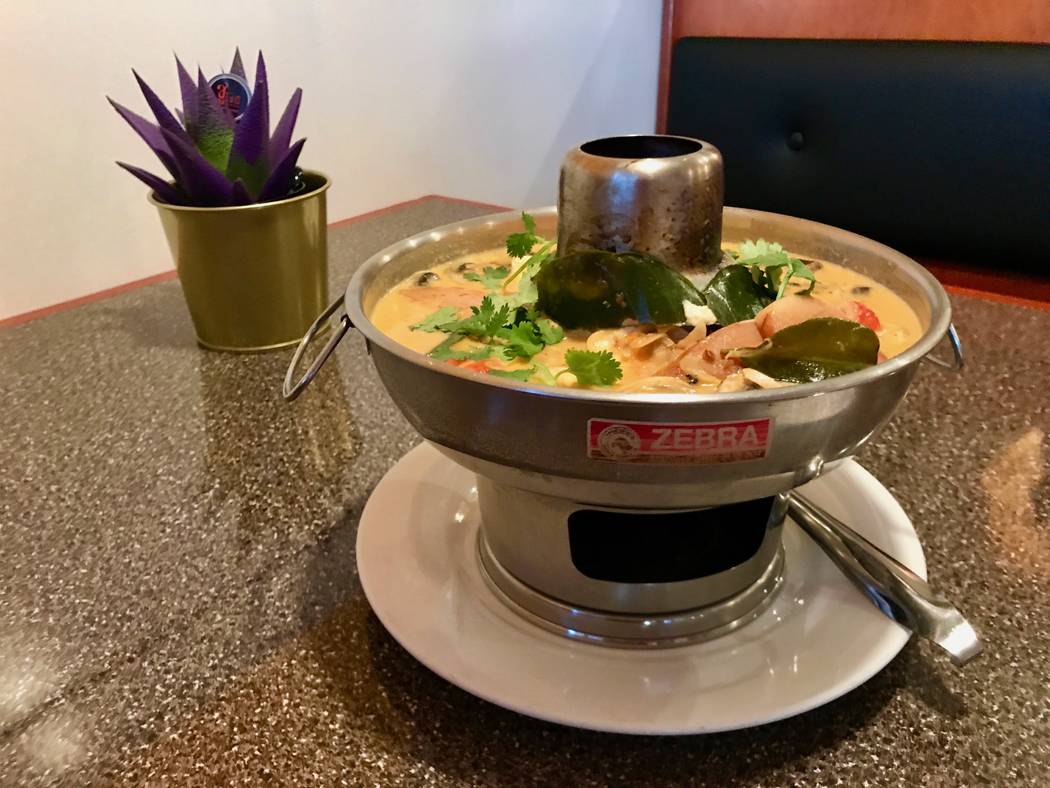 Another Thai restaurant has opened in the former home of Imsiam Thai Restaurant and Noodle on West Sahara Avenue, which closed in June.
Chuchote Thai Bistro & Desserts replaced it at the end of July. The restaurant has a section of the menu dedicated to dishes from southern Thailand, which are known for having a bit more spice.
Chuchote is owned by three siblings of the same last name, Nan, Nearand Neen. The three grew up in southern Thailand's Chumphon province.
Chuchote's expansive menu features soups, salads, curries, pan fried noodles and fried rice. Southern Thai specialties include khua kling, which is a spicy ground pork with chili paste, lemongrass, galangal root, kaffir lime leaves and black pepper ($13). There's also kaeng som, a curry made with a tamarind and curry broth served with salmon or shrimp ($16).
Many recipes were handed down to them by their grandmother, Nan said. This is the family's first restaurant, though Near, who also goes by Andy, has a decade of experience working in kitchens in Las Vegas and San Francisco.
The Chuchotes's grandmother also loved making desserts, and the siblings are working on expanding that part of the menu.
Desserts include jackfruit, mango or durian with sticky rice ($8), Thai pancakes with vanilla ice cream ($6) or Thai egg custard with sticky rice ($8). There are also several shaved-ice dishes, including Chuchote's ice shave, a rainbow-colored tower of shaved ice with flavored jellies and condensed milk ($8).
At the beginning of September, they also added bua loi to the dessert menu. Made with rice flour, coconut milk and sugar, the sweet dumpling-like dish is a mix of taro, pumpkin and pandan flavors.
Specialty drinks, such as Thai iced tea, Thai coffee ($3.50) and iced green tea ($3.75), also are garnished with shaved ice.
Contact Madelyn Reese at mreese@viewnews.com or 702-383-0497. Follow @MadelynGReese on Twitter.
Chuchote Thai Bistro & Desserts
Address: 4105 W. Sahara Ave.
Hours: 11 a.m.-10 p.m. daily
Phone: 702-685-7433
Social media: facebook.com/chuchotethaibistro, instagram.com/chuchotethaibistro
4105 W. Sahara Ave., Las Vegas, NV 89102