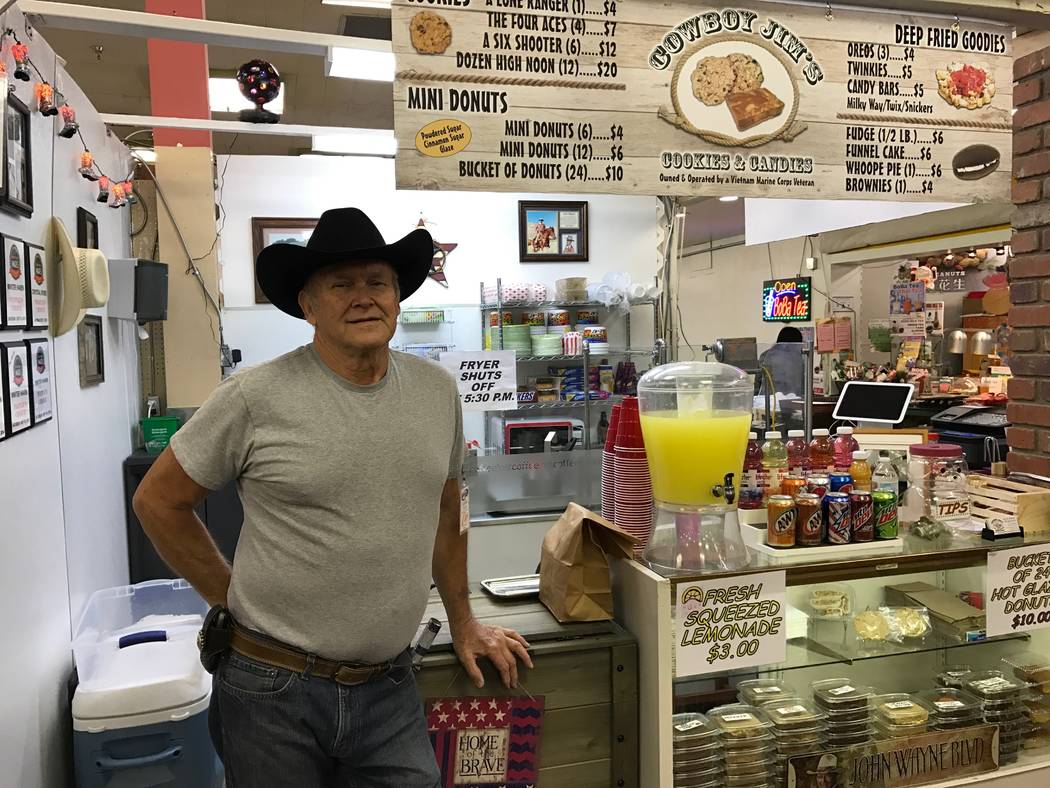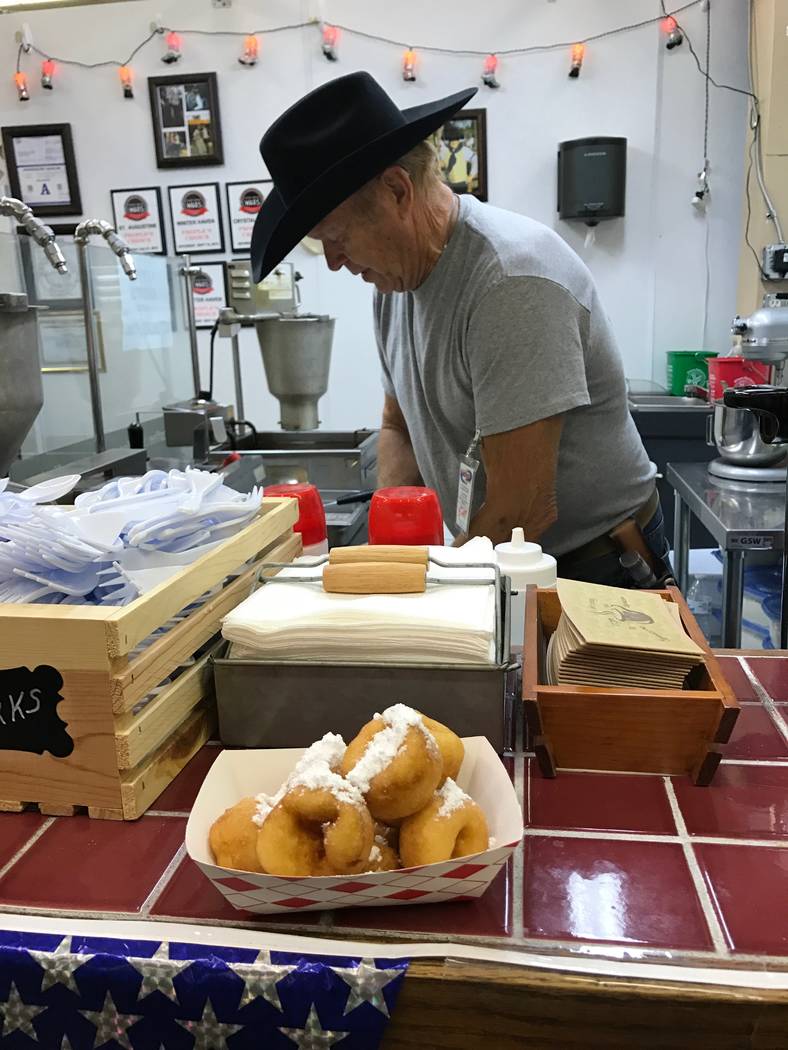 When Jim Klingensmith returned to civilian life after serving three Marine Corps tours in Vietnam, like many other veterans, he hard a hard time adjusting.
Instead of ending up on the streets or taking refuge in the bottle — both fates met by some fellow veterans of that grueling war — Klingensmith found solace in baking.
Klingensmith, 72, operates Cowboy Jim's Cookies & Candies, specializing in deep-fried delights, cookies and fudge. It opened about three months ago.
It's the latest in a string of Klingensmith's creative ventures, which include antique gun restoration, Western re-enactments and making knives.
"I've lived a varied life in a lot of ways," Klingensmith said on a recent Friday morning before the bake shop in a southwest valley swap meet opened.
Klingensmith, who grew up in Oklahoma, said an employee at the diner his mother owned taught him how to bake after he returned home from Vietnam.
"He had been in the Navy and was a chef aboard an aircraft carrier," Klingensmith said. "He taught me how to make yeast dough and, basically, that's how I got started into it."
Klingensmith opened Cowboy Jim's with his wife, Debbie, who helps run the business' website, social media accounts and front counter.
The two relocated to Las Vegas from Florida in December to continue running a food truck they'd operated back home. The truck specialized in "trail lunches," inspired by Klingensmith's time growing up on a ranch in Oklahoma. The menu included smoked meats and other hearty food and, of course, plenty of dessert.
But after discovering that the food truck model didn't work as well for them in Las Vegas as it had in Florida, the two changed tack.
"Three months ago we sold the truck and took the money from it and started this," Debbie Klingensmith said.
The 10-foot-by-10-foot booth has room for a glass display case, an ice chest for cold drinks (including fresh-squeezed lemonade), a small fryer and donut dropper, a hand-washing station and a rack for supplies. Eventually the couple would like to expand, Klingensmith said, given that his wife and him keep bumping into each other amid the tight quarters.
Along the back wall is the all-important stand mixer, where Klingensmith stands, making dough before hungry customers arrive. He starts each batch with pre-prepared donut mix that's stored in airtight containers.
"Whether people realize it or not, baking is an exact science," he said. "It's not like cooking, where you take a dash of this or go 'Bam,' you know."
That's what attracted Klingensmith to baking after he returned from Vietnam.
"It made me concentrate," he said. "I had to keep thinking about what I was doing, and it channeled my thoughts and my moods more into that positive area."
Klingensmith also had a stint in rodeo and another as a scenic artist for Disney World, but his path always led back to baking. When Debbie sold time shares, every time she had a new client he would bake him or her a basketful of cookies and brownies.
It helps that Klingensmith comes from a line of bakers: Many of his recipes come from his great- and great-great-grandmothers, who were from Germany.
One treat he inherited from his German side is "potato candy," a fudge-like confection made from potatoes, sugar and peanut butter. Also known as "poor man's candy," the confection was popular in Europe and the Depression-era South because the ingredients were cheap and easy to obtain.
"I love this couple and their food," said customer Gina Fair. "I'm a walking sweet tooth, so I love their sweet treats; my favorite is their funnel cakes with cinnamon sugar."
Klingensmith also serves up chewy chocolate-chip cookies, whoopie pies featuring creamy filling, and plenty of fudge, including dark and milk chocolate, peanut butter, peanut butter and chocolate, and penuche.
"I love to make food people enjoy," he said. "And what's more comfortable than desserts, you know?"
Contact Madelyn Reese at mreese@viewnews.com or 702-477-3834. Follow @MadelynGReese on Twitter.
Cowboy Jim's Cookies & Candies
Where: Fantastic Indoor Swap Meet, 1717 S. Decatur Blvd.
Hours: 10 a.m.-6 p.m. daily
Information: 702-275-2396 or facebook.com/cowboyjimscookies
1717 S. Decatur Blvd, Las Vegas, NV