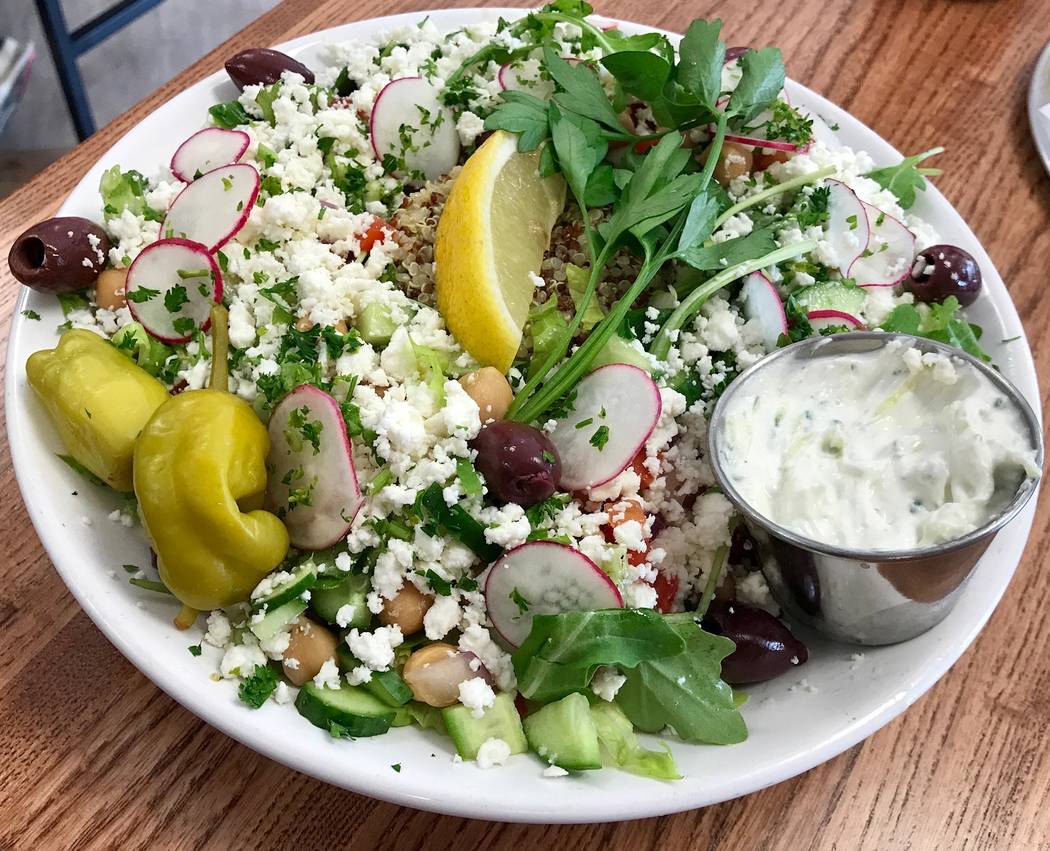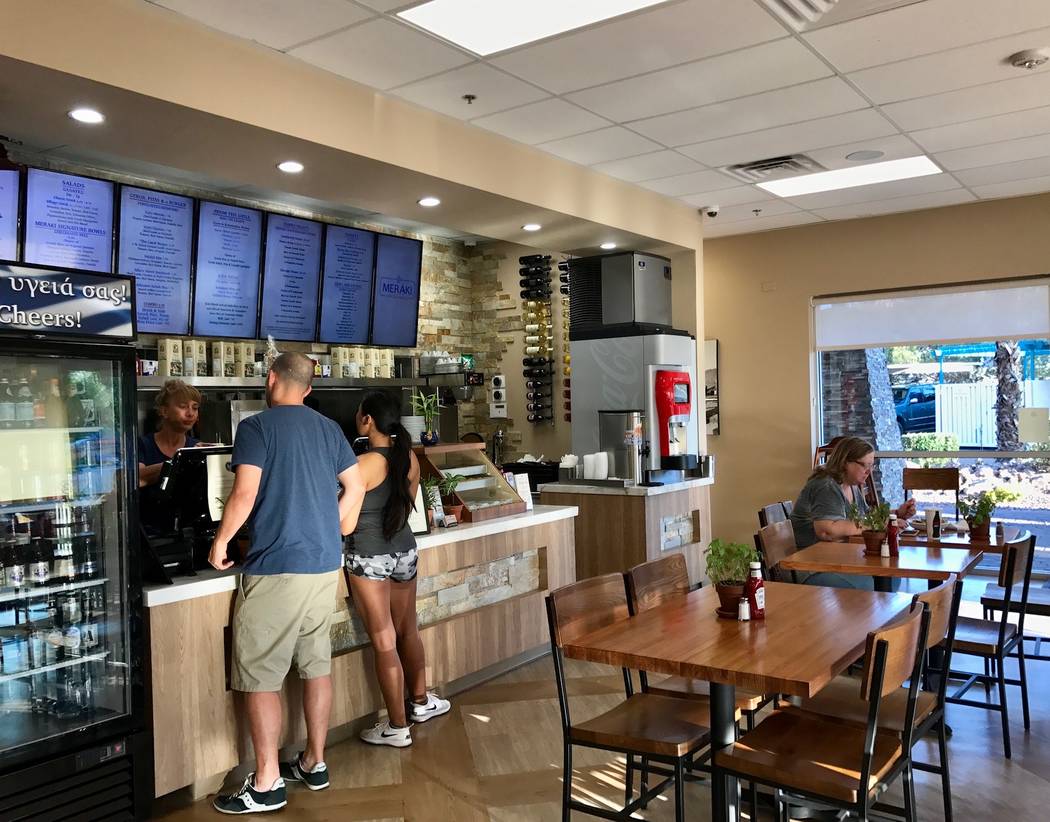 "Meráki" is a Greek word that does not have an equivalent in English. The noun is often used to describe how an individual does something with soul, creativity or love.
It's "the essence of yourself that is put into your work" and the inspiration behind the Spanish Trail community's new neighborhood Greek joint, Meráki Greek Grill, which opened in February. The definition is painted on the wall above the door.
The menu Meráki, founded by former Strip chefs Girair (Jerry) Goumroian and Nikos Georgousis, features gyros, salads and evening specials such as grilled octopus and sea bass.
Goumroian grew up as the son of a baker in Los Angeles and spent much of his early career cooking French and Italian food at Strip restaurants such as Bartolotta Ristorante di Mare, Restaurant Guy Savoy and RM Seafood.
His father opened two traditional Greek restaurants in the Las Vegas area. Shortly after opening his second, The Great Greek in Henderson, he died.
"All of a sudden I had to take over," Goumroain said. "And I started embracing the fact that I was working for a neighborhood joint."
Eventually Goumroain sold The Great Greek and coaxed childhood friend Georgousis, former executive chef at The Cosmopolitan's Estiatorio Milos, to join him in opening a restaurant.
"(Georgousis) is like my brother," Goumroain said. "We always knew we wanted to do something together."
The most popular dish on the menu, Goumroain said, is the Meráki signature bowl ($9.50): a large portion of quinoa or Greek rice in a bed of lettuce greens, tomatoes, onions, cucumbers, olives, radishes and garbonzo beans, with feta and a side of tzatziki. Optional add-ons are plentiful, including shrimp, seared ahi and avocado.
"Its unquestionably Mediterranean, but at the same time it's very American and that dish kind of describes me," Goumroain said.
Spreads, such as hummus, tzatziki and melizanosalata (roasted eggplant), cost about $4.50 and come with pita bread. Gyros and pitas include falafel and lamb, and cost $7-$8.
"When Niko (Georgousis) came on board, we clicked in the sense that our love of food created this bond," Goumroain said. "We'll go home and cook still, because we really love what we do."
Contact Madelyn Reese at mreese@viewnews.com or 702-477-0497. Follow @MadelynGReese on Twitter.
Meraki Greek Grill
Where: 4950 S. Rainbow Blvd., Suite 160
Hours: 11 a.m.-9 p.m. Tuesdays-Saturday, 11 a.m.-8 p.m. Sundays, closed Mondays.
Contact: 702-202-1002 or merakigreekgrill.com
Social media: Facebook, Twitter or Instagram
4950 S. Rainbow Blvd. Ste. 160, Las Vegas, NV 89118