Southwest man diagnosed with schizophrenia grows as an artist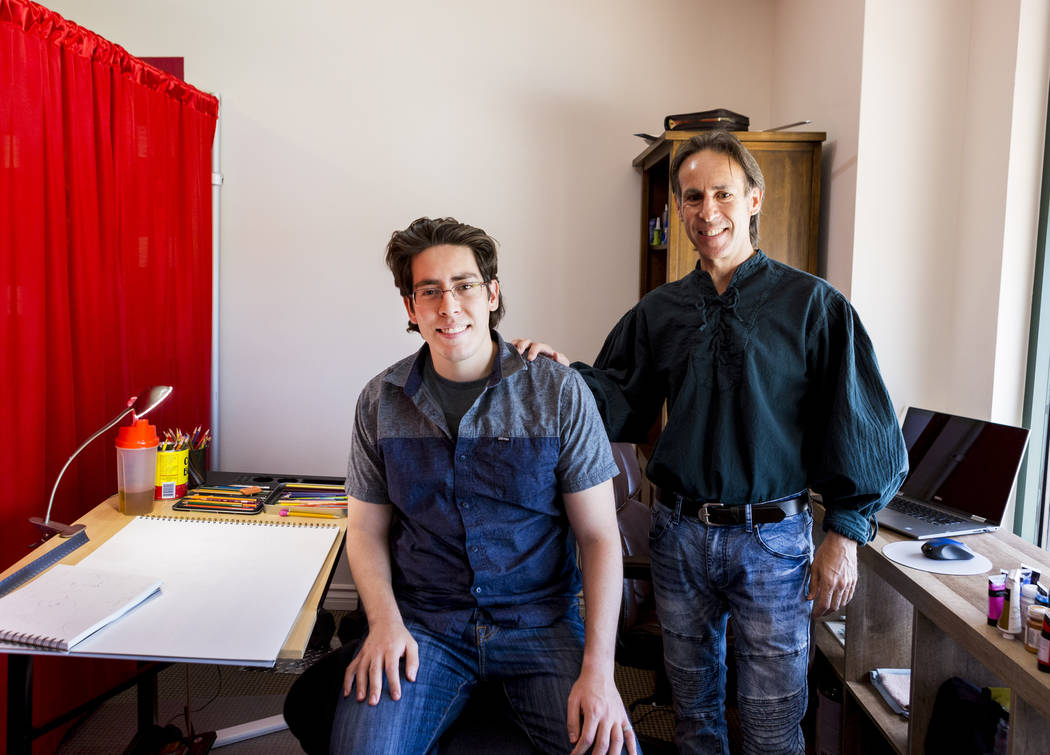 Benjamin Mazone grew up drawing anime and manga characters during class, but his artistic skills took a surprising and sudden turn for the better after he was diagnosed with schizophrenia.
Mazone, 22, of the southwest valley, signed up for the Air Force when he was 19. Before long, Mazone experienced a breakdown and was transferred to different states before doctors diagnosed him with severe schizophrenia, said his father, Giacobbe. He said his son didn't show signs of the disease growing up.
"They're pushing you not only physically, but mentally," Giacobbe Mazone said of basic training. "Through all of the screaming, which he isn't used to, I think that's where he broke down."
Benjamin Mazone was medically discharged and sent back to Las Vegas after about 13 months. His father didn't find out he was back until he received a letter requesting that Benjamin Mazone schedule ongoing medical treatment with the Veterans Affairs hospital.
"I thought he was still in the Air Force," Giacobbe Mazone said. "I didn't have a number to contact him."
After reaching his son through email, Giacobbe Mazone said, he learned he'd been living in an east valley apartment for about four months. And when he saw his son, he'd given most of his earnings to homeless people and had about $1,000 left, Giacobbe Mazone said. Benjamin Mazone had been sleeping on the floor and had been allowing homeless strangers to sleep in his apartment, his father said.
He persuaded his son to move back in with him and said if he hadn't found him, "I think he would've ended up dead or homeless or homeless and badly injured."
After four to five months, Giacobbe Mazone was able to get his son to go to the VA clinic, where he received treatment, then was hospitalized. He's now on a moderate dose of antipsychotic medication, Giacobbe Mazone said. He said his son doesn't believe anything is wrong with him.
He said Benjamin Mazone, who was talented at math and science growing up, was on Desert Oasis High School's cross-country team and was the president of the theater club, has become less social.
He also noticed his son was taking an interest in drawing again.
"He was an OK to maybe average artist (growing up), but when he came back he was like on steroids for art," Giacobbe Mazone said. "The images became so much more detailed."
Benjamin Mazone resumed drawing about two years ago, and his father encouraged him to create a theme for his work. He decided to use Disney. In the beginning Mazone used basic colored pencils, but he soon evolved to oil pastels, which made his artwork more vibrant, Giacobbe Mazone said. One of his first pieces featured a scene in the movie "Snow White."
"They're classics," Benjamin Mazone said. "They're beloved. They are childhood memories of the first time you watched 'Aladdin' or something. There's just a Disney magic."
He brings his own flair to the pieces by adding Japanese-inspired characters. He said he still hopes to become a manga artist.
"When I was younger, I loved Japanimation," Benjamin Mazone said. "There was Pokémon and Digimon. … I like that art style, so I drew it."
Giacobbe Mazone opened an art studio called Spiritual Art Gallery & Museum so his son would have a platform to share his art.
"I opened the gallery to give him a job," he said. "He can't work anywhere and after thinking really hard, there was nothing potentially that I could do for him other than put him to work in our own place."
Giacobbe Mazone said he thinks creating art has become therapeutic for his son.
"It's almost like this (art) was his rebirth of something new and something that he could use to enhance whatever it was that he lost," he said.
Contact Kailyn Brown at kbrown@viewnews.com or 702-387-5233. Follow @kailynhype on Twitter.
About schizophrenia
Schizophrenia is a chronic and severe mental disorder that affects how a person thinks, feels, and behaves. People with schizophrenia may seem like they have lost touch with reality, according to the National Institute of Mental Health.
Giacobbe Mazone said his son's disease is "a total loss of being able to understand what your present life and reality is" and prevents him from being able to work.
Spiritual Art Gallery & Museum
For more information, go to sonofpicasso.net.