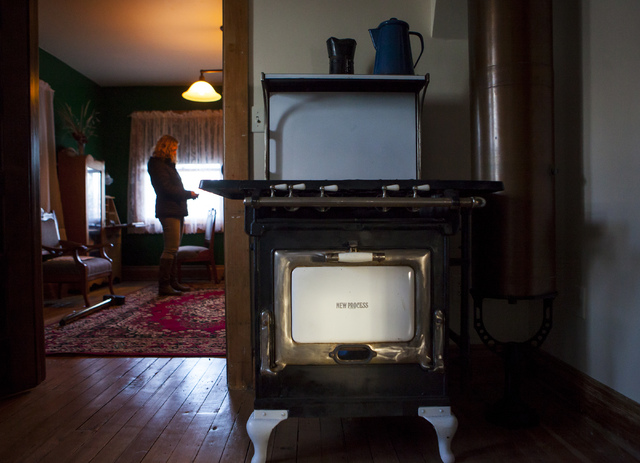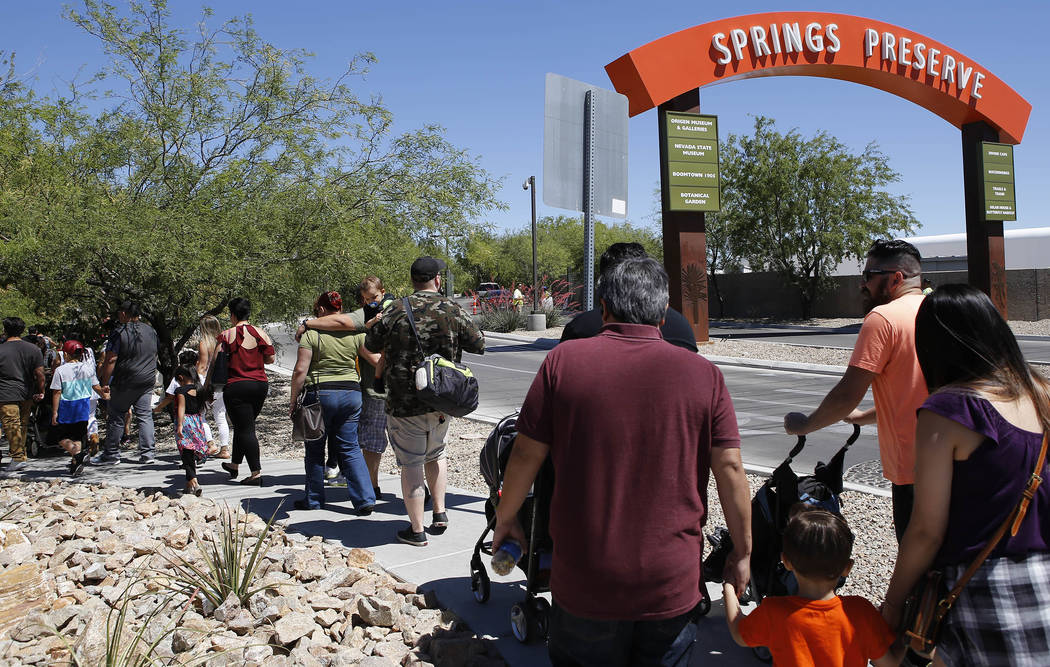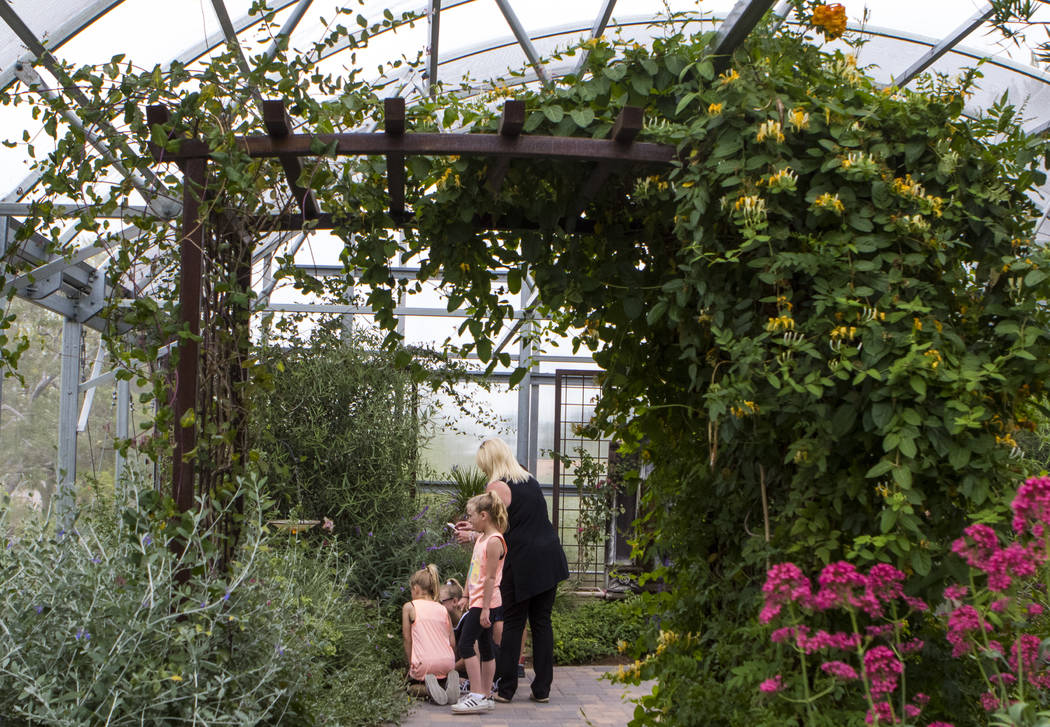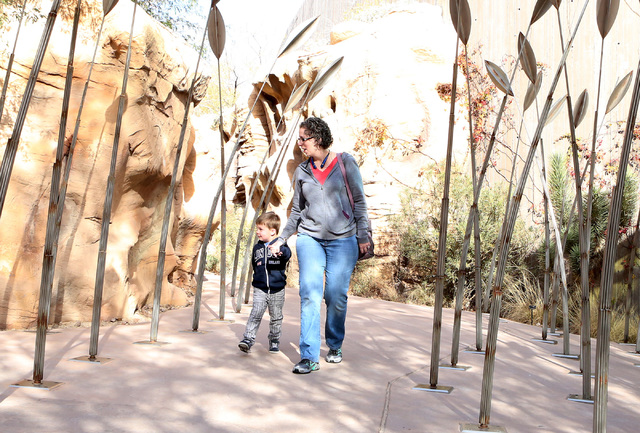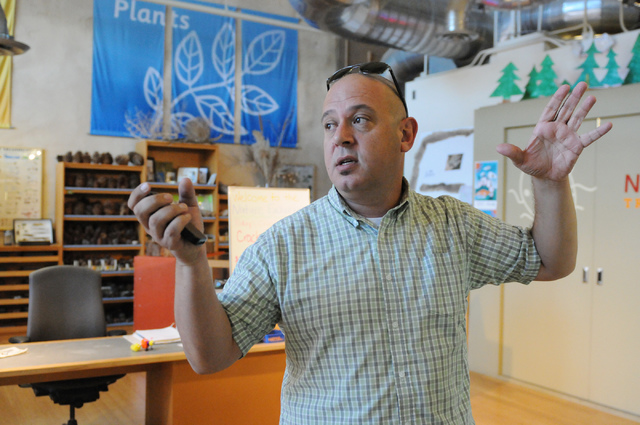 There's something special about the Springs Preserve, veteran employees say.
Sixteen of them have been with the central Las Vegas attraction since its first day: June 8, 2007. The 180-acre preserve on Valley View Boulevard and U.S. Highway 95 is marking its 10th anniversary this year.
Dawn Barraclough, public-relations representative for the preserve, started her job when the collection of desert plants and exhibits was still a construction site.
"I had never worked on a project (before) that had started from the ground floor and evolved," she said. "I started in steel-toed boots and a hard hat, bringing over photographers and journalists to watch the progress."
Barraclough has shed the safety gear and shifted her focus to communicating preserve's mission to encourage sustainability and environmental stewardship.
"It's definitely changed," she said of her job. "But I love to talk about the Springs Preserve. I am one of those people that is as happy today as I was 11 years ago when I started."
Preserve employees' stories of how they got there are different, but their reasons for staying are similar.
"If I'm having a rough day … by the time I'm back to my desk that's all gone," said volunteer coordinator Anne Silva. "I've seen a chipmunk and I've heard a mockingbird. There's a breeze in the trees or something's in bloom."
Silva started as an administrator with the preserve's construction team in February 2006 after studying theater at UNLV and working in various administrative jobs in the city.
"Had this place been open when I moved here when I was 12, I would have gone into science," Silva said of her studies. "I think it would have really affected my love of nature, and I would have considered a completely different career."
Lead gardener Eileen Holscher was a waitress when she discovered her love of horticulture. She will mark her 11-year anniversary with the preserve Aug. 14.
"Nothing is ever the same," Holscher said. "Something is going to be in bloom or out of bloom, and we're changing exhibits all the time. You're never going to see the same thing twice."
H er favorite activities are pruning and taking care of the vegetable garden. She often harvests vegetables and stores them for people to take home.
"It's more than just a job," Holscher said. "It's a passion for me."
Employees have watched the preserve go through many changes. For example, Holscher said, although the gardens are still young, they've matured to the point where the gardening team has had to consider how to manage overcrowding.
She also has watched the preserve become a popular spot for weddings and seen a spike in interest in school gardening. This fall, the preserve will open its "teaching garden." Sponsored by the Rogers Foundation, the garden will host programs for teachers to learn to take care of their own school gardens.
This fall the preserve's next permanent exhibit, WaterWorks, will feature interactive exhibits that explore water resource use and management.
Curator Aaron Micallef joined just before the 2007 opening as the education programs supervisor, then took over his current role in 2010. That's when the preserve's Origen Museum introduced traveling exhibits, which change three times a year.
Staffers are working on a strategic plan, he said.
"Our galleries are 10 years old now," Micallef said. "How are we going to refresh? Are we going to be making changes?" Micallef said he'll also help the preserve apply for museum accreditation through the American Alliance of Museums, which shows the preserve uses best practices for leadership, organizational structure, collections stewardship, education and interpretation and financial stability.
Micallef said that while the preserve had a rocky start, it has become more successful as the focus has shifted to attracting local visitors. The preserve has attracted just shy of 300,000 people in the past year, and 2 million in the past decade, its figures show.
The volunteer program has grown in recent years, too. In 2016, 91 community groups donated 11,881 hours of their time, while 379 volunteers helped with service projects, special events and garden projects for a total of 19,700 hours.
Silva, the volunteer coordinator, said she has seen longtime volunteers end up as employees.
"Once you get here, you don't want to leave," she said.
Contact Madelyn Reese at mreese@viewnews.com or 702-383-0497. Follow @MadelynGReese on Twitter.
Springs Preserve photo contest
In honor of the preserve's 10th anniversary, this year's photo contest centers on the number 10. Examples include life through the eyes of a 10-year-old and items in groupings of 10. Photos are judged on originality, skill and subject matter. Cash prizes are awarded for each division, and winners will be on display in the Big Springs Gallery Oct. 19-Jan. 7.
Entries are accepted through Sept. 8. Entry fees are $5 per photograph. View contest rules and submit entries here.
333 S Valley View Blvd, Las Vegas, NV 89107