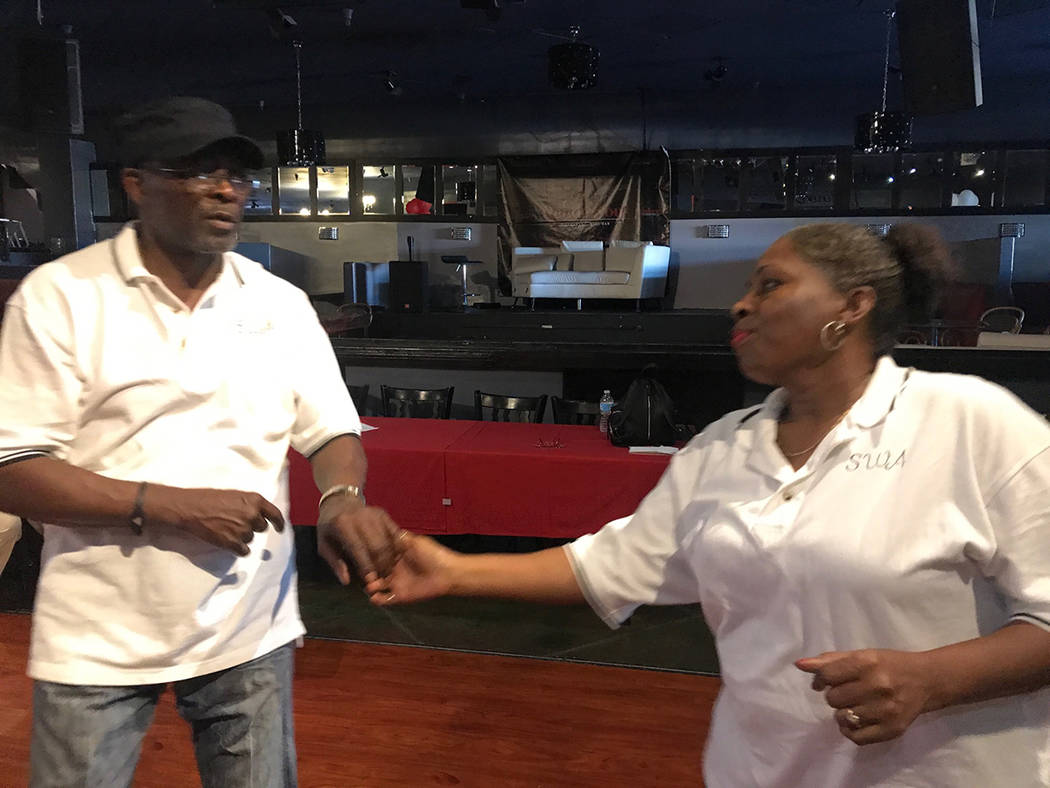 Zakeeyaw Toney didn't complete her move to Las Vegas from Chicago nearly 20 years ago because her craft kept her going back.
Toney witnessed Chicago-style steppin' for the first time when she visited her hometown for a cousin's wedding.
"What are they doing? It's so smooth," she recalls saying to one of her relatives about 15 years ago.
Toney said she grew up seeing the bop, an American swing dance that was popular during the 1950s and is what steppin' evolved from. As an adult, the Air Force veteran and former schoolteacher began traveling between Chicago and Las Vegas to learn the dance from instructors Dave Maxx and L.C. Henderson.
"I was in Chicago so much that they didn't believe that I didn't live there," she said. "I wanted to learn this dance. The best instructors were there. Nobody in Vegas was at that level."
As a child, Toney studied jazz, ballet, tap and gymnastics at a studio at the Sammy Dyer School of the Theatre in Chicago, where she decided she wanted to be a dance instructor. She became a certified aerobic and group instructor in 1988 and taught a dance aerobics class while in the Air Force. She also taught classes in gyms and health clubs in Midwest.
Within a few months of learning steppin', Toney participated in her first competition, in which she and her partner won second place. After she progressed quickly, Toney said, her instructors pulled her out of high-level classes and began teaching her one on one to become an instructor.
She has been steppin' for 11 years and teaching a class for nine. Her group is called Steppers West Associates. Her group class, which costs $10, is held at Rendezvous Wine and Dine Restaurant at 2605 S Decatur Blvd., No. 120, in the southwest valley.
Toney, who has been a nurse for 22 years, combined her love for Steppin' with her health-and-wellness background through a business that promotes healthy living called Healthy Choice Enterprise in 2008. It became a nonprofit in 2013. The organization has held health fairs and seminars across the country, she said. Steppers West Associates is the dance component of the organization's offerings.
Most Steppers participants are 35 or older, Toney said. She said she has had students who had diabetes, knee and hip replacements, back surgery and other health-related issues.
"That's the wonderful thing about dance," she said. "It is a moderate pace so that you don't have the overexertion problems."
Michael Allison of Henderson began taking Toney's class nearly two years ago after an awkward encounter at a party.
"This lady asked me if I danced, and I said no," he said. "It was like all of the air was out of the balloon. That was the last time that I was going to let that happen."
A couple of months later, Allison, who also hails from Chicago, made learning how to dance his goal for the new year. And although he began taking Steppers West Associates classes to learn how to dance, he said he comes for a different purpose now.
"It's really about the camaraderie and friendship," he said. "It's a good group of people … and it's good exercise."
Rochell Seward of the southwest valley had dance experience prior to taking Toney's class. She discovered the class on Facebook.
"It's been a long long time," said the native of Gary, Indiana, which is 30 miles southeast of Chicago. "I feel brand new 'cause I'm learning a whole different style."
Cynthia Graham-Hunt of the southwest valley has also been dancing for several years and said Toney's class teaches her something different.
"I know how to step, so now it's creating style, and that's what she teaches about," she said. "Individual style."
Toney said her assistant instructor of two years, Robert Hinton, used to attend all Steppers West Associates events. She said the former Michigan resident was "really good on the dance floor," so she asked him to help her teach.
"We wanted to make sure our style of step is different than everyone (else's)," he said.
Hinton's daughter Candace is a well-known stepper. She's set to teach a workshop during Steppers West Associates' eighth annual Memorial Weekend Jam.
Although steppin' has been in Las Vegas for more than a decade, Toney said she still receives calls from people saying that they didn't know there were steppers in Las Vegas.
"We are getting out there slowly, but surely," she said. "But hopefully more surely."
Contact Kailyn Brown at kbrown@viewnews.com or 702-387-5233. Follow @kailynhype on Twitter.
Steppers West Associates
When: 5:30-7 p.m. Mondays
Where: Rendezvous Wine and Dine Restaurant, 2605 S. Decatur Blvd., Suite 120
Cost: $10 per group class or $40 per private class
Information: 702-673-0302, hcentinc@gmail.com or healthychoiceenterprise.com
Memorial Weekend Jam
Tickets: $60
When: May 26-28
Includes: Parties, food, dance workshop and open bar
Information: facebook.com/SWASteppers
2605 S. Decatur Blvd., Suite 120