UNLV can play big role in boosting number of sports doctors
January 8, 2018 - 8:53 am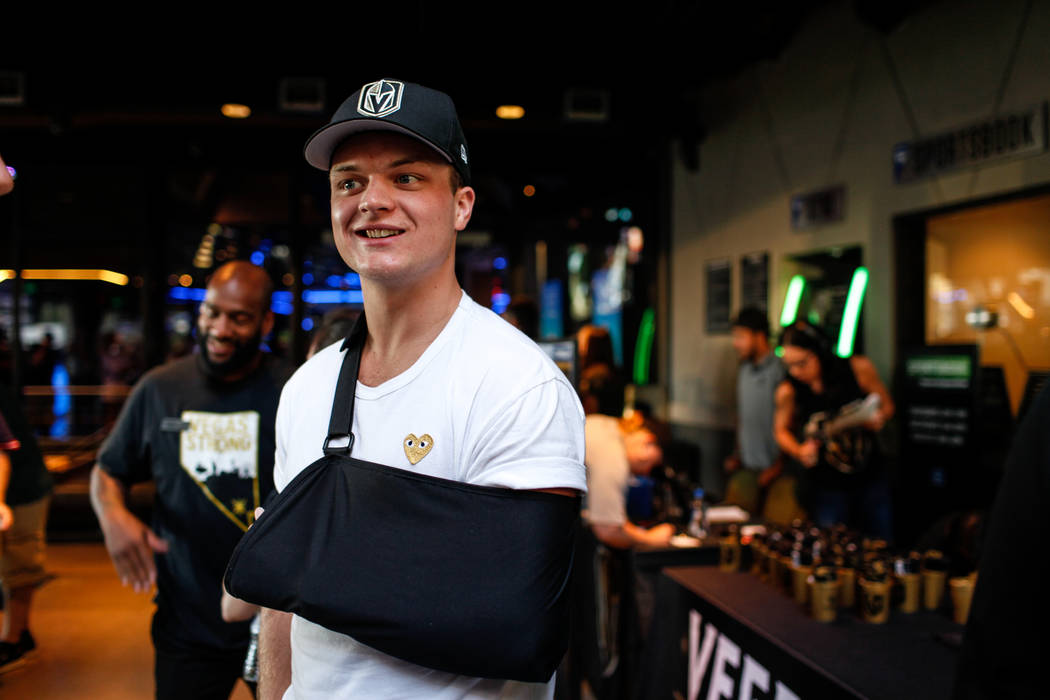 This is the second part in a two-part series on professional sports physicians in Las Vegas. The first is at tinyurl.com/y9lhcu68.
The Las Vegas sports-medicine community is a small one, doctors say.
There are two types of sports-medicine doctors: primary care and orthopedic surgeons. It's particularly primary-care sports doctors who are in short supply, but they'll be needed as the professional sports scene in Las Vegas grows.
Dr. William Rosenberg, a UNLV assistant professor and the Rebels' medical director and head physician, trains some of the valley's aspiring sports doctors. He's the director of UNLV's sports medicine fellowship, overseeing the training of one fellow a year in a primary-care training program that focuses on musculoskeletal injuries, exercise physiology and other athlete-specific conditions.
"I would say we're underserved compared to most cities," Rosenberg said, referring to sports doctors. To solve that problem, his goal is to grow the training program to include more fellows each year, involve more faculty and open more medical clinics across the valley.
"With all these sports teams coming, I see a number of opportunities," he said. "Athletes are coming here to live."
Though any doctor can call themselves a sports-medicine specialist, this can be misleading, according to the American Osteopathic Academy of Sports Medicine. There's no residency training specialty recognized in the U.S., but there are a couple ways for doctors to get additional training after their residency.
Rosenberg splits his time between seeing UNLV athletes on campus every morning and seeing patients in the afternoon at the UNLV family medicine clinic near the Desert Shores neighborhood.
Rosenberg also treats members of Cirque du Soleil and the Vegas Golden Knights. With Cirque performers, typical injuries occur in the neck, lower back, ankles or feet.
"You have to make a determination if (Cirque performers) can go back to full or modified duty," Rosenberg said. "You have to think a little differently because … if they're off balance even a little bit it can be dangerous and produce a liability."
He got the job with the Knights through his work with Cirque. Jay Mellette, Cirque's former director of performance medicine, became director of sports performance for the hockey team last year.
UNLV is aware of the changing needs in sports medicine.
"Our faculty are creating an interdisciplinary effort around sports medicine for professional athletes and the world-class gymnasts and athletes performing every night on the Strip," UNLV President Len Jessup said in his annual state of the university speech in September. "It's a great opportunity, and it's the perfect thing for us to be doing."
Rosenberg would like for UNLV to have a one-stop sports-medicine facility, "where you can offer physical therapy, you can offer dietary services, nutrition services, exercise physiology." That would be attractive to potential doctors looking to relocate to Las Vegas, too, Rosenberg said.
The only facility that comes close in Las Vegas right now is UFC's $12 million performance institute in the southwest valley, he said.
Jay Mellette
Jay Mellette has called Las Vegas home for the 14 years, allowing him to make connections with the wider sports-medicine and training community.
In 12 years with Cirque du Soleil, he oversaw 1,300 athletes and staff members and directed clinical sites on five continents.
Prior to joining Cirque, Mellette spent a couple of years in special operations in the Air Force and was a student athletic trainer at Florida State University. He ended up at the University of Colorado as an athletic trainer intern before getting a job as the head athletic trainer for the Colorado Rapids soccer team.
When the brass for the Knights came calling, it was just for advice on the "who's who" in sports medicine in Las Vegas.
"I was very casually sharing with (Senior Vice President Murray Craven) my ethos and ideas and how the industry is evolving," Mellette said. Craven then asked Mellette to share his ideas with general manager George McPhee. After a few more meetings, they offered Mellette the job.
A challenge in caring for athletes is finding a balance between fitness and fatigue, Mellette said. Another is understanding that care is individual.
"There's not a singular solution," he said. "You need to understand each of your players and be able to engage them and support them in both recovery strategies and also in performance readiness."
With more than 80 games in an NHL season, doing that is "extraordinarily difficult," Mellette said.
Another difficulty, he said, is finding fellowship-trained sports doctors for the Knight that met his criteria. He said they need to be able to support athletes at the onset of injury all the way through recovery.
"Many people aren't fellowship-trained or aren't managing and working with that athlete along the whole pathway," Mellette said. "They might be there at the first week or the very end, but weren't with the athlete through the whole period of getting them to optimal health."
Las Vegas is lacking in such qualified doctors, Mellette and Rosenberg agreed.
"Many other communities that don't have the population that we have have more people with that experience and those qualifications," Mellette said.
The two hope that the influx of professional sports teams will draw trainers and sports doctors to the area. In turn, Rosenberg said he hopes that UNLV will help fill the gap.
"In other cities, the academic center will draw the (medical) subspecialists in if you have a good center," Rosenberg said. "UNLV can become more of a bigger health care entity in the city … it will help make Las Vegas more of a health care destination, which it should be in this area. It shouldn't be where we send everyone to Phoenix or Los Angeles or San Diego."
Contact Madelyn Reese at mreese@viewnews.com or 702-383-0497. Follow @MadelynGReese on Twitter.
Finding a sports-medicine doctor
"Remember, anyone who claims to be a sports medicine doctor may or may not have done additional training in sports medicine," the American Osteopathic Academy of Sports Medicine website reads. Many doctors are capable of becoming proficient in sports medicine on their own without additional training, but it can be hard to know without a good recommendation.
A good place to start is by contacting the AOASM, or visiting its website at aoasm.org.
The academy suggests asking the following questions when calling the doctor's office:
What is the doctor's main board certification in?
Did the doctor complete a sports medicine fellowship? If so, where?
For primary care doctors only: Does he/she have a Certificate of Added Qualifications in sports medicine?
Note: An equivalent to the CAQ does not exist for orthopedic surgeons, but it is possible to do surgical fellowships in sports medicine.
Source: American Osteopathic Academy of Sports Medicine