UNLV graduate wants to open first cat cafe in Las Vegas
December 18, 2017 - 10:10 am
Updated January 3, 2018 - 4:13 pm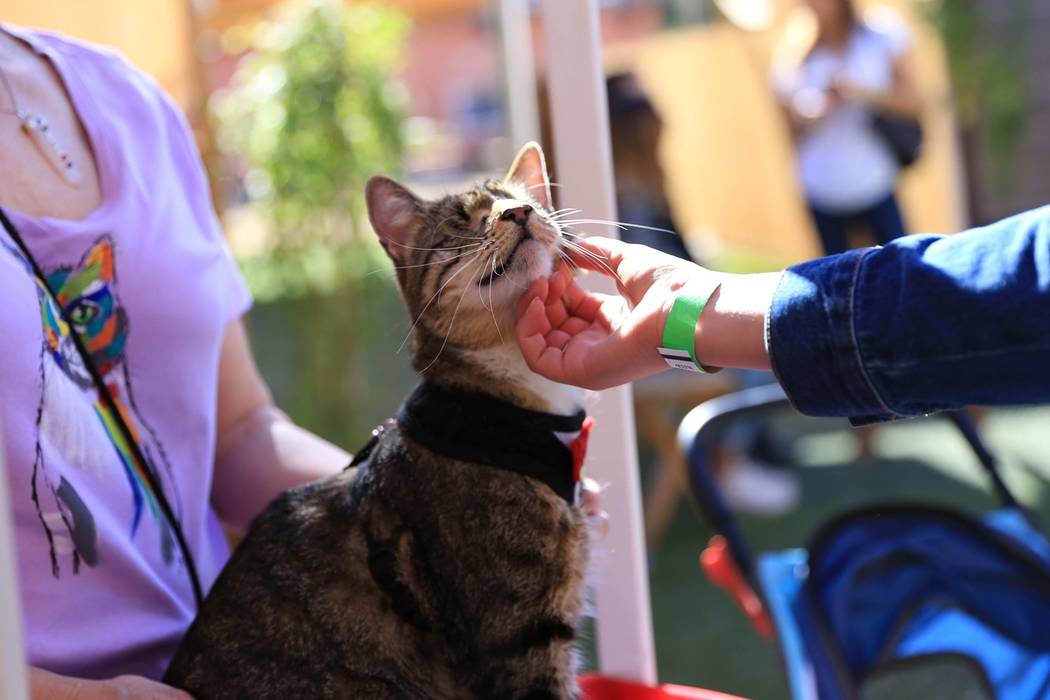 It's been more than a decade since cat cafes, where patrons can watch and play with cats, opened in Taiwan and Japan.
Cat Town became the first cat cafe in the U.S. when it opened in 2014 in Oakland, California. Since then about 30 similar establishments have popped up across the country, from Seattle to Washington, D.C.
Rhiannon Gladney, a 2016 economics graduate from UNLV, wants to add Las Vegas to the list and help lower feline euthanasia rates. Gladney has been raising money and organizing pop-up adoption events in an effort to open a nonprofit cat cafe in the southwest Las Vegas Valley called Meow or Never.
At most cat cafes, patrons come in to grab a coffee or food. In a separate room is a lounge or playroom, where customers can consume their meal in the company of cats.
Cats often are from local animal shelters and are up for adoption. Over 1,500 cats have been adopted from Oakland's Cat Town, according to its website. Purringtons Cat Lounge in Portland, which opened in January 2015, has adopted out nearly 500 cats and facilitates nearly 20 adoptions per month.
The Las Vegas Valley Humane Society estimates there are more than 200,000 undomesticated cats in Clark County.
Gladney, a former pre-veterinary student, said she realized she had a greater aptitude for business than she did for science. She started working with the animal-rescue community by volunteering with groups like the Nevada Society for the Prevention of Cruelty to Animals.
She's a cat person at heart. She has two sibling tuxedo cats at home, named Arduino and Raspberry Pi.
Cats are underserved in Las Vegas, Gladney said. She recalled a training orientation for the Nevada SPCA. Out of a large group of volunteers, three people wanted to work with cats.
"The cats need some people to help them out, too," Gladney said. "I'm not going to be a veterinarian, but at least I can help cats this way."
Gladney plans to open the cafe with an initial $50,000, which she says is a small sum for even a simple coffee shop. She's fundraising through generosity.com, where she's collected about $8,000.
"I made a lot of cuts to get to $50,000," she said.
Through fundraising and additional pop-up events, Gladney hopes to raise that amount by next year. There is no firm open date yet.
To cut down on costs there won't be an espresso machine, just pour-over coffee and cold brew, because industrial espresso machines and the plumbing to sustain them can cost upward of $30,000, Gladney said.
There will be pastries, though, and plenty of them will be vegan, since "we're an animal-loving organization," she said. She's also limiting herself to move-in-ready spaces.
Gladney has an arrangement with PAL Humane Society to receive donations of food and litter for the cats.
Opening a cat cafe is tough , said Purringtons Cat Lounge co-owner Sergio Castillo. His cafe opened shortly after Oakland's Cat Town, and he has received lots of requests for advice from prospective cat cafe owners on how to start a similar business. He now charges for a 90-minute consultation. He said he's done about 50, and about 80 percent of those are first-time business owners.
"The reality is that there still isn't a road map," Castillo said. "It's still too soon to have year-over-year information on what makes sense (for the cat cafe business)."
Having a good relationship with the local health department and government agencies is crucial, Castillo said.
His biggest piece of advice: "Don't assume that because you're an attraction you can charge an arm and a leg. The market may not support you."
Gladney plans to use an all-donation-based model.
"We're going to have suggested donation prices, but it's completely what you have to give to help the cats," she said. "We're going to be the first to try this method … I'm nervous about it, but the pop-ups went so well with that method. It made people a lot happier to help."
Contact Madelyn Reese at mreese@viewnews.com or 702-383-0497. Follow @MadelynGReese on Twitter.
Meow or Never Cafe & Rescue
Social media: facebook.com/meowornevercafe
Indiegogo fundraiser: bit.ly/2yLKikU
Meow or Never volunteer Facebook group: bit.ly/2ArRBMK