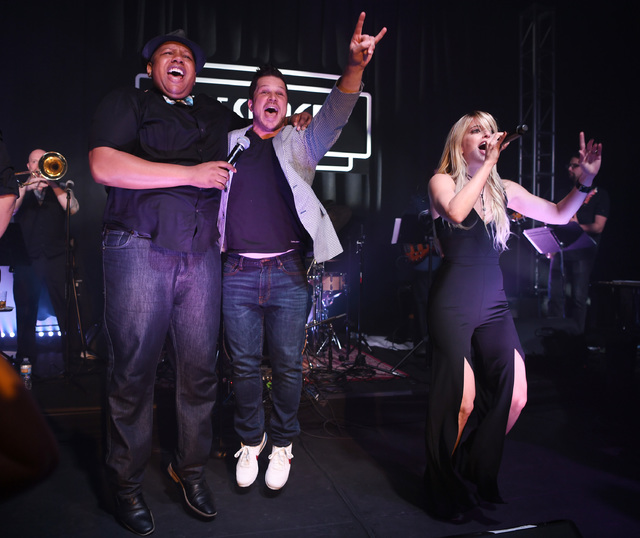 When Mark Shunock came to Las Vegas to open Rock of Ages at The Venetian, he thought he'd stay for six months before returning to Los Angeles.
That was five years ago.
Instead, Shunock started the charity benefit variety show "Mondays Dark," at Body English at Hard Rock Hotel. A few years and two venues later, Shunock and Mondays Dark hit the $500,000 mark July 24.
At each Mondays Dark show, Las Vegas performers, many of them friends of Shunock's, take the stage to help raise $10,000. Tickets are $20, and all proceeds go to charity. Silent auctions, bar specials and raffles contribute to the goal.
Each performance has a preselected charity that receives the funds. This year, recipients have included Carestream, Social CirKISHand The Cupcake Girls.
"It's crazy because (the charities) are all so deserving," Shunock said. "The toughest part of our job is selecting the lineup."
Interested charities can fill out a form on the Mondays Dark website, and they're entered into a database. Toward the end of each summer, Shunock and the organization's eight other directors pick charities.
The wait list to join is over 100 charities long, Shunock said.
After holding the charity show at Hard Rock's Vinyl for several years, Mondays Dark moved into its own home in late 2016 at The Space, a 3,000-square-foot performance space on Cavaretta Court in southwest Las Vegas. The Space has a black box theater, rehearsal studios, recording studio and piano bar.
Mondays Dark's 50th performance benefited the Time Traveler's Foundation, a nonprofit dedicated to epilepsy education. The atmosphere of the room that night was jovial and upbeat. Performers included musicians Jennifer Paige Phillips and Sarah Hester Ross as well as comedian Mario Rosales. Even one of the foundation's board members, Sam Berkley, got up to perform "Hello, Dolly!"
In January, Mondays Dark increased to two performances a month, doubling the money that the organization could raise each year.
"Since we had our own venue, it would be easier (doing more shows)," Shunock said. "Sometimes you get weary of asking too many favors. It was an awesome resort for what we were trying to do, but you can only ask for the room and staff so many times."
So far in 2017, Mondays Dark has partnered with 14 charities and raised over $140,000.
The $10,000 makes a difference even for nonprofits with larger budgets, said Liz Ortenburger, CEO of the domestic-violence assistance nonprofit Safe Nest, which received proceeds from the June 19 Mondays Dark show.
While Safe Nest's budget is over $5 million annually, Ortenburger said, the extra boost helps Safe Nest assist some of the 43,000 victims and people affected by domestic violence in Nevada each year.
And unlike some grants the nonprofit receives, the Mondays Dark funds are "unrestricted," Ortenburger said.
"It's fantastic for us because (the money) can go to the place of greatest need," she said. "We used that for direct client assistance: bus passes or airplane tickets … food, clothing, child care. Everything somebody coming out of crisis needs to help heal."
Shunock plans to continue hosting Mondays Dark twice a month in 2018 and partner with 22 new charities on the wait list.
Contact Madelyn Reese at mreese@viewnews.com or 702-383-0497. Follow @MadelynGReese on Twitter.
Mondays Dark schedule
Aug. 21: Spread the Word Nevada
Sept. 11: Nevada Blind Children's Foundation
Sept. 28: Goodie Two Shoes Foundation
Oct. 2: St. Jude's Ranch for Children
Oct. 16: Trauma Intervention Program of Southern Nevada
Nov. 6: Pancreatic Cancer Action Network
Nov. 20: Operation Fire H.E.A.T. (Holiday Emergency Assistance Team)
3460 Cavaretta Court, Las Vegas, NV, 89103