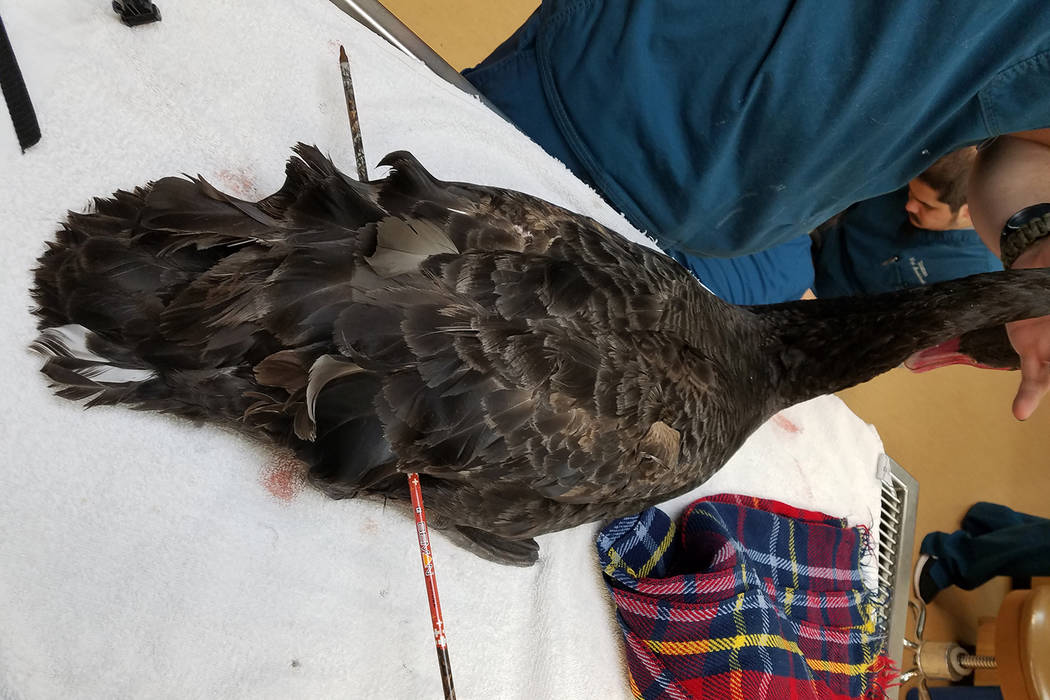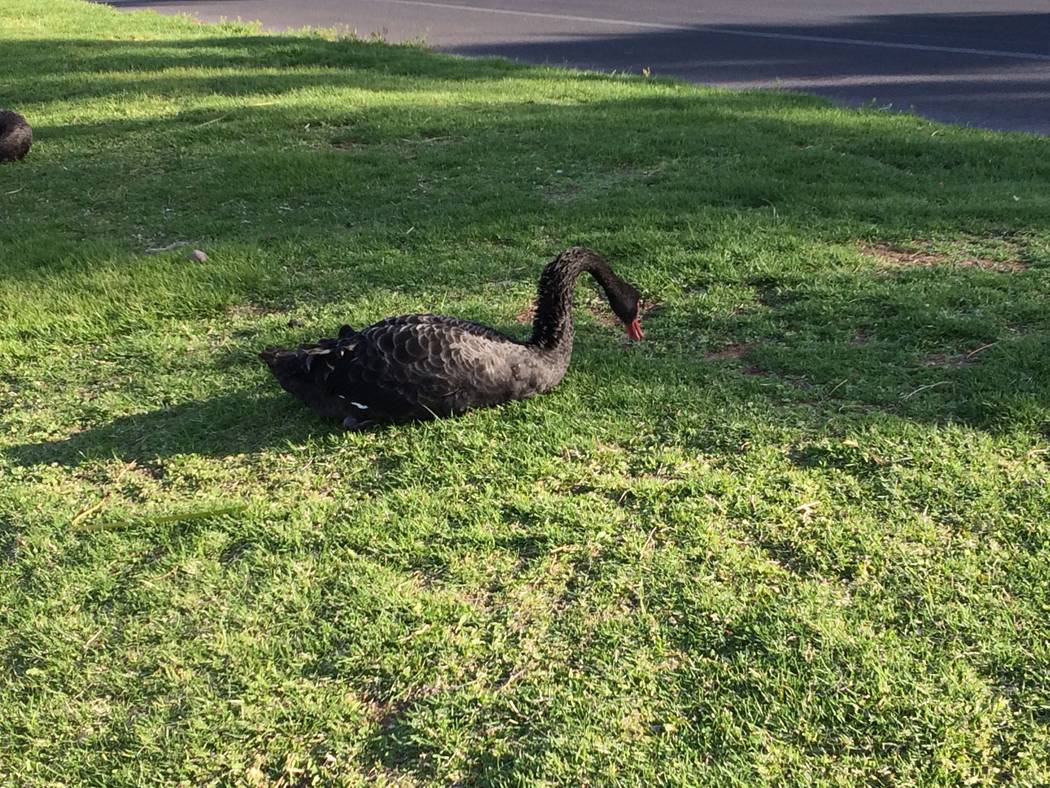 A black swan was found shot with an arrow April 10 at Desert Shores' Lake Jacqueline. It was barely alive and had to be euthanized. Now, the owners of that swan and about 40 others plan to move them out of Las Vegas to an undisclosed safe location.
Rhea Coloi is not a Desert Shores resident but likes to walk the lakeside, saying it's peaceful. When she heard about the swan, she said she found it "disturbing. It was really disrespectful to the community. You just don't do that to an animal."
Coloi said she'd be sorry to see the animals go.
Dee Paturzo, co-owner of the swans, said the attack was the last straw.
"Everybody is kind of up in arms over this," she said; she also recalled being notified and seeing the swan after the attack. "He was traumatized, … We took him to the vet and (the arrow) was through his intestines. That's why we couldn't save him. I don't even like talking about this because the visual is still in my head. I'm losing sleep over this."
The bird was referred to as Blue Band, for its identifier. It was nearly 3. Paturzo got it when it was a baby.
"From what we know, this arrow was not shot by a kid," she said. "This was an ammunition-grade, target-practice arrow. It was not a toy. So, it was probably shot by an adult, done as target practice."
Metropolitan Police Department Officer Michael Rodriguez said two detectives, assigned to the animal cruelty section, were working the case.
"It's truly unfortunate that we have things like this occurring to animals," he said.
Co-owner Sandy Dunham said another swan had been found dead, in March. The carcass had two holes in it, possibly arrow or bullet holes.
"The majority of the people enjoy (the swans)," she said. "But there's always that small percentage of people who create problems."
The black swans, native to Australia, have been at Desert Shores for about 15 years. They were bought from breeders in Illinois and Sacramento, California. They are used to having people around and being fed, the perfect target for anyone who wanted to do them harm. Blue Band had a mate — swans mate for life — and they had just had three hatch-lings.
"The survivor of the pair is real skittish," Dunham said. "You can tell she's been traumatized. She's calling for her mate. It's sad."
Stephanie Bell, the senior director of cruelty care works for PETA, said it's not an isolated incident.
"Unfortunately, it is prevalent, especially cases involving unknown perpetrators," she said. "At Desert Shores, there have been a number of incidents. In 2015, six birds were found with their necks snapped and felony changes ended up being filed. In January at the same locations, a number of ducks were found to have been hit by cars, and in February, a handful of headless roosters were found in the same vicinity."
PETA said law enforcement does not think the person or people who killed the birds in 2015 carried out the more recent attacks. Bell said it's not common to hear of a bird shot with an arrow, but that in mid-April, a Canada goose was spotted with an arrow in it.
"It was still flying, so we have no idea where the animal was originally shot," she said, adding, "Law enforcement takes these cases very seriously. They are eager to identify the person responsible, as are we, which is why we've offered the reward."
The perpetrator could face a class D felony, which can result in as many as four years in jail and up to $5,000 in fines. PETA is offering up to $5,000 for information leading to the conviction of the person or people responsible. Bell said the arrest may do more than get an animal attacker off the streets.
"We've seen time and again that people who victimize animals will move on to victimize their fellow humans," she said. "So, there are many reasons to take these crimes seriously."
The news comes just as a new crop of waterfowl is being born. January's babies didn't make it due to the cold spell. But the ones born in February and March and April number are doing fine. They number about 14 and will be removed when the others are relocated.
"Nobody is sadder than me to see them go," Paturzo said. "Sandy and I, we wish we could (keep them there), but their safety is very important."
Contact Jan Hogan at jhogan@reviewjournal.com or 702-387-2949.
How to help
Anyone with information about the attack is asked to contact Detective Robert Sigal of the Metropolitan Police Department at 702-828-3307.
Lake Jacqueline