Box-beautification art project comes to Lone Mountain area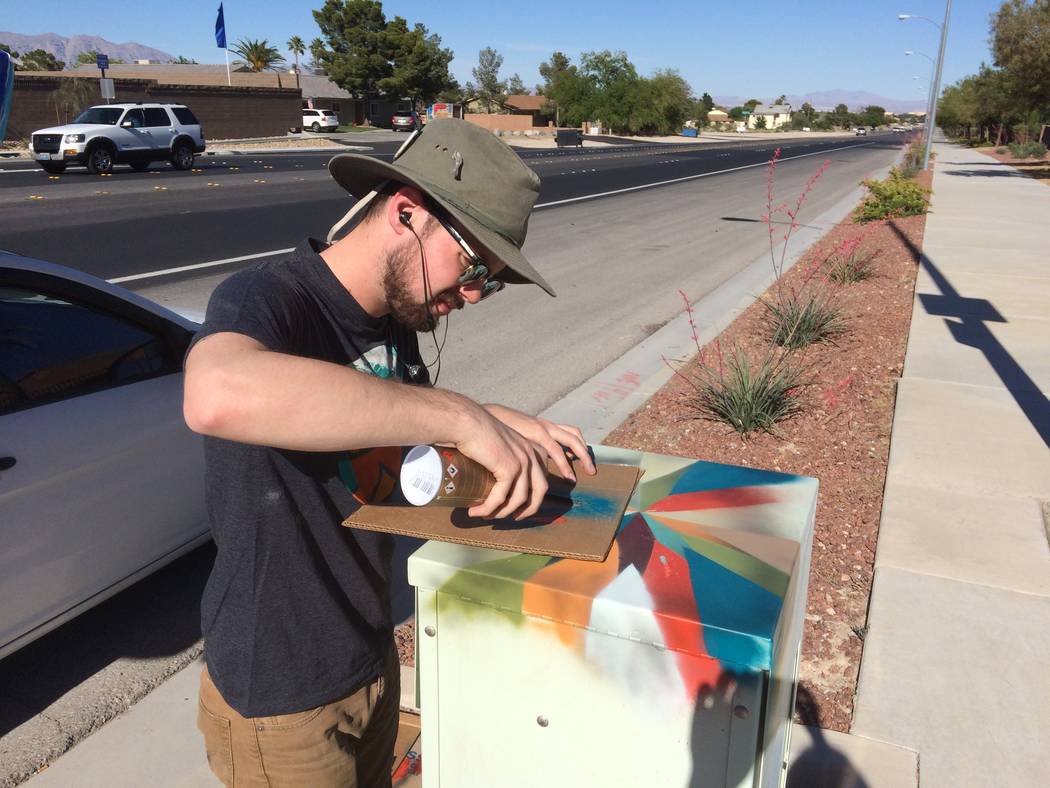 Zap is back. Clark County's Zap Public Art Series, which began in 2005, is bringing public art to the Lone Mountain area.
This year's program was launched Feb. 7 at Mountain Crest Community Center. There, residents got to meet the 15 local artists who were selected through a juried process, tasked with painting 45 boxes in the area — along Lone Mountain Road, Craig Road and Durango Drive and around Mountain Crest and Lone Mountain regional parks.
A second open house is schedueld for 10 a.m. June 3 at Mountain Crest Community Center, 4701 N. Durango Drive, to officially unveil Zap 9.
The Zap 9 artists are Natalie Delgado, Gig Depio, Shan Michael Evans, Darian Geenen, Tatiana Hantig, Sush Machida, Mark Melnick, Jerry Misko, Robert Nelson, Spencer Olsen, Bryan Prather, Sean Russell, Holly Rae Vaughn, Eric Vozzola and Valentin Yordanov. They began painting in early March.
Previous efforts have involved as many as 20 artists, said Patrick Gaffey, cultural program supervisor with the county. The program has proved popular with residents, he said.
"North Las Vegas is doing it now, but they are printing the art and then wrapping the boxes. But, to me, that takes away the best part: having the artist on the street painting where people see him or her so residents can walk up and talk to them about their work," Gaffey said.
Each artist received $2,500 and was given anti-graffiti coating. The 45 boxes are primarily traffic-control, NV Energy and water district boxes.
"We want to cover as many utility boxes as we can, eventually, but try to focus on areas that are in more public, and trafficked, unincorporated areas," said Patty Dominguez, project coordinator of Zap.
Artist Spencer Olsen said he had applied three times and was selected this year. He likes to work with patterns and uses handmade stencils to apply those patterns to his four assigned utility boxes. He said there were challenges to doing the outdoor art: the warm conditions, the wind (up to 60 mph) and the fact that he'd never worked with metal.
"I'm used to paper or walls as my medium," he said. "This takes the paint differently and how it dries. It's not drying as fast as I'd like, so it's holding me up. I have to wait between layers."
Olsen works in acrylics, using spraypaint. He wears a mask if the fumes start getting bad.
"But I do it in such quick bursts and I kind of hold my breath a little bit," he said as he applied the next layer, then pulled back to inspect the effect.
"It ends up looking like cut paper," he said of his design.
Other artists gave boxes their own spin on art. The art on the utility box at Craig and Durango uses trompe l'oeil (French for "trick of the eye") to make it look like an iguana is coming out of the box. It was painted by Mark Melnick.
The county put out a video about the Zap project to help introduce the artists.
"They wanted it to blend in, but they also wanted people to understand that there's life here other than people. There are insects and animals," Depio said in the video.
He has done a Zap project before, near Maryland Parkway.
Yordanov said he drew inspiration from Lone Mountain and used his geometric style to make his utility box design on boxes near Alexander Road and Durango Drive.
Bryan Prather wanted to "think outside the box" for his design, so he used human silhouettes in various poses on his utility boxes. He called it a fun play on words, as observers would be thinking outside the box when they viewed his design and tried to understand it. It was his first time doing outdoor art.
The utility box that will be painted last is near the 215 Beltway where it meets Lone Mountain Road. When it gets done depends on construction, as the area is scheduled to be torn up and the utility boxes moved.
Gaffey said citizens have expressed concern over the boxes being vandalized. That doesn't happen often, he said.
"It's more likely to get taken out by an errant driver running into it," he said.
Visit clarkcountynv.gov.
Contact Jan Hogan at jhogan@reviewjournal.com or 702-387-2949.
By the numbers
2005: Year Clark County's Zap art program began
45: Number of utility boxes painted this year
15: Number of local artists involved