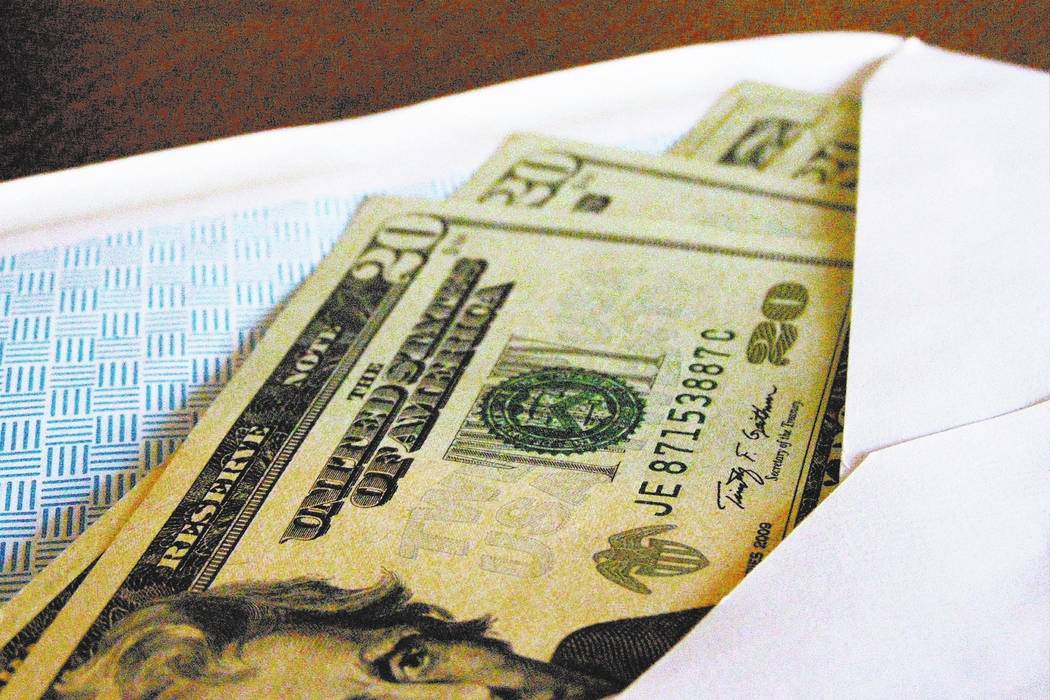 It used to be that those passing counterfeit bills would target businesses. Now, it appears they are targeting homeowners who hold garage sales.
One such person went to a sale Oct. 21-22 in the Tamarac community and hit three homes.
One of the victims was Dave Bruno, 86, a retired AT&T supervisor from New Jersey. He and his wife, Lucille, moved to Las Vegas in 1994. They live in Spring Valley, where their neighborhood has 115 homes and holds community garage sales twice a year, in April and October. Bruno described his neighborhood as very safe.
He and his wife were selling kitchen items, wall art and miscellaneous items.
A man described as tall and on the heavy side who was driving a white Mercedes sedan and wearing fluffy slippers showed up.
"It was near the end of the day. I was selling a big picture for $35 and he said, 'I'll give you $20,' and I said, 'All right,'" Bruno recalled. "He also bought poker chips, so the whole thing was $30."
The man asked if he had change for a $100 bill.
"I gave him $70 in change, so I lost $70 and a couple other items that I gave him for nothing, so I actually (lost more than that)," Bruno said.
Later, a woman came around and told him about fake bills being passed around. Two other households also made change for fake $100 bills. Like Bruno, those homeowners sold $25 to $30 worth of merchandise.
"It really bugs me," said Michael Mehling, a neighbor. "I don't want people to get taken advantage of."
The Metropolitan Police Department notes that counterfeiting is a serious crime.
"Garage sales is a kind of unique way to spend counterfeit money," said Officer Jay Rivera. "Typically, counterfeiters will use the money at convenience stores, at least at the level that local law enforcement deals with it. But I should say that counterfeiting is a federal crime and is generally investigated by the United States Secret Service."
Metro will look into cases such as a fake $20 bill being used to buy cigarettes at a convenience store, Rivera said. It turns over the counterfeit bills to the Secret Service.
"And the higher the amount, the more likely they are to take over the investigation," Rivera said.
The ink and pen test done by store clerks? They are checking to see if the bill changes color, due to reacting to chemicals used in making it.
"If it changes color, then it's missing the chemical used to make the paper," he said. "It's that chemical that makes it change color."
He had no stats on counterfeiting. As for the Tamarac paper passer …
"He's easy to identify, so if you hold a garage sale, beware of a guy in fuzzy slippers," Rivera said. "He's got unusual dress habits, I guess."
Could the footwear have been used to divert attention from his face?
"I don't think they're that clever," Rivera said. "But I can't get into the mind of a suspect. I have no idea why he did that."
If holding a garage sale, Metro suggest taking the time to familiarize yourself with the various bill denominations. Know where elements such as the Treasury seal should be.
One of the most difficult things to counterfeit is the quality of the paper, Metro noted. It's unique and uses green and red fibers that are hard for a forger to duplicate. On newer currency, there's a strip. If you look closely or use a magnifier, you can see the bill's denomination written out in it.
"Put it up in the air, to see it in the sun, and look for that strip," Rivera said.
Bruno said the average person would not think the bill he took was counterfeit. He accepted a $50 bill from someone else and planned to take it to the bank to see if it, too, was counterfeit.
"I'm never going to accept a $100 bill again, not even a $50," he said. "I was a fool. I should have never accepted that $100 bill."
To better thwart counterfeiters, the government adds special features, thin embedded lines and ghost images on bills. Visit uscurrency.gov for specifics.
Contact Jan Hogan at jhogan@reviewjournal.com or 702-387-2949.
New design
The $100 note underwent a redesign, and the new bills were issued in October 2013. It has security features such as a color-shifting bell found in the inkwell and a 3-D security ribbon. The $100 bill also includes a ghost image: a watermark portrait of Benjamin Franklin, visible when held to light.