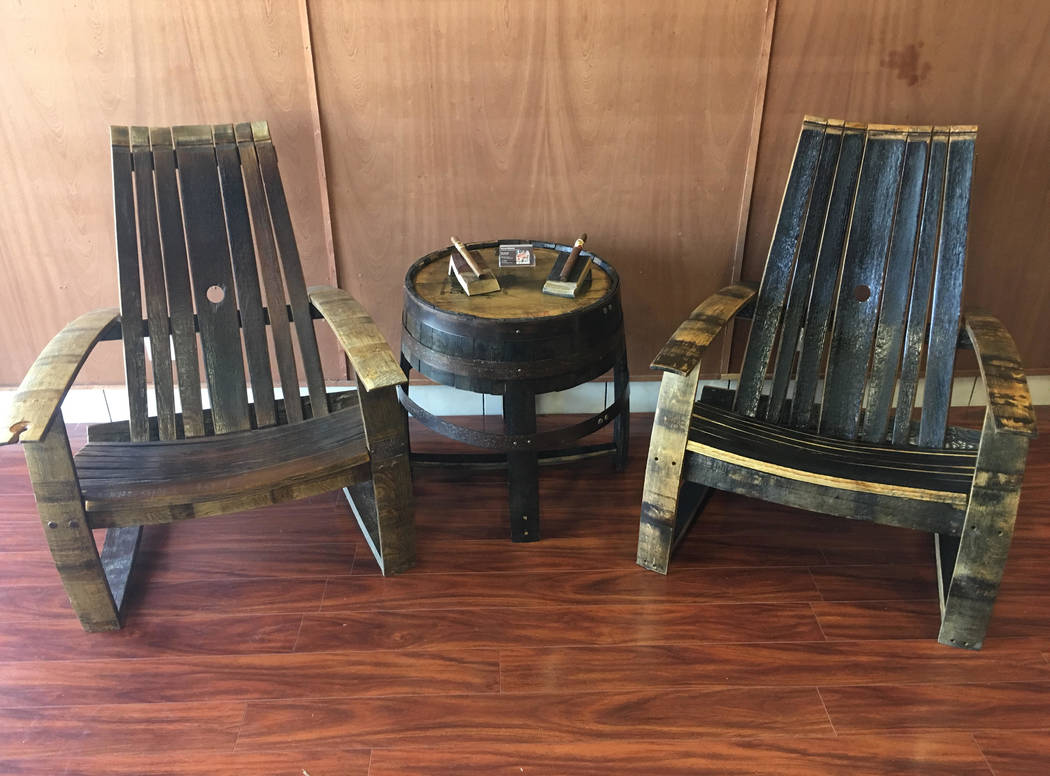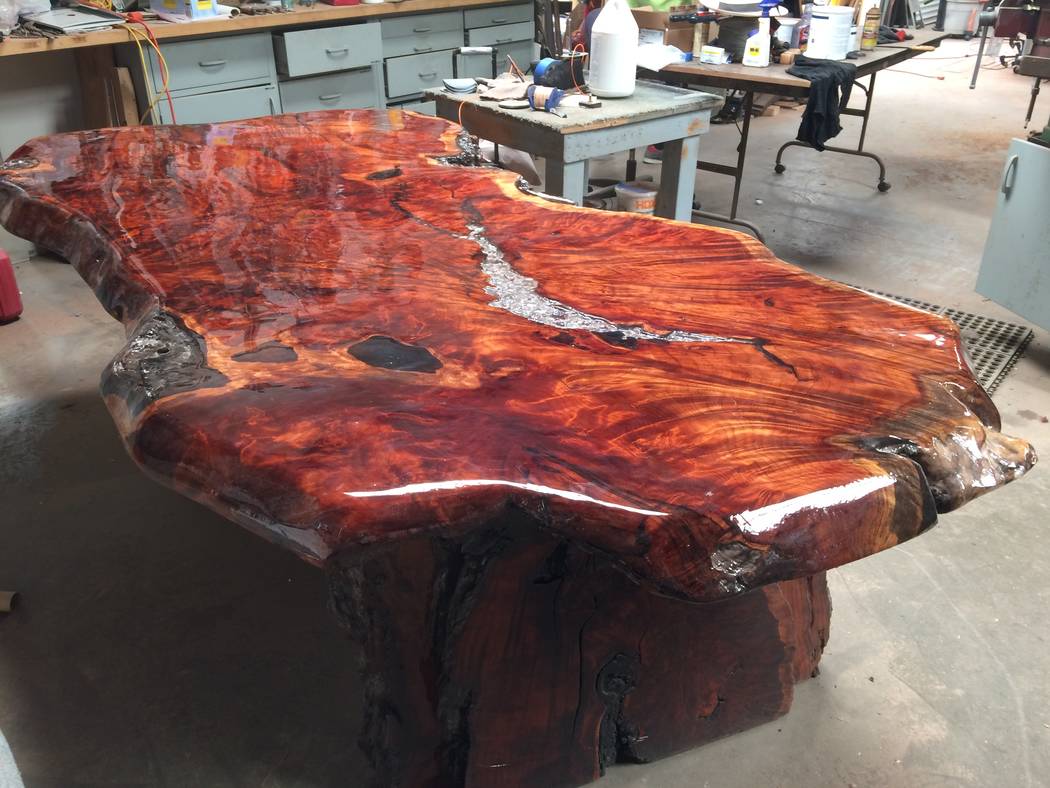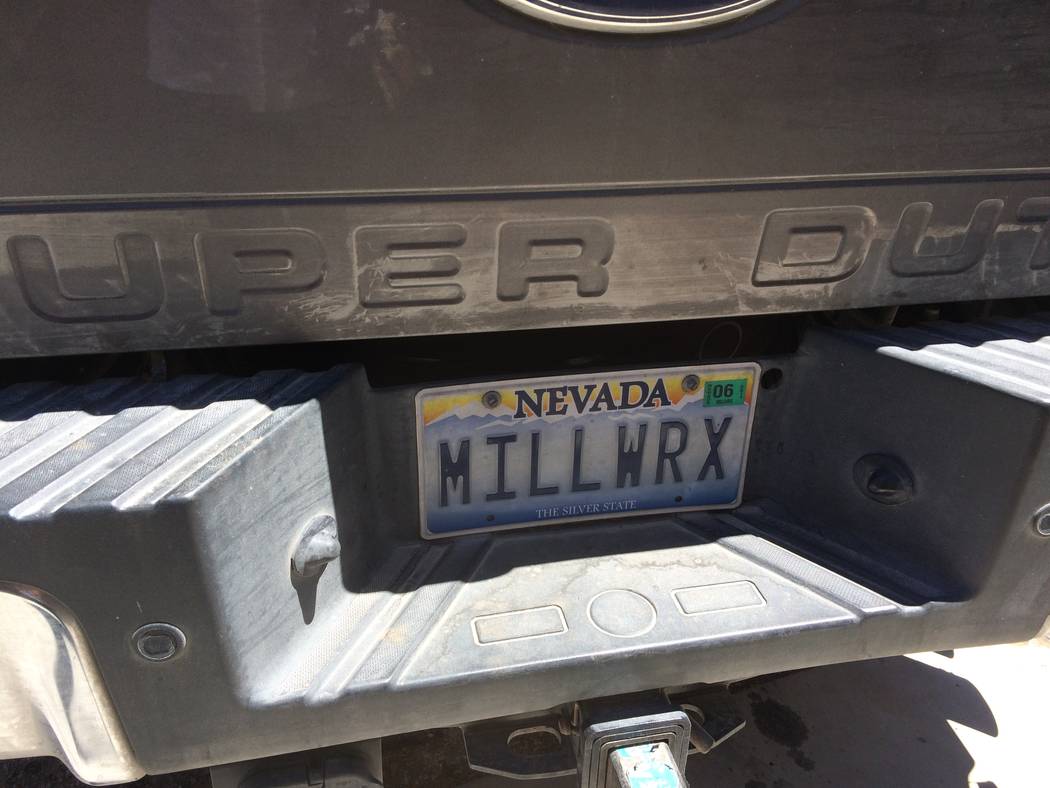 Every old piece of wood is new again when Kyle Stinnett gets his hands on it.
The northwest valley resident is the owner and operator of Rescued Mill Worx and has shops in Las Vegas and Brenham, Texas, population 16,297.
He estimated that 90 percent of the wood he uses is reclaimed logs and lumber. Some pieces have scars and lightning strikes; such imperfections are desirable for artisan pieces.
"I leave those (imperfections) in there, rather than try to eliminate them," he said. "I hate fabricated, store-bought stuff. That's not woodwork. That's not artistic."
Stinnett grew up in Riddle, Oregon, not far from Roseburg Forest Products, known as Roseburg Lumber when it was formed in 1937. It was a place, he said, where every boy aspired to work, a dream that led him into the construction business. Still, he "dabbled" in woodworking on the side.
He moved to Las Vegas in 1994, when his woodworking was put on hold until 2000 because of his full-time job in construction. By 2009, the recession had dried up work.
Stinnett was fine with it. He focused his efforts on reviving reclaimed wood by making it into furniture.
Each month, he makes one or two coffee tables, four to six barn doors and a dozen or so chairs. He also gets orders for mantelpieces, sometimes incorporating rock. His favorite creations are whiskey barrel chairs.
His day job since 2010 has been as a contractor at solar-plant installations. With none currently being built, he has the next six months or so to indulge in his wood-crafting business.
Josh Davis, owner of Kaffe Live, 5135 S. Fort Apache Road, Suite 145, had Stinnett put in reclaimed pine counters at his business, the longest at about 15 feet. It has a high-gloss finish with the bark edges intact.
"We get so many compliments for (Stinnett's) work in here," he said. "It sets us apart. … You can tell how much he love what he does."
Stinnett crafts about two dozen items a month. Some long-term project can take a year or more.
"I work with it; I wait and see how it cracks," he said. "I figure out how to leave all of that together. Because that's the art of it."
His crafts are sold at community events and two valley locations: Woodstock Architectural Products, 5070 W. Patrick Lane, and Luxe Rust , 1300 S. Main St., Suite 110.
"We found (Stinnett) on Craigslist and were just shocked by the quality and how much great product he has," said Caroline Wright, co-owner of Luxe Rust, which opened in December in the Arts District.
Prices for Stinnett's crafts range from $300 for an Adirondack chair to about $7,000 for a table.
"This is fun work. It's like a vacation," Stinnett said. "It isn't getting up at 3 a.m. to drive to a power plant and spend 12 hours working for somebody else. I'll sit out here, smoke a cigar, look at the wood and get a design in my head."
Contact Jan Hogan at jhogan@reviewjournal.com or 702-387-2949.
Online
Visit rescuedmillworx.com